RWS Diana 34 Panther - Part 4
Final report
by B.B. Pelletier
Part 1
Part 2
Part 3
JR asked about a shooting bench, and I promised to blog it today, but I forgot that this report was waiting. I'll get to the bench tomorrow.
The jury is back and the verdict is that the
RWS Diana 34 Panther
is a world-class air rifle and a super value. I'm so glad I had the chance to test this model, because the several Diana 34s I have shot in the past do not do the current rifle justice. It might as well be a completely new gun, and I want to tell you what I think the differences are.
T05 trigger
The more I use it, the more I like the Diana T05 trigger. Its straighter trigger blade gives me more positive control over the release, and the trigger feels as though Diana has refined the release dramatically. It has less creep in the second stage and a crisper break than ever before.
Only triggers tuned by Ken Reeves on the older T01 triggers have felt as nice as this one feels right out of the box.Synthetic stock
I love this new stock. Diana has employed a straight line, so there is no need for a cheekpiece or a Monte Carlo profile. It may look funny to new shooters who are used to the Monte Carlo look, but it harkens back to a time when Winchester put straight-line stocks on their rifles and they fit everybody. There is no difficulty aligning the eye with the scope, because the stock is so straight.
Also, this stock is dead. It does not resonate with each shot like a wood stock. I can't tell if the powerplant is smoother or I'm just feeling the deadness of the stock, but the RWS Diana 34 Panther is a very civil air rifle. It reminds me of the
Gamo CF-X
, which also has a synthetic stock, so there may be something to it.
Here's what happened
I told you in the last report that I wanted to test the 34 at a longer range, to verify that those tight 20-yard groups would continue. Last Friday, I went to a range where I could get 35 yards. That is only 15 yards farther, but it's the range at which groups start opening up dramatically.
What I didn't tell you before is that I am also testing a new mount that will solve the droop problem for Diana guns.
The prototype I have isn't correct yet, and the rifle was shooting six inches low at 35 yards with the scope's elevation cranked all the way up. But I had an ace up my sleeve. The scope on the rifle is a
Leapers 3-9x40 with red/green illuminated reticle and mil-dots
. My scope is an older one than Pyramyd now carries and it doesn't have the TS platform or the side illumination switch, but it performs just the same. All I had to do was use the fifth dot below the crosshair intersection, and I was right on target...as you can see from the results. I have to take shortcuts like this because I may be testing several different things at the same time.
I settled right into the correct hold, which I'd determined was the rifle on the flat of my open palm just in front of the triggerguard. Yes that makes the gun muzzle-heavy, but I shoot off a bench with my hand resting on a sandbag, so there's no weight to support. If I were shooting from the prone, kneeling, or sitting position, I'd do the same. Offhand, I'd use my knuckles or fingertips a little forward of this point.
The day was getting ugly, with black thunderclouds rolling in fast. I'd been testing other guns earlier, so now time was running out. The wind was starting to kick up in gusts, so I had time for only one quick group at 35 yards, but the gun performed like it had at the shorter range: totally stable and dead-on. Shooting
Crosman Premier 7.9-grain pellets
, my one and only group measures 0.460." That's really good for a springer at that distance. Had I shot longer I feel confident this would have been representative of all the groups. I cannot remember a time when the first group in a series was also the smallest.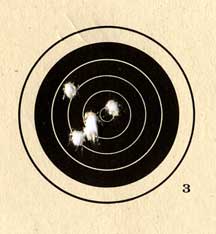 That's what a sub-half-inch group looks like. Shooting one from a breakbarrel at 35 yards is a big deal.
Bottom lineThe RWS Diana 34 Panther goes up on the short list of spring guns that I consider best buys.