by Tom Gaylord, a.k.a. B.B. Pelletier
Daisy 880 Part 1
Daisy 880 Part 2
Daisy 880 Part 3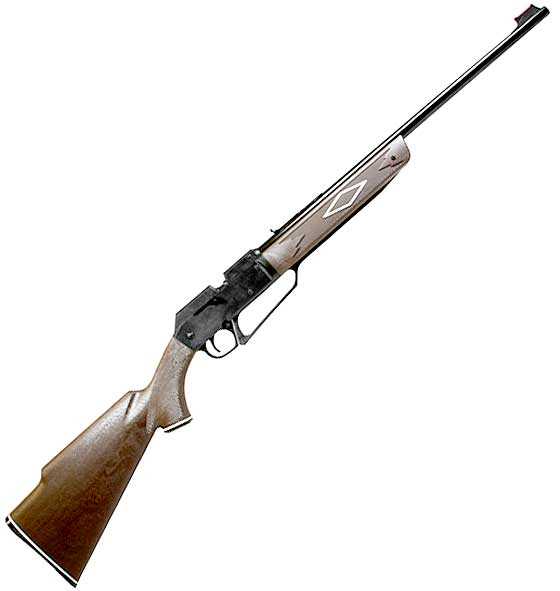 The Daisy 880 multi-pump is a classic.
This report addresses:
• Examining a new Daisy 880S sent from Daisy for this report.
• Examining the test data Daisy sent with the rifle for pellets and BBs.
• Running the same velocity test as I did for the first two 880s tested.
• Testing this new rifle with RWS Hobby pellets.
• Testing the new rifle with BBs.
This test is unprecedented. In Parts 1 and 2, I tested my own Daisy 880; and when it failed to achieve the velocities several readers felt it should, I ordered and tested a second brand-new 880 supplied by Pyramyd Air. That rifle also failed to live up to the velocity claims. When there was a question about whether all 880s are Freimarked (the letter "F" inside a pentagram is marked on the outside of a gun to indicate it develops no more than 7.5 joules of energy at the muzzle) for the German airgun market, I asked Joe Murfin, vice president of marketing at Daisy, to clarify this for us. He assured me that all 880s and their related variants are Freimarked, but that the mid-500 f.p.s. velocities I had gotten from both airguns was on the low side.
Joe had his Quality Assurance Manager inspect an 880 and send it to me for independent testing. This will be the third 880 I've tested in this series. Regardless of the outcome, it will be the last one. I tested both previous rifles with 7.9-grain Crosman Premier pellets, and I'll also test this rifle in the same way. Naturally, Daisy didn't test it with Crosman pellets, but they were kind enough to include a test sheet that unfortunately doesn't specify which pellet they used. I will, therefore, test the rifle with Premiers, so we can compare it to the previous tests. Then, I'll test with lightweight lead pellets. I'll also test it with Daisy Premium Grade BBs, and we can compare my results with the velocities they got with what I must presume are also BBs.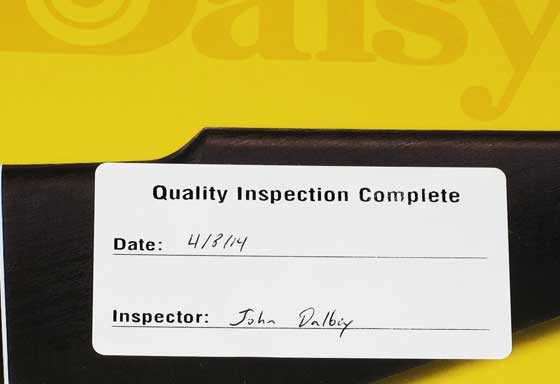 The Daisy 880S I'm testing today came with this inspection sticker on the outside of the box.
The rifle they sent is actually an 880S model that comes with a 4X15 scope. After velocity testing and 10-meter accuracy testing with open sights, I'll mount the scope and finish shooting at 25 yards. They sent test targets that I'll show when we get to accuracy testing.
Test data submitted
Inside the box was a sheet with two velocity test strips. There is no indication of what pellets or BBs were used to create these test numbers, but I'll assume the higher velocities were achieved with Daisy Premium Grade BBs, and the lower velocities were obtained with lightweight lead pellets. I have Daisy BBs, so I can test them in the rifle; but lacking knowledge of exactly which pellet was used, I used an RWS Hobby wadcutter. At 7 grains, it's about as light as lead pellets get.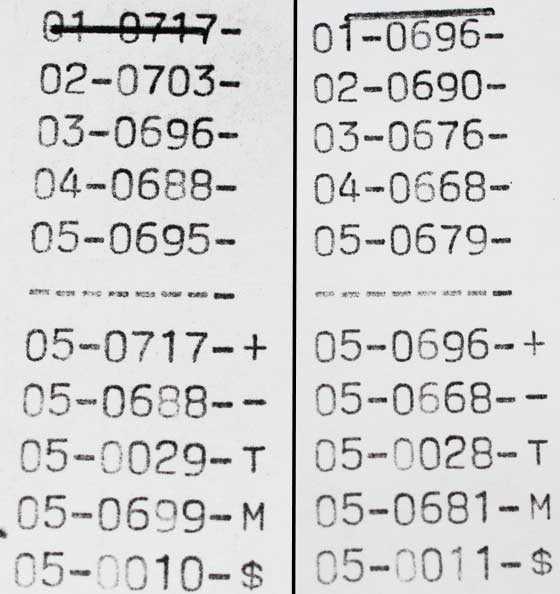 The two tapes Daisy sent with the rifle. On the left is what I presume to be the velocity with BBs and on the right I presume is the velocity with lead pellets.
To put numbers on this, Daisy got an average of 699 f.p.s. with steel BBs (with a 29 f.p.s. spread) and 681 f.p.s. with lead pellets (with a spread of 28 f.p.s.). We will keep that in mind as I test the rifle.
My velocity tests
I tested the 2 other rifles with 7.9-grain Crosman Premier domes, so it seems only reasonable to continue that test with this rifle.
Pumps   Velocity
2            381
3            457
4            510
5            547
6            576
7            603
8            609
9            622
10          656
If you compare this test to the two rifles that went before, you'll see that this rifle is considerably more powerful. Also, there was no tapering off of the velocity as the pump strokes increased, the way there was with the last new rifle I tested. True, the amount of velocity increase wasn't as great as the pump strokes increased, but it always went up.
Next, I tested the rifle with 10 shots on 10 pumps each. In other words — as fast as the rifle could go. Again, this was with Crosman Premier lite pellets. A few early shots went slower; but then the power ramped up, and the rifle gave me what seemed to be its best. The average velocity with the Premier lite pellet was 645 f.p.s. with a spread from 624 to 660 f.p.s. — a total of 36 f.p.s. That works out to 7.3 foot-pounds of muzzle energy.
We can't compare the velocity of this pellet against what Daisy has provided, because we don't know the weight of the pellet they used. So, a second test was needed. This time, I used the RWS Hobby pellet that, at 7 grains, is about as light as .177-caliber lead pellets get. It should give numbers higher than the Premier.
Indeed it did! The average velocity with Hobbys was 680 f.p.s. The spread went from a low of 671 to a high of 686 f.p.s., so just 15 f.p.s. And notice how close my numbers are to the Daisy tape on the right. I'm getting essentially the same results Daisy got.
On to BBs
With what I presume were BBs, Daisy got an average velocity of 699 f.p.s. and a spread of 29 f.p.s. I assume this is also with 10 pumps per shot.
I got an average of 676 f.p.s. with a spread that went from a low of 669 f.p.s. to a high of 680 f.p.s., so the total variation was only 11 f.p.s. The average seemed a bit slow in light of the Daisy numbers, so I oiled the felt washer behind the pump head with Crosman Pellgunoil. After that, I got 3 shots at 712, 710 and 708 f.p.s., respectively. I didn't bother rerunning the test, as it seemed the rifle was performing up to snuff with the oil. That's another reminder of just how important oil is to a multi-pump's operation.
Evaluation thus far
Here we are on Part 4, and it normally takes only 2 parts to finish the velocity test of a gun. This has been an interesting exercise, and I know I've learned from doing it.
Next up will be the accuracy test with both pellets and BBs. I'll test BBs at 15 feet and pellets at 10 meters — both using open sights. Following that, I'll mount the scope that came with this rifle and back up to 25 yards for a final pellet test.
My thanks to Daisy and to Joe Murfin for providing the test rifle for today's report. The results indicate this rifle is representative of the gun many of you have received. And, it represents the rifle everyone can expect to receive when they order a Daisy 880.
by Tom Gaylord, a.k.a. B.B. Pelletier
Part 1
Part 2
Part 3
Part 4
Part 5

The PCP is built on a Crosman 2100B chassis.
This report addresses:
• Mounting a scope on the rifle
• Shooting Air Arms Falcon pellets at 25 yards
• Grouping in smaller pressure bands
• Shooting Crosman Premier lites
• Marketing the $100 PCP
This will probably be the final report on the $100 PCP. It's been an interesting project, and today I'm capping it off with a test at 25 yards with the rifle scoped. I selected a UTG 3-9X40 scope with illuminated reticle and a one-inch tube. This is a wonderful scope for just under $100. It's smaller size suits the test rifle perfectly.

The $100 PCP looks good with the UTG 3-9X40 scope.
Falcon pellets
In the previous report, I shot at 25 yards with open sights, and the best group of 10 I got measured 1.144 inches between centers with RWS Hobby pellets. For some reason, I overlooked Hobbys in today's test and began with Falcons, which gave a previous group of 1.912 inches.
It took just 2 shots to get on target, and the next 8 went into 0.992 inches. I was filling to 2000 psi and shooting 10 shots between each fill.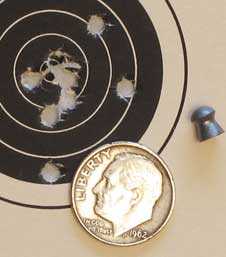 The first 8 Falcon pellets went into 0.992 inches at 25 yards.
Next, I refilled the rifle and shot 10 more Falcons. This time, the group was 1.72 inches between centers. That's better than the group with open sights, but nothing special.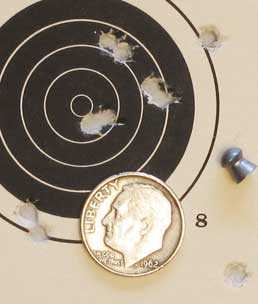 The first 10-shot group with a 2000 psi fill made this 1.72-inch group.
As I shot this group, I thought the last 5 shots went closer than the first 5, so I decided to fill the rifle to 1500 psi and shoot 5 more shots — then repeat, for a 10-shot group. These 10 shots went into 1.373 inches, which is a significant improvement.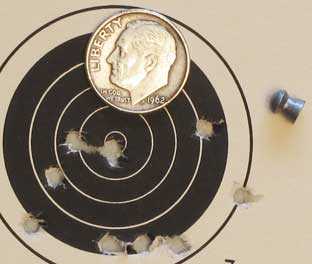 On this group, I filled the rifle twice to 1500 psi and shot 5 shots per fill. The group measures 1.373 inches, so it's a little better than the last one.
But I thought this time that the shots were scattering more than before. So I decided to boost the fill pressure to 1800 psi and shoot just 5, then refill and do it again. This gave me 10 shots in 1.577 inches, which is not an improvement.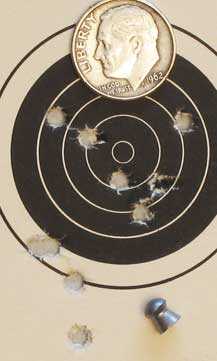 This time, I twice filled the gun to 1800 psi and shot 5 rounds with each fill. The group measures 1.577 inches between centers.
Last try
At this point, I remembered that this is just a proof-of-concept gun. We aren't trying to make the final article here — just prove that it works good enough to be worth the effort. I hadn't yet tried Crosman Premier lites in the scoped rifle, so that was my final group. This time, I filled to 2000 psi.
Ten Premier lites went into 1.607 inches; but the strange thing was that the first 5 went into 0.629 inches, and the second 5 went into 1.098 inches. And the 2 groups are centered in 2 separate places! Clearly, there are tuning issues that have to be addressed with this rifle. But I don't care about that. As far as I'm concerned, the $100 PCP concept has been proven.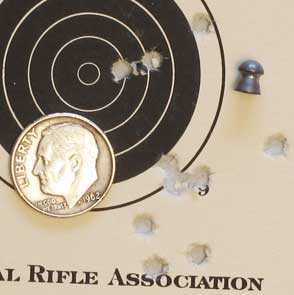 The bottom 5 pellet holes are the first 5 shots fired with Premier lites. Though the group measures 1.607 inches in all, the bottom 5 measure 0.629 inches between centers!
The groups I got aren't as small as the ones you're used to seeing from a PCP at 25 yards, but this one will sell for under $100. So, the accuracy is not expected to be world class. And this rifle's barrel is held in place by Gorilla Tape and a shim of cardboard. Certainly, there's more to be done to finish the rifle!
The last comment I'll make is that this rifle is noisy. A barrel shroud would be welcome.
Marketing the $100 PCP
From the responses we've gotten and the things I've heard while attending airgun events, I know the $100 PCP is worth trying. I realize there's a marketing plan to be constructed, so I'd like to start the ball rolling with this:
• Keep the velocity with Premier lites to no more than 800 f.p.s.
• Make the reservoir larger and balance the valve to get 20 good shots (730-800 f.p.s.).
• In every way possible, retain the features of the 2100B.
• If the fill pressure can be made even lower, say 1800 psi, that's better.
• Consider shrouding the barrel.
• Come out with a hand pump that will retail for under $100, but use a Foster fitting on the rifle so any of the current pumps can also be used.
by Tom Gaylord, a.k.a. B.B. Pelletier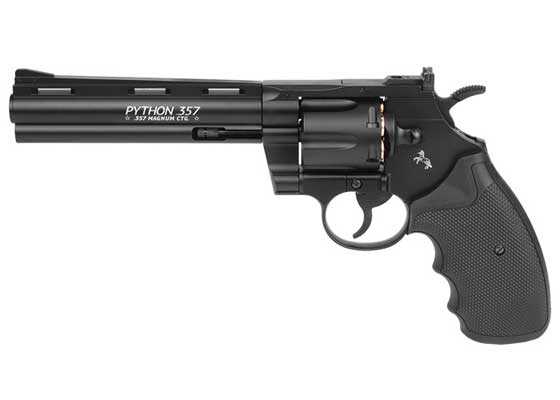 Colt Python from Umarex looks like the real deal!
This report addresses:
• Loading BBs into the cartridges
• Loading CO2 into the gun
• Velocity in both single- and double-action
• Trigger-pull in single- and double-action
• Shot count per CO2 cylinder
Today, I'll test the power of the Colt Python BB revolver from Umarex. Thanks to Umarex Director of Marketing Justin Biddle, I was able to begin testing this revolver for you before they hit the market here in the U.S. But they're now in stock, and your dreams can finally be fulfilled.
Cartridges
As you know, this air pistol loads the BBs into individual cartridges — one BB per cartridge. Where a bullet would go in a regular firearm cartridge, there's a rubber plug with a hole to accept 1 BB. You can't put more than a single BB into each cartridge.

Two loaded BB cartridges and a .357 Magnum round for comparison. The BB cartridges are slightly larger than the .357 Magnum cartridge; but as you can see, they're very close.
The revolver comes with a spring-loaded speedloader that lets you load all 6 cartridges into the gun's cylinder at the same time. It worked perfectly, but I found that loading each cartridge singly was just as convenient. Perhaps, if I had more than 6 cartridges, the speedloader would become handier. Of course, it's possible to purchase additional cartridges for this revolver, though at the present time they must come in batches of 6 with a speedloader. Maybe when supplies catch up to demand, they'll become available individually — we hope.
And, before anyone asks, no, you cannot use other BB-gun revolver cartridges in this revolver. They'll function, but Pyramyd Air techs have determined that you'll lose a lot of velocity.
Loading the CO2
As you learned in Part 1, the CO2 cartridge is loaded through a port in the bottom of the grip, rather than in the conventional way of one grip panel coming off. That allows the grip panels to remain tight on the gun — something many readers said they care about.
When I installed the first cartridge, I put a couple drops of Crosman Pellgunoil on the tip to ensure positive sealing. The cartridge sealed instantly, with just a quick hiss as I used the large Allen wrench that came with the gun to tighten the CO2 plug in the bottom of the grip.
Loading
As we learned when testing the Dan Wesson BB revolver, there's a fast way to load the BB cartridges. Spread an even layer of BBs in the top of an empty pellet tin and load all 6 empty cartridges into the speedloader. Then press the tips of the cartridges down into the layer of BBs like you're cutting cookie dough.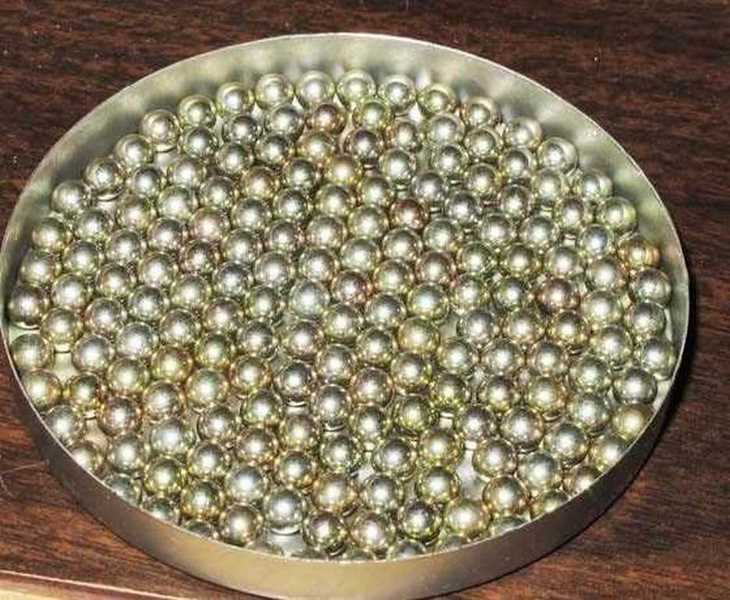 A layer of BBs in a pellet tin lid makes multiple loading easy!

Push the speedloader with cartridges into the BBs, and every cartridge will be loaded at the same time.
The rubber plugs in the end of the cartridges are tough, and it takes some pressure to pop a BB past the lip. You feel it when it pops into place. After loading, check all your cartridges to ensure all the BBs have been properly seated.
Velocity
The revolver operates in both the single-action and double-action mode, so naturally I tested both. In single-action, the revolver shot Umarex Precision steel BBs at an average 394 f.p.s. The low was 381 f.p.s., and the high was 421 f.p.s.; so the spread was 40 f.p.s. I allowed about 10 seconds between each shot to offset the cooling effect of the CO2 gas.
In the double-action mode, the revolver averaged 400 f.p.s., with a low of 380 f.p.s. and a high of 410 f.p.s. The spread was 10 f.p.s. less, and the average was 6 f.p.s. faster, indicating the gun is more effective in the double-action mode.
Trigger-pull
Unfortunately for Umarex, the Colt Python is legendary for the smoothness and lightness of its action. Each one was tuned by human hands before leaving the factory, and there's no way this CO2 revolver can equal that. You may liken it to a paint-by-numbers copy of the Mona Lisa — you can't get there from here.
For an air pistol, however, the trigger-pull in single-action (when the hammer is manually cocked before the trigger is pulled) is crisp. It breaks at 5 lbs., 4 oz. In the double-action mode (just pull the trigger to fire the gun each time), it breaks at 9 lbs., 4 oz. which is very light for a revolver. As I mentioned in Part 1, the trigger does not stack (increase in pull pressure sharply near the end of the pull) like a real Colt trigger.
Shot count
Shooting indoors in a climate-controlled environment at 70˚F, I got 70 good shots from one CO2 cartridge before the velocity began to drop off dangerously. The final shot registered 287 f.p.s. through the chronograph, which is a good place to stop before you jam any BBs in the barrel.
Evaluation
The Colt Python BB pistol is something several people have asked for over the years. It's as nice as the S&W 586 pellet revolver, in many respects, but sells at less than half the price. The trigger is nice, and the way the cartridges load is realistic. The revolver hangs in the hand nicely. If there's any benefit from not imitating the Python exactly, it has to be that the air pistol's 38-oz. weight is lighter than the firearm's 43.5 oz. in the same barrel length. That's what you get when metals other than steel are used.
Accuracy testing comes next, and I see those adjustable sights give me the ability to really zero this handgun. Let's hope they mean it!
by Tom Gaylord, a.k.a. B.B. Pelletier
This report addresses:
• The .22 rimfire ammunition supply problem in the U.S.
• One possible solution for an ammo supply
• A great substitution for .22 rimfire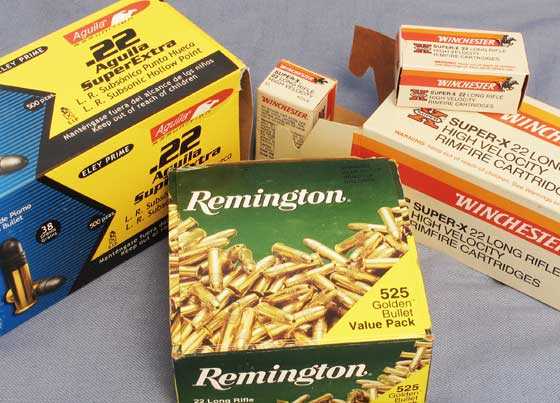 Bricks of .22 rimfire ammo usually have 500 rounds, except the value packs that contain a little extra loose ammo.
The rest of the world may not be aware, but there's an extreme shortage of .22 rimfire ammo in the United States at the present time. In my 66 years, the last two are the only time I could not walk into a gun store or even a discount store and buy a brick of .22 ammunition.
What's a brick?
A brick is a carton of 500 rounds. It holds 10 boxes of 50 rounds and is called a brick for the general size, shape and weight of the box. There are also loosely packaged value packs that contain a few more than 500 rounds.
In 2012, a brick of inexpensive .22 ammo cost around $9 to $10, depending on the sale. The nominal price was about $20, but everybody knew that was too much to pay, so we all waited for the sales. Only when our backs were up against it did we bite the bullet (pun intended) and pay full price.
Today, the street price of a brick is $50, but that's only when you can find one for sale. Many of the stores are now rationing sales with limits on the number of smaller boxes you can buy at one time. Buying whole bricks is pretty much a thing of the past.
I've purchased single bricks from Midway for $29 in the past year, but they limit your purchase to just one; and when they add the mandatory $27 HAZMAT fee and shipping, the price increases greatly. If they would sell entire cases of .22 (5,000 rounds), the fees and shipping would disappear in the volume. But that isn't going to happen anytime soon.
Plenty of .22
There's no shortage of .22 rimfire ammo in the U.S. The ammo plants are working 3 shifts each day to supply all they can. And the government is no longer buying everything they make. What we have is a run on ammo that cannot be satisfied in the near term. The so-called shortage is being caused by hoarding. This is the reason I reload. I can load .45 ACP rounds for much less than the current cost of .22 long rifle. But .22 is a lot of fun to shoot!
Strategies for getting bricks
You can watch the obituaries and attend the estate sales, but that's where everybody goes. I would make friends with the supply sergeants! That's what I did in the Army. Supply sergeants are in control of everything, so go right to the source!
In the civilian world, the supply sergeants are the clerks who work in the gun stores and sporting goods departments of the larger stores. Cozy up to them, and they may let you jump to the front of the line when ammo comes in. I'm not talking about stealing here — I'm talking about being first in line — even before the line forms! When you want something that's hard to get, this is how it's done.
But wait — there's hope!
Actually, this report isn't about .22 ammo at all. It's about what can substitute for it. When I was at the Flag City Toys That Shoot airgun show last Saturday, a lot of people were talking about it.
If you just shoot to plink, an air rifle is just as good as a rimfire out at 75 yards. You can go out even farther, but I'm trying to stay conservative. Yes, a lot of air rifles are single-shots, but there are also a lot that are repeaters. And the cost, while higher than the cheap rimfire rifles, isn't that bad. Especially, since the guns you get for that price will shoot rings around most rimfires out to 50 yards.
A couple years ago, I remember listening to some airgunners bemoan the fact that Crosman Premiers in the cardboard box cost more than $20. You get 625 pellets in that box if they're .22s and 1,250 if they're .177s. That was when budget bricks were still selling for $9-10. But those days are over and will never return. When this shortage is finally over, I predict the price of a budget brick will be somewhere around $29-$36, and the sales may lower that to $25 on occasion. That's just a prediction, of course.
Can a pellet rifle equal a .22 long rifle?
The answer is both yes and no. The new Escape survival rifle from AirForce Airguns produces almost 98 foot-pounds of energy at the muzzle when the heaviest .25-caliber Eun Jin pellet is used. That compares favorably to a standard speed or subsonic .22 long rifle cartridge. It's not quite as powerful, but it's very close. So, yes, a pellet rifle can equal a .22 rimfire.
But, when you drive that pellet that fast, you don't get all the accuracy that rifle has to offer. You saw that when I tested the Escape. At max power, that large pellet gave me a 2.48-inch 5-shot group at 50 yards. But when I throttled the gun back and shot JSB Exact King pellets, 5 of them went into 0.715 inches at the same 50 yards.
The fill pressure for that smaller group was just under 2,000 psi, and the power was set at 6 — so the rifle was probably producing around 40 foot-pounds. Before you sneer with derision, because that's less than half what the gun can do at its best, remember that 40 foot-pounds is still more than a lot of PCP rifles can get when they're shooting full-out. And that's my point. Understand what it is that you're talking about. Yes, a pellet rifle can meet the power of a .22 long rifle, but no, it can't do it with the same accuracy. Maybe someday in the future, but not today.
Do you really need all that power, or have you fallen into the trap of defining your minimum shooting experience based on what's out there? Are you a guy who just has to hunt deer with a .30-06 because that's what "everyone" does, or are you someone who thinks a .28-30-120 might just be the best deer cartridge ever for shots under 100 yards? Don't ask me what a .28-30-120 is — look it up on the internet and gain some wisdom.
Do airguns replace rimfires?
No! And they never will. There will always be a place for a rimfire or two (or more) in my gun closet. But I'm not going to go out and shoot up all my ammo and then whine about it when I own a battery of fine pellet rifles.
I shoot from 100 to 1,000 shots each and every week of my life, with few exceptions. Most of those shots are with airguns. I do enjoy firearms and I frequently shoot them, and rimfires are among the most fun of all; but I don't allow the current ammunition shortage to hinder my shooting one bit. I'm an airgunner!
by Tom Gaylord, a.k.a. B.B. Pelletier
This report covers:
• Learning to work on airsoft guns
• Components of airsoft guns
• Parts commonality — the airsoft way
• Various upgrades to components
• Need for a systematic approach to upgrades
This report is the beginning of the second installment of a promise I made to some of our readers. They wanted to know how to upgrade and work on airsoft guns, and I said I'd show them. The last report was written half a year ago, but I'll get the next one out a bit faster. In fact, I've already written it!
How do you learn?
If you think there's a lack of information about working on pellet guns and BB guns — you should experience airsoft! Not only is there very little information, much of it suffers from poor translation from various Asian languages to English. If you persevere, though, there are places to find this information — and, today, you can add this blog to the list.
I had to learn the hard way — on my own by doing it. I think that's a rite of passage among airsofters. Most of this work is not that difficult once you know what you're doing, but there are so few places that tell you how to begin. I was fortunate to have an airsoft store owner advise me when I first learned, so I'll pass along a lot of what he taught me.
Airsoft parts groups
The first thing to learn is that there are several components in any airsoft gun that can be upgraded. They are:
• Barrel
• Gearbox
• Powerplant (usually sold as a kit but sometimes can be purchased separately)
• Batteries and motors — applies only to automatic electronic guns (AEGs)
• Accessory components (these are not what you'd think)
A universal truth
There are many airsoft guns and many airsoft manufacturers, but there is a very high degree of commonality throughout the industry. If we were talking about cars, it would be the equivalent of Ford making all the engines for all cars, regardless of what name was on the car. There would be no such thing as a Corvette engine. It would be a Ford engine with the Corvette name on the outside.

A small assortment of airsoft parts. These parts are available from online sources to upgrade most guns.
While there are dozens of different models of sniper rifles, there might be only 2 or possibly 3 really different designs. In some cases, there's just 1. I'm not just talking about sniper rifles now — I'm talking about all the different families of airsoft guns. You look at M4s, for instance, and you'll find 15 different names on the outside. That doesn't mean anything. There might just be 2 different M4s that everybody makes into their own proprietary rifle. So, in the world of airsoft, there's no such thing as an Armalite M4. The Armalite M4 is the same as the Olympic Arms M4 and the Colt M4, etc. Get it?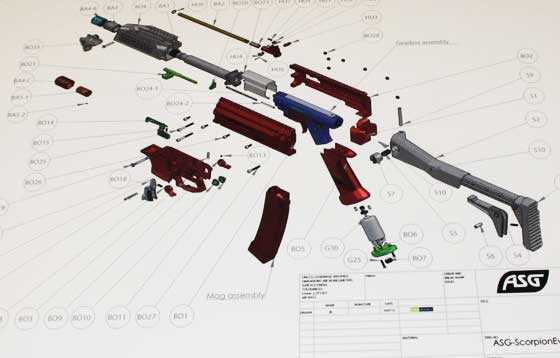 Unlike most airgun manufacturers, airsoft manufacturers freely publish their illustrated parts breakdowns and schematics like this. They're protected from American liability laws by their U.S. distributors.
The first thing you have to do, therefore, is discover which parts will fit on your specific model. Don't expect to find a universal Rosetta Stone with all this information! It's not the same as going to the auto parts store and looking in that thick book of parts applications. What you have to do is converse with the manufacturer/distributor or go on the airsoft forums and ask questions. Let me give you a specific example.
Barrels
Sniper rifle barrels are nothing but smooth tubes. If you paid $99 for your sniper "rifle," the tube that came on it is probably quite a bit larger than most 6mm airsoft ammunition. Why? Because the sniper rifle manufacturer knows you are a cheap person — having spent only $99 to buy a sniper rifle, when you could easily have spent 3 times that amount. Because you are cheap, you will probably also buy and use cheap airsoft ammo, and that's the stuff that is oversized and not uniform. It will work much better in an oversized barrel — where the term "work" means continue to come out the end of the muzzle when the trigger's pulled.


This is a typical airsoft barrel.
But…if you actually want to hit a man-sized target at 50 meters with the first shot, a cheap sniper rifle is not the gun to use. For that, you need a rifle with a tighter barrel (which is still a smooth tube), and you need to find and continue to use only the one correct round in your gun. In other words, you need to become what many will call an airsoft "snob."
As surprising as it may sound, you can buy a tighter barrel for your cheap sniper rifle — often from the company that made the rifle! You see, they didn't actually make that barrel. They bought it from 1 or 2 barrel makers who supply barrels to all of the airsoft community (the Ford engine in the Corvette). And there are different grades of tightness among barrels! This is where the airsoft forums come in handy. Someone will tell you that to upgrade your $99 Whango Tacticool M40, you need a Sho-Lin barrel that's only 0.20mm larger than 6mm. It will work on your rifle, but you have to shoot 0.24-gram Black Mambas through it because everything else will jam.
If you can follow this advice to the letter, you can make a nice sniper rifle. And, when you're done with the barrel and all the rest of the modifications, the price of your upgraded rifle will have about tripled! Small world, no? But, if you're the guy who constantly wants to substitute Owl Sweat for Kangaroo Juice, because there's a sale on it at a store near you, don't even think of modding an airsoft gun! All you'll do is spend money on a pile of parts that will never work together.
Gearbox
The Asians call this the Mech Box or Meca Box. It took me several months to figure that out the first time, and it's important to know if you want to find them on the internet.
The $125 M4 AEG often comes with plastic gears. If you plan on shooting it only on holidays and at family gatherings, buy one and be done with it. By the way, if there's a brand name like Colt on the outside of the gun, plan on spending 3 times as much and still getting plastic gears (sometimes)!
If you want to go into battle and have the gun continue to function for several days and thousands of shots, think about metal gears. But it doesn't end there. There are also special shim spacers to keep the gear wheels aligned under a load, and there are special reinforced metal gearboxes that don't wear like the cheaper gearboxes do. At the top of the list are the gearboxes that are built with pins (gear axels) that have been align-bored by a custom builder. A gearbox upgrade kit in a blister pack can cost you $68, or you can spend $400 with a custom builder who makes the gearbox specifically for your gun.
So, you see the Super Zombie Black Ops (a name I just made up) M4 AEG selling online for $99msays it comes with steel gears on the outside of the box! Big deal! That's the airsoft equivalent of a pellet rifle manufacturer saying their rifle shoots at 1,400 f.p.s. In other words, although it sounds like it implies quality, what they don't tell you is that those gears are not aligned properly and are set inside a cast pot metal gearbox.
Like everything else, in airsoft there are things that do work well and then there are the retailers who trade on the general ignorance of the buying public. They use buzzwords like metal gears to suck in the beginners. To mean something, the metal gears need to be run on pins of the correct size, have thrust washers to hold them in alignment and be inside a gearbox that can take the strain — and the whole reason for all of this is so you can get some benefit from that high-torque motor and uprated battery you also installed. If you aren't going to do this in a systematic way, you might as well eat the metal gears, for all the good they'll do by themselves.
Summary
I'll stop here because this report is getting long. In the next installment, we'll look at the airsoft powerplant, upgrades to batteries and motors, and the best way to get started working on airsoft guns.
by Tom Gaylord, a.k.a. B.B. Pelletier
Today's report is a guest blog from reader duskwight. It's about how and why to clean airguns. It's longer than our usual blog posts and filled with lots of info you'll need.
If you'd like to write a guest post for this blog, please email me.
by duskwight
What we put into our airguns — and what it puts into their barrels
Everybody knows we shoot lead. So-called "ballistic alloys" are a poor substitute for it, so let's all pretend that we shoot lead.
Lead is a soft, malleable metal — so malleable that a pellet's skirt blows out when hit by compressed air and presses into rifling. It's also so soft that during the Middle Ages it was used for pencils, as it leaves dark lines on paper or parchment or human hair! Yes, people made lead combs to dye their beards and hair while combing them — they didn't live that long back then, anyway. Remember that, though, and wash your hands thoroughly, especially when you're covered with a lead and oil cocktail, because it's readily absorbed.
So, lead leaves traces of itself on things. Sometimes, it leaves even more than traces — as in whole deposits of lead. Just imagine a lead pencil drawing a line all along the inside of your barrel, and you'll get the picture. Freshly exposed lead is so shiny and bright — it's also quite sticky and shaves off your pellets to form thin (foil-like) deposits inside your barrel. It looks like tiny shavings or scales, pressed and stuck onto the metal.
Of course, that's not all. Some pellet makers use graphite dust to prevent pellets from sticking to each other inside their tins. Some use different types of grease (e.g., tiny amount of petroleum jelly dissolved in a good amount of solvent to form a thin coat after a short wash) to prevent them from oxidizing while being stored. Some use both. There's all sorts of lead dust and tiny shavings of lead coming off pellets. The better the quality of your pellets, the less dirt they bring with them. But they're all dirty. And compressed air, especially in a magnum springer, carries tiny amounts of grease, fat and oil to combust — creating different sorts of tar and carbon for the barrel.
And there's other bad stuff inside, but only for CO2 guys. Carbon dioxide cools as it expands rapidly in the barrel, and it condenses out some tiny amount of water from the air. It can also contain some water of its own. Carbon dioxide plus water is unstable carbonic acid H2CO3 (fizz water anyone?). It is a rather weak acid; however, it's still an acid.
What it means for your rifle or pistol
The rule is simple. You shoot, and you foul your barrel. It's inevitable, just like every breath you take brings some very strong oxidants into your lungs.
Then comes the next rule — dirty barrels tend to make you miss. This is simple, too. Compare it to driving on a highway or autobahn (in case you use German-made barrels) — that's a clean barrel — versus country roads beaten up by tractors and ill repairs — that's a dirty barrel. Deposits in your barrel make your pellet's ride unstable. What's worse is when the deposits collect near or on the crown. They force the pellet to leave your barrel with an unequal force on all sides, making it prone to tumbling, less stable and imprecise. They can also deform or mar the surface of your pellet, affecting aerodynamics and hurting accuracy.
Match-grade barrels with polished grooves collect less lead. Poorly manufactured barrels with "cheese-grater" surfaces scrape off more. Polygonal or segmental rifling tends to catch and hold less lead than classic Ballard rifling because of fewer cutting edges, lower lands and less spaces for lead to stick. The smoother your airgun shoots — the less brute force is applied to the pellet, the less fouling is left. Springer super magnums seem to be the champions of brute force (which makes them lose accuracy soonest). Choked barrels tend to catch more lead in the choke; barrels that are straight cylinders tend to get dirty more uniformly.
The main thing to learn from all this is that there's no certain equation between the number of shots and aforementioned effects. Every barrel and every rifle has its own character and own number of shots to get dirty. For example, my Feinwerkbau C62 Luft needs 2,500 shots to get dirty, while my modified Gamo CFX with Lothar Walther barrel gets 500-520 shots before it needs to be cleaned. My Feinwerkbau 300S likes to be cleaned every 1200 shots (although I suspect that's me being paranoid, not exactly the rifle's barrel). An IZH 60 I have seems to have no limit at all. That's what you get with segmental rifling and low power. However, the same modified Gamo CFX with the same Lothar Walther barrel (except for the wood) I made for my friend wants to be cleaned after every 550-600 shots. And another buddy's FWB C62 wants cleaning after 2,000 shots.
Keep in mind that I use just 4 different types of pellets for my fleet – all of them are .177. Multiply that by the number of rifles — each of them can (and probably will) like its own sort — H&N, JSB, CP, Eun Jin, etc. — and calibers — .177, .20, .22, .25, .30. Don't go crazy doing this. Learn your guns, get intimate with them and know their habits and likes.
Getting dirty
Oh, you'll know when the barrel finally gets dirty! Your perfectly tightened, perfectly tuned and sighted airgun starts to spit like a mad camel! Pellets start to fly chaotically, hitting where you don't want them.
If you're lucky (which means you have a "predictable" barrel), the accuracy fall-off will start sharply — just 5 or 10 shots, and it's shooting horribly. If you're not so lucky, it will drag along for 50 or more shots, with some being better and others worse. Up and down you'll go — getting tighter then trashier groups. Anyway, it will happen. That tells you things got dirty, and it's time to clean.
Some shooters clean after every session. Some clean according to a regular preventive schedule — when the shot count comes to the predetermined number of shots. And others just wait until the inaccuracy gets obvious. I'm somewhere between the second and third type. I don't like to disturb barrels too often.
What we clean
Airgun barrels are made of steel or brass. Steel is tougher, yet it's not the same kind that's used for powder-burners. It's softer and of a simpler composition, not chromed and so on. Brass is even softer and less durable, but it has a lower friction coefficient with lead and tends to collect less lead than a steel barrel.
A good clean airgun barrel looks like mirror — shiny and amplifying light. Dirty barrels look dusty, and their insides look smoky and blackened. Some even drop lead dust when shaken.
What to use for cleaning — and what not to
The rule in this case sounds like that – nothing can enter the barrel that's harder or as hard as the barrel metal. The worst thing that can happen to your barrel is a damaged crown. That's a death sentence for your barrel's accuracy.
So, steel rods and steel brushes go directly to trash for both steel and brass barrels. [Note from B.B.: Some gunsmiths recommend a one-piece polished steel cleaning rod for cleaning steel barrels. They claim it doesn't harm the barrel because it's smooth.]
Steel rods coated with plastic are good. Brass rods are good for steel, but not for brass. Wooden rods — if you can find one in .177 caliber — are ok. Plastic rods are ok too. Different kinds of cloth "snakes" are also ok.
Brushes are usually made of one of three materials — brass, plastic or cotton (they call the cotton ones mops). Brass on brass doesn't play; save it for your steel barrels. The rest are OK.
Patch-holding tip — get a brass one for steel barrels and aluminum alloy for brass barrels.
Felt patches — I use them for quick cleaning or refreshing the barrel on the range. I load 2 dry with 1 wet between them, and a pellet behind all of it to give a springer something to push against and save the optics — or nothing in case of a PCP. But that's not proper cleaning, no matter what the ads say.
Thin cotton cloth — clean old t-shirt is quite ok; special wads are too posh for true tough guys (any dry cotton is OK).
As for oil — I prefer Ballistol. Nothing too special, and it does the job right. I also use WD-40 for CO2 guns — as a preventive to get rid of water.
A word of caution about oils. Make sure they don't get into any place where there's compression, especially when it comes to sprays. In the case of springers, they can cause intense dieseling — or even detonation — and broken seals and springs. In the case of single-strokes or multi-pumps, you can get yourself a very nice tiny working diesel engine — and some purple-black blood-blistered fingers for your troubles.
Do not use silicone oils. Just don't — they're simply not for cleaning metal. [Note from B.B.: Silicone oil is used to seal pistons. It doesn't lubricate, it seals.]
Ah, and one more thing. You need a tiny and very bright single, white LED flashlight to check the barrel's condition. This is a useful amateur gunsmith tool.
Getting things done
Brass barrels are exotic these days. If you have one — use a plastic brush.
Steady your rifle, preferably in the horizontal mode. The less bend you'll give to your rod, the better.
Close all the glass optics with covers. Should I remind you that your rifle must be uncocked, unloaded, de-pressurized and checked twice for maximum safety?
It's best to clean the barrel from breech to muzzle. Well, I think that's a bit of a superstition. With good equipment and steady hands you can clean it in the reverse direction — and you often have to. Especially, since some guns do not give you easy access to the rifle's breech.
Let's say we have a VERY dirty steel barrel on our hands. Don't laugh — it happens! Put a brass brush on your rod. For brass barrels (they're hard to get this dirty), use only plastic brushes. Spray it with Ballistol to wet the brush.
Drag your brass brush along the barrel 5-10 times. Not fast, not slow — just calm and steady. The brass brush will scratch all the big lead deposits off barrel walls and won't hurt your steel barrel.
WATCH OUT FOR RUBBER RINGS AND OTHER DAMAGEABLE STUFF INSIDE THE BARREL AND PAST THE BREECH.
Now, wait for a couple minutes. Then, screw your patch-holding tip onto the rod. Get some cotton onto it or use a patch of cotton cloth. It must sit tight inside the barrel. Spray some Ballistol to make it wet. Run it 5-10 times through the barrel in both directions. Take it out and say, "Eek!" It should be black with some tiny, shiny flakes of lead.
Change the cloth or cotton and repeat 5-10 times. Aaah…now it comes out dark grey. Change patches again. This one comes out light grey. Change and clean until it comes out white. This alone works fine for regular cleaning if your barrel doesn't tend to get extremely dirty.
Congratulations, you just got yourself a nice, clean barrel. However, you must finish the job.
Use a loosely woven dry cloth or cotton on your patch-holding tip or use a cotton brush to dry the barrel. Don't be afraid. One run will not leave the barrel dry, it will leave just the right amount of oil that you need in metal pores and on its surface. You've heard the expression, "A light coat of oil?" That doesn't refer to a wardrobe choice.
Then, if you like — shoot 3-5 pellets into a pellet trap to season the barrel. This will give you a thin film of lead that gives the barrel its standard accuracy and voila! Your barrel is ready to punch hundreds more precise and clean holes in paper.
For polished match barrels that are not very dirty, I use the method of some Olympic airgun shooters. It puts minimal (well, they are prone to overplaying safe) influence on the barrel and makes things extremely right and tender.
Get a fishing line – very good stuff to clean match barrels. I prefer 0.40mm Japanese line. Get 5-6 feet, fold in two, knot, pass through the barrel, loop outside the breech, knot outside the muzzle. Put a narrow strip of cloth into the loop (in my case — 6″ long, 1/5″ wide, 2 loops for .177), soak it with Ballistol, put the rest of the cloth over your fingers (as fishing line DOES cut!) and just pull steadily and slow. This will drag the cloth through the barrel and clean it. Repeat with wet cloths until it comes out white. Finish with one dry patch. Perfectly clean!
There's another kind of problem with CO2 guns that I mentioned before — water and carbon acid. To maximize your CO2 gun's service life (don't consider it to be just a plinker — FWB and Walther made some Olympic CO2 match rifles, and the Hämmerli 850 AirMagnum is a serious piece even by today's standards), depressurize it and apply some WD-40 into the barrel with a cotton brush or patch-holding tip and cotton cloth after every session. This will get the water out of the pores and preserve it from rust. The same goes for shooting PCPs and springers in misty or high-humidity outdoor conditions.
And a finishing touch — gently rub your rifles steel parts with a soft cloth, slightly wet with oil. Congratulations — you're done!