Archive for September 2005
by B.B. Pelletier
Today, I'm delivering on a promise I made some time back, that I would publish an index of the past postings. This is it. There may be a wonderfully easy way to do this, but I haven't found it. I'll probably do this at least every six months from now on.
2005
March
1 Hunt with the Sheridan Blue Streak air rifle
3 Why can't I go supersonic?
4 What IS a BB gun?
7 The accurate airgun
8 What about darts?
9 B.B.'s treasure chest – Picking a pellet
10 B.B.'s treasure chest – Sorting pellets for accuracy
11 A gift from B.B.! – The IZH 61 air rifle
14 What causes scope shift?
15 Synthetic skirts, steel tips and other pellet oddities
16 "Become a better shot!"
17 A serious springer for serious airgunning
18 How to shim a scope
21 Airgun lubes – the good, the bad and the ugly
22 Three types of pneumatic airguns: multi-pump, single-stroke and precharged
23 How, when & why to lube your spring gun's piston seals
24 Another cause of scope shift: over-adjusted scope knobs
25 Everything you need to know about airsoft BBs
28 Important! How to find your way around and leave messages (How to navigate this blog)
29 Should you buy a hand pump for your airgun?
30 Which caliber is best for you? .177? .22?
31 My top 5 pellets
April
1 Czech out the precision of the Drulov DU-10 semiautomatic pistol
4 Is airgun barrel length important?
5 How to shoot an airgun accurately
6 What's the difference between a laser & a red dot?
7 Remembering Smith & Wesson's pellet pistols (78G & 79G pistols)
8 How should I clean my airgun barrel?
11 Big bore airguns "Git-R-Done"!
12 Are your hollowpoint hunting pellets mushrooming on impact?
13 Almost everything you ever wanted to know about electric compressors but didn't know who to ask
14 Grasp the secret of accurate handgun shooting
15 A trick to shoot precharged pneumatics more accurately (fill pressure can control accuracy)
18 Two BB guns you'll never see (Daisy toy-blue BB guns with white stocks)
19 Will a PCP gun function the same if I fill it with CO2?
20 SAFETY! (fundamental gun-handling safety)
21 5 more tips to improve your accuracy
22 Why I like big bore single-shot air rifles
25 Rock & roll with an airsoft submachinegun
26 The differences between .177 & .22 – and which jobs they do best
27 Does cocking a breakbarrel gun bend the barrel over time?
28 How to pick a spring rifle
29 Shooting target pistols with one hand
May
2 What about a silencer for your airgun?
3 B.B.'s treasure chest: The miracle oil! (Crosman Pellgunoil)
4 Is pellet-sizing a waste of time? Maybe not!
5 What is "valve lock"?
6 SAFETY: Watch where you shoot!
9 Stop over-torqueing your gas gun connections!
10 Hi-Capa 5.1 Marui blowback airsoft gun is packed with realistic features & a blast to shoot!
11 Have you ever seen a rubber band gun?
12 How to find airgun leaks & what you can do about them
13 A hunting airgun for under $100? Yes – and it's accurate! (Daisy 22SG)
16 Expand your hunting opportunities with this great CO2 rifle! (Crosman 1077)
17 Take your power down a notch to experience an excellent hunting rifle (Beeman R7)
18 What about Eun Jin pellets?
19 Eyes wide open! (sight picture discussion)
20 The Beeman P1/HW45 is one of my all-time favorite air pistols!
23 The BB pistol that didn't shoot BBs (Daisy Targeteer)
24 Bad vibes (spring gun performance)
25 Warm weather means hotter velocities for CO2 guns!
26 Are longer barrels more accurate?
29 More on muzzle velocity and energy
30 Tokyo Marui VSR-10 G-Spec MG315
31 Synthetic-skirted (saboted) pellets and accuracy
June
1 At what range should you zero your scope?
2 My early Silver Streak
3 Bug bustin'! (Leapers' Bug Buster scope)
6 B.B.'s Treasure Chest – The Daisy Avanti Champion Model 499
7 Do you have a "GO-TO" airgun? (Sheridan Blue Streak)
8 More about sighting-in: How to determine the two intersection points (scope-related)
9 Want a lot of fun? Blast away with a real Walther PPK/S!
10 A hoot to shoot – the Walther Lever Action rifle!
13 Got a variable-power scope? Use it!
14 What's the effective range of an airgun used for hunting?
15 Shoot in style with Gamo's wheelgun (Gamo R-77 revolver)
16 Daisy's Targeteer- the rest of the story (BB-caliber Targeteer)
17 Does a choked barrel improve air rifle accuracy?
20 Crosman Mark I – a target pistol worthy of the name!
21 Some questions are answered! (gas springs, pellet coatings, CO2 powerlet sizes)
22 What's it worth? (Pricing vintage airguns)
23 How to pick your first PCP
24 Gamo Shadow 1000 Combo – one of the best buys in Gamo's line!
27 Crosman air pistols: then & now (comparing vintage pistols to the 2240)
28 Shooting BB guns: a message for parents and teachers (fundamental shooting safety)
29 Angled shots reduce pellet drop
30 Smith & Wesson 586 & 686
July
1 Lead pellets and ricochet
4 Does velocity drop as the pressure drops in a PCP tank?
5 How to optically center a scope
6 How safe is a PCP airgun?
7 Caspian M1911A1 airsoft gas gun – a 6mm treat!
8 How do PCP guns compare to multi-pumps?
11 How does cold weather affect different airgun powerplants?
12 Chronograph substitutes – a few simple tricks
13 Crosman M1 Carbine BB gun looks like its ancestor!
14 Crosman's Challenger 2000 makes these the "good old days"
15 Who needs foot-pounds?
18 Accuracy tips
19 Crosman's Single-Action Six – another blast from the past
20 CO2 and pneumatic guns: Where to get them fixed
21 How to pull the trigger
22 My favorite spring guns (TX 200, HW 77, Webley Tomahawk)
25 Do breakbarrels loosen at the joint?
26 The Crosman S1008 Air Mag is a nifty shooter!
27 How to use a peep sight
28 The new Big Bore 909S may be the ideal hunting rifle!
29 What makes an airgun quiet?
August
1 How wet weather affects your airguns
2 Don't be fooled – shop for those vintage airguns
3 Have you tried Gamo's Compact target pistol?
4 Pioneer BB76 – a BB gun you're not likely to see!
5 Crosman's 2240: Are we having fun, yet?
8 Just like a REAL gun! (Makarov CO2 pistol)
9 Scope mount basics – part one
10 Airgun books (review of some of the best airgun books)
11 Spotlight on lasers
12 Fixing a Daisy Avanti 747 (I hope!)
15 Scope mount basics – part two
16 1377 – Another Crosman classic!
17 Welcome to Pyramyd's "Scratch & Dent" section
18 Are you taking full advantage of this website? (owner's manuals online)
19 Best pellet of all? (discussion of selected pellets)
22 The Drozd – a CO2 submachine gun
23 Protecting and restoring a blued finish
24 What is a L-O-N-G shot?
25 Lubricating a spring-piston airgun
26 Do you REALLY need a chronograph?
29 What IS a red dot sight?
30 The Talon SS: powerful & quiet!
31 Darts with airsoft?
September
1 Can you take the pressure? (PCP fill levels)
2 A rifle to hunt squirrels and rabbits (comparing the Gamo 1250 and RWS 350 Magnum)
5 .177 is the most accurate caliber – NOT!
6 What is Field Target?
7 Comparative penetration with pellets
8 More on pellets! (continuing discussion about the best pellets)
9 Why weigh pellets?
12 Airsoft action targets! (using a bubble machine for moving targets)
13 Webley Senior
14 Aeron B99 – a quality 10-meter target pistol
15 The magic of the O-ring
16 Daisy 22SG
19 Another oldie – Crosman 130!
20 The Benjamin 392/397 – 60 years later!
21 Fix your Benjamin or Sheridan pneumatic at home!
22 What about those big Korean PCPs?
23 So, you don't like airguns? (reasons to be an airgunner)
26 The main causes of inaccurate airguns
27 Vision and shooting
28 Comparative pellet penetration test
29 Are those advertised big bore velocities true?
30 Blog index 1 – March through September 2005
by B.B. Pelletier
Today I answer a question that came in last Sunday:
Posting late…hope you still check your blog.
What kind of velocity do you get with various balls, pellets out of the 909 44? The site lists 720fps but I am interested in real world tests. Any info would be helpful.
Testing the big bores
I tested the Big Bore 909 several years ago. It's a .45 caliber rifle that shoots 0.454 bullets the best. I shot actual blackpowder rifle and pistol bullets weighing 125, 140 and 190 grains. The 190-grain bullets were the only ones sized 0.454, so they shot the best. Velocity was 673 on high power, and I got 5 shots per charge. Max energy was just over 190 foot-pounds. I got a quarter-sized group at 20 yards with open sights.
I got 762 f.p.s. with the 125-grain bullets and 737 f.p.s. with the 140s, so the advertised velocity is conservative, if anything. A swaged 0.454 ball weighs 140 grains, so you can calculate the velocity from that.
Career Dragon Slayer
I don't have any experience with the Dragon Slayer 50, but there's a test article about the .50 caliber Career Dragon on the web site. The Dragon was a conventional bolt-action rifle, where the shooter cocks the bolt by pulling it straight back. The Dragon Slayer has a sidelever, which offers better mechanical advantage, so it's possible they also beefed up the mainspring at the same time.
The old Dragon posted a high velocity of 613 f.p.s. with a 225-grain lead pellet. Best energy seen was with the 250-grain pellet at 192 foot-pounds. I wouldn't be surprised to see the new rifle do even better because of the possible mainspring upgrade I mentioned. The 225-grain pellet was the most accurate, and posted energy of just under 186 foot-pounds, which isn't far off the pace. A .495 lead ball weighs 191 grains, which should improve the velocity a little.
Fire 201
I got a Fire 201 years before it became popular. Mine was a .25 caliber air shotgun instead of the 9mm rifle sold today. I got 125 foot-pounds from a load of shot, but I have seen 9mm rifles break 200 foot-pounds with heavy bullets. The problem is that the rifle won't stabilize those long bullets, so they're just a drill for "braggin' rights." If you want to hit what you're shooting at, stick with either the the diabolos from Eun Jin or the bullets made and sold by Pyramyd Air. Stay under 100 grains for best performance with a 9mm.
Are there other big bores?
Yes, as a matter of fact, there is another big bore ON THIS SITE! The Drulov Rada 9mm (named for Rada Plesinger, I believe) is a 9mm carbine that uses CO2 to propel a OOO buckshot ball, making it the cheapest of all the big bores to feed. Add to that the fact that you can operate it on CO2 powerlets, so there's no additional expensive equipment to purchase.
The Rada is an entry-level big bore that will get you into the sport with a minimum of trouble. Don't expect the accuracy of the other big bores, but it gets you into big bores as inexpensively as possible. You can shoot with just a common powerlet instead of the support system required by precharged big bores. Pyramyd lists a velocity of 470 f.p.s., which sounds entirely reasonable.
Well, that's the answer that was too big to put in the comments section. I hope it clears things up for the person who asked the question and for any of you who might be curious about these large bore airguns. If any reader owns one of these guns or a model I didn't mention, please feel free to tell us about it.
by B.B. Pelletier
If you want to know how different types of pellets penetrate, here is a neat experiment you can do with very little equipment.
The test medium
I use Neutrogena glycerin facial bars for this test. You find them in the cosmetics section of the store. Use the biggest bars you can buy and orient them the long way when shooting more powerful guns. Also, back the bars with a safe pellet trap in case of a shoot-through. Naturally, you must wear safety glasses when performing this test!
Today, I'll shoot five different types of projectiles from the same rifle—a wadcutter, hollowpoint, domed, pointed and a round lead ball. I'll use a .22 caliber Diana model 27 spring-piston rifle for every shot. Because the rifle stays the same, we will be able to compare pellet penetration at the same relative energy level. I'll also shoot a JSB predator, which is a specialty hollowpoint. That'll give us the relationship between a regular hollowpoint and the new Predator round.

From the left RWS Hobby, RWS Super-H-Point, Crosman Premier, RWS Superpoint, .22 lead ball, JSB Predator.
The results are clear
Because the facial bars are transparent, we will be able to see how deeply each pellet penetrates and what sort of wound channel it leaves. That's useful for hunters. This experiment clears up many things shooters often wonder about. You can't just look at a pellet and know how it will perform. You have to shoot it several different ways and look at the results.
Sometimes, the largest wound channel isn't the best pellet
If a pellet performs very well in penetration but is not accurate in the gun you shoot, it isn't a very good pellet to choose. On the other hand, a very accurate pellet can be forgiven its lack of expansion because you know it will always hit its intended target. What you're looking for, of course, is a pellet that does all things well in the gun you intend using.
I used a lower-powered rifle to limit the depth of penetration. That does affect the performance of the pellets, because at higher velocities some specialty pellets such as hollowpoints may perform dramatically better. On the other hand, I am shooting with the muzzle almost touching the bar, which could duplicate the downrange performance of a more powerful rifle, because pellets lose velocity rapidly. It depends on how far you want to shoot.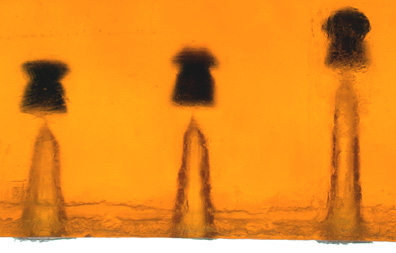 Hobby on the left, Super-H-Point in center, Crosman Premier on the right.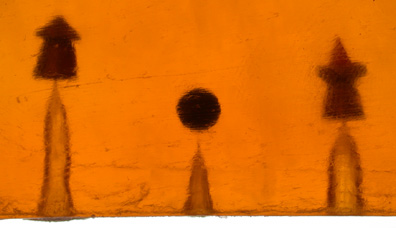 Superpoint on the left, Lead ball in center, JSB Predator on the right.
How to read the test results
In the first photo, you can see that the Premier out-penetrated both the wadcutter and the hollowpoint. I expected this. In the second photo, the pointed pellet out-penetrated the round ball. I didn't expect that. The JSB Predator has just started to expand, but it's difficult to see in this photo. Still, it isn't the explosive expansion you might have expected from the advertising copy.
In this test, the Crosman Premier looks like the leader, followed closely by the Superpoint. The round ball was loose in the bore, which could explain why it didn't go deepest of all (read more about round balls versus pellets in the article Pellets versus round balls).
This little experiment can tell you a lot about the pellets you shoot. Try it some time.
by B.B. Pelletier
I hear so often from shooters who think that because they are 40 and their vision has started to degrade, they are too old to use open sights. Hogwash! I'm 58 and wear bifocals, so don't pull the old-eyes card on me! I think many shooters just don't understand what sights really are and how their vision relates to them, so today I want to explore this topic.
Try shooting targets you can't see at all!
In the Army, I lead a heavy mortar platoon. We had four tubes of 106mm (4.2″) mortars that shot 25-27 lb. high-explosive shells over 5,000 yards. We never saw the target! Forward observers adjusted our fire onto the target via the radio. What we aimed at were two metal stakes stuck in the ground about 30-40 yards from the guns. Call those stakes your front and rear sight, because that's exactly how they work.
We couldn't aim at the target because we couldn't even see it, so we "aimed" at the two metal stakes. The precision came when we refined our "sight picture" of the two stakes using a small optical scope sight. What I am saying is that the care we took in looking at our crude sights made it possible to land mortar rounds ON TOP of target tanks many miles away! One time we actually dropped a round down the open hatch of a target tank and blew off the turret, winning an award for everyone in the platoon.
If you can see the front sight clearly, you're almost home!
The secret to shooting with open sights is the relationship of the front and rear sights. Forget the target! Not really, but don't let it be your emphasis. Let the front sight be your emphasis. If you can see it clearly in the rear sight, whether it is a notch or a peephole, you can shoot like a champ. Remember, I wear bifocals, so don't tell me how hard it is unless you have 20/40 vision CORRECTED in your sighting eye. Then I'll cut you some slack.
Get your eyes checked
Every shooter should have a recent eye exam if they hope to shoot their best. And wear your glasses! Yes, Lasik surgery is wonderful, but if you can't afford it yet, put on those specs! And for gosh sakes, WEAR SAFETY GLASSES! I can't tell you how many times I've been hit in the face with pellet fragments that drew blood. Don't risk the only pair of eyes you have.
Do me a big favor & try open sights my way
If you've avoided open sights (that's any non-optical sight), try them for me – and try them my special way. Start at a ridiculously close range of 10 feet from the target. Yes, I know that's too close, so wear those safety glasses. Shoot your rifle or pistol offhand at the target until you can keep your shots inside the nine-ring of whatever paper targets you use. Then, back up five feet and try it again. You may have to change your point of aim, but keep shooting until you keep them all in the nine-ring. Then back up to 20 feet and do it again.
Concentrate on the front sight, keeping it centered in the rear sight and level with the top of the rear if it's a post-and-notch sight. Let the target appear fuzzy, but focus on that front sight.
By the time you've backed up to 30 feet and are shooting well, I would like to hear from you. Say whatever you want, but write me so the other readers can hear what you have to say about this.
One hundred years ago, it was well-known that shooting is a great builder of individual discipline and character. Leaders everywhere sought good shooters for whatever endeavors they were involved in because they knew such people would have the necessary strength of character to get the job done. That message has been lost, but it is no less true today. The youth who can shoot tens has no need to shoot streetlights or songbirds – he or she has developed the self-control required to master life, itself. And, learn to use and trust your eyes is where it all begins.
by B.B. Pelletier
1. The wrong pellet
Pellets make a big difference in accuracy. Some work better in some guns than in others, but here are the very best I have found:
.177
Beeman Kodiak
JSB Exact
Crosman Premier (These come in two weights. Use the 10.5 in pneumatics, the 7.9 in spring-piston and all other guns.)
.20
Crosman Premier
Beeman Kodiak
.22
JSB Exact
Beeman Kodiak
Crosman Premier
2. Improper shooting technique (spring-piston guns only)
Hold the gun as loosely as you can and try to let it recoil as much as possible. Never rest the forearm on anything but skin (your open palm).
3. The gun, itself
You can put lipstick on a pig, but it will still be a pig. If you want to experiment with oddball brands of airguns, feel free, but don't complain when they don't shoot well. The barrel is the key to a gun's accuracy. Airgun barrels made in the following countries are ranked in descending order:
Germany
Czech Republic/Russia/Hungary/England
Korea
U.S. (Only applies to Benjamin Sheridan Crosman and Daisy pneumatic and CO2 guns. U.S. spring-piston guns use foreign barrels, as far as I know)
Spain
Argentina
China
Turkey
All U.S. spring-piston airguns with rifled barrels are made in other countries. Spain and Turkey make most of them. AirForce Airguns uses German barrels. A few rifled airgun barrels are made in the U.S. by Dennis Quackenbush and Gary Barnes. These generally have the quality of German and Czech Republic barrels.
4. Cheap scopes and mounts
Nearly all good scopes are made in China today. So are bad ones! Do your research and read articles before buying a scope. Mounts made for .22 rimfires and sold in Wal-Mart are pure crap! They can take a good scope and make it bad. Buy good mounts. And never forget this – NO MOUNT WITHOUT A SCOPE STOP WILL HOLD ON A RECOILING AIRGUN. NOT ONE! Leave the clamp-only mounts for PCPs.
Remember that this blog is my personal opinion. I am often correct but I am also prejudiced in ways I can't control. Test everything I say before you accept it as the truth!
by B.B. Pelletier
You're reading this posting because the title is intriguing, and maybe you agree with it. You don't understand why anyone would like a wimpy little gun that puffs out a tiny little bullet with just air. Well, partner, perhaps you don't really know what airguns are!
They're NOT wimpy…
Unless you think deer rifles are wimpy, airguns have NEVER been wimpy. Men have been hunting deer, elk, boar and similar large game with airguns since the 1600s. Lewis and Clark carried an air rifle on their expedition in 1804-1806, and it may have been the deadliest gun they had! It was .51 caliber and could fire 20 times in one minute. Compare that to the .54 caliber muzzleloading muskets they also carried!
On this site, you can find big bore rifles like the .50 caliber Career Dragon Slayer and the.45 caliber Big Bore 909S from Sam Yang. These airguns and other big bores like them have successfully taken deer and boar in dozens of states. The 9mm Fire 201S is another great big bore, though a little too small for deer.
…But they ARE very accurate – if YOU are!
Take a look at a dime. That's Roosevelt's head on the front. The best sporting air rifles, like the FX 2000, can hit a target that size five times out of five at 40 yards on a good day. Can you do that with your .22 rimfire? The extra accuracy air rifles offer make them the perfect guns to sharpen your shooting skills and to keep them honed. While all airguns are not silent, some, like the Talon SS from AirForce, have reduced reports that keep the neighbors from complaining.
Maybe you like REAL guns
Airguns are as real as they get. One-third of the shooting competition in the Olympics is held for airguns, and the airgun shooters are regarded as the finest in the world. They have to be, because the size of their targets leaves nothing to chance. The ten-ring for the air rifle event is about the size of the period at the end of this sentence. And, that event is shot offhand!
No airgun will recoil as much as a Smith & Wesson .500 Magnum or a .500 A-Square rifle, but I kind of like that. Of course, no current air rifle is as powerful as a .50 BMG, though in 1898 the United States had several pneumatic cannons aboard gunboats. They shot 2,550-lb. dymamite shells! So, don't tell me how big your Weatherby is! Airguns are real enough that inner city SWAT teams are using them to kill guard dogs when they go in on major drug raids.
But none of the above is what airgunning is really about
Airgunning is a pastime for personal satisfaction – not for macho points or an "in your face" statement. Airgunners leave their attitudes at home when they shoot. They're interested in knowing how good they are, and they use the lowly airgun as a tool to measure themselves. If they can hit with an airgun, they know they can hit with a firearm, because everything is simpler with firearms. The airgun is the trainer that sharpens skills.
That's what airguns are really all about: A personal expression of shooting.
by B.B. Pelletier
Let's look at some of the most powerful smallbore air rifles today. I'm talking about the big, powerful Korean repeaters.
In Korea, air rifles are serious business!
Koreans use them for hunting. Guns that are .22 and .25 caliber are stored most of the year in the local police station. A hunter can take his rifle out for hunting purposes. I'm not sure if that's all they can do with them, but most of the time it is stored at the police station. The .177 and .20 caliber guns may be kept at home, as they're not considered serious hunting guns. Get down on your knees and kiss the ground you're standing on. It's hallowed ground, and there is precious little of it remaining in the world!
The Air Rifle Specialists Hunting Master was first to be imported
The AR6, as it was known, was a six-shot revolver that fired either single-action by cocking the hammer or double-action by pulling the trigger. The trigger took 18 to 25 pounds to cycle, so it was actually a better single-action. It produced over 50 foot-pounds for many shots, and most shooters could shoot 1″ five-shot groups at 50 yards.
The Career 707 was No. 2 – but what a success!
Career 707s came over in lots of 50 starting in 1995, and I own one of the very first ones. They were raw and more powerful that any smallbore airguns we had ever seen. They originally had three power levels. Before the year was out, several airgunsmiths had modified them to have 12 and then 18 power levels! At 50 yards, I shot my first sub-inch group with my Career, using Crosman Premier pellets on low power (they still went 1,000 f.p.s.!).
Although the Career has a lever, the early ones were so hard to cock that they had to be cocked like a BB gun. Several hobbyists invented better triggers for them and the cocking effort became much easier. I can cock mine like Chuck Connors, The Rifleman.
The standard Career rifle was also sold as a carbine, but the Tanker Carbine is a different animal! It had a removable air reservoir. The thought was that shooters would buy extra reservoirs so they could carry a spare in the field.
The Career III 300 is a six-shot Career with a revolving cylinder instead of the linear magazine of the standard rifle. Where the linear magazine is best suited for domed pellets because they have to nestle in a straight line, the cylinder of the 300 accepts pellets of all shapes.
Sam Yang makes the Saver airguns
The Saver 7000 and Saver Carbine 505 are similar to the Career in that they feature in-line magazines, but they cock via a short lever on the right side of the receiver. Power is about the same as the Career, which is in excess of 50 foot-pounds for several shots.
Korea's Eun Jin makes Sumatra airguns…
The Sumatra 2500 is very much like the Career 707 except that it's a revolver. The lever is harder to cock because the hammer spring is very strong. A Sumatra 2500 Carbine is also available if you like shorter rifles.
…And they also make great pellets!
If you want to shoot diabolos, Eun Jin is the only pellet with 28 grains of weight in .22. Pyramyd Air produces its own brand of solid pellet called the Predator. Currently they are only available in 23 grain weights, but when production resumes, they will be made up to a 35-grain weight. These Korean rifles and the Condor from AirForce are the only air rifles powerful enough to use solid pellets, which must be fired very fast to stabilize.
The prices of these powerful rifles is far less than their quality, accuracy and power dictate. They're loud and raw. If you want the most bang for your buck in a smallbore, these guns are the ones to get!