RWS Diana 460 Magnum in .22! - Part 2
by B.B. Pelletier
Part 1
The day looked good for testing the
RWS Diana 460 Magnum
, but as I loaded the car to go to the range, it started raining, so I gave up on the weather and set up a 21-yard range in my house. Wind and rain are what prevent me from finishing the 75-yard
Air Arms S410 sidelever
shoot, too.
I mounted a
Leapers 3-9x40
scope on the rifle with the prototype mount we are developing for the RWS Diana guns. It'll be nice when completed, but this prototype still isn't able to correct all of the 21" drop this rifle has at 20 yards.
Not so good at first
I was surprised that the rifle didn't seem to want to group at first.
JSB Exact domes
, which are usually quite good in most air rifles, were giving me groups of nearly one inch, which is way too large for this distance - especially indoors! H&N Trophy Hunters didn't do much better, which tipped me that this could be a technique problem.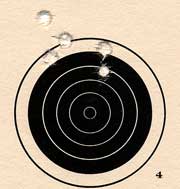 With the wrong technique, 5 JSB Exacts went in this 0.947" group at 21 yards. Horrible!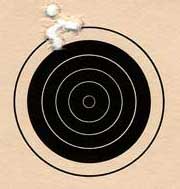 Just by changing how I held the rifle, the JSBs shrank into this 0.349" group.
The right technique!
When I switched to
Crosman Premiers
, I also changed my hold. Up to this point, I was laying the gun on the flat of my open palm, but the bag was causing the palm to be on a slant. I substituted one finger as a rest, which leveled out the hold, and the first group of Premiers told the story. Three-tenths of an inch! When I switched back to JSBs with this new hold, they were almost as tight.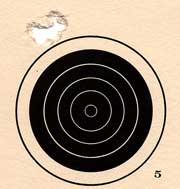 Crosman Premiers were the best with this rifle. This groups measures 0.30".
Problem with Gamo Hunters!
I thought the
Gamo Hunter
was going to be another great pellet when the first two sailed through the same hole, but shot three landed over an inch away. They had been loading snug, but the third one had loaded easily. When I loaded the next pellet it went into the breech very easily, so I blew it off. That's field target talk for shooting intentionally at a different place, just to get rid of the pellet. The next pellet also loaded too easily, and when I raised the muzzle before closing the breech, I saw it drop back out again. That hasn't happened to me since the bad old days of testing Chinese air rifles. Gamo Hunters may be too irregular for this rifle.
What not to shoot
Stay away from
RWS Hobbys
, as they just don't want to group in the 460. Also, I didn't try the heavier
Kodiaks
because of the velocity drop we saw in part one of this report.
Final impression
The RWS Diana 460 Magnum is a big magnum spring air rifle. Without a doubt, it's best-suited to the larger .22 caliber. It does take technique to shoot accurately, but no more than most breakbarrels. Once you have the technique, the rifle shoots very well. The T05 trigger is well-suited to hunting, with just a little creep and a reasonably light let-off.