Home
How to Buy a PCP Air Compressor
Any PCP airgun owner knows the way to keep their airgun shooting is to keep it filled with compressed air. The most common filling options are; a PCP hand pump, a PCP air compressor, and a bottle/tank. Of these options, the compressor is the fastest, easiest way to fill your airguns. But not all compressors are created equal, so it's important to understand the different features and benefits offered by each type before making your purchase.
Compressor Types
There are two main types of compressors for airguns: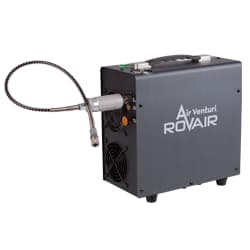 Small compressors are portable, allowing you to take them with you to easily fill onboard tanks and tubes when you're in the field. They can connect to a car battery or a household outlet for power. And they are fairly inexpensive. Some have safety features such as automatic shutoff to prevent overfilling, while others are more basic and require more attention.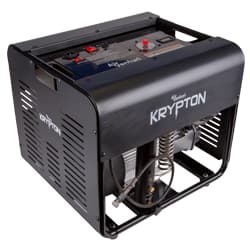 Large compressors are more powerful and capable of filling large bottles and tanks. They will have more safety features such as automatic shutoff, temperature control, and moisture control. Because they move more air than small compressors, they also have faster fill times. With these features, a larger investment is required, but you'll be able to fill more than just your guns onboard tank or tube.
PCP compressors are high-pressure air (HPA) compressors, which are not the same as a pneumatic air tool compressor that you might use with a nail gun. A tool air compressor often has a max fill that is less than 200 psi whereas a typical pre-charged pneumatic air gun requires at least 1000 psi for small calibers.
What Size Compressor Do You Need
Different airguns require different amounts of air to function correctly. When picking the right size, consider these four factors:
How much air will your gun require?
How much does pressure it need?
How often do you need to refill it?
Where do you do your filling?
Air Requirements
The size of the compressor you need depends on your air requirements. Air tanks under 300cc can be filled by a small compressor easily, while tanks between 300cc and 500cc will cause a small compressor to struggle, and may need to pause filling to cool down so it doesn't overheat. For tanks over 500cc, a large compressor is better.
Pressure Requirements
Airguns that have a fill requirement under 3500 psi can be filled with a hand pump or small compressor. Airguns that have a fill requirement of 4500 psi should be filled with a compressor.
Fill Timing
If you do a lot of shooting, you'll want to fill your gun often. Having a compressor can make this very convenient. The amount of time it takes to fill a tank is determined by the size of the tank as well as the pressure the tank requires. Generally, smaller tanks take a few minutes to fill, while larger tanks can take several hours, depending on the size of the compressor.
Fill Location
In the field you can get a quick top-up from a small portable compressor. But these compressors are only suitable for filling onboard gun tanks, not carbon fiber fill tanks.
If you only do your filling at home, portability isn't important and you could set up a permanent filling station in your home, making a large compressor a better choice. This would allow you to fill both guns and fill tanks as often as you need them.
In conclusion, if you have one or two guns with small onboard tanks that use less than 4500 psi, a small compressor should serve you well. But, if you have several guns that you shoot a lot, or tanks to fill, a large compressor would be better.
If you need help deciding which compressor is right for you, feel free to talk to one of our specialists. They can tell you the differences between each compressor and which one will best meet your needs.
Other Filling Options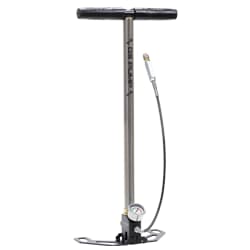 Hand pumps are a low-cost space-saving way to fill your PCP guns that have a similar design to a bike pump. By manually pumping the handle, you take regular air and compress it to fill the onboard air tank to the proper pressure. Make sure to watch the gauge so you don't overfill your airgun. So don't confuse them with a bike pump, they reach much higher PSI amounts than anything you'll fill your bike tires with.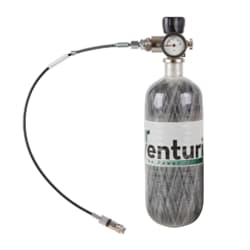 Bottles and tanks hold compressed air that can be transferred into the airgun. However, they need to be refilled by a compressor when their pressure falls below the pressure of the gun. Not all compressors can fill tanks, so make sure to get a large compressor if you have tanks to refill.
Benefits of a Compressor
PCP compressors are a valuable tool for PCP airguns owners. They make using PCPs more enjoyable. In the past, the only way to fill one was with a hand pump. And while that is still a very valid way of filling an airgun, it takes a lot of work and time. Using a PCP compressor eliminates the work completely and cuts the time down significantly.
Hand Pump vs Compressor
Each airgun has its own air requirements. Some use a few ccs, while others use 100s. Some guns are pressurized to 3000 psi while others need 4500 psi. And, depending on your airgun, it can take 500 to 1000 pumps to fill it with a hand pump whereas a compressor can fill it within minutes.
Hand Pump Pros
Budget-friendly - you can buy a hand pump for less than $250.
No electricity is needed - it's human-powered.
Portable - it's light enough and small enough to fit in a backpack so you can take it anywhere.
Hand Pump Cons
Technique is imperative - you need to raise the handle to its maximum height and lower it completely or your strokes are greatly inefficient.
Requires strength - a smaller person or someone with little strength will have a hard time depressing the handle to push the air from the pump to the gun. The resistance of the air is difficult to overcome.
Compressor Pros
Push button ease - just connect the port to the fill tube and turn the unit on. It does all the work.
Quick fills - a compressor can fill an airgun in just a few minutes.
Convenient - a compressor will fill your airguns while you take care of something else.
Compressor Cons
Somewhat expensive - the investment in a compressor is more than other options.
So, while a hand pump is budget friendly and portable, it takes a lot of effort and a lot of time to fill your airguns. And if you have several airguns to fill, it could take up your whole day. A compressor can fill the same airguns in a fraction of the time, with no physical effort on your part, though it requires a bit more of an investment. If you need to save money and don't mind putting in the effort, you could use a hand pump. But if you want to save time and energy, you should consider a compressor.