by Tom Gaylord
Writing as B.B. Pelletier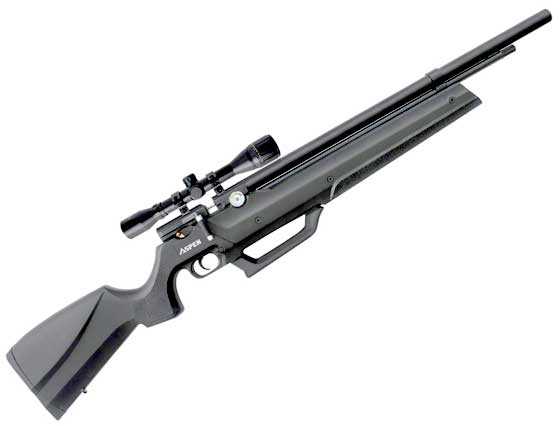 The Air Venturi Seneca Aspen precharged pneumatic air rifle.
This report covers:
Not the accuracy test
Man plans…
Testing as a PCP
Filling
Mounting the scope
Sight-in
Back to 10 meters
Back to 25 yards
Scope adjustments
My test plan
First group of five
Shots 6 through 10
Second group
Third group
Discussion
Summary
Get ready to learn something, kids, because school is in session!
Not the accuracy test
Today would normally be the start of the accuracy test for a normal PCP air rifle, but the Air Venturi Seneca Aspen PCP is anything but normal! I did shoot a lot of targets today, but there aren't going to be any dimes in the pictures. I was just trying to figure this rifle out!
Man plans…
I figured I would mount the 4X32 AO scope that comes bundled with the rifle and at least start to shoot for accuracy. Well, there is a saying about thoughts like that. Man plans and God laughs! If you don't believe it, read the book of Ecclesiastes. It was written by King Solomon, who was the wisest man ever to have lived. Near the end of his life he figured out the meaning of life and boiled it down to just that. Oh, he didn't say it that way — he was more reverent and polite about it, but in chapter 12, verses 12 through 14, he pretty much sums it up that way. read more