by Tom Gaylord
Writing as B.B. Pelletier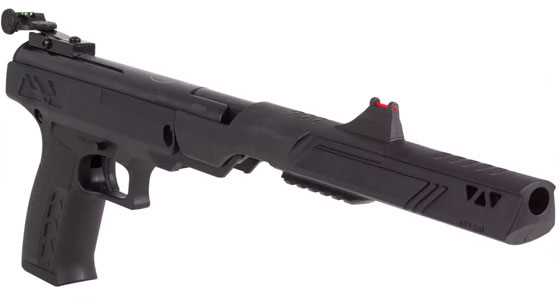 Benjamin Trail NP Mark II air pistol.
This report covers:
Easy cocking
Heavy detent
Large pistol
Sights
Scope rail
The manual
Adjustable trigger
Power
Talk to me
Summary
Today we will start looking at the Benjamin Trail Nitro Piston Mark II air pistol. This is a single shot breakbarrel that uses a gas piston (Nitro Piston) as the source of power. Like all spring guns, the gas piston pushes a piston seal forward to compress the air for the shot.
I didn't pick this pistol to review. Pyramyd Air sent it to me because they think it is unusual enough to warrant a review. After my first examination, I'm glad they did, because there are some different things I want to examine.
Easy cocking
Usually a gas spring or Nitro Piston means hard cocking, but not this time. This pistol is very easy to cock, which surprised me. It comes with a cocking aia extension that slides on the front of the gun, lengthening the barrel which is the cocking lever. The extension remains on the gun during shooting, so put it on and leave it. It's tight. read more