The 2009 SHOT Show report
by B.B. Pelletier
The Airgun Breakfast kicked off the show with a real bang! First, Josh Ungier of Pyramyd Air presented
Shotgun News
editor Bob Hunnicutt with a plaque that honored him for his editorial support of the airgun community. Next, the NRA presented their Youth Shooting programs and introduced the ambassadors from each of those programs. The airgun community was amazed by the numbers of young shooters in this country. Then, Paul Capello aired the trailer video about
American Airgunner
and the room went wild! To a person, the attendees, who are the movers and shakers in the worldwide airgun community, proclaimed that television was a dream come true. Wherever we went, we heard the same remarks throughout the entire first day of the SHOT Show.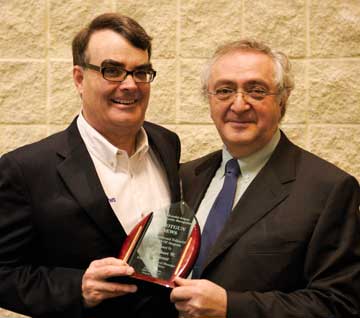 Joshua Ungier (r) presents a plaque to Bob Hunnicutt, editor of Shotgun News.
The first news came from the Gamo booth, where we saw a new breakbarrel called the SOCOM Extreme. The Whisper is being revised to be even quieter than before.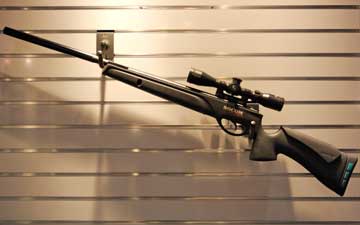 Gamo SOCOM Extreme.
The Hunter Extreme will now be available in .22 and .25. So you hunters have a choice of breakbarrels once more.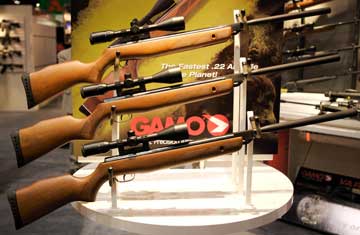 Gamo has added .22 and .25 calibers to their Hunter Extreme lineup.
But the biggest news in the Gamo booth was the new BSA R10 PCP that was on display. The "R" stands for regulated, and the rifle is a completely revised S10 that is a much sleeker version of the rifle. It now features a full shroud and a quick-fill port that allows the air tank to remain on the gun. I'll get one of these as soon as they become available. I smell a fight with the S410 in the offing.

This new BSA PCP is going to give some European guns a run for their money!
Scott Pilkington has a new M16 upper PCP target unit for the new Service Air Rifle class in the CMP. I hope to get one for testing when he gets into production. Imagine an upper that fits your AR-15 and is a target pellet rifle unit. I guess I have to get me a black rifle now!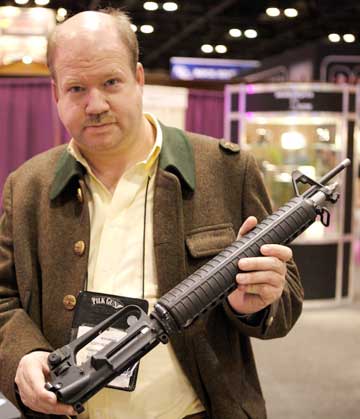 Scott Pilkington holds a nifty new invention that'll turn your AR-15 into a pellet shooter.
At Crosman, I saw the real Marauder, which is somewhat different than the one shown on the internet. And the new 10-meter target rifle is completely changed from what you've seen. The adjustable triggers on both rifles are the same and are adjustable down to a gnat's eyelash, which is to say very light and crisp.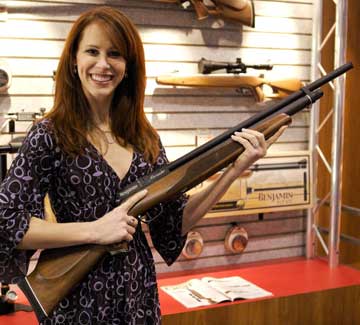 Heather Parcells, co-host of American Airgunner, holds the new Crosman Marauder.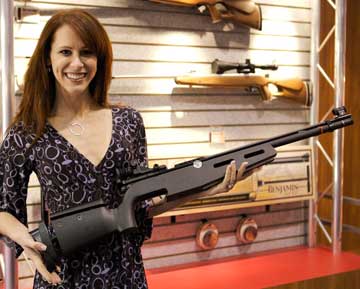 Heather and the new 10-meter target rifle from Crosman.
At Beeman, I saw the HW30S, which isn't a new rifle by any means, but it is a rifle Beeman is now importing. The new 30S has fiberoptic sights front and rear and the Rekord trigger. The stock has the long forearm that extends past the barrel pivot bolt.

The HW30S is now being imported by Beeman.
Beeman also had a very intriguing second target rifle--the FWB 500, which looks like a budget-priced target rifle. It just arrived, and they had no information on it. It'll take some time before a price will be available. Heather Parcells, the co-host of
American Airgunner
, found the rifle lightweight and adjustable enough for her tastes. I think a lot of plinkers will want one if the price is good.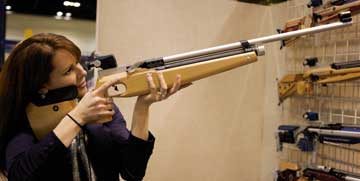 FWB 500--a perfect fit!
At Daisy, I saw a new powerful underlever spring rifle called the 1025. It features a unique barrel-loading mechanism. There was also a full-dress CO2 pistol called the Powerline 5502 that includes a dot sight, tactical flashlight and a laser on a very sexy-looking pistol.

Daisy's new underlever spring gun.
Speaking of lasers, Leapers has brought out a green laser that will be bright enough for use in the day. The retail will probably be under $100, which represents a two-thirds price drop over similar equipment. They also have several very sharp new scopes with all the bells and whistles. I'll do some reports on them when I get them.
The final products at Leapers were several new tactical flashlights that I hope will be stocked by Pyramyd Air. I've used my lights for several years and find them invaluable for a multitude of jobs--not to mention self-defense.
I did lots of other work yesterday, but those are the new guns for now. Bear in mind this was only the first day of the SHOT Show and already my feet hurt!