by B.B. Pelletier
Here's a bit of history for you. Back in the late 1980s and early '90s, Beeman was selling two popular mid-power spring rifles. The R7 and the R8. The R7 was the smaller of the two and was based on the Weihrauch HW 30. The R8 was larger, more powerful than the R7 and was based on the HW 50.
The R7 remained in the lineup, of course, and for a few years after the 1994 sales of the Beeman company, the new management even cataloged it next to the HW30, but rated both the power and accuracy of the R7 that was based on it as better. They still rate them that way. But the R8 went away. The HW50 remained for several more years, and a curious new R-series rifle called the R6 made a brief entrance and exit. I have been told by several people that the R6 is also based on the HW50.

Shown with the diopter sights for target shooting, the HW 50S is a classic spring rifle from Weihrauch.
The point is that the R8 and R6 are both history, yet the HW50 lives on. Now that it's no longer in the Beeman lineup, importers are able to bring in variations that Beeman never would – such as a .22 caliber version! Pyramyd Air has just made a large purchase of the HW50S and is stocking both calibers with either open sights or peep sights. Starting at $312, you can own a rifle that may not be around much longer – certainly not for that low price. The way the Euro keeps escalating, the price of the HW50 will soon rise to more than $400, where it will be challenged by top new spring guns from China. Those new guns are very good, but the HW50 has a couple things they don't have and probably never will.
The Rekord trigger
Ain't no two ways about it – the Rekord is a fine trigger. Not only is it adjustable to a fine degree, but it breaks as clean and crisp as you could hope for. Back when Beeman was pushing the R7 over the HW30, the big selling point was that the 30 they sold didn't have a Rekord, but as far as I know the 50 has always had one. So savvy airgunners knew they could buy an HW50 and save about a hundred dollars over the Beeman equivalent. The only real difference was the stock. All the R-series guns have American-style stocks, while the HW series often have the Bavarian-style stock with shorter forearm wood and a slope behind the cheekpiece.
You can't do the same with an HW30 and an R7 because the HW30 doesn't have the Rekord trigger. If you want the trigger, you have to get the R7.
Weihrauch barrels
Maybe you aren't aware of this, but Weihrauch made their reputation with fine single-shot target rifles in .22 LR caliber. They were considered the equivalent of Walther before WW II, which was to say the best in the world. Weihrauch knows how to rifle a barrel! In fact, when Mac-1 decided to manufacture the USFT rifle, they chose Weihrauch barrels for their world-class field target rifle. This is one thing no other manufacturer can give you – a classic Weihrauch airgun barrel.
Is this all just hype?
Actually, no, it isn't. Weihrauch quality is the equivalent of BSA, Webley and FWB sport airguns. Their triggers are better than any of the triggers from those brands. The Beeman R1 I used for the spring gun tune series is a Weihrauch with…I don't know how many thousands of shots on the clock. It has been tuned and re-tuned numerous times, the trigger has been adjusted to perfection, the gun has worn more than 20 different scopes and it still looks and shoots great. This is the kind of lasting performance you can expect from Weihrauch.
Tomorrow, I'll cover the options and performance of this rifle. I'm waiting for a nice range day to test the Hammerli Storm Elite. Don't worry, I haven't forgotten.
by B.B. Pelletier
Today's posting was one I have wanted to do for a long time, but a question from Jeremy prompted me to do it today. Two days ago he asked, "I have a couple more questions about the Gamo 850.

1. How long would the break in be?

2. How good is the scope that comes with the 850?

3. What would be the longevity of the 850?

4. How would i maintain the 850?"
1. How long to break-in?
I think almost every spring gun needs at least 500 shots to break-in, with the TX200 being the sole exception (maybe the BAM B40, but I don't know that, yet). I've seen Gamos and Webleys that were still breaking-in after 3,000 shots. The rougher the gun, the longer the break-in takes. I'm guessing that the Gamo 850 will take several thousand shots before it's fully broken-in.
2. Is that scope any good?
I'll be honest, scopes that come bundled with airguns are often selected on the basis of price. HOWEVER, scopes in general are very good these days. That scope is probably a great one to get you started. I doubt it's going to break on you the way scopes used to break on spring guns 20 years ago. And, after you've used it for a while, you'll know better what you really want.
3. How long will the 850 last?
This is the question I really wanted to address. Friends, I have owned a few spring airguns that were over 125 years old and still working. They didn't come with a lot of performance back in 1870, so they look pretty puny compared to today's giants, but they do hold up! I had a wonderful BSA underlever that was made in 1914 and still worked as good as new after I made a new piston seal.
The thing that differentiates today's crop of spring guns is their construction and power. The old guns were overbuilt for the power they delivered. Today's spring guns are pushing the envelope of possibility. Still, because they use modern synthetics, I think they have just as good a chance to last, not 100 years but 400 years and more! Naturally, their springs will wear out many times and those piston seals will have to be changed, and there will come a day when the parts will have to be made because they no longer exist, but I really think such longevity is possible.
Of course, in the wrong hands, the same gun can be destroyed in a short time. Here are the leading causes of the destruction:
Disassembly without a clue how to put it back together.
Over-oiling the piston.
Over-cleaning the barrel.
Experiments to "see what happens," such as pulling the trigger with the barrel open to watch it snap shut, which is the No. 1 destroyer of spring guns.
Dry-firing.
4. How to maintain the 850?
Jeremy – this is the best question you asked. Before you ever shoot your rifle, I recommend cleaning the barrel with a one-piece rod and a brass brush laden with JB Non-Embedding Bore Cleaning Compound. This will bring out the inherent accuracy right away. Then, never clean the barrel again unless the accuracy falls off. If you have the rifle but lack the materials to clean it, go ahead and shoot it, but clean it this way as soon as possible. Or, just shoot it for 500 shots, and you'll pretty much accomplish the same thing.
Second, don't oil your gun too much. None at all until you have at least 2,000 shots through it. The exception is if the piston squeaks when the gun is cocked.
Third, wipe your gun after every handling. Use a cloth that has silicone on it. Pyramyd Air sells such cloths (Beeman and G96 brands), but they're easily made from an old t-shirt and some silicone spray.
And that's about it. How about if you report back to us after you've had your gun for a while and tell us your impressions?
by B.B. Pelletier
Before we start on today's blog, here's a link to the latest email promotion from Pyramyd Air.
A reader who calls himself Farmer commented that his son's Mendoza RM-65 BB gun wore out in a year. This is his comment:
I bought one of them for my kid about a year ago. The spring in the Mendoza wear out quickly and velocity drops to under 200 ft/s. It took about 2000 BB's to wear the gun completely down to apoint wher you can't even cock the rifle, because the trigger won't engage anymore. My advise, get a Daisy. The Red Ryder is a lot more accurate and lasts a lifetime.
I told him that based on his report, I would shoot my test RM-65 5,000 times and report to you how it does. I think I have to also test a Red Ryder for 5,000 shots just to be fair. I'll also test both guns for accuracy – just so we know. That's in the works.
I'm also conducting a 5,000-shot test of the BAM B40 as we speak. Some readers were concerned about longevity, so I felt we really should test the gun that way. But here's the deal. I'm not a testing laboratory. These things take time, so don't ask me for more of these "just to see." I'm doing this because there is a concern about new brands, and I think we all want to know.
Now, on to today's post!
A second new bipod?
There is a lot of similarity between this bipod and the one I showed you back in February. That one is called the Dragon Claw. Today's bipod is the Multi-Functional Universal Bipod, and it's different in that it has two different types of mounts.
Why two bipods?
If you haven't tried to fit a bipod to your gun, you aren't aware of the problem. Bipods are difficult to fit to specific guns! In the firearms world, they go through quite a lot to get bipods on guns, and they have it easier than airgunners. Firearms don't have underlevers to cock the action or long splits in their stocks to clear the barrel and cocking linkage. It's easier to attach a sling swivel stud to a firearm than to an air rifle.
So, this is an interface issue. The Dragon Claw solved many problems by being so adjustable, but I had to tell a reader who wanted to put one on the underlever of his B3-1 rifle that the underlever is too thin. There is adequate clearance between the underlever and the barrel, but the mount will never get tight on the underlever.
The Multi-Functional Universal bipod I'm reviewing today won't solve that problem, either, and here's the point – there will always be airguns that have difficulty mounting a bipod. But, today's bipod does clear up a lot of problems you readers have been having with some airguns.
For example, let's say you want a bipod for your RWS Diana 48/52/54. Those rifles have solid wood stocks that can accept sling swivels such as the special Beeman swivel 1/2 set thats tailor-made for this installation. This bipod preserves your sling swivel mounting point so you can retain a sling as well as a bipod.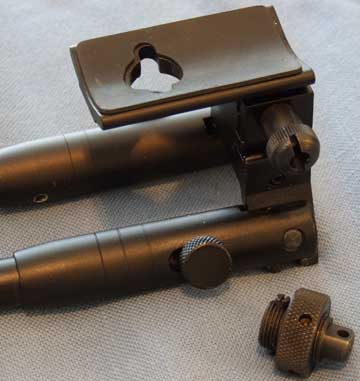 This is the setup for attaching to sling swivel studs. That doohickey at the bottom has a long screw that passes through your sling stud, then the thing passes through the padded mount and the knurled ring tightens it. Note that this mount leaves you with an unused sling swivel stud after the bipod is mounted!
Another example – you want a bipod for your Marui M4 System. It has a Picatinny rail under the forearm, so just remove the sling stud mount and this universal mount is now a Picatinny! It doesn't get any better than that.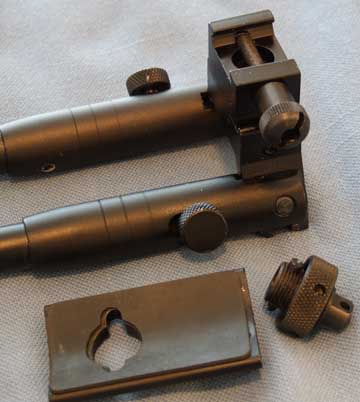 Loosen the big screw on the side, and the mount becomes a Picatinny mount, too!
The universal bipod is just as rugged as the Dragon Claw and shares the same adjustability, so for less than $30 you're getting a great bipod. If you have taken the time to price good bipods, you know this is less than half what they usually cost.
The market is flooded with cheap flimsy bipods from China that will not do the job you want. A bipod has to be steady or it isn't worth fooling with. This one is very steady! If any reader owns this or the Dragon Claw, I'd like to hear your comments on either bipod.
by B.B. Pelletier

Hammerli Storm Elite is a sharp-looking new breakbarrel with a synthetic stock and matte nickel finish.
When Umarex acquired the Hammerli name in 2006, the shooting world waited to see what would happen. Hammerli is a legendary Swiss maker of fine target arms. Though many of their models have actually been made in Switzerland, they have actually rebadged a lot of airguns. In fact, many airguns were made for them by the former East German firm of Haenel. But the quality has remained high no matter what factory was making the guns. Today, Umarex is applying the Hammerli name to new low- and mid-priced sporting airguns made by new companies. The Hammerli Storm Elite is such a gun.
Description
The Storm Elite is a conventional .177 breakbarrel rifle. It has a matte nickel finish with contrasting black sights, scope stop, triggerguard and trigger. The synthetic stock is colored to look like burl walnut and is fully ambidextrous. It has coarse pebbling on the pistol grip and forearm to facilitate a better grip. The stock is very thin and deep, which makes it easy for smaller hands to grasp. The pistol grip is similarly thin in cross section.
This is a light air rifle, weighing just 6.8 lbs. The long 19.5″ barrel provides plenty of leverage for cocking, which requires a force of only 32 lbs., with a spike at the very end to 35 lbs. It comes at a point where your arms are best positioned for strength, so it's of no consequence. The barrel latch is a ball detent that's smoother than a chisel. It seems to lock up fine.
Ball detent makes for smoother cocking.
Trigger and sights
The non-adjustable trigger is two-stage and breaks at a stiff and lawyerly 6 lbs. even. Cocking also sets the automatic safety, which is a square button descending from the front of the triggerguard. The gun is made with an anti-beartrap, so uncocking is not an option. Once cocked, you must load and shoot the rifle.
The sights are fiberoptic, but a little unusual. The front is a true bead sight and the rear notch is square, which makes no sense with a bead. Except with the fiberoptic dots on this rear sight, the front bead does form a center dot and is very usable.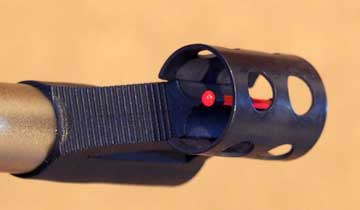 Sights are fiberoptic and front is a true bead.
The rear sight is a fiberoptic square notch, as mentioned, in a nice, adjustable unit. The clicks are sharp and crisp for both windage and elevation, making this a sight you can use.
There's also an 11mm dovetail cut in the top of the receiver tube, so scope mounting is possible. And Hammerli wisely gave us a built-in scope stop plate, so there is nothing to buy but scope and mounts. Undoubtedly, there will also be combos before long.
Velocity
I was curious about velocity because this is a new model from a Spanish maker – possibly Norica. With 7.9-grain Crosman Premiers, the brand new gun shot an average of 898 f.p.s. The velocity spread was quite low, and I would anticipate gaining an extra 10-20 f.p.s. after break-in. If 1000 f.p.s. is really that important, you can always get it with novelty lightweight pellets. But shoot regular lead pellets in the 7.8-10.5-grain range for accuracy. Because this is a springer, the lighter pellets will probably work best.
I noticed that the pellets were difficult to load because of a tight breech. That may turn out to boost accuracy.
Bottom line
At less than $200, the Hammerli Storm Elite is an affordable breakbarrel spring rifle. However, pricing it where they did, Hammerli is up against the stiffest competition of all the spring guns – a $200 .177 breakbarrel that shoots 1,000 f.p.s. Their plusses are a nice-looking synthetic stock, nickel finish, light weight and a very nice set of sights. On the minus side they have a too-stiff trigger that's not adjustable.
This is Gamo Shadow territory and also CF-X, though the Storm Elite is positioned against the Shadow and a dozen or so other $200 breakbarrels. A trip to the range will show us what we need to know.
by B.B. Pelletier

Mendoza's RM-650 is a classic-looking BB gun with some traditional touches that I like.
I have recently discovered that Mendoza produces some pretty fine airguns. The RM-200 test has really opened my eyes, and today I have another super Mendoza gun for you – the RM-650 BB gun.
Why do I like it?
I like traditional guns, by which I mean guns that do not depart from classic lines and even traditional materials. I guess I make some exceptions for guns like those made by AirForce, but I am a traditionalist at heart. This Mendoza BB gun is made along more traditional lines like the Daisy Red Ryder. It's profile doesn't look as classic as the Red Ryder's, and the automatic safety atop the receiver is a turnoff, but on the other hand I have never forgiven Daisy for changing the front of the model 1938 to make the BB loader a plastic mechanism.
Loading
The Mendoza uses a more classic loading system dating back many decades. It's no better than the Red Ryder's, and you might even argue that the Mendoza is harder to load because the hole you pour up to 500 BBs into is smaller, but I just like it. With the Mendoza, a turn of the knurled muzzle exposes the loading port underneath the barrel. It's what I grew up with in the 1960s, and I just like it.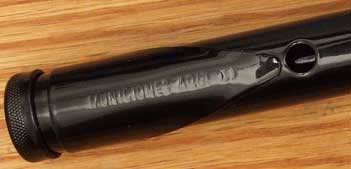 The loading port is under the barrel. Rotate the knurled muzzle to open the port.
Cocking
Unfortunately, the RM-650 has a plastic lever just like the Daisy. But that is the only plastic piece on the outside of the gun. Even the automatic safety slide atop the receiver is metal. When the gun is cocked, the safety slides back automatically, putting the gun on safe until the shooter takes it off deliberately. The location of the slide makes it easy to take off the safety. You can do it with your cocking hand when you return the lever to the stored position.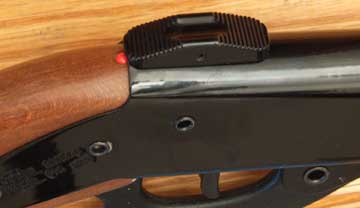 The automatic safety goes on every time you cock the gun. It gives an odd hump to the top of what is otherwise a traditional-looking BB gun.
Overall quality
The Mendoza is not a copy of the Daisy, though it shares many of the styling lines. And, there are construction differences. The largest is that this gun has only one visible screw – the one holding the forearm. The metal action is entirely riveted together! Now, that's going to make the RM-650 more difficult to repair down the road, but I have never worn out a BB gun. I know the Army repaired their Daisy Quick Kill guns a lot, but each one of those was shot millions of times, and they were used by thousands of trainees. I think it's very unlikely that one person or even three can wear out a BB gun that's well cared for.
The stock and forearm are wood, which most BB-gunners like. The metal is mostly finished with a tough, uniform coat of paint that exhibits a very high gloss. A few smaller parts like the rear sight and trigger have been given a black oxide finish that leaves them dull in comparison. Overall, this is a very nicely finished BB gun.
Shooting
Daisy Premium Zinc-Plated BBs registered between 276 and 280 f.p.s., which is on a par with the Red Ryder. The trigger is single-stage and stiff, like all BB gun triggers. It pulls off at 44 oz., which is 4 oz. under 3 lbs. That's pretty good.
As far as accuracy goes, I must confess I'm not much of a BB gun shooter. Except for the exceptionally accurate Daisy Avanti Champion 499, most BB guns have lousy accuracy. When I tested the Marksman 1010, I did measure a 10-foot shot group for you, so I shot the RM-650 at 15 feet – a good BB gun distance. I got a 2.7″ group, of which I was responsible for about a quarter-inch. I would expect the same performance from a Red Ryder.
The rear sight is adjustable for elevation only, using the traditional stepped ladder type of adjustment. For windage corrections, you need to learn the aim-off for your gun, which is no different than other BB guns for the past century.
Bottom line
I guess I just like the whole Mendoza line, which transfers to this BB gun. I like that they finish their guns so well. I like the shot groups that come with each rifle. I like the oil hole they put in the outer tube of the spring piston rifles and the super-fine rear peep sight that I have yet to review for you. Like most pure BB guns, the RM-650 isn't a standout on its own, except that it includes many of the extra little details such as the all-metal construction and nice finish. Pyramyd Air will soon carry these, so next Christmas there will be a choice among BB guns.
An aside
Yesterday's post received a number of interesting comments, plus at least one request for another posting on reticles. It seems that we're all interested in the technology of scopes. I also can see from the comments that there are number of readers who know a lot more about this subject than I do. I rely on some industry contacts, but my knowledge is pretty thin when it comes to optics. So, you can help me by making comments like those made yesterday. Please tell me what you're interested in.
by B.B. Pelletier

AirForce 4-16×50 scope is a really good hunting scope. This photo shows the new target turrets mentioned in this post.
A reader asked for this review last week, and I was surprised to learn I had never done one. I don't talk about this scope a lot, but when it comes to my AirForce rifles, this is the scope I usually use.
How does it rank?
I talk about Leapers scopes a lot, because they have been the best scope values for many years. Nearly all scopes are made in China today, so the origin of a particular brand is no way to tell if it's good or bad; but there's a huge range in the quality of scopes!
The Chinese have the best commercial lens grinding machines in the world. The Swiss and Germans set them up in the 1970s so they could use the cheaper labor to make their optics. That's why almost all of the best optics are now made there. The few brands that are still made in Europe and the U.S. stand out because of their higher prices.
What differentiates scopes is the quality of materials put into them and the time spent in certain operations. Leapers scopes are very good because they put good materials into their scopes. Their emerald lens coating on all lens surfaces transmits more light than multi-coated lenses, making Leapers scopes brighter than most. But, AirForce went a step farther.
The AirForce differences
AirForce specified optical glass of higher quality than most scopes. I cannot say they are higher quality than Leapers, but I can say they beat BSA, Simmons and many brand-name scopes. Some scope manufacturers, such as Bushnell, have different grades of quality in the lines that carry their name. The top lines from these manufacturers probably use optical glass of the same quality as AirForce, but these scopes sell for two and three times the price of the AirForce 4-16×50.
Then, there are the lens coatings to consider. Low-priced scopes often use multi-coated lenses, which means they have several different coatings on the lenses. Each does a different function, and together them make a well-rounded scope. However, these lens coatings absorb some of the light that passes through them. The more lenses in the optical package, the more light is lost this way, which is why some mid-priced scopes are either a bit dark or muddy-looking. They are fine when the light is bright, but they degrade when the light is marginal. AirForce specified a single coating of fluoride for their lenses. That makes their scopes very bright compared to average scopes.
Also, AirForce uses a 50mm objective lens that lets a lot of light enter the scope. Though they specified a 1″ scope tube, which passes less light than a 30mm tube, they managed to produce a really bright scope of decent power for hunters. You'll get extra minutes on both ends of the day where you can still see the target clearly enough to take the shot.
The reticle is a duplex with thin center lines for more precise aiming. The thick reticle lines at the extremities help you locate the thinner lines when you're looking at sun-dappled vegetation.
New target turret knobs
The turret knobs are target type, and AirForce upgraded them last year to a sharper profile. The new knobs look different than those pictured on this site, and they no longer have caps. You simply turn the knobs themselves for adjustments. They're still 1/4 MOA adjustments, but the detents have been made even crisper than before. There is no "stacking" of pressure at the ends of knob travel until the final few clicks.
Quick change
I own both a Talon SS and a Condor, so I transfer this scope between the two. I have used both a B-Square-single mount base and an AirForce TriRail for this, and both work equally well. The scope stays tight in the rings and just the base is loosened for the move. AirForce's 11mm scope mount rail makes it easy to make this switch. The scope re-sights quickly as both rifles shoot very nearly to the same place.
This scope is more expensive than a comparable Leapers, but I do feel it's worth the extra money. For hunting, especially, this is a hard scope to beat, plus it's a perfect match for the entire AirForce line.
by B.B. Pelletier
I finally completed the accuracy test of the Mendoza RM-200. The day was breezy, but the wind was not a problem. I shot at 25 yards, which I felt was in keeping with this type of rifle.
Scoped!
One of our readers suggested scoping the rifle with a Bug Buster, and I had one already set up in rings, so that's what I used. It was a Bug Buster 2, 6x32mm scope. It fit the rifle very well and the small size of the scope compliments the rifle, but shooting from the bench made the eye relief a little too long. I managed, but it would have been much nicer shooting offhand.
Pellets
From the first test, I knew that neither Crosman Premiers or JSB Exacts would shoot in this rifle. It seems to need a fatter pellet, which is why RWS Hobbys did so well. For this test, I chose pellets that are either fat or have thin skirts that can be blown out into the rifling. The first pellet was a 5.6mm Eley Wasp that is, unfortunately, no longer available. It grouped well. Since it can no longer be purchased, I won't tease you. It did tell me that the rifle was accurate and that it probably did need bigger pellets.
I also tested RWS Superpoints, Beeman Silver Bears, RWS Hobbys and Logun Penetrators in the 16-grain weight. Well, the Superpoints were a complete bust. The Silver Bears were not much better. Both pellets gave 2.5″ to 3″ groups at 25 yards. Since the Wasps worked so well, I knew the rifle could shoot.
RWS Hobbys shot groups of about 1.5″, which isn't horrible but isn't as good as I expected from this rifle. However, I had an ace up my sleeve. One of our readers, powermacsc, got half-inch groups with his new 200 shooting the 16-grain Logun Penetrators, so I saved that pellet for last. And, it did perform well. I got groups between 3/4″ and 1″ for five shots. That's close to what the Eley Wasps were doing, but the Loguns were ever-so-slightly better.
Technique, technique technique!
Then, I went to work on my shooting technique. I tried all kinds of holds and I balanced the stock at various critical spots. My conclusions are these:
The RM-200 is very sensitive to hold.
It likes the forearm to rest as far out as possible from the triggerguard.
Pellet seating pressure is very critical.
Being a carbine, the rifle wants to be held as loosely as possible.*
*This needs some explanation. When you hold a spring rifle, and especially a breakbarrel springer, you want the gun to move freely when it recoils. However, there is one final trick that the RM-200 really likes. After you have your sight picture, relax and see if the reticle moves. Your goal is to relax with the reticle remaining on target. If it moves when you relax, the rifle will throw the pellet in that direction. I found the RM-200 very sensitive in that respect.
Ambidextrous?
A reader asked about the stock, because I neglected to mention anything about it. The stock is not strictly ambidextrous, having a low comb on the left side, but the shape of the butt is ALMOST symmetrical. A lefty could use the rifle with no problem. The automatic safety is completely ambidextrous, with a lever on both sides of the receiver.
The bottom line
I think the Mendoza RM-200 is a wonderful little .22 sporting rifle. Expect it to shoot groups of 3/4″ to 1″ at 25 yards with good pellets. I suspect that as you become more familiar with your rifle, the groups will shrink because this rifle is very sensitive to how it is held. I don't know how you could do any better at the price!