by B.B. Pelletier
Before we start on today's blog, here's a link to the latest email promotion from Pyramyd Air.
A reader who calls himself Farmer commented that his son's Mendoza RM-65 BB gun wore out in a year. This is his comment:
I bought one of them for my kid about a year ago. The spring in the Mendoza wear out quickly and velocity drops to under 200 ft/s. It took about 2000 BB's to wear the gun completely down to apoint wher you can't even cock the rifle, because the trigger won't engage anymore. My advise, get a Daisy. The Red Ryder is a lot more accurate and lasts a lifetime.
I told him that based on his report, I would shoot my test RM-65 5,000 times and report to you how it does. I think I have to also test a Red Ryder for 5,000 shots just to be fair. I'll also test both guns for accuracy – just so we know. That's in the works.
I'm also conducting a 5,000-shot test of the BAM B40 as we speak. Some readers were concerned about longevity, so I felt we really should test the gun that way. But here's the deal. I'm not a testing laboratory. These things take time, so don't ask me for more of these "just to see." I'm doing this because there is a concern about new brands, and I think we all want to know.
Now, on to today's post!
A second new bipod?
There is a lot of similarity between this bipod and the one I showed you back in February. That one is called the Dragon Claw. Today's bipod is the Multi-Functional Universal Bipod, and it's different in that it has two different types of mounts.
Why two bipods?
If you haven't tried to fit a bipod to your gun, you aren't aware of the problem. Bipods are difficult to fit to specific guns! In the firearms world, they go through quite a lot to get bipods on guns, and they have it easier than airgunners. Firearms don't have underlevers to cock the action or long splits in their stocks to clear the barrel and cocking linkage. It's easier to attach a sling swivel stud to a firearm than to an air rifle.
So, this is an interface issue. The Dragon Claw solved many problems by being so adjustable, but I had to tell a reader who wanted to put one on the underlever of his B3-1 rifle that the underlever is too thin. There is adequate clearance between the underlever and the barrel, but the mount will never get tight on the underlever.
The Multi-Functional Universal bipod I'm reviewing today won't solve that problem, either, and here's the point – there will always be airguns that have difficulty mounting a bipod. But, today's bipod does clear up a lot of problems you readers have been having with some airguns.
For example, let's say you want a bipod for your RWS Diana 48/52/54. Those rifles have solid wood stocks that can accept sling swivels such as the special Beeman swivel 1/2 set thats tailor-made for this installation. This bipod preserves your sling swivel mounting point so you can retain a sling as well as a bipod.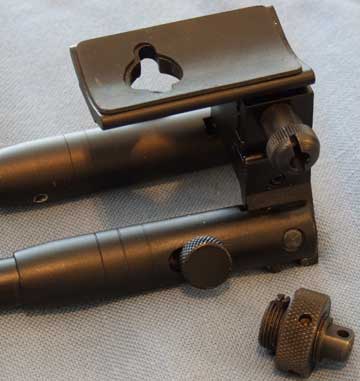 This is the setup for attaching to sling swivel studs. That doohickey at the bottom has a long screw that passes through your sling stud, then the thing passes through the padded mount and the knurled ring tightens it. Note that this mount leaves you with an unused sling swivel stud after the bipod is mounted!
Another example – you want a bipod for your Marui M4 System. It has a Picatinny rail under the forearm, so just remove the sling stud mount and this universal mount is now a Picatinny! It doesn't get any better than that.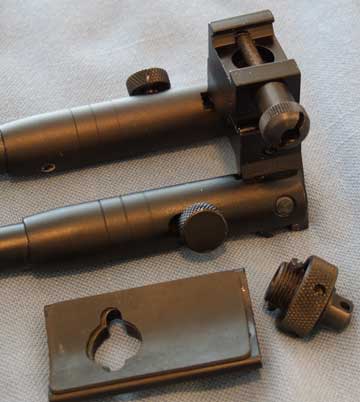 Loosen the big screw on the side, and the mount becomes a Picatinny mount, too!
The universal bipod is just as rugged as the Dragon Claw and shares the same adjustability, so for less than $30 you're getting a great bipod. If you have taken the time to price good bipods, you know this is less than half what they usually cost.
The market is flooded with cheap flimsy bipods from China that will not do the job you want. A bipod has to be steady or it isn't worth fooling with. This one is very steady! If any reader owns this or the Dragon Claw, I'd like to hear your comments on either bipod.