by B.B. Pelletier

Hammerli Storm Elite is a sharp-looking new breakbarrel with a synthetic stock and matte nickel finish.
When Umarex acquired the Hammerli name in 2006, the shooting world waited to see what would happen. Hammerli is a legendary Swiss maker of fine target arms. Though many of their models have actually been made in Switzerland, they have actually rebadged a lot of airguns. In fact, many airguns were made for them by the former East German firm of Haenel. But the quality has remained high no matter what factory was making the guns. Today, Umarex is applying the Hammerli name to new low- and mid-priced sporting airguns made by new companies. The Hammerli Storm Elite is such a gun.
Description
The Storm Elite is a conventional .177 breakbarrel rifle. It has a matte nickel finish with contrasting black sights, scope stop, triggerguard and trigger. The synthetic stock is colored to look like burl walnut and is fully ambidextrous. It has coarse pebbling on the pistol grip and forearm to facilitate a better grip. The stock is very thin and deep, which makes it easy for smaller hands to grasp. The pistol grip is similarly thin in cross section.
This is a light air rifle, weighing just 6.8 lbs. The long 19.5″ barrel provides plenty of leverage for cocking, which requires a force of only 32 lbs., with a spike at the very end to 35 lbs. It comes at a point where your arms are best positioned for strength, so it's of no consequence. The barrel latch is a ball detent that's smoother than a chisel. It seems to lock up fine.
Ball detent makes for smoother cocking.
Trigger and sights
The non-adjustable trigger is two-stage and breaks at a stiff and lawyerly 6 lbs. even. Cocking also sets the automatic safety, which is a square button descending from the front of the triggerguard. The gun is made with an anti-beartrap, so uncocking is not an option. Once cocked, you must load and shoot the rifle.
The sights are fiberoptic, but a little unusual. The front is a true bead sight and the rear notch is square, which makes no sense with a bead. Except with the fiberoptic dots on this rear sight, the front bead does form a center dot and is very usable.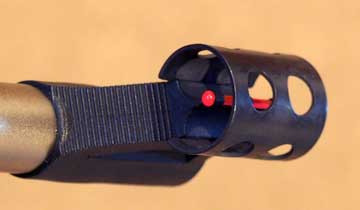 Sights are fiberoptic and front is a true bead.
The rear sight is a fiberoptic square notch, as mentioned, in a nice, adjustable unit. The clicks are sharp and crisp for both windage and elevation, making this a sight you can use.
There's also an 11mm dovetail cut in the top of the receiver tube, so scope mounting is possible. And Hammerli wisely gave us a built-in scope stop plate, so there is nothing to buy but scope and mounts. Undoubtedly, there will also be combos before long.
Velocity
I was curious about velocity because this is a new model from a Spanish maker – possibly Norica. With 7.9-grain Crosman Premiers, the brand new gun shot an average of 898 f.p.s. The velocity spread was quite low, and I would anticipate gaining an extra 10-20 f.p.s. after break-in. If 1000 f.p.s. is really that important, you can always get it with novelty lightweight pellets. But shoot regular lead pellets in the 7.8-10.5-grain range for accuracy. Because this is a springer, the lighter pellets will probably work best.
I noticed that the pellets were difficult to load because of a tight breech. That may turn out to boost accuracy.
Bottom line
At less than $200, the Hammerli Storm Elite is an affordable breakbarrel spring rifle. However, pricing it where they did, Hammerli is up against the stiffest competition of all the spring guns – a $200 .177 breakbarrel that shoots 1,000 f.p.s. Their plusses are a nice-looking synthetic stock, nickel finish, light weight and a very nice set of sights. On the minus side they have a too-stiff trigger that's not adjustable.
This is Gamo Shadow territory and also CF-X, though the Storm Elite is positioned against the Shadow and a dozen or so other $200 breakbarrels. A trip to the range will show us what we need to know.