by B.B. Pelletier
Before we begin today, attention bargain hunters. Pyramyd Air has a great sale on H&N Baracuda Match pellets in .22 caliber.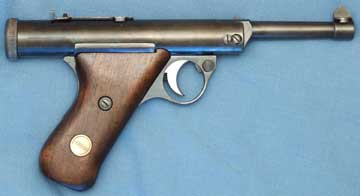 The Haenel 28 is a stout single-shot spring pistol from before WWII.
I was at a gun show 10 years ago and saw a strange-looking pistol on a table. Something about its shape told me it was an airgun and not a firearm. When I picked it up, though, the substantial weight of 38 oz. told me that this was an airgun built to LAST! Probably made before WWII (it was), it was all steel and wood with leather seals.
That first gun show model 28 was overpriced at $100, but I bargained the seller down to $80. The gun had no finish and a fair bit of pitting from former neglect, so that was about the maximum it would be worth. Someone had wire brushed all the metal, so there was no collector's value left, but it still functioned in every way. With a gun that old, that's something.
When I got the gun home, it had no power. I stripped the powerplant by unscrewing the end cap. That gave me access to the piston, which had no seal, so my first job was to make a new one out of an old leather belt. When that was finished, I had a gun that shot .177 RWS Hobby pellets at about 250 f.p.s. Not a magnum! My mainspring was canted, so I guessed that a new one might get 300-350 f.p.s.
A breakbarrel and more!
The model 28 has a conventional breakbarrel for loading, but the gun is cocked another way. The barrel is only held by a chisel detent, so all you do is break the barrel down at any time to load. The action is cocked by unlatching the pistol grip, which is a subframe, from the upper frame of the gun and swinging it down and to the rear. The picture shows it more clearly. Once the gun is cocked and the pistol grip is locked with the upper frame, you're ready to fire.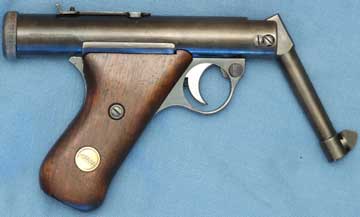 The Haenel 28 is a stout single-shot spring pistol from before WWII.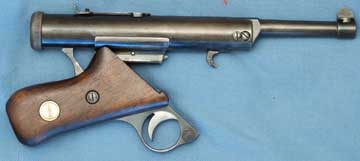 Bottom subframe unlatches from the top and pivots back to cock. Note that the trigger is now disconnected from the powerplant. That's why the trigger can never be great.
Trigger
The trigger is a single-stage, but slop in the trigger mechanism allows the blade to wiggle like a false first stage. The pull is even and breaks at 7 lbs., which sounds very heavy, but for some reason doesn't feel that way. I suspect the deeply curved trigger blade has something to do with that. With the pistol breaking apart the way it does, the trigger linkage has to do a lot more than a conventional trigger.
A little history
Hugo Schmeisser designed this pistol in 1927, but production didn't start until around 1933. It continued up to the start of WWII, but ended there. Approximately 25,000 model 28s were made, along with a few thousand earlier unnumbered guns. You cannot help but notice the similarity of the shape to the famous P08 or Luger, which has given rise to speculation that Haenel 28s were used for military training. However, I know of no hard evidence to support that claim. Germany did make use of many long airguns as rifle trainers, but they used no pistols that I know of.
Second pistol
I sold the first model 28 after playing with it a few years, but about a month ago a second gun came into my hands. This one is in much nicer condition with some bluing, while the remainder of the metal has turned to be a pleasing plumb patina. It has a stronger mainspring than the first gun, and the piston seal is fresh, yet the velocity with RWS Hobbys is still between 250 and 270 f.p.s. So, my guess about a new mainspring may be overstating the capability.
Sights and accuracy
The front sight is a barleycorn mounted on a dovetail. The rear is a V-notch mounted on an adjustable leaf with its own dovetail. Adjustment comes via a small screw at the back of the leaf. Accuracy with an air pistol of this vintage is a problematic thing. Expect to hold groups of 2.5″ to 3″ at 10 meters in spite of the rifled barrel. Actually, there are some smoothbore 28s known, as well as some in .22 caliber, though a rifled .177 is the most common type.
Of all the heavy steel pre-war air pistols, only the Webley Senior is more common than the Haenel model 28. So, if you want one, they're available. I would guess that a nice one with lots of blue will cost $175-225 – more if there's a box with it.