Archive for November 2009
by B.B. Pelletier
Today's report is an answer to a question I received a couple days ago. It's such a typical question that I thought I would spend a little more time on the answer for everyone. It also dovetails nicely into my holiday gift recommendations.
The question came from a reader calling himself ccobbster. Here's the question, exactly as he wrote it:
Am interested in buying (soon) a .22 Cal. pellet rifle for practice shooting and small game (pest) hunting (rabbits, squirrel, armadillo, possum). Am drawn to the Nitro Piston power plant for performance and ease of use concerns. Have been looking at six air rifles and was wondering if you had any recommendations or preferences amongst these. Am trying to stay around the $300 range. Would appreciate any advice/recommendations, or other preferred rifles. Have found alot of useful information on your blog site and am inclined towards the Crosman NPSS. Also, it's made in the US. Here are the rifles:
Crosman NPSS Nitro Piston Short Stroke
Tech Force 99 Premier (springer)
Benjamin Super Streak (springer)- can this be equipped with the Nitro Piston?
He also asked for pellet recommendations later on.
Here's the reason I wanted to answer this in the blog. This kind of question comes up a lot in this blog. The list of guns is very typical and shows that the reader has been looking at the different models. Many times the question will include the phrase ".. and will you please explain your reasons for what you choose?" or words to that effect. That's harder to do and becomes many blogs-worth of additional information. But I think I can take a stab at answering the basic question because I see the answer embedded in the question. Do you see it?
"…am inclined towards the Crosman NPSS." That's what the asker really wants and if I'm smart I will say that it is an okay choice–unless I think that it isn't.
I don't know anything about ccobbster. I'm guessing he's male, but I can't really tell the age except generally that he's between 16 and 50. He didn't lay any macho credentials on me (ex-SEAL, police training, etc., so I think he's perhaps a little older or perhaps wiser, or maybe both.
But I won't try to guess who ccobbster is. Instead, I'll think of him as my friend. That way, my answer gets easier.
First, I want to clear something up. ALL the rifles he listed are springers. Some have gas springs and others have steel springs, but they are all spring-piston air rifles. Crosman uses the brand name Nitro Piston for their gas spring, but it's still just a gas spring. Ccobbster probably knows this, but I mention it because I don't want to confuse any new readers.
He's listed six air rifles and five of them come with a gas spring and one is an air shotgun and a smoothbore. So, I think he's interested in a gas spring. I could just cut to the chase and say to get the NPSS right now, but that isn't the entire answer.
Ccobbster, to me your list of rifles are all the hyper-velocity, magnum-class airguns. And I see a subtle price barrier besides the $300 there, as well. If you're going to pay more than that, you want a LOT of power with it!
May I wave you off your line of thought? Isn't the important thing to hit the target first, and then be concerned with how much power landed on target? A miss does nothing for anyone.
Let's talk about armadillos for a moment. They have tough shells that even a .22 rimfire cannot penetrate in certain situations, so to dispatch them with an air rifle takes a real accurate shot.
The Gamo Viper is an air shotgun that has a smooth bore. It's not at all suited for what you want. So, let's drop it off the list.
Let's forget the Whisper with Nitro Piston because you want a .22 and it's really best in .177 caliber. The .22 caliber Whispers seem to run out of air. I know what the numbers in the descriptions say, but they're for the fastest possible pellet in that gun–not one that you are likely to use.
We can rule out the TF99, because my living room couch says it can throw a pellet 4 inches wide of its mark at 21 yards. That's an inside joke–I actually shot my couch while testing a Tech Force 99 in my house.
While we're at it, the Benjamin Super Streak can go, too. And, no, there's no Nitro Piston for it, yet. Oh, it's more accurate than the TF99, but it requires BUCKETS of technique to extract the accuracy. How's your artillery hold?
Ccobbster, "My what?"
Exactly. Let's get you into something a little more forgiving than a Super Streak. It's also quite a bear to cock, as is the Walther Talon Magnum. Not that you can't cock them. I'm sure you can. But you won't want to shoot them more than 25-30 times before giving up. I'd like to see you with a rifle you can shoot all day and still do the things you mentioned.
You like the NPSS, but did you read my report about its need for a dead hold? If not, please read it because the NPSS requires a lot of technique to shoot accurately. It's easy enough to cock, but you have to have the hold to group.
You can look at this two ways. One, you don't want to be bothered, in which case I will tell you to save up for a precharged pneumatic, because all spring rifles need some amount of hold technique. Or you can choose to learn how to hold a springer, in which case I say the NPSS is a good choice for you.
However, if you had just come to me and asked for a good starter spring rifle I might have steered you toward the RWS 34P that Vince mentioned yesterday. No, it doesn't have a gas spring option anymore. But it's less sensitive to hold and groups like a champion. Power-wise, it's pretty much of a wash between it and the NPSS.
I would learn to shoot the 34 with Crosman Premier pellets and JSB Exact pellets until I was able to group 10 shots inside one inch at 25 yards. Then, I would start thinking about a a scope.
However, if a scope is what you want, I'm sure there are several that will work well with the gun. Just remember to get the Leapers Diana scope base to mount it.
If you're still up for the NPSS, get it. It's a fine airgun. Just practice your artillery hold, and you'll soon find that you shoot everything better.
Ccobbster, that's my answer to you for a spring rifle under $300. I'm sure this blog will now erupt with other answers and things I forgot to mention.
by B.B. Pelletier
Pyramyd Air has some Black Friday and Cyber Monday specials they've put together. But don't wait too long to get what you want, as the specials are going to change daily! And here's a coupon you'll enjoy using this weekend: 5% off PLUS you can use it with Pyramyd Air's free ground shipping offer and their free pellet offer (buy 4 tins, pay for 3).

Benjamin Katana.
Before I begin, the other day, somebody asked about the differences between the Benjamin Discovery, the Marauder and the Katana. His question was about the internal parts, but I think what he really wanted to know was how the rifles differed from each other. I'll try to answer that now.
Benjamin Discovery
The Benjamin Discovery is a basic PCP, designed to keep the retail price as low as possible. I tested one in both calibers for this blog, and you can read how well it did here. As you will read, the rifle performed very well in both calibers. In fact, it set the PCP world on its collective ear, by delivering performance never before offered at half the price of similar rifles. And it has features that were never before offered. It only needs to be filled to 2,000 psi. It's also a factory-ready CO2 rifle with no adjustments required.
Benjamin Marauder
The Marauder came next and it offered features that the Discovery didn't have:
It's a repeater
The ability to adjust the fill pressure level to gain more shots
The ability to adjust velocity
High-quality adjustable trigger
Choked barrel for greater accuracy
European-style stock with high cheekpiece and checkering
Shrouded barrel for quiet shooting
Benjamin Katana
Then, a few weeks ago, the Benjamin Katana joined the others. It's designed to have some of the upgrades of the Marauder, but not all of them. It has:
High-quality adjustable trigger
Choked barrel for greater accuracy
European-style stock, but subdued and different from that of the Marauder
The Marauder features that the Katana doesn't have are:
Shrouded barrel for quiet shooting
The ability to adjust the fill pressure level and gain more shots
The ability to adjust velocity
The repeating function (the Katana is a single-shot)
Now the question that was asked was what internal differences exist between these three rifles. I don't exactly know how to answer that because the performance of the guns tells the whole story. Unless you're setting up a Crosman repair station, the identity of each part seems somewhat moot. I'm not trying to blow off the answer, but I've answered it to the best of my ability.
It's accuracy day today, and the Katana and I went to my local firearms range to test the rifle at 50 yards. The day started out perfectly–no wind and I had the 50-yard range all to myself.
To get the best results, I used a Leapers 8-32×56 SWAT scope in UTG high rings. If I were outfitting a Katana for the field, I might be more inclined to use a 4-16x or a 4-12x. That would be in keeping with the gun's light weight and fast handling characteristics.
I aired the rifle up to 2,000 psi (isn't that nice?) and started to sight-in when I realized the gun was almost there at the start. That's a lucky coincidence, since this same scope was last mounted on the Massimo breakbarrel, where its fidelity was called into question. I used it this time because I felt sure it was still good, and I needed to know, so I could either put it with the proven scopes or in the small pile of suspect glass I don't use.
JSB Exacts
The first pellet I tested was the JSB Exact 15.8-grain pellet. Yes, I know Paul Capello said he had poor luck with them in his Katana, but I have always relied on this pellet in a .22-caliber PCP, and I had to find out. Well, Paul was right! The rifle sprayed them all around the place. Had I taken the time to shoot 10, I'm sure the group would have been 3 inches or even larger, but after five shots I moved on. But not too far.
Air Arms .22 domes
Next, I tried the Air Arms 16-grain domed pellet, which is a close cousin to the JSB Exact. Same results. Not even worth showing you. So, Paul was right about JSB pellets. The Katana doesn't like 'em.
Then, I did a dumb thing that turned out well, but could have been better. The breeze was kicking up by this time and I was having to pause for breaks in the wind. I had three more pellets to test, and I decided to go with the Beeman Kodiaks. Paul had said the Crosman Premier pellets shot best in his rifle, but I don't think he mentioned the Kodiaks. Remember that Kodiaks that are difficult to find are the same as H&N Baracudas, which should be easier to get.
Beeman Kodiaks
You know that I'm leading up to something, don't you? Well, I couldn't believe how well those Kodiaks shot. In fact, if I had stopped at just five shots, I'd be showing you a group that measures about a quarter-inch right now. But since I decided to go all the way to 10 for accuracy to give a good look at the rifle's potential, the group is a little larger. It measures 0.592″, center to center of the two shots farthest apart. Yep, that's right sports fans. The TEN-shot group of Kodiaks made by the Katana is smaller than 0.60″.
It was amazing, because the sun was almost behind me and I saw the pellet fly for the last 30-40 feet. They just kept slipping through that same small hole.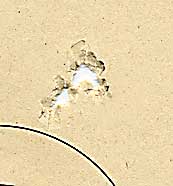 Benjamin Katana shot this sub-0.60″ group at 50 yards with 10 Beeman Kodiaks.
Unfortunately, the wind had picked up by this time and was too much to contend with when the possibility for this kind of accuracy was on the line. I shot another Kodiak group, but it was blown wider than an inch and I decided to call it quits for the day.
More to come
Because I had started with the JSBs, I didn't have time to shoot the Crosman Premiers or the new Gamo TS-22 Long Distance pellets, so the accuracy test isn't over yet. I remember shooting half-inch, five-shot groups at 50 yards with the Benjamin Discovery and the Benjamin Marauder, so these 10-shot, 50-yard groups with the Katana show how well the potential for accuracy holds up.
There will be a fourth part to this report; but if you're inclined toward the Katana already, don't wait for that. Both Paul Capello and I have already seen superior accuracy from both of our test rifles, and I'm inclined to say this one's a winner.
by B.B. Pelletier
Happy Thanksgiving to all our U.S. readers, wherever they may be.
Blogger is still hosed, but Edith is finding ways around it. The Blogger support team, in contrast, hasn't done anything to solve the issue, which affects not just this blog but also many others around the world. Edith has been in touch with people from all over, and they're sharing tips on workarounds.

Crosman Challenger 2009 target rifle has awakened a large segment of shooters!
Today is adjustment day for the Crosman Challenger 2009. Can you believe the last report was back on October 1st?
I mentioned in Part 4 that I would return and adjust the rifle for a specific pellet. And in Part 3 I mentioned that my test shot string of 100 shots had a 34 f.p.s. deviation. That's important to remember, as today I'm going to try to stretch that just a bit.
Trigger adjustment
Before I get to the velocity adjustment, though, I first want to cover the trigger. Back when I did the Benjamin Marauder test, I didn't adjust the trigger because it was already so good from the factory. But the Challenger 2009 is a target rifle, and it's pretty important to have the trigger adjusted well on a target rifle.
There are four adjustments on this trigger. They are the location of the trigger blade, first-stage travel, second-stage travel and the weight of the trigger-pull. When adjusting the first stage travel you affect the second-stage travel as well, so adjust those two together.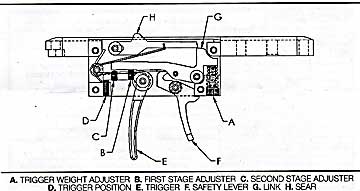 Crosman Challenger 2009 trigger is very adjustable.
My trigger felt light but had an extremely long second stage pull. When I put the trigger-pull gauge on it, it measured 3 lbs., 2 oz. That's quite a bit heavier than I imagined it would be. I adjusted the weight of the pull to go down as low as it would go and got a 1 lb., 12 oz. pull. Then, the adjustment screw and the trigger-pull-weight spring fell out, and the trigger still measured 1 lb., 12 oz. So, Crosman has adjusted the rifle so it will never go below the sporter-class mandatory 1 lb., 8 oz. limit.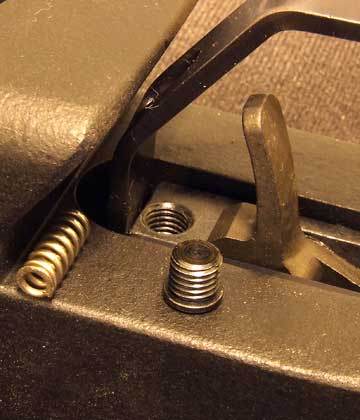 When I adjusted the trigger-pull weight, the screw fell out of its hole, along with the spring that controls the pull weight. The trigger still had a legal amount of pull.
I turned the second-stage screw counterclockwise until the second-stage pull had no perceptible movement. During the trigger-pull, the trigger blade stopped at stage two and then broke cleanly without any sense of movement. Following the release, the spring pressure on the trigger increases to such an extent that it feels like a positive trigger stop when you're squeezing off the shot. You can still pull the trigger blade backwards if you try, but the heavier weight after the sear releases feels like a positive trigger overtravel stop. At this point, the trigger was adjusted perfectly to suit me.
Velocity adjustment
You can adjust the length of the hammer stroke and the tension on the hammer. The shorter the stroke, the less air that escapes and vice-versa. The greater the tension on the hammer spring, the harder the hammer hits the valve and the more air that escapes. And vice-versa!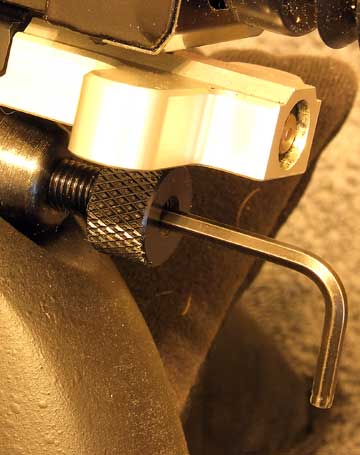 The knurled knob adjusts the hammer spring tension. Long Allen wrench adjusts the length of the hammer stroke.
Oh, my! You can control BOTH the length of the hammer stroke and the tension on the hammer spring. And each one affects velocity. So, which one do you adjust first?
What do you want to do?
I wanted to increase the number of usable shots by decreasing the average velocity. But how much did I have to drop to get a good long string with the least velocity variation?
The manual gives guidance for default settings of both adjustments, but that doesn't answer my question. And nobody can answer my question, because these are two interrelated but separate adjustments that affect one another. You may adjust either one or both adjustments and get an initial velocity change, but how do you know if that change is what you really want? There's only one way to know. You have to shoot the gun from a fresh fill until it drops in velocity below your minimum criterion. And YOU have to pick that criterion! If you're reading this report the way I intended, you are now seeing that this process is practically infinite. Yet, getting through it isn't nearly as cumbersome or confusing as it sounds. You just have to turn off your brain and stop trying to guess what will happen.
Here's what I did
I decided to adjust both the hammer stroke and the hammer spring tension at the same time. Since I didn't know what I was doing, I put a full clockwise turn on the hammer stroke screw and a full turn counterclockwise on the hammer spring tension adjuster. I didn't know what the whole outcome of my adjustments would be. The owner's manual specified what each adjustment would do, but nothing can tell you what the whole shot string will do. That takes experience.
The challenge
Following a fresh fill to 2,000 psi, I chronographed the first shot from the rifle with H&N Finale Match pellets at 560 f.p.s., which was very close to the average I'd gotten in an earlier test (556 f.p.s.). In that test I had gotten 72 total shots within 18 f.p.s. from Gamo Match pellets, and I guess I also got a 100-shot string that had 34 f.p.s.total spread but I don't know which pellet that was. But that was what I set out to beat. I wanted to get better than 100 shots in a string, or a 100-shot string with a variation lower than 34 f.p.s.
After the first adjustment (one turn in on the hammer stroke, one turn out on the hammer spring tension) the velocity was 540 f.p.s. I thought that was still too fast, so I adjusted the gun a second time. This time it came out with a shot at 532 f.p.s. That was just a trifle above what I was looking for, so I took it. The test was now underway, and the first two shots were included.
Mind-numbing!
I don't have the ballistic printer for my Chrony like I told you about yesterday, so when I record any shot string, I have to write all the numbers down. A 100-shot string is mind-numbing, to say the least.
The Challenger 2009 went on and on–far longer than I thought it would. Remember, I was getting 72 shots at 560 f.p.s. before adjustment. How much more would come from dropping the speed by a paltry 28 f.p.s.? I had hoped for over 85 shots when this test began, but the rifle was still pumping them out at shot 100. Finally, shot 117 dropped below my criterion of 29 f.p.s. total spread. So, there were an amazing 116 shots in the string that averaged 545 f.p.s.
How did I select the criterion of 29 f.p.s.? I didn't. The gun did. After that first slow shot of 528 f.p.s., the velocity started increasing. The increase was slow but inexorable, until, at shot 64, the velocity climbed to 557 f.p.s., which was as high as it would go. At that point, 29 f.p.s. separated the high from the low, so I decided to keep on shooting until the velocity dropped below that of the slowest shot–528. Had the top number been higher, I would have accepted it and had a larger total velocity variation. Can you see that I am not controlling anything at this point? I'm just keeping a record of what's happening.
If you're very sharp, you also picked up on the fact that the starting velocity of 528 f.p.s. is not the average of this string. It was actually 545. So, I didn't actually lower the velocity of the gun by 28 f.p.s., as I said earlier. I lowered it by just 15 f.p.s. And that was all it took to increase the shot string from 100 shots with a 34 f.p.s. variation to 116 shots with a 29 f.p.s. variation. I accomplished both my goals on the first try.
Do you think I could do even better than that? Probably. But I'll leave that chore to you guys. Each of you wants something different from his gun; and as long as you keep it reasonable, the Challenger 2009 can deliver. Remember, it does all of this on a fill of just 2,000 psi.
I'm currently testing the AirForce Edge, which is within a week or two–at the most–of coming to market. As soon as I know when the gun will be available, I'll start reporting on it.
by B.B. Pelletier
Blogger tanked big-time on Monday, and I can't easily access the past reports I need for research on today's blog. So, I thought I'd take today to start my Christmas list for all of you who have presents to buy.
I'm going to recommend specific presents in certain price categories. You can use this to jog your own memory about what to ask for, or you can point your gift buyers to this report. Pyramyd Air has a Holiday Gift Guide that does the same thing I'm doing, so be sure to check it, as well. I am going to give the reasons for my selections, which makes my list more personal to me and, I hope, to you.
Whenever I look in my gun closet, I see guns–both firearms and airguns–that I treasure and wouldn't want to give up, and then there are others that I don't value as much as I once thought I might. In some cases, the gun wasn't as accurate as I had hoped. In other cases there's just something I cannot put my finger on that makes me like or dislike a particular gun. The point is–I don't like every gun I own, and that applies to both airguns and firearms.
But there's another category of equipment besides the guns. This is the equipment I use to enjoy all my guns. While they aren't guns themselves, these things magnify the shooting experience. They're like that favorite old pair of boots or shoes you love to wear because they're so comfortable. Or, for me, it's like my '93 Ford F-150 pickup that looks outdated to most people but is a source of pleasure to me because I know it will start every time and will take me where I need to go.
I'd like to start this gift list with some equipment like that. Things you may not know you need until you have them, and then you'll wonder how you ever got along without them.
Chronograph
The first item is a chronograph. I resisted buying a chronograph for many years. I thought they were stupid and useless. Who needs to know how fast their pellets are going? What we need are pellets that hit their targets and do what is expected of them.
Then, I wanted to write a book about a Beeman R1. Suddenly, I needed a chronograph, because who ever heard of a modern gun book without some velocity information? I also had experiments I wanted to perform. Things like testing how fast the rifle shot out of the box and again after a 1,000-shot break-in. And testing the power after leaving the mainspring cocked for a month. For that, you need a chronoghraph.
At the Winston-Salem airgun Expo in 1994 I bought a used Chrony from Paul Watts. It was well-used and an older model that had cardboard stands in front of the two skyscreens. I used it to start the R1 book, but one day, while testing the rifle at some point in the break-in, I got a velocity that was 150 f.p.s. too high for the gun. About 20 shots later it did it again. That was when I learned about holding the barrel perpendicular to the angle of the skyscreens for accurate results. I found I could fool the Chrony into artificially high numbers simply by changing the angle at which the pellet passed through the skyscreens.
That was what led me to purchase the Oehler 35P chronograph. And it also left a bad taste in my mouth for the Shooting Chrony. I was certain that such an inexpensive chronograph could not be accurate.
A second test
A decade later, I tested another Shooting Chrony for this blog. What a difference a decade made! This chronograph was one I found I could use and trust. It was not as sensitive to light as my old one had been and, though there are slight differences in velocity when the barrel isn't perpendicular, gross errors are no longer possible.
While testing the Chrony, I accidently hit and dented the back of the aluminum case with a pellet. When I told Pyramyd Air about it they told me to just keep the machine and use it, which I readily did. In the three years I have had it, the Alpha model Shooting Chrony has become my most-used office chronograph, and the Oehler is now just for taking to the field.
Many uses
I can tell you that, once you own a chronograph, you'll find a hundred uses for it that you never imagined. I can tell the state of a spring gun before and after certain repairs and modifications, such as the breech seal test I ran on the Diana model 27. I never could have known the difference the new seal made if I didn't have a way to measure velocity.
Shooting Chrony and Ballistic Printer
I'm recommending the Alpha model Shooting Chrony chronograph as a great Christmas present for an avid airgunner. If there's more money in the budget, I recommend the Shooting Chrony Ballistic Printer that connects to the chronograph and prints the results as you go. It's such a time savings to not have to write down each velocity in a long shot string!
World's toughest pellet trap
You all know that I test a lot of airguns. Many of you met me here on the Pyramyd Air blog, which I've been writing since 2005. But a few of you go back two more years when I was the editor of Airgun Illustrated magazine. Some of you were even there for the nine years before that when I published The Airgun Letter newsletter. Throughout all that time, I've used but one pellet trap as my primary trap. It was expensive when I bought it in 1993 and it costs even more today, but the Heavy Duty pellet trap is a lifetime investment. I've shot over a half-million rounds into mine, and it's still in great shape. It will still be in great shape 40 years from now, when two or three other owners have given it their lifetimes of use on top of mine.
They say this trap can stop a bullet from a .22 long rifle. Well, I've done that, plus hitting it with bullets from Farco air shotguns, Big Bore 909s, Career 9mms, Career Dragon Slayers and other powerful airguns for which nothing else will suffice. Want a pellet trap with boat-anchor reliability? This is it. No, it isn't flashy and exciting. It just does its job and keeps on working, decade after decade. You'll never wear one out.
Blue Book
From the expensive to the not-so-expensive, we now go to the Blue Book of Airguns. This is the book that makes all of us smart about airguns. I keep mine on my desk and not a week goes by without a couple questions that have to be researched. Don't think of the Blue Book as a price guide, because it's usually wrong. Airgun prices have been in a state of upward flux for the past five years and just this year the prices flattened and rolled back in response to the increasingly poor economy.
Use the Blue Book to learn more about your hobby. Discover great airguns you never knew existed. Get smart before you visit that pawn shop or gun show and see an airguns you know nothing about. Find those "same as" models that sell for lower prices–like the Hy Score 807 that's really a Diana 27. All of this and more can be done with the Blue Book.
Well, that's a start on my Christmas list for you. Next time, I'll look at some real value-packed guns.
by B.B. Pelletier
Okay, today I'll continue with the description of this rifle and test the velocity, as well. You may remember that the Relum Supertornado is an underlever that's loaded through a tap. A tap is a loading chamber that turns 90 degrees to accept a pellet, then realigns with the breech for firing. It's located in front of the compression chamber and behind the barrel. When aligned with the barrel for firing, it sort of forms an extension to the air transfer port because it's still behind the rifled barrel. So taploaders are usually lower-powered than other types of airguns that load directly into the barrel.
Loading tap
The Supertornado is a spring-piston air rifle, but loading taps have been used on precharged pneumatics, as well. Loading taps have to be as airtight as possible while still being able to rotate. That said, most of the taps I've seen and used have rotated smoothly and without great force. The tap on this Supertornado rotates with very little effort at all. However, there's one quirk. This is the only loading tap I've seen on a pellet rifle that rotates down. The handle moves counter-clockwise until its pointing straight down when the loading port is opened. On all other taps I've seen, the tap rotates clockwise and points straight up when the port is open.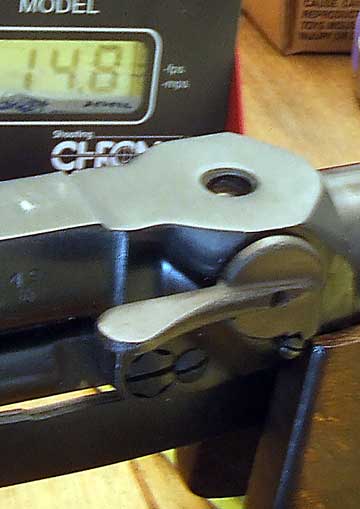 When closed, the handle on the loading tap points forward.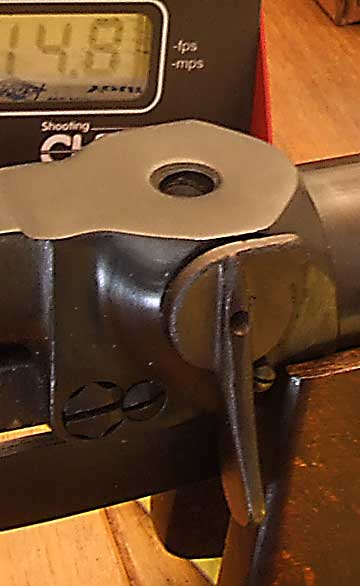 The handle rotates down to open the tap. A pellet is now dropped nose-first into the tap, which is rotated closed to fire.
Quick check for the fit of the tap
One test to see how tight the tap is, is to let the piston go forward while the tap is down. This is done with restraint on the underlever to prevent the piston from slamming into the end of the compression chamber. I've had Hakims hold their pistons in place with the compressed air this way, however the tap on the Supertornado doesn't seal that well. There's a hiss of escaping air, but the piston doesn't pause when going forward.
Firing behavior
When I cocked the rifle the first time, I could see why it's a favorite of the owner. The cocking effort is a mere 21 lbs. according to my bathroom scale. That is just one pound above my criterion for a youth gun! The single-stage trigger that was originally adjustable but now is not, pulls smoothly between 4.5 and 5.5 lbs. It's so smooth that it feels like a pound less.
The underlever has a ball bearing in its end that makes it hold tight to the socket, yet pop away from the barrel when you're ready for it. And the light cocking effort makes this an all-day rifle, for sure.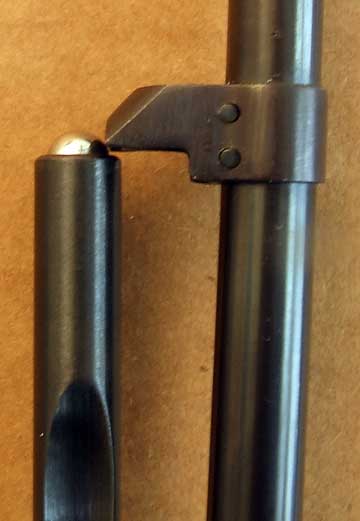 A large spring-loaded ball bearing holds the underlever in place.
Inside the rifle there are two mainsprings, one nestled inside the other. These two springs are wound in directions counter to each other to cancel any tendency for the rifle to twist or torque at firing. Owners of RWS Diana 48 and 52 air rifles notice this twist more than most spring rifle shooters because their rifles are slightly heavy on the right side due to the extra weight of the cocking lever, and the direction of the torque is also to the right but it's noticeable in many spring rifles.
When Jim Grossman acquired the rifle, he told me he cleaned out the powerplant, which was full of dried factory grease, and lubricated the two original springs with a light coating of Jim Maccari's spring-dampening tar (a thick viscous grease that deadens vibration). He learned that some UK websites tell how to upgrade the power with a Gamo or OX mainspring, but he was happy with the factory setup. So, let's see what the gun gets in terms of power and velocity.
The rifle fires without vibration. There's just a solid "thunk." And that, coupled with the easy cocking and smooth trigger, make this one endearing air rifle. If it also turns out to be accurate, it's a classic "go-to" airgun.
RWS Superdome
The Relum Supertornado is a .177, and we suspect that it has low- to mid-level power. So, I selected pellets that I felt were appropriate for that power range. RWS Superdomes were first to be tested. They gave a velocity average of 515 f.p.s., and the spread went from 503 to 529, for a total of 26 f.p.s. That's an average power of 4.89 foot-pounds.
I chose Superdomes for another reason besides their weight. Taploaders need pellets made of pure lead and those with thin skirts, because the air blast has to flare the skirt out to seal the tap. Otherwise, there will be some blowby air and the velocity will suffer. I'll show how in a moment.
Gamo Match
The lightweight 7.5-grain Gamo Match pellet went a little faster. It averaged 562 f.p.s., with a spread from 553 to 571. That's a total of 18 f.p.s. Average energy with this one was 5.26 foot-pounds, or a little more than with the heavier Superdomes. This relationship (lighter pellet being more efficient) is to be expected from a spring-piston gun–especially one that's vintage.
Crosman Premier hollowpoints
Crosman Premier hollowpoints gave me a problem in the Supertornado, and they illustrate what I said earlier about soft lead and thin skirts. Premier hollowpoints weigh a nominal 7.9 grains, so they should be about as fast as an RWS Superdome. Perhaps slightly faster, because they're supposed to be almost half a grain lighter. But that wasn't the case.
These pellets averaged 487 f.p.s. But the real story is in the spread. It ranged from 397 to 518! A spread of 121 f.p.s. I was going to throw that 397 out as an anomaly, but on the 10th shot I got a 416 f.p.s., so it stayed in.
The problem, once again, is that a taploader needs a soft, thin pellet skirt that can be blown out into the walls of the tap to seal the air behind the pellet. Crosman lead pellets are all made from a hardened alloy that makes them well-suited to work through repeating mechanisms. While they're pretty much the standard for action guns, they do have a problem in most taploaders, and these velocity results show that as graphically as can be. The firing behavior on that slow first shot was also noticeably sudden and quick. I wouldn't say it was harsh, because it seemed to be the opposite of harsh. But it was different from all the other shots, and I could tell that while shooting through the chronograph. Had I gotten two more shots like it, I would have stopped right there, but it never felt that way again.
That takes us through velocity. Next stop are the bullseyes.
by B.B. Pelletier

Benjamin Katana.
Well! There has been a lot of emotion over this latest PCP release from Crosman. The first report of the Benjamin Katana attracted more comments than a normal Friday, plus we lit up the Yellow Forum, as well. They say no publicity is bad publicity, so we'll see how things turn out.
But underneath all the gossip, there's a real air rifle to be evaluated. Forgetting all the trash that surrounds it, how does the Katana perform on its own merits? We will start looking at that today, as we delve into the issue of velocity and energy potential. Since the rifle is available in .22 caliber only, the job is somewhat simplified.
The barrel IS choked
I confirmed the choked barrel with Ed Schultz, Crosman's production manager and head engineer. So, this rifle should deliver stunning accuracy. For those who are not aware, there's a simple test that can often confirm whether a barrel is choked or not. Simply push a pellet all the way through the barrel with a cleaning rod. If you start at the breech and the barrel is choked, you will feel some slight resistance about two inches from the muzzle. If you start from the muzzle, as the Katana requires because its bolt is not readily removable, the resistance is at the start of the push and becomes easier after the initial few inches. Checking from the muzzle is harder to do and takes an experienced hand, which is why I wasn't 100 percent certain about the choke in part 1.
Why no shroud?
Several of you asked why there is no shroud around the barrel. The answer lies with the Discovery receiver upon which the Katana is based. It is lower than the Marauder receiver, which means the Katana barrel has to be closer to the receiver. There isn't enough room between the receiver and barrel for a decent-sized shroud to fit.
On to velocity
The first test will measure the potential total shot string. After that, I'll know where the power band is in relation to the fill pressure. This isn't exact, because as you change pellets the power curve expands and contracts. As a rule of thumb for a non-regulated system like the Katana's, though, heavier pellets will get a couple more shots in the zone than lighter ones, probably because they hold the valve open longer. But I'll check that, too.
Crosman Premiers
A little bird named Paul Capello told me the Katana loves Crosman Premier pellets. Paul is also testing the Katana and finds the Premiers very accurate in his test gun. When I say Crosman Premiers, I mean the ones in the brown cardboard box, not the ones you can buy in tins. The "Premiers" in tins are not sorted by the die they were made on, but I think the boxed Premiers still are, so the pellet-to-pellet variation should be less.
I filled to exactly 2,000 psi on my carbon fiber tank gauge, which seemed to agree very well with the gauge on the rifle. I'll show you the entire shot string now, and then interpret what I think it means.
SHOT/Velocity
1 / 776
2 / 776
3 / 807
4 / 806
5 / 810
6 / 818
7 / 814
8 / 815
9 / 815
10 / 819*
11 / 808
12 / 815
13 / 814
14 / 817
15 / 811
16 / 807
17 / 809
18 / 806
19 / 804
20 / 801
21 / 793
22 / 789
23 / 784
24 / 772
* Fastest shot
Well, this is a good velocity curve. I see 20 good shots that are within 30 f.p.s. of each other. That would be shots 3 through 22. If I wanted to keep them all within 20 f.p.s., then I'd stop after shot 20, which gives a total of 18 good shots. The average for that spread would be 811 f.p.s. (rounded up), which works out to a muzzle energy of 20.89 foot-pounds.
The indicated reservoir pressure after shot 21 was 1,200 psi. Keep that in mind as I move to a heavier pellet.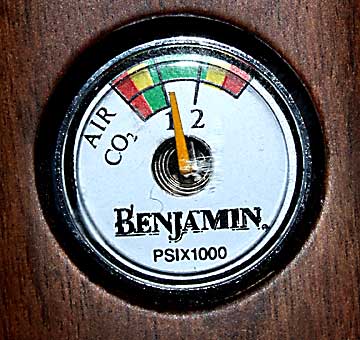 Indicated air pressure after shot 21.
Beeman Kodiaks
It has been difficult to buy Beeman Kodiak pellets for many months, but now that Pyramyd Air distributes the entire line of H&N Pellets, you can substitute with H&N Baracudas, which are the same pellet. I checked and Baracudas were out of stock as of this writing, but Pyramyd Air will have a standing order for them, and they should always be available in the future. I have a few Kodiaks remaining and will continue to use them until they're gone.
Kodiaks gave an average velocity of 681 f.p.s. for 10 shots. I had filled to just shy of 2,000 psi to shave off those first two slower shots seen in the first string. It worked, too, because here are the numbers for this string.
SHOT/Velocity
1 / 678
2 / 681
3 / 682
4 / 681
5 / 686
6 / 687
7 / 674
8 / 687
9 / 677
10 / 677
So Kodiaks generated 21.63 foot-pounds of muzzle energy, on average. That's about the same as a tuned .22-caliber Beeman R1.
Gamo TS-22
Next, I decided to test a new pellet–the Gamo TS-22 Long Distance pellet. This is a .22-grain domed pellet that resembles an H&N Baracuda more than a little. I'll be trying them in the accuracy test, so I thought we should get some velocity data, as well.
I did not refill the reservoir after testing the Kodiaks, so, given my 18-shot spread that I mentioned in the Premier test, I shot only eight pellets for velocity in this test. That way the total number of shots on this fill would be 18, and you could see if my initial assessment of usable shots held up.
The average for eight shots was 669 f.p.s., for an average energy of 21.87 foot-pounds. So you can see how they went, I will give you all the velocities now.
SHOT/Velocity
1 / 674
2 / 667
3 / 673
4 / 671
5 / 663
6 / 674
7 / 668
8 / 664
That was the string that generated the average I gave you. As you can see, it varied by only 11 f.p.s. However, I continued to fire to see what the next few shots would do.
9 / 658
10 / 654
11 / 655
12 / 653
13 / 653
14 / 648
15 / 646
16 / 643
Shot 16 is also the 26th shot fired on this fill. That includes the 10 Kodiaks I shot previously. As you can see, heavier pellets give more shots at a closer velocity, because the final 16 shots in the fill varied by only 31 f.p.s. Since the first 10 Kodiaks varied by only 13 f.p.s., I think it's safe to interpolate across the two different but similar pellet types and assume that heavier pellets give longer shots strings with the Katana. At the end of all this testing (both Kodiaks and Gamo TS-022s), the pressure gauge on the rifle registered 900 psi.
Other things noted during the test
I noticed that the trigger has a definite first and second stage. The second stage is not a crisp break the way it is adjusted right now. I can feel it pull through a long but creepless pull before letoff. I will do a separate report on adjusting the trigger, because there's a lot to it and I want to do it justice.
The bolt handle is about a half-inch too short for comfort. With this fatter stock, the handle should stick out a little more to give you something to grab hold of when cocking the rifle.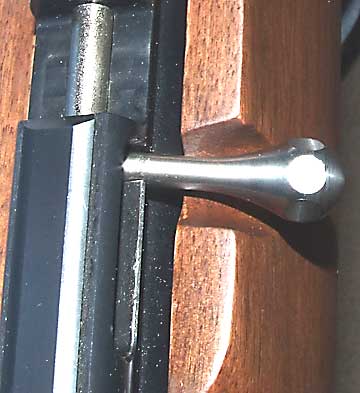 Bolt handle is too short. It needs another half-inch.
That's it to this point. The Katana is very consistent at just over 20 foot-pounds of energy. And 18-26 good shots are possible with every fill.
by B.B. Pelletier
Today we have a short guest blog and a followup report on the Blue Wonder cold blue project I've been working on. First the guest blog.
Guest blogger
This is Mike's first guest blog. He needed a rifle rest, so he decided to make one instead of buy something ready-made. His uses simple, everyday items that are inexpensive and readily available. Even if you have to buy some of these things, it's an economical project.
If you'd like to write a guest post for this blog, please email me.
Bloggers must be proficient in the simple html that Blogger software uses, know how to take clear photos and size them for the internet (if their post requires them) and they must use proper English. We will edit each submission, but we won't work on any submission that contains gross misspellings and/or grammatical errors.
by Mike S.

My Gamo CFX resting on my homemade shooting rest.
Some history
Every year I go on a trip where a group of us target shoot for the weekend. I use my .22 Gamo CFX, and the rest of the crew shoots .22 rimfires. The range is about 75-90 yards, and we all shoot from a benchrest position. For years, I couldn't come close to matching the accuracy of the rimfires. In fact, I couldn't consistently hit a 5-gallon bucket at 75 yards.
I knew my gun was capable of better accuracy. After doing hours of online research, I learned that firing a springer from any hard surface will completely ruin accuracy. The vibrations caused by the mainspring will shift your aim before the pellet leaves the barrel.
So, I made cushions on which I could rest my rifle. They're designed to absorb the vibrations. My accuracy improved to where I was up to par, and–in some cases–out-shooting the rimfires. The cushions are very cheap and easy to make from stuff around the house. They're weatherproof and can be built in less than 20 minutes.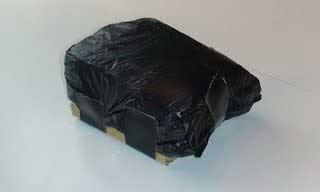 It's not a showcase item, but it's functional and does the job!
Materials Needed
Plastic bag (a grocery sack or Ziplock bag will do)
5″ strip of fiberglass insulation
1″x6″ board cut 6.5″ in length
Almighty duct tape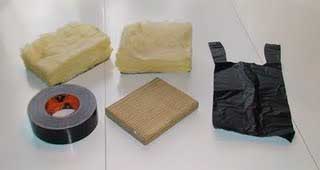 Just assemble a few inexpensive, ordinary items from around the house to make your rifle rest.
Procedure
Climb into your attic or crawlspace and cut a 5″ strip of fiberglass insulation. Most insulation is about 16″ wide. I used R13, but whatever you have should be fine. Cut the insulation in half so you have two 8″x5″ pieces. Place one half on top of the other half.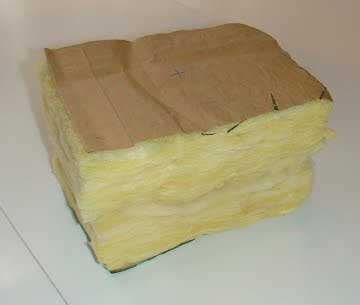 A chunk of fiberglass insulation…yours may be pink or some other color.
Slide the inslation into the bag. Take the slack out of the bag and tape it on the bottom. Don't pull the bag too tight. You want the fiberglass to be uncompressed.

Assembly is a cinch!
Tape the bag to the piece of wood, taking up any additional slack in the bag. I cut a few additional pieces of wood so I could change the height of my rest. Now, lay your rifle on the bag and fire away!
[Editor's note: When handling fiberglass insulation, be sure to breathe through a half-face respirator with replaceable HEPA filters. A paper dust filter is not considered adequate filtration for fiberglass particles. Brief exposure is not likely to cause any damage, but handling and cutting the fiberglass batts may expose you to particles that have been shed into the air you breathe. If any part of the fiberglass in your shooting bag becomes exposed, re-cover it right away. Prolonged exposure to fiberglass insulation can cause nosebleeds and other respiratory problems.]
Blue Wonder update report – Part 3
Well, I thought I was going to have to eat some crow on this one. In Part 2, I blued a new barrel for a .17 HM2 rifle a friend put together for me, and the job turned out so beautiful that I raved about it. Then the comments came in. Some shooters were concerned about the job rusting fast and one person asked about matching the old blue. I answered the matching question to the best of my ability, but today I will shed some new light on both topics (rusting and matching).
About four days after I did the barrel, I happened to pick up the gun in my closet and was astounded to see that it had rusted almost 100 percent! The rust was extremely fine and even over the surface. When I picked up the gun and held the barrel my hands turned dark brown.
I was very disheartened by this. I knew I had to tell all of you, especially after recommending the product so highly in Part 2, but I wanted to think about it for a few days. I had also bragged on the job to my friend who rebarrelled the rifle for me. And now he wanted to see it shoot, so I had to show the rusty blue job to him also.
Then it hit me. Blue Wonder couldn't possibly have remained in business for all these years if their product always rusted. Surely, by now, there would be a great hue and cry about it and the internet would be full of warnings not to use it. I did find some warnings, but you can find warnings about almost anything if you look. There weren't the number of warnings I would expect if this product were pure snake oil (no slight meant to the oil by that name), so I reckoned I must have done something wrong.
Let's see. I cleaned the surface with acetone that several of you said wasn't good. That might be it. So, I read the Blue Wonder instructions online once more and found that they made no mention whatsoever of de-greasing the metal after cleaning it with Blue Wonder gun cleaner. Okay, so that step was unnecessary and wrong.
They also cautioned you about which oil to use after the job is finished. They said to use Break Free. I used Ballistol. So, that was point of departure number two. On the next go-round, I would not use acetone and I would finish with Break Free.
I removed the action from the stock and went to work removing the rust with 0000 steel wool. It came off immediately (1-2 minutes) and left the gun looking almost as it did after the initial bluing job. I toyed with the idea of stopping right there, but decided to go on and redo the whole barrel because I wanted to report on the entire application, not just a patch job.
After the steel wool treatment, the metal surface was free from all rust. I then cleaned the entire surface with Blue Wonder gun cleaner, just like the directions said. Then, I heated the barrel with a propane torch, again following the directions. Like before, it was hard to get the entire barrel up to the same temperature, but I got it all very warm to the touch. Speaking of touch, you are cautioned in the directions not to touch the metal with your hands at this point, so I had plenty of paper towels to use when I held things.
Next, the Blue Wonder bluing solution was applied. I remembered to shake the bottle before every application. Although the barrel did not seem to get any darker this time, some of the imperfections close to the muzzle around the front sight went away as I applied the solution. The last step was to apply the developer. Then, the metal parts were set aside for a couple hours to fully develop. Remember–this is a chemical process related to photography.
When it had developed, I wiped down the whole surface with Break Free and set the still-wet barreled action aside for the rest of the evening. The next morning, I dried the barrel and installed the action in the stock. I took the rifle out to the range, where I shot a 3/4″ five-shot group at 50 yards using peep sights. Yeah–this rifle can shoot!
The guy who installed the barrel got to see the job and was very impressed. So was I. This was the first time I'd seen the job in bright daylight, and it was even better than I had reported before–though some of that was undoubtedly because of the second application.
I noticed in the sunlight that Blue Wonder has a bronze undertone to it. That must be due to the gold in the solution. The color doesn't match any blue job I've ever seen. But back under incandescent or fluorescent lighting (normal house lights) it does match. So you have to make a choice. If you plan to re-blue the entire gun, it will stand up even outdoors; but if you're doing a spot job, there will surely be a color difference in the sun. With indoor lighting, I cannot see any difference, but I'm colorblind, so proceed at your own risk.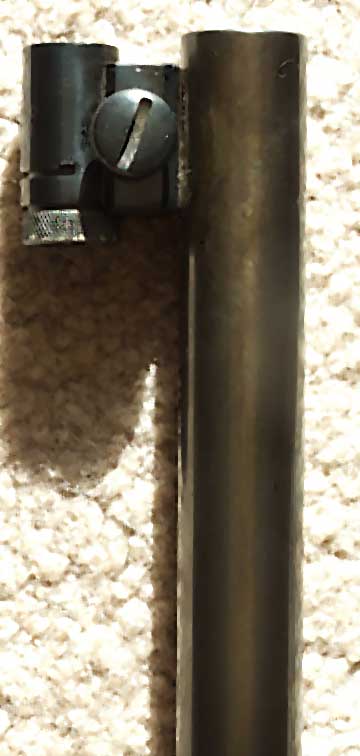 This photo shows the bronze or gold undertone of the Blue Wonder blue. Compare the color of the barrel to that of the front sight that was blued by a hot salt bath black oxide process. Any uneveness that you see in this picture is the result of fingerprints–not the blue job, which is remarkably even.
As I write this, it's been four full days since I did the second job, and the gun still shows no signs of rusting. The blue is still dark, even and very shiny. I'm still very thrilled with the results. However, the one thing we still don't know is how well the blue will hold up to handling. The best test for this might be a revolver carried in a leather holster. Nothing wears blue faster than a leather holster. But since I don't carry holstered guns, this isn't going to work for me. Besides, I don't have anything to compare it to, so any report would simply be conjecture. I guess I need a cowboy action shooter to test this for me.
Speaking of cowboy action shooters, a friend from 40 years ago when I was a gunfighter at Frontier Village in San Jose recently contacted me with a request. Seems I sold him a Colt single-action for $150 and it recently lettered at Colt! That means Colt has a record of the gun in their files and can tell when it was sold, who it was sold to, the barrel length, caliber and original finish of the gun. It might be worth $3,000-3,500 today. He sent me a copy of the letter of authenticity, asking me for the details of how and where I came by the gun.
Here is a lesson in gun etiquette. When you find that a gun you acquired is better than you thought, do not have the insensitivity to ask the person you bought it from any questions about it, and for gosh sakes don't tell him what it may be worth. That's like taking a trophy wife to your high school reunion and introducing her to the girl who turned down your proposal 40 years ago.
Unless, of course, that is your intention. I wonder?