by B.B. Pelletier
Pyramyd AIR has some Black Friday and Cyber Monday specials they've put together. But don't wait too long to get what you want, as the specials are going to change daily! And here's a coupon you'll enjoy using this weekend: 5% off PLUS you can use it with Pyramyd Air's free ground shipping offer and their free pellet offer (buy 4 tins, pay for 3).

Benjamin Katana.
Before I begin, the other day, somebody asked about the differences between the
Benjamin Discovery
, the
Marauder
and the Katana. His question was about the internal parts, but I think what he really wanted to know was how the rifles differed from each other. I'll try to answer that now.
Benjamin Discovery
The Benjamin Discovery is a basic PCP, designed to keep the retail price as low as possible. I tested one in both calibers for this blog, and you can read how well it did here. As you will read, the rifle performed very well in both calibers. In fact, it set the PCP world on its collective ear, by delivering performance never before offered at half the price of similar rifles. And it has features that were never before offered. It only needs to be filled to 2,000 psi. It's also a factory-ready CO2 rifle with no adjustments required.
Benjamin Marauder
The Marauder came next and it offered features that the Discovery didn't have:
It's a repeater
The ability to adjust the fill pressure level to gain more shots
The ability to adjust velocity
High-quality adjustable trigger
Choked barrel for greater accuracy
European-style stock with high cheekpiece and checkering
Shrouded barrel for quiet shooting
Benjamin Katana
Then, a few weeks ago, the Benjamin Katana joined the others. It's designed to have some of the upgrades of the Marauder, but not all of them. It has:
High-quality adjustable trigger
Choked barrel for greater accuracy
European-style stock, but subdued and different from that of the Marauder
The Marauder features that the Katana doesn't have are:
Shrouded barrel for quiet shooting
The ability to adjust the fill pressure level and gain more shots
The ability to adjust velocity
The repeating function (the Katana is a single-shot)
Now the question that was asked was what internal differences exist between these three rifles. I don't exactly know how to answer that because the performance of the guns tells the whole story. Unless you're setting up a Crosman repair station, the identity of each part seems somewhat moot. I'm not trying to blow off the answer, but I've answered it to the best of my ability.
It's accuracy day today, and the Katana and I went to my local firearms range to test the rifle at 50 yards. The day started out perfectly–no wind and I had the 50-yard range all to myself.
To get the best results, I used a Leapers 8-32×56 SWAT scope in UTG high rings. If I were outfitting a Katana for the field, I might be more inclined to use a 4-16x or a 4-12x. That would be in keeping with the gun's light weight and fast handling characteristics.
I aired the rifle up to 2,000 psi (isn't that nice?) and started to sight-in when I realized the gun was almost there at the start. That's a lucky coincidence, since this same scope was last mounted on the Massimo breakbarrel, where its fidelity was called into question. I used it this time because I felt sure it was still good, and I needed to know, so I could either put it with the proven scopes or in the small pile of suspect glass I don't use.
JSB Exacts
The first pellet I tested was the JSB Exact 15.8-grain pellet. Yes, I know Paul Capello said he had poor luck with them in his Katana, but I have always relied on this pellet in a .22-caliber PCP, and I had to find out. Well, Paul was right! The rifle sprayed them all around the place. Had I taken the time to shoot 10, I'm sure the group would have been 3 inches or even larger, but after five shots I moved on. But not too far.
Air Arms .22 domes
Next, I tried the Air Arms 16-grain domed pellet, which is a close cousin to the JSB Exact. Same results. Not even worth showing you. So, Paul was right about JSB pellets. The Katana doesn't like 'em.
Then, I did a dumb thing that turned out well, but could have been better. The breeze was kicking up by this time and I was having to pause for breaks in the wind. I had three more pellets to test, and I decided to go with the Beeman Kodiaks. Paul had said the Crosman Premier pellets shot best in his rifle, but I don't think he mentioned the Kodiaks. Remember that Kodiaks that are difficult to find are the same as H&N Baracudas, which should be easier to get.
Beeman Kodiaks
You know that I'm leading up to something, don't you? Well, I couldn't believe how well those Kodiaks shot. In fact, if I had stopped at just five shots, I'd be showing you a group that measures about a quarter-inch right now. But since I decided to go all the way to 10 for accuracy to give a good look at the rifle's potential, the group is a little larger. It measures 0.592″, center to center of the two shots farthest apart. Yep, that's right sports fans. The TEN-shot group of Kodiaks made by the Katana is smaller than 0.60″.
It was amazing, because the sun was almost behind me and I saw the pellet fly for the last 30-40 feet. They just kept slipping through that same small hole.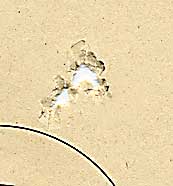 Benjamin Katana shot this sub-0.60″ group at 50 yards with 10 Beeman Kodiaks.
Unfortunately, the wind had picked up by this time and was too much to contend with when the possibility for this kind of accuracy was on the line. I shot another Kodiak group, but it was blown wider than an inch and I decided to call it quits for the day.
More to come
Because I had started with the JSBs, I didn't have time to shoot the Crosman Premiers or the new Gamo TS-22 Long Distance pellets, so the accuracy test isn't over yet. I remember shooting half-inch, five-shot groups at 50 yards with the Benjamin Discovery and the Benjamin Marauder, so these 10-shot, 50-yard groups with the Katana show how well the potential for accuracy holds up.
There will be a fourth part to this report; but if you're inclined toward the Katana already, don't wait for that. Both Paul Capello and I have already seen superior accuracy from both of our test rifles, and I'm inclined to say this one's a winner.