Posts Tagged 'air rifles'
by Tom Gaylord, a.k.a. B.B. Pelletier

The $100 PCP is built on a Crosman 2100B chassis.
This test was very interesting! It began last week at my outdoor rifle range. Blog reader GunFun1 asked me to try shooting steel BBs in this gun because it was originally built to handle them (when it was in its Crosman 2100B form). I didn't want to do it because this rifle launches the first couple shots at over 900 f.p.s., and steel BBs rebound like crazy (You'll shoot your eye out), but I did relent. Last week, I took this rifle to my outdoor range and stuck a 12-inch Shoot-N-C target on the plywood target backer. I then paced off 10 meters and fired 10 BBs at this target.
I thought the BBs would probably miss the target altogether. I said as much to GunFun1 in my comments a few weeks ago. But they didn't!
I was wrong about this. Shooting offhand with open sights, I put 10 Daisy Premium Grade steel BBs into 1.56 inches. It was actually 11 BBs. I must have miscounted during shooting. I was astounded! This isn't just good — it's great! You don't shoot BB guns at 10 meters when you're shooting groups!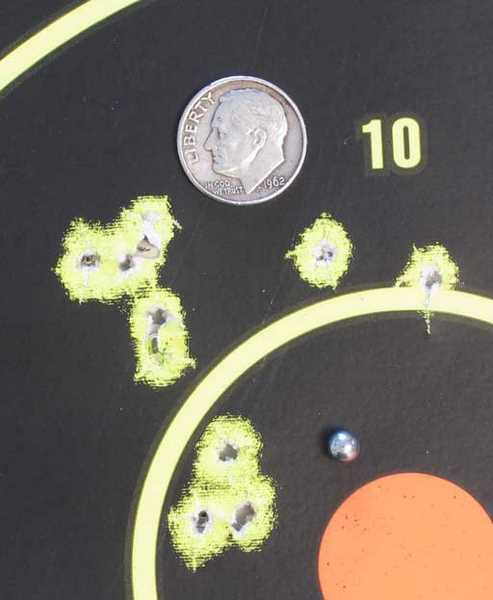 There are actually 11 Daisy BBs in this 1.56-inch group. Shot offhand with open sights at 10 meters.
Incidentally, all 10 BBs apparently went through the plywood target backer. Of course, there are other bullet holes there, so the wood isn't always present or at its thickest; still, it shows those BBs are moving!
That got me wondering just how accurate this rifle could be. I decided to shoot from 25 yards with open sights, only. I'll come back and shoot with an optical sight of some kind, but this test is just open sights.
I filled the gun to 2,000 psi for every 10 shots, including for the BBs shown above. After 10 shots, the gun's pressure has dropped to 1,000 psi.
Crosman Premier lite
The first group of 10 shots was shot with Crosman Premier lites. Based on the 10-meter results for the last test, and also from where the BBs went, I adjusted the rear sight to the right just a little. After the first shot, I looked through the spotting scope to affirm it hit the target. It did, was high above the bullseye and fairly well-centered left and right. So, I left the sights where they were and fired a second shot. When I looked through the spotting scope, I saw it had gone through the same hole as the first! Wow! That was starting out well!
The first 4 shots all went into the same hole. Then shot 5 went higher for some reason.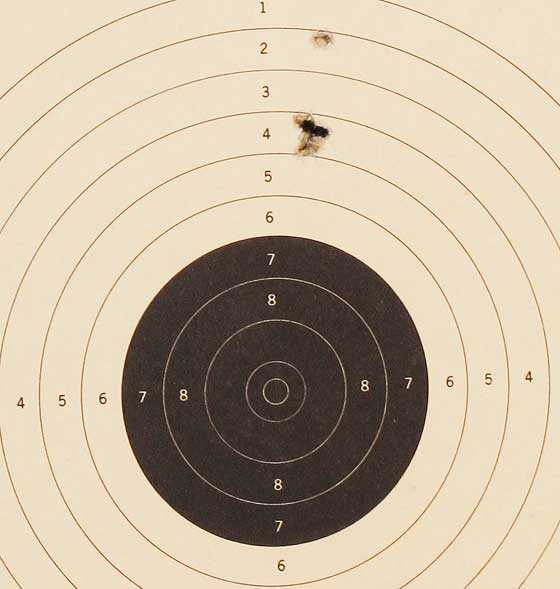 The first 4 shots are in 0.179 inches. Shot 5 opened it up to 0.838 inches.
After taking the picture of the first 5 shots, I shot the remaining 5 shots. That was informative because all the shots spread out to the left. Having the first 5 shots on record allowed me to see that the second 5 were the ones that actually spread out. The 10-shot group measures 1.358 inches between centers.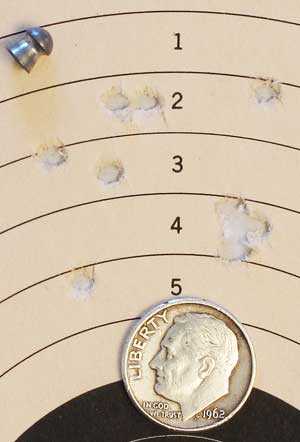 Ten Crosman Premier lites went into 1.358 inches at 25 yards. That's rested and using open sights. See how the last 5 went to the left and opened up?
RWS Hobbys
Next up were RWS Hobby pellets. They did quite well at 10 meters, but 25 yards is about the maximum distance at which wadcutter pellets hold their accuracy.
I adjusted the rear sight down one notch before shooting this group. Once more, I photographed the target after 5 shots.

The first 5 RWS Hobbys looked pretty good. Shot 1 was a 10!

So Hobbys held together fairly well at 25 yards. Ten went into a group measuring 1.144 inches between centers.
Air Arms Falcons
The last pellet I tested was the Air Arms Falcon pellet. This time, the first 5 pellets didn't seem to do that well. And when we see the final 10-shot group, it isn't that much larger.

The first 5 Falcon pellets didn't do so well.

This is one of those rare instances where 10 shots are not much larger than 5. Ten Air Arms Falcons went into 1.912 inches.
Conclusions so far
This experiment is turning out much better than I had hoped. Not only have we demonstrated that it's possible to make a precharged pneumatic rifle that can retail for under $100, we're now showing that it can really perform! Of course, the production gun will get many more shots on a fill than the 10 I'm getting, but I do think the maximum fill pressure should be held to 2,000 psi. That will make it easier to build an affordable hand pump, which Dennis Quackenbush is thinking about right now.
The discharge noise of this rifle is quite loud. I was going to recommend not putting a shroud on the gun, but I'm going to change my mind on that point. The customers for this gun will be suburban shooters who need a quieter air rifle, so some sound dampening is necessary.
The trigger on the rifle is heavy, and I would leave it the way it is. I would also leave the bolt-action exactly the way it is on the 2100B. The same goes for the sights. These are refinements people can pay for on higher-priced PCPs. We want to hold the cost of this gun to less than $100 retail.
I do plan on returning to test this rifle at least one more time with an optical sight. That will show the maximum accuracy potential, although I believe we've already seen a good indication of it in this test.
The $100 PCP will never replace the higher-priced PCPs that are already selling. It isn't supposed to. It's supposed to provide that entry-level step for those who are curious about precharged airguns and don't want to spend a fortune to find out. I think it's a very feasible goal and, quite possibly, a profitable one, as well.
by Tom Gaylord, a.k.a. B.B. Pelletier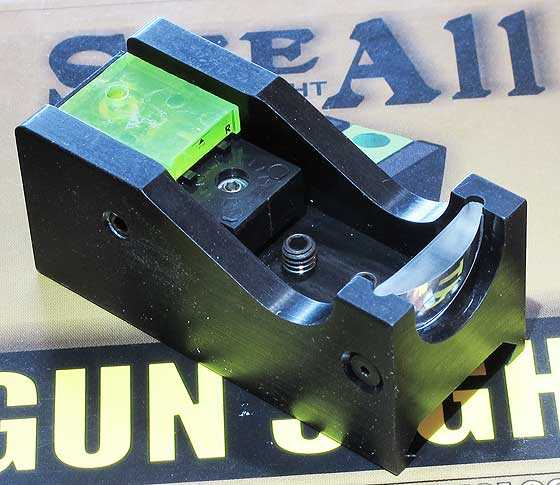 The See All Open Sight is revolutionary!
Today, we'll test the See All Open Sight on a firearm! Last week, my shooting buddy Otho brought his Thompson Center Contender rifle to the range. It's chambered in .17 HM2, a chambering and conversion he did himself.
With a scope mounted, this rifle will shoot about a one-inch group at 50 yards. He mounted the See All on it and proceeded to shoot groups.
At first, he wasn't able to adjust the sight. That was tracked down to the sight being loose. That mounting system they use is really marginal — not just for spring-piston guns but for firearms, as well.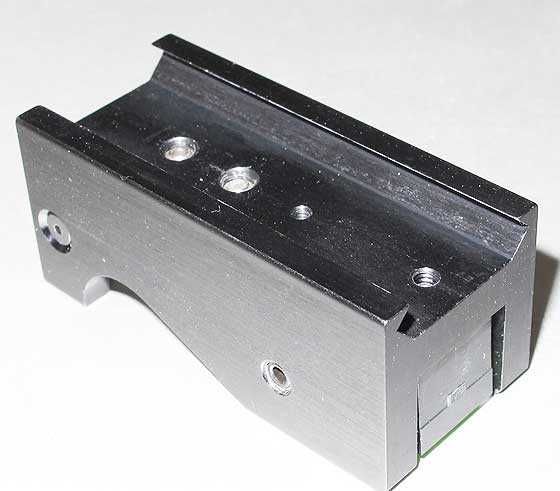 The base clamp of the sight relies on 2 screws that run down to push the jaws of the sight up against the Weaver or Picatinny dovetails. Those screws are seen on the upper left of the base.
But that problem was solved, and the test proceeded. Sight-in went quickly once the sight was stable. Otho discovered, as I did, that it takes only a very little movement of the adjustment screws to move the strike of the round. Despite there being marks on the sight, they aren't helpful when adjusting. You have to just look at the position of the Allen wrench leg and go by that.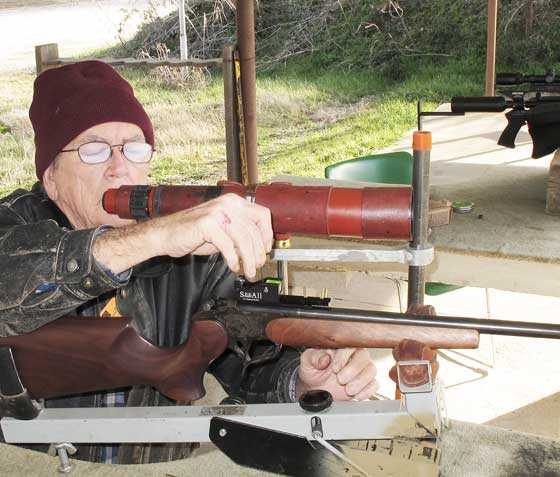 Once the See All sight was tight on the rifle, Otho was able to adjust it pretty quickly.
He shot 2 10-shot groups at 50 yards. While I didn't measure them, the first one may be the best. It appears to be about a 2.50-inch group, with 9 shots in 1.25 to 1.40 inches.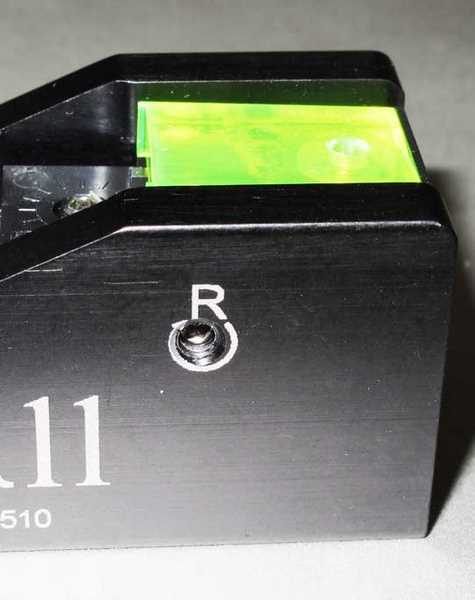 I never saw this horizontal adjustment graphic until I took this picture. This is enlarged and enhanced.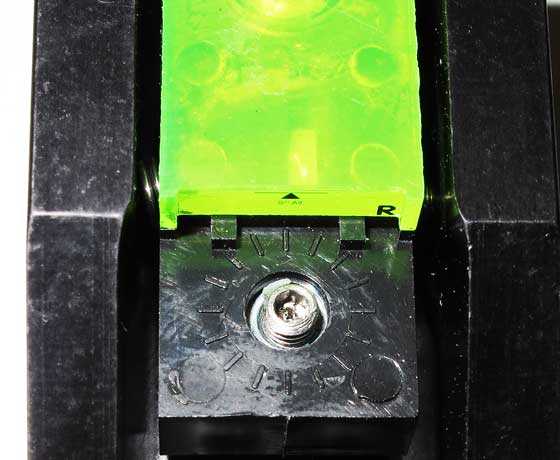 The vertical adjustment marks are still nearly invisible, despite enlargement and sharpening.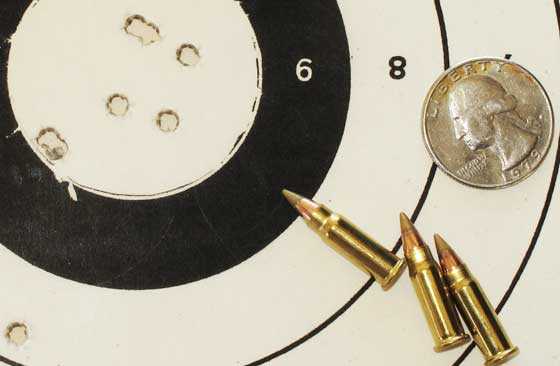 Otho's first group was the best. Ten shots went into about 2.5-inches, with 9 of them going into about half that size. An American quarter is just under one inch in diameter.
Otho complained that he wasn't able to put the point of the triangle on the bottom of the target. The black line and green material above the tip of the triangle made it necessary for him to guess where the tip was located. He would like to see the material removed down to the tip of the triangle for greater precision while aiming.

The material above the point of the triangle, plus the horizontal black line, make it difficult to position the tip of the reticle precisely.
His second group is about the same size as the first, but more scattered. Look at how tight it is from side to side. It's clear there is an aiming problem in the vertical direction but not in the horizontal.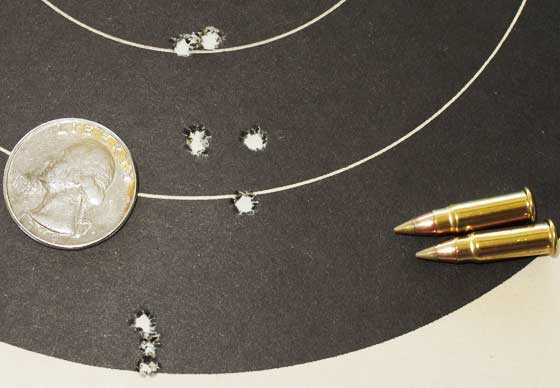 This second group shot by Otho is about the same size as the first, but this one's strung out more vertically. Yes, there are 10 shots here.
By the time he was done with the second 10 shots, he was finished. Guessing where the tip of the reticle was has taxed him. So, he turned over the rifle to me.
This is the first time I'd shot this rifle, so I was unfamiliar with it. But it has a fairly crisp trigger, and I didn't have any problems shooting it.
As you can see, I had even more difficulty than Otho with the vertical component. Seven of my shots landed in 1.427 inches at 50 yards, but the 10-shot group measures 4.433 inches between centers. I had a very hard time seeing where the tip of the triangle's located relative to the target.

My group is very vertical, measuring 4.433 inches between centers. But as you can see, I got 7 of them into 1.427 inches, which isn't bad.
Discussion
Otho brought up the point that the See All sight might not be ideal for shooting targets, but then he figured that the black bullseye was still giving the most exact aiming point possible. If the sight has trouble with vertical placement on a bullseye target, it will be much harder to control against a gray animal.
Please note that Otho is wearing glasses when he shoots. He has to wear them even when shooting with a scope, so the See All did magnify the reticle for him, as we'd hoped. He and I both believe this sight has something very unique to offer.
He wants to try the sight again on animal silhouettes. I have some nice Shoot-N-C animal targets he can try it on. That should give us the information we want.
Otho is also thinking of shaving off the top of the green plastic, to put the tip of the triangle at the top of the reticle. He wants to remove the horizontal black line, which I agree is distracting.
He also finds the green on either side of the triangle difficult to work with. He wishes it wasn't there. I don't have a problem with it myself.
Neither Otho nor I know if modifying the sight is the right move or not. The black line tells the shooter where the tip of the triangle is. But it's so difficult to get the tip on the target where you want it. I think the See All folks must have tried several iterations of this already, and I am not convinced removing the top of the green is a good idea. When you look through the sight without a target to focus, the tip of the triangle is easy to find. It's only when you aim against a specific spot that it becomes more difficult.
I'll be shooting the See All next on my Beeman P1 pistol.
by Tom Gaylord, a.k.a. B.B. Pelletier
Benjamin Marauder .177 caliber: Part 1
Part 2
Secrets of loading the Benjamin Marauder magazine
Part 3
Part 4
Part 5
Part 6
Fixing a Marauder magazine
Part 7
Benjamin Marauder .25 caliber: Part 1
Benjamin Marauder .25 caliber: Part 2
Part 3
Part 4
Benjamin Marauder .22 repeater with synthetic stock: Part 1
Benjamin Marauder .22 repeater with synthetic stock: Part 2
Benjamin Marauder .22 repeater with synthetic stock: Part 3
Benjamin Marauder .177 caliber 50-yard test: Special part
Benjamin Marauder .22 repeater with synthetic stock: Part 4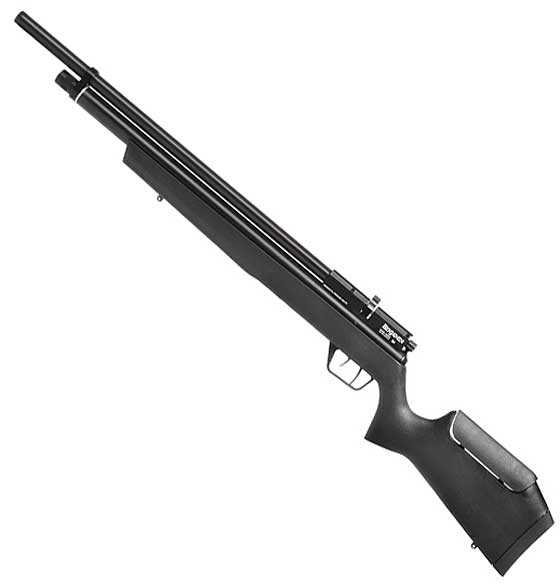 New Benjamin Marauder with synthetic stock has all the features of the classic Marauder in a lighter, trimmer package.
Today, we'll look at the Marauder's accuracy at 50 yards. I had to wait a long time for a calm day at the range for this.
Clearing the air
Before I begin the report, though, I want to address something. The new Marauder — both the one with the synthetic stock and the one with the wood stock — are the same rifle in different stocks. The actions are identical. Crosman waited to bring out the wood-stocked model, but both rifles have the new set-back trigger and also the new valve and hammer depinger. Which brings me to my second comment.
Owners who have used the new Marauder seem to like it a lot. They praise it in their comments on the product page. But those who don't own one are making comments such as, "Tom Gaylord said the new .22-caliber Marauder only gets 860 f.p.s. Where is the 1,000 feet per second that Crosman claims? And where are those extra shots?"
Let me make this very clear — Tom Gaylord DID NOT say that the new Marauder only gets 860 f.p.s. What Tom Gaylord did was test the new Marauder exactly as it came from the box. He discovered that his test rifle seems to like a 2,900 psi fill, instead of the 2,500 psi fill suggested in the owner's manual.
Tom Gaylord shot his test rifle at 25 yards and showed you the accuracy the rifle got when filled to that pressure. Today, he is going to show you how well it does at 50 yards, and it will also be filled to 2,900 psi.
Don't extrapolate!
This is a pet peeve of mine. When people read all the performance specs of an airgun, they lump them together as though the gun does all of them simultaneously. The new Marauder may very well get 12 percent more shots per fill because of the new valve. And it may very well shoot a .22-caliber pellet at 1,000 f.p.s. And it may also be very accurate. And very quiet. But don't expect it to do all of that at the same time — just as you don't expect a new Corvette to go 0-60 in 4 seconds and also get 21 miles per gallon. You get one or the other — not both at the same time.
I haven't even adjusted the gun to see how fast it will shoot. And I haven't played with the fill pressure, either. All I've done to this point is take the rifle out of the box, put a scope on it and test it for accuracy. During that testing, I've accomplished several things:
1. I know the best fill pressure of the test rifle as it stands right now — 2,900 psi
2. I know the most accurate pellets — 14.3-grain Crosman Premiers and Beeman Kodiaks.
3. I know that for top accuracy, I can count on getting 2 full magazine's worth of shots on a fill — 20 shots.
Now, don't go running around claiming that I just said the new Marauder only gets 20 accurate shots. What I said was for top accuracy I can count on getting 2 full magazine's worth of shots. There are a lot more than 20 accurate shots in this rifle!
If you've been following this report, you know that I've eliminated several pellets during earlier testing. They didn't hold up to the 2 I chose for this test. That's not to say there aren't other pellets that might outshoot these 2 — just that, of the pellets I've tested, these are the best.
Testing at 50 yards
The day was completely calm — perfect for this kind of test outdoors. I shot the rifle off a sandbag rest. The first group was with Crosman Premiers, the pellet that proved to be the most accurate at 25 yards.
Since I didn't know when the wind might kick up, I went fast in this test. There were 2 other air rifles to test on this day, and one of them was the Double Disco that shoots the same velocity as the Marauder. I wanted to complete this test so I would have time for that one afterward. I also had an AirForce Escape to test; but given how powerful that rifle is and also given the heavy weight of the .25-caliber pellets I'd be shooting, I thought that one could endure a little breeze.
At 50 yards, 10 Premiers went into a group that measures 1.112 inches between centers. It's a reasonably round group that has 7 of the 10 shots in 0.558 inches. There's nothing wrong with that!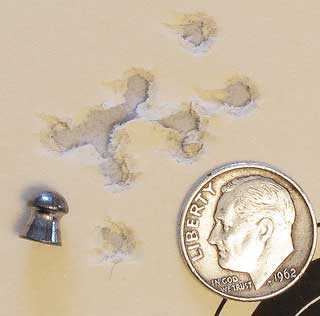 Ten Crosman Premier pellets went into a nice tight 1.112-inch group. Seven of the pellets are in 0.558 inches.
Beeman Kodiaks
Next, I shot a group of 10 Beeman Kodiaks. This was on the same fill as the Premiers. Again, I was going fast to finish before the wind kicked up, so I didn't stop to adjust the scope. Ten Beeman Kodiak pellets went into 1.516 inches at 50 yards, with 9 of them making just 0.888 inches. As with the Premiers, this group was also reasonably round.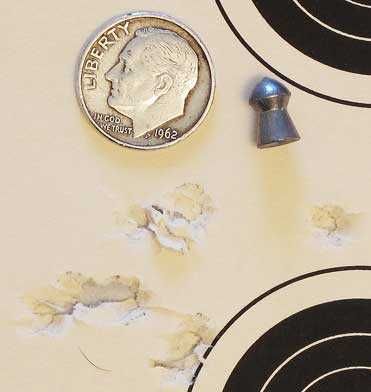 Ten Beeman Kodiaks made this 1.516-inch group group. Nine of them are in 0.888 inches.
Here comes the wind
When I finished the Kodiak group, the breeze was just starting to blow. I refilled the Marauder and tried one other test pellet that I'm evaluating for Pyramyd Air, but it didn't do very well. So, I ended the test for the Marauder.
The new Marauder is very accurate. This test shows that clearly. As far as the absolute top velocity it can get or anything else, I still have to test that.
In my opinion, the new Marauder shoots as well as the old Marauder did. I do like the new synthetic stock for its slim profile and lighter weight; but as far as accuracy and quietness goes, I don't see any difference between the new rifle and the old Marauder.
by Tom Gaylord, a.k.a. B.B. Pelletier
Blog reader Kevin asked me this question recently, and I embraced it because I usually don't even have time to think about which airgun I would prefer to shoot. There's always another blog, a feature article and 5 other deadlines pressing on my time…so thinking like this is not a luxury. It's a fantasy! Then, Kevin asked this question and "forced" me to stop and think about it for today's report. Ahh! Happy Friday!
The first gun that pops into my head when I ask this question is the Diana model 27 rifle. It's just such a simple, uncomplicated airgun that I guess it serves as my happy place. But as I think about it, other guns pop up. The Air Venturi Bronco, the Falke model 70, the Diana model 25 are 3 more that come to mind immediately. They all share the model 27′s chief attribute — ease of operation. In short, they're all fun airguns.

Diana's model 27 breakbarrel is so light, smooth and easy to operate that it epitomizes everything that's good about airgunning in my eyes.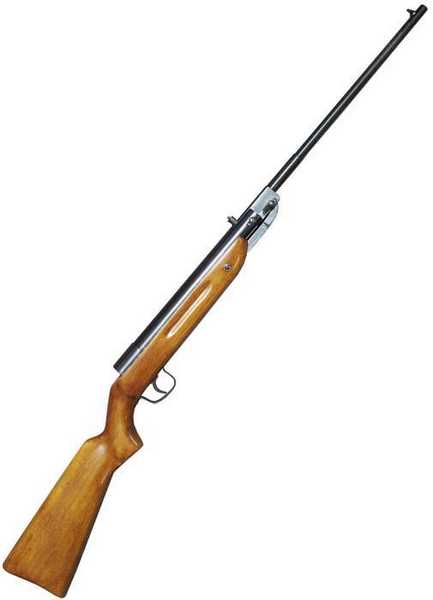 Falke model 70 is another vintage breakbarrel that's light and smooth like the Diana 27.
To take the fantasy a little farther, have these guns always been the ones that do that, or have there been others? Yes! There have been others!
My straight-grip Webley Senior pistol is exactly like the Diana 27 in this respect. It's small and easy to operate. I still own this pistol, although there's seldom any time to actually shoot it. But it's right there in the drawer where I can put my hands on it whenever I want. I guess that's good enough. I guess it will have to be.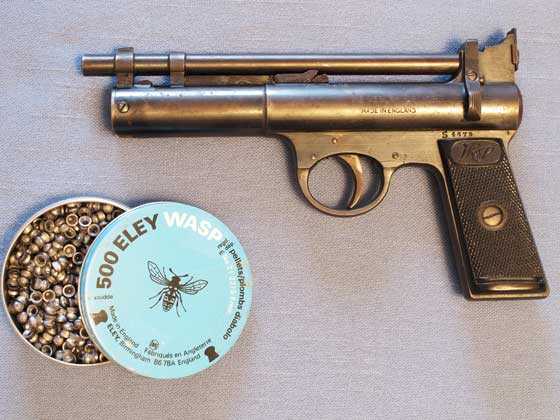 I've owned this straight-grip Webley Senior since the early 1970s. It's easy to cock, has a nice trigger and is fun to shoot. Not terribly accurate, but it's one of those rare guns I let slip by because everything else works so well.
When I think a little longer and harder, my Beeman R8 pops into view. It comes in later because it has a scope, and scopes do complicate things. So do target sights, but my Walther LGV Olympia 10-meter target rifle now comes to light. And with it comes the new .22-caliber LGV. The target rifle took longer to pop up because it's a heavy gun. The .22 took longer because of its power. When I want to play, power is the farthest thing from my mind.
Firearms?
Kevin didn't ask me what my favorite firearms were; but since this is Friday, I'll take a little license and include them, as well. Right now, my new PO8 Luger is a favorite because it's accurate, recoils very little and it eats my handloads like they were candy! And when I think of that gun, I cannot overlook my Ruger Single-Six in .32 H&R Magnum. It has great power and almost no recoil. For cutting out the center of a bullseye, that little Ruger wheelgun is a dream.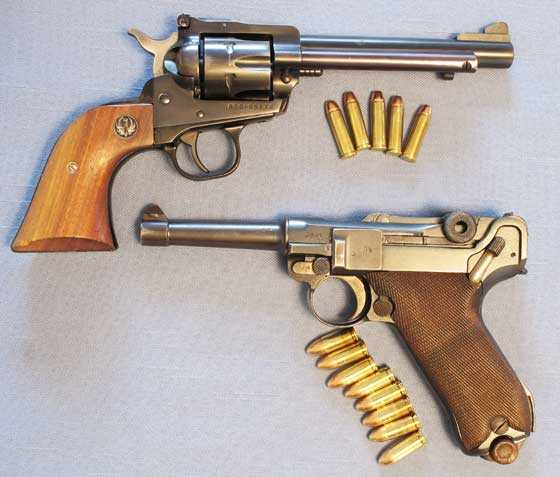 The Ruger Single Six is chambered for the .32 H&R Magnum. It's light, yet very powerful and will out-penetrate a .357 Magnum on a steel target. The 1917 Luger is such a smooth shooter that it's like eating peanuts — I can't stop! Both guns are very accurate.
Then, I think of my O3A3 Springfield. It's one of the few military rifles that gives me an honest sub 2-inch group at 100 yards. If it didn't recoil so much, I'm sure it would have popped up even sooner.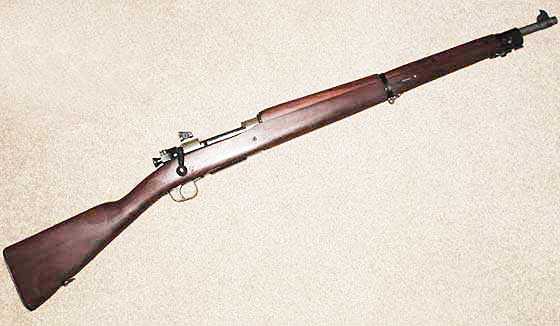 This O3A3 Springfield will smack you with recoil when you're shooting full-house loads. The short stock gives it a running start at your shoulder. But the accuracy is stunning!
My M1 Carbine is also a favorite — not for its accuracy, which is just average — but for the fact that it drops the empty cases on top of the shooting bench! Most autoloaders throw their cases a country mile, but this little sweetie piles them up for me. With more training, I'm sure I can get it to put them back in the box!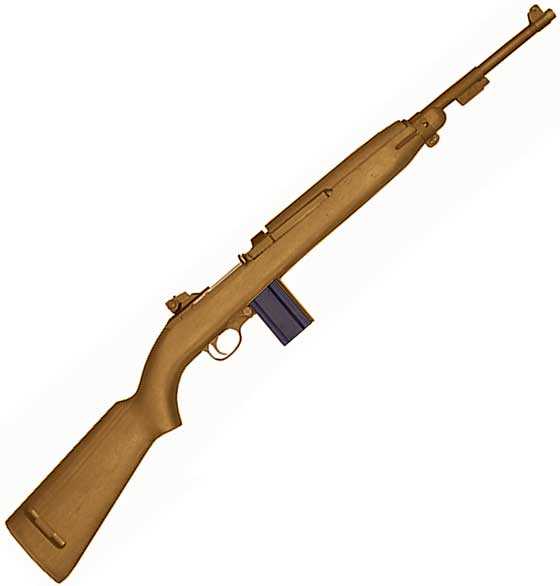 My M1 Carbine is well-behaved. Next, I'm going to teach it to put the fired cases back into the box!
Guns I wish I still had
Now comes the Great Lament — the ones that got away! I had a Bernardelli Baby in .25 ACP that would put 3 shots into the bottom of a soda can offhand at 30 feet. Most .25s are lucky to hit dinner plates at that distance, but this little pistol was a good one. I let it get away. I recently bought another Bernardelli Baby in the hopes of doing the same thing. Alas, this one is a dinner-plate special.
Ruger .44 Magnum Blackhawk with 10-inch barrel
They're very collectible now; but when I had my 3-screw Ruger Blackhawk, they were just good guns. I was too stupid to know that the one I had was an exceptional shooter. I figured I could always get another one.
Custom .458 Winchester Magnum
I have written about this rifle many times. I shot it with a 550-grain cast lead bullet, and it would put 10 shots into less than 2 inches (outside measurement) at 100 yards. It was like owning a target-grade 45/70. Stupid me — I thought I would always be able to find another one just as good. Haven't yet!
What kind of shooting do I like to do?
I'm pretty easy to please. I like whatever kind of shooting I happen to be doing at the time — usually. The things I hate are magnum spring rifles that buzz like bottles of hornets, slap me in the face and have no accuracy. I also disdain black rifles that can't group in less than 3 inches at 100 yards. In fact, I dislike almost anything that isn't accurate.
I enjoy shooting a .45 Colt Single Action Army with accurate loads and feeling the plow-grip roll in my hand during recoil. I like shooting a nice 1911 and feeling the slight burp of recoil when I hold my thumb over the manual safety. I shot a Walther P38 recently that had a nice trigger and is very accurate. My experiences with P38s aren't that good, but this one was memorable. I could burn up a lot of 9mm ammo in that one.

When I came home from the hospital several years ago, I received this Single Action Army as a gift from the readers of this blog. It is a favorite of mine because it mimics the feel of a Gen 1 Colt perfectly!
Same for the PO8 I got for Christmas. The ergonomics are legendary and the trigger is extremely good for a Luger (their trigger linkages usually make for poor triggers). My handloads are moderate enough that I can shoot this pistol for the rest of my life and not put any wear on it!
I enjoy holding a 10 with a target air pistol and seeing the pellet hit the pinwheel. I love seeing 10 shots from an accurate rifle sail through the same hole at 100 yards, knowing the hole they made is smaller than half an inch. I love shooting 5 shots from a 10-meter rifle and seeing a group smaller than a tenth of an inch.

Holding a 10 with a pistol is very enjoyable!
I love shooting my Daisy Avanti Champion 499 offhand and making quarter-inch groups. My shooting buddy Otho bought one for himself this past December and has been doing the same thing ever since.
I enjoy shooting a Garand and hearing the shot go off but not feeling the recoil. I know it's there, but the push is so slow that it doesn't seem to count. The same holds true for my .357 Magnum Desert Eagle. It's got enough power to drop a steer, but the soft recoil feels like a 1911 shooting +P ammo.
Best of all
But the thing I like above all is when I solve some problem of inaccuracy and turn a bad gun into a real shooter. It doesn't happen as often as I'd like, but from time to time I do hit one out of the park. I'm hoping to do that with my Ballard someday. And maybe my Meteor, as well.
by Tom Gaylord, a.k.a. B.B. Pelletier

The Lightweight Disco Double in its new stock looks striking!
Today, we'll look at the accuracy of the Disco Double. Before that, however, I mounted a scope, a TKO airgun silencer that they call a muzzlebrake or a lead dust collector, and something I've never seen in print before but something I've used on many precharged air rifles over the years — a bolt keeper!
What's a bolt keeper?
First, let me tell you that when I mounted the TKO silencer, it fit the barrel perfectly. There were no barrel alignment issues that I was warned about, and I checked closely. This unit is very well made and looks beautiful on the gun. The unit I'm testing is 8-1/4 inches long; and, yes, Lloyd, I checked that it indeed is a .22 caliber before mounting it. However, when the silencer is on, the top end cap does not fit.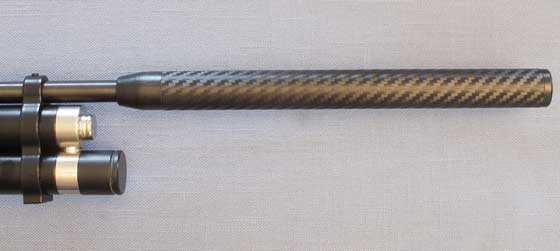 TKO silencer looks great on the rifle. The top plastic end cap doesn't fit with the silencer installed.
When I shot the gun with it on the first time, I have to say I was underwhelmed. It was quite loud. A second shot confirmed this. Then, I held the rifle to my shoulder and fired a third shot. That's when it hit me — a blast of air in the face not unlike the glaucoma test eye doctors do. The bolt was opening and discharging compressed air with each shot!
This happens a lot with precharged guns and it doesn't matter how cheap or expensive they are. The bolt handle lifts up and air comes back through the action. On the lightweight Disco Double, it only begins to happen when the rifle is at the bottom of the power curve, which is where it was when I tested it this time.
A simple fix is to fasten a rubber band around the bolt handle to hold it closed during the shot — a bolt keeper. Once on the gun, I just leave it there. Even though it's not needed until the end of the power curve on this rifle, I don't want to worry about it. You can cock and load the rifle with the band in place.

A rubber band "bolt keeper" holds the bolt handle down when it wants to flip up on the shot.
With the handle held closed in this fashion, the rifle suddenly became very quiet — as in Benjamin Marauder quiet! I now understand why shooters have been so excited about this unit. It really works!
NOTE: Due to several reader questions about this silencer, I am removing it from the rifle and returning it to Lloyd. Silencers are a very touchy subject, since owning one that will function on a firearm requires a license for each specific silencer. I don't want to mislead any reader, so in the interest of clarity I am simply not going to use or possess this item any longer. I wrote an article on silencers that can be accessed here. If you have any questions on the subject, I recommend you read that article.
The rifle now weighs 6 lbs., 11 oz. with everything installed. That's very light for a serious air rifle.
Scope
I mounted a UTG True Hunter 3-9X40 scope on the rifle. Since UTG packs rings with this scope, I used them, but they're Weaver-style mounts. So, I had to use a UTG Weaver to 11mm dovetail adapter to make them fit the dovetails on the rifle's receiver.
I'll be shooting from a rest at 25 yards today. The range is indoors, so wind is not an issue.
Crosman Premiers
Sight-in was accomplished with .22-caliber Crosman Premiers; so after I was on the paper, I shot the first group of 10 shots at 25 yards. The hole they made is a little taller than it is wide, but it measures 0.569 inches between centers. While that's okay for 25 yards, it isn't great. I'd like to see something a couple tenths smaller.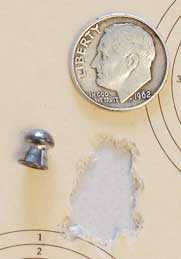 Premiers all went to the same place — more or less. At 0.569 inches between centers, the group could be smaller.
Beeman Kodiak
Next up were Beeman Kodiak pellets. They're identical to the .22-caliber H&N Baracuda pellets that Lloyd tested the rifle with, and they were what I had available. They put 10 into 0.655 inches between centers. Like the Premiers, that's not bad…but not as good as I'd hoped.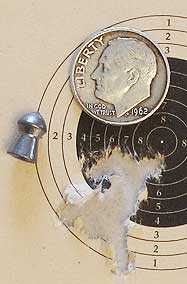 Beeman Kodiaks opened up more, to 0.655 inches between centers. Only use them if you need a heavy pellet.
JSB Exact RS
I followed the Kodiaks with some JSB Exact Jumbo RS pellets. They're even lighter than the Crosman Premiers, and sometimes they can be very accurate in precharged rifles. This was one of those times. Ten pellets went into 0.365 inches, which is exactly what I'd hoped for the Disco Double. This is the pellet for this rifle!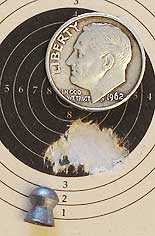 The JSB Exact RS is obviously a great pellet in the Disco Double. Ten went into 0.365 inches at 25 yards.
RWS Superdome
Nex, I tried the RWS Superdome pellet that's always recommended. I don't often have good luck with them, but a lot of shooters do. I stopped after just 4 shots, though, and you can tell from the lateral spread that measures 0.634 inches between centers that they weren't going to perform.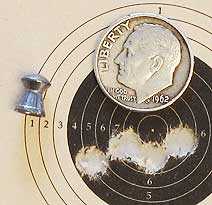 When the first 4 shots spread out like this, you might as well stop right there. RWS Superdomes went into 0.634 inches at 25 yards.
JSB Exact Jumbo
The last pellet I tested was the JSB Exact Jumbo. These are usually among the top pellets in .22-caliber precharged air rifles, so I felt they deserved a chance. The first 2 shots were on a fresh 2,000 psi fill, and I'm not sure the rifle wasn't overfilled by a slight amount because they both landed away from the main group. Shot 9, however, was shot while the rifle was grouping well, and I have no idea why it's above the main group. The 10-shot group measures 0.647 inches between centers, making this the second-best pellet I tested in the rifle.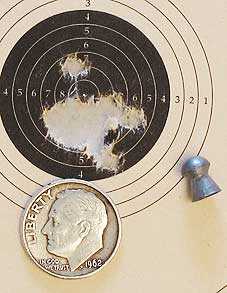 These 10 JSB Exact Jumbos measure 0.647 inches between centers. The first 2 shots are the holes at the right and bottom right of the main group. Then, the rest of the pellets went into the big group, except for shot 9 that went high. There is no explanation for that one. This is a pellet I would keep trying.
Filling from a hand pump
The biggest feature of the Benjamin Discovery, aside from the low price, is the fact that the maximum fill pressure is just 2,000 psi. It's  full right where other PCPs have run out of air. And that makes the Discovery extremely easy to fill with a hand pump.
Using the Discovery factory pump, I began the fill at just under 1,000 psi and pumped until the onboard pressure gauge read 2,000. It took exactly 100 pump strokes to fill the gun; and, until the final 20, they were as easy as inflating a bicycle tire. Only when the pressure passed 1,800 psi did I notice an increase in pump handle resistance.
One tip when filling with a hand pump is to go slow. Allow time at the top and bottom of each pump stroke for the air to flow through the various stages inside. If you don't, you just waste energy and heat up the pump unnecessarily.
Observations so far
So far, I'm thrilled by the performance of the Lightweight Disco Double. The number of shots I get on a fill is large enough for serious shooting before it's time for a refill and the rifle's performance leaves nothing to be desired. A glance at the onboard gauge needle, and I know the status of the fill.
When I tested the original Benjamin Discovery rifles in both calibers, the guns I used were pre-production prototypes. I shot groups under 0.6 inches with both calibers; but at that time, I was shooting only 5-shot groups. The JSB Exact RS pellet did not exist at the time of that test. So, it'll be interesting to see what this rifle can do at 50 yards with 10 shots. Remember — this is the first Benjamin Discovery production rifle I've ever shot!
by Tom Gaylord, a.k.a. B.B. Pelletier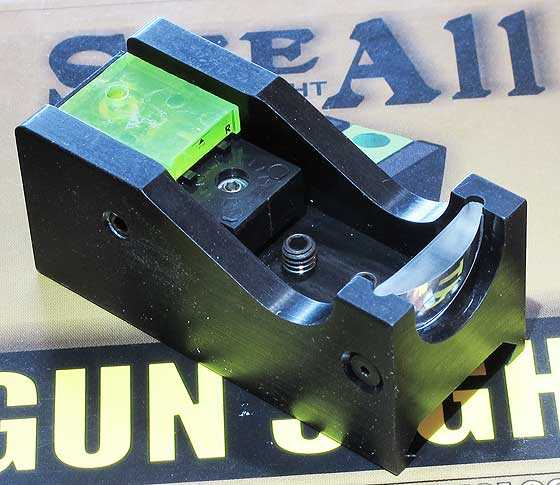 The See All Open Sight is revolutionary!
Today, I'm testing the See All Open Sight on the new TX200 Mark III that I've been testing for you. Because that rifle figures into today's test so much, I felt it was important that you be able to examine the rifle's accuracy in past tests — most importantly, the red dot sight test I just did in Part 13.
Part 1
Part 2
Part 3
Part 4
Part 5
Part 6
Part 7
Part 8
Part 9
Part 10
Part 11
Part 12
Part 13
I also want to mention that See All is aware of the difficulty in mounting their sight on a straight-line rifle like the M4. They even mention it in the frequently asked questions on their website. So, what happened the last time I tested this sight was my fault for not checking all the information.
Mounting the sight
The first step was to mount the See All sight to the TX200. Since the rifle has 11mm dovetails and the See All has Weaver-width dovetail jaws, I used a prototype Leapers base that converts 11mm to Weaver/Picatinny. For this test, I used the same scope stop pin that I showed in the last test with the dot sight. The pin popped out of the hole on the first shot, so the base had to be remounted and the pin locked down again. After that, the base remained tight and solid throughout the test.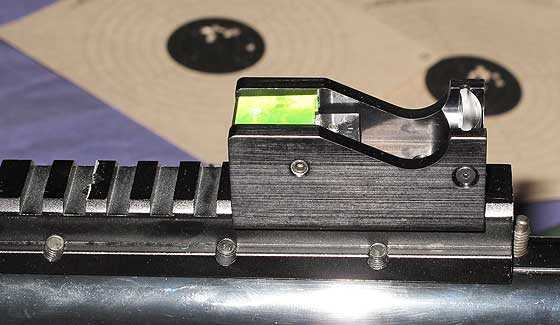 The See All Open Sight is mounted on a prototype Leapers 11mm-to-Picatinny base that has a built-in droop (correction for the barrel pointing downwards).
The base of the See All sight has no locking crosspins like those found on a Weaver or Picatinny sight. It has 2 vertical screws that bear down on the sight base and push the See All up so its jaws grab onto the dovetails of the base. Since the base I used has the crosspin slots for a Picatinny-type sight, I slid the See All until both locking screws were pushing down into the bottom of a slot, instead of on top of a locking ridge. I felt that would give a more secure attachment. But there were still some problems, as we shall see.
Sight-in
I sighted-in with H&N Baracuda Match pellets. They had tested well with the dot sight at 25 yards, and I felt they would be a good pellet for this test. But I had problems getting the pellet to go where I wanted. This is where I discovered that the See All sight behaves like a front sight and not like a rear sight. The sighting reticle must be moved in the direction opposite of where you want the pellet to go. The instructions included with the sight are very clear on this; of course, I wasn't reading them — yet! There's a marking on the right side of the sight that is supposed to tell you how to adjust the sight for windage, but I found it difficult to read.
I thought I'd solved the sighting problem and tried to shoot a first group, but the results were horrible. Pellets went everywhere! But within the first 5-inch, 10-shot group there were four holes together. Since I had seen the first hole through the spotting scope I knew the first 4 shots went to the same place, then the rest scattered everywhere. Pretty obvious what was wrong.
The sight was loose on the base! After tightening it down, I shot the first group for record. Ten Baracuda Match pellets went into 1.085 inches at 25 yards. It's an okay group for open sights and an average spring rifle, but it's horrible for a TX200.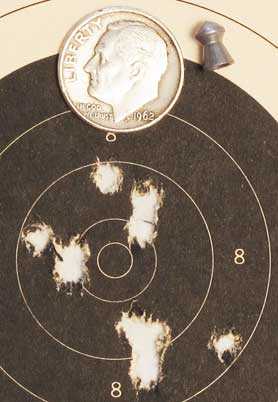 The first group of 10 Baracuda Match pellets isn't much of a group for just 25 yards from a TX200. It measures 1.085 inches between centers. The sight was loose again!
Then, I checked the screws and found the sight had loosened, again, during the ten shots it took to fire the first group! Now I knew what to do. Check the screws after every shot and tighten if necessary.
Crosman Premier heavys
I switched to Crosman Premier heavy pellets for the second group, fully intending to come back to Baracuda Match pellets at the end of the test. But this shooting was proving tiring, and I didn't want to jinx the other pellets by shooting them when I was tired. I checked the sight screws for tightness after each shot on this string.
Ten Premier heavys went into 0.978 inches at 25 yards. You can see a smaller group of 7 within the main group. It measures just 0.451 inches between centers. That tells me the See All Open Sight really works, but I was still getting used to it. The shots outside the main group are from my aiming errors, I believe.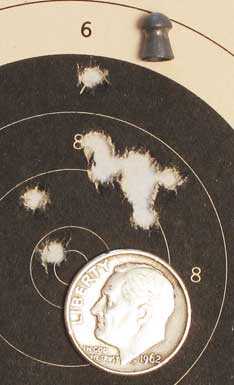 These 10 Premier heavys look a little better. The entire group is 0.978 inches between centers, but 7 of the pellets are bunched up pretty well in 0.451 inches!
I was learning to use the sight as things progressed. The space just above the reticle triangle is difficult to line up with a bullseye target — at least for me. But as things progressed, I discovered that I was aligning it faster and faster. I was learning to judge where the reticle was, even when I couldn't see the tip. That's no doubt what lead to those shots that are not inside the main group, and I think as I learn this sight more I will get better with it.
Crosman Premier lites
Next, I tried the 7.9-grain Crosman Premier lite pellet. By this time, I'd found it necessary to check the See All screws after only every 5 shots, and they were no longer loosening even then. Ten Premier lites went into a nice group that measures 0.686 inches between centers. It's a very round group, which indicates I'm learning the sight picture as I go. But the Premier lite was also very accurate in the test using the red dot sight.

Now we're talking! Ten Premier lite pellets went into 0.686 inches, with 7 of them going into just 0.423 inches.
Baracuda Match
Now, it was time to return to the H&N Baracuda Match pellets and see what I could do. I was still checking the See All screws for tightness after every 5th shot, but they weren't loosening. This time, I managed to put 10 pellets into 1.259 inches; but as you can see, 9 of them went into 0.695 inches. It's clearly my fault the group is as large as it is. The See All Open Sight can make it much smaller, if used correctly.

Ten H&N Baracuda Match pellets made this 1.295-inch group…which is horrible; but 9 pellets went into 0.695 inches, which isn't too bad. Still, this pellet doesn't compare with the Premier lites.
Conclusions so far
The See All sight does work as advertised. But you do need to read the instructions and follow them.
Small adjustments of the sight make very large changes in the impact point. Go very, very slow with your adjustments. And read the instructions to see which way to turn them. The markings for adjustment directions on the body of the sight are not very clear.
Plan on taking some time to get used to the sight. It does work, and I think it works well for people with poor eyesight; but it's unlike anything you've ever used. Although it's analogous to a dot sight, it works nothing like one in application.
I did find that I needed some light on the sight to see the reticle. I had the room lights on where I was shooting, which is something I never do with other open sights or scopes.
I think this sight may be better-suited to PCPs and CO2 guns than springers. But that's just my impression from this first test. I'll know more as the tests continue — which they will. I still think this sight is a significant new device.
My friend, Otho, is also testing a See All sight on some firearms for me. His eyesight is so bad that he hasn't been able to use open sights for several years, so we'll get a different perspective from him.
by Tom Gaylord, a.k.a. B.B. Pelletier
Part 1
Part 2
Part 3
Part 4
Part 5
Part 6
Part 7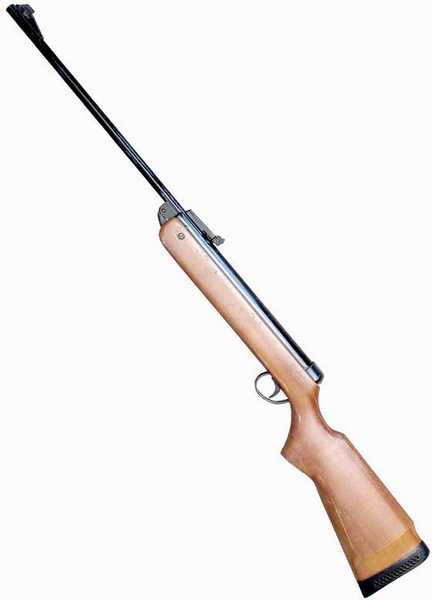 My rifle is actually a BSA Super Meteor.
Today, you'll see how I fixed the bad muzzle crown on the BSA Super Meteor, and then we'll see if that had any effect on the rifle's accuracy. You might want to read Part 7, again, just to remind yourself of what I faced.
The BSA project has been just that — a project from the start. All I wanted to do was test another vintage spring-piston air rifle for you and report the results, but this particular air rifle has challenged me at every turn. From the time I bought it at the Roanoke airgun show last September, it's been nothing but a prolonged learning scenario. I won't bore you by recapping all that's happened; but if you want to find out, read Parts 1 through 7.
At the end of Part 7, I showed you a nasty muzzle crown, which I surmised was the reason that all the pellets were leaving the barrel with a yaw to their axis. They weren't tumbling, because every one of them struck the target paper in exactly the same orientation. They were yawing, or traveling forward while pointing off to one side. Because the barrel is rifled, they were spinning on their long axis, but that axis didn't happen to coincide with their flight path.

The BSA Meteor crown has some serious nicks in it. The dark spot at 10 o'clock is the deepest. Compressed air could escape through this channel before any other part of the pellet leaves the bore, and the jet of air could push the pellet over on its side.
The solution was to crown the bore; but as you can see in the picture, the Meteor's muzzle is counterbored by more than an inch. In other words, it isn't where it appears to be from the side. It's deep inside the barrel, where the theory says it shouldn't get damaged as easily. Only this one was — perhaps from over-zealous cleaning through the muzzle. Who knows? The point is that it had to be fixed.
My shooting buddy Otho suggested a piloted counterbore to face off the crown true and square to the axis of the bore. And he volunteered to make the pilot, so I slugged the bore for him and found it was a diameter of 0.176 inches. That seemed odd to him because it's larger than the bore of a .17-caliber rimfire bullet that's about 0.172-inches. But that's the difference between .17 caliber and .177 caliber — which is important for airgunners and firearms shooters to know. The pilot he made measures 0.1745 inches and fits the Meteor's muzzle comfortably.

Otho made the pilot for this counterbore.
The counterbore chucked up perfectly in my portable electric drill. I allowed extra length for the bore to go down into the barrel and touch the muzzle without the drill chuck touching the barrel.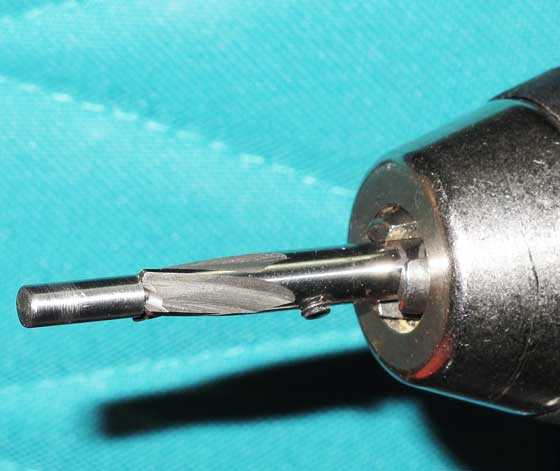 The counterbore is chucked in the drill and set to run true. It sticks out far enough to cut the crown without the drill chuck touching the barrel.
Plugging the barrel
Before starting the work, I pushed 3 fat pellets into the breech and then pushed them with a cleaning rod to within 2 inches of the true muzzle. These will keep the metal chips from dropping down the bore.
I oiled the counterbore and pilot with a good grade of light machine oil before inserting it into the muzzle of the gun. The drill was set on a slow speed, but I can also control the speed by how hard I squeeze the trigger. I wanted a slow steady turn without putting much pressure on the drill. The counterbore is sharp enough to cut the soft barrel metal without a lot of encouragement.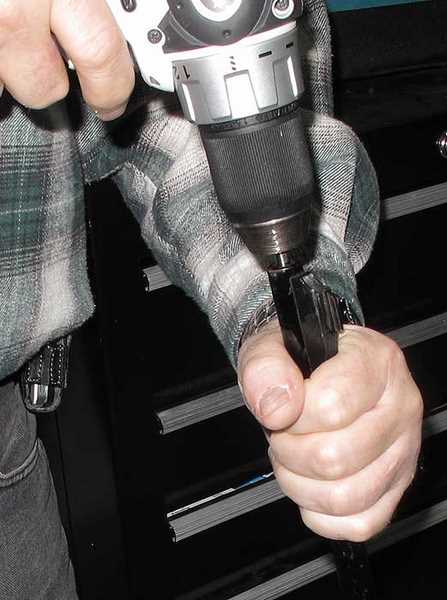 The drill is set to run slow, and I'm also slowing it more with the trigger. You don't need speed for a cut like this.
After about 10 seconds of cutting, I removed the counterbore and cleaned the new crown with a cotton swab. There was a band of bright metal around the muzzle where the counterbore had cut. Upon close examination, I could still see gouges in the bright band. The gouges were deeper than the first cut.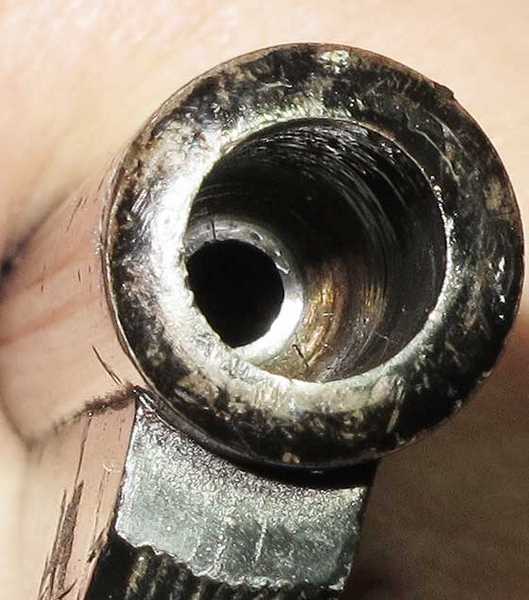 The new crown is bright after the first cut, but there are still gouges that need to come out.
I cleaned the counterbore with a swab and oiled it again. Then, I made a second cut on the crown. This time, I felt the drill pulse as the cutter removed the uneven metal. It became smooth, and I knew the cut was finished. When I cleaned and inspected the new crown this time, it appeared smooth and even. The job was done.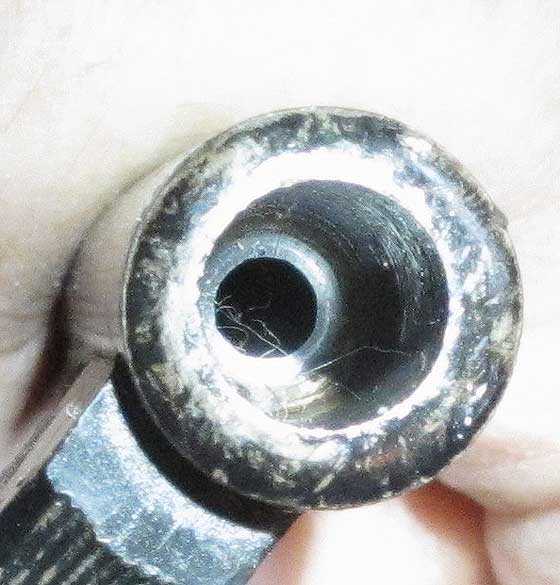 I apologize for the blurriness of this picture. Focusing on the crown is very difficult when I'm also trying to light it from the same axis as the lens is pointing. The lens is about one inch from the end of the barrel, and this was the best picture I got. There are still some faint marks on the crown. After examination with a loupe, I didn't think they would be a problem.
At this point, I felt the crown was as clean as I could get it. And there was a simple way to see if this had made a difference. I drove the pellets in the bore out the muzzle and a few steel chips came with them. Next, I shot two RWS Hobby pellets offhand from 12 feet. If the crown was good, they would cut the paper perfectly instead of hitting sideways. And that's what happened.
So, I backed up to 8 yards and shot 2 more shots from an improvised rest. These 2 pellets landed very close to each other and also showed no signs of tipping. I felt the job was done.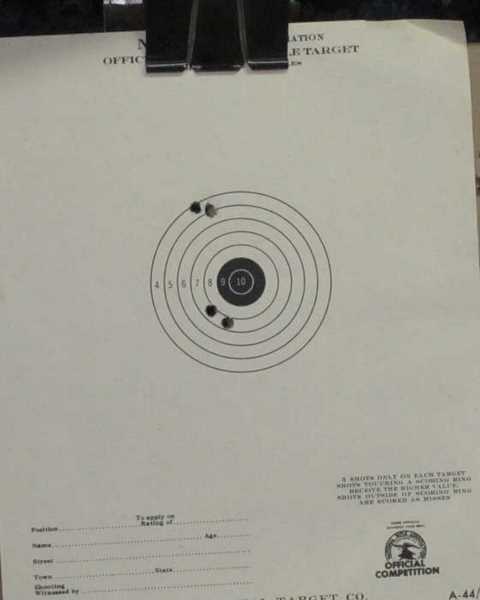 The two lower shots were from 12 feet. They confirmed the pellets were hitting the paper straight-on. The two upper shots were from an improvised rest at about 8 yards. They told me the crown is probably working.
Now for the test!
The test is a rerun of the Part 7 accuracy test. I used every pellet from the last accuracy test and shot at the same 10 meters.
Pellets:
Eley Wasp
Crosman Premier lite
Air Arms Falcon
RWS Hobby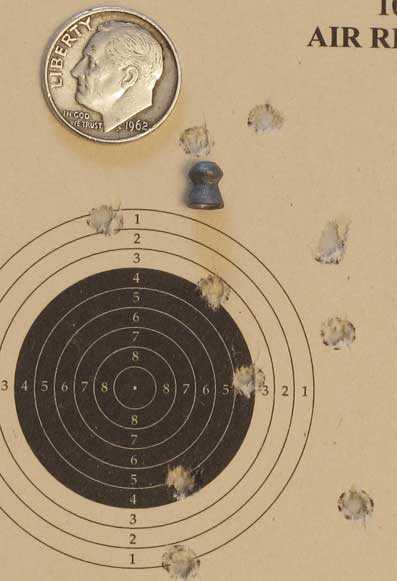 Ten Eley Wasps went into 2.256 inches at 10 meters.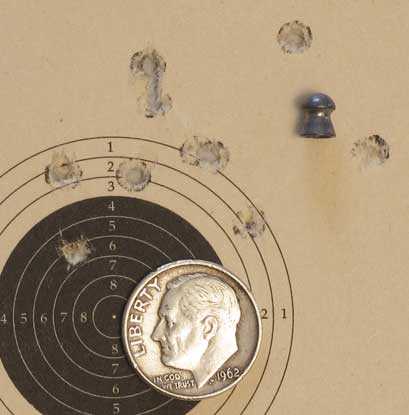 Ten Premier lites went into 1.522 inches.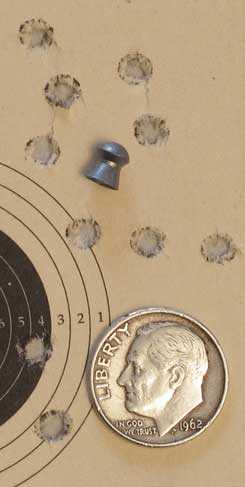 Ten Air Arms Falcons went into 1.941 inches.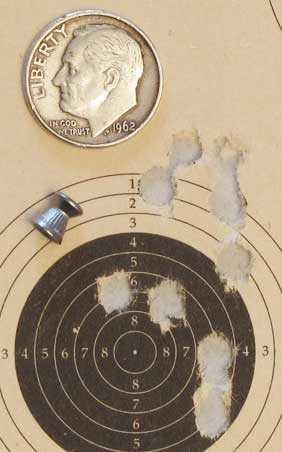 Ten RWS Hobbys went into 1.361 inches.
Conclusions
If you compare these targets to those in Part 7, one thing jumps out at you. None of these pellets tipped when they went through the paper. So, crowning seems to have solved that problem!
But the accuracy seems no better. The Hobbys did group better in this test, but the Falcons grouped worse. With groups this large at 10 meters, I'm not willing to say anything has improved. I've had cheap Chinese air rifles group better than this.
I have one trick left up my sleeve. I've noticed that the Meteor rear sight seems hinky and difficult to adjust, and I suspect it jumps around as I shoot. It's not loose to the touch, but I don't trust it to hold zero.
I'll do one more test of this rifle with either a dot sight or with the See All Open Sight if I can get it mounted to the Meteor. If that doesn't work, I'll probably abandon this air rifle as a bad investment.