by Tom Gaylord
Writing as B.B. Pelletier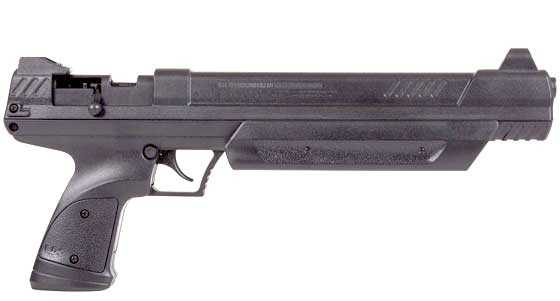 Umarex Strike Point multi-pump pistol.
This report covers:
The test
Sig Match Ballistic Alloy
The sights
RWS Superdome
Air Arms Falcons
RWS HyperMax
Crosman Premier light
RWS Hobby
Evaluation
Today we test the accuracy of the new Umarex Strike Point multi-pump pistol. This test is the one we have all been waiting to see. The Strike Point is firmly in competition with the  Crosman 1377, and we want to know how it stacks up downrange.
The test
I shot from 10 meters off a sandbag rest. I shot 5 shots per target because this is a multi-pump. If any pellet grouped well, I would shoot another 10 shots with that pellet. I pumped the gun 4 times per shot, because the velocity test indicated that would be okay.
Sig Match Ballistic Alloy
The first pellet I tested was the Sig Match Ballistic Alloy pellet. It wasn't tested in the velocity test, but this pellet has proved remarkably accurate in many airguns and I thought it deserved a test. Five pellets went into a 2.922-inch group. I'm not showing the dime in this photo because it makes no sense. This is a huge group for 10 meters! Also I noticed that 4 of the five pellet holes showed some tipping of the pellet as it passed through the target. read more