Umarex Colt 1873 Single Action Army Part 2
This new rifled barrel, pellet-firing Peacemaker is your Huckleberry!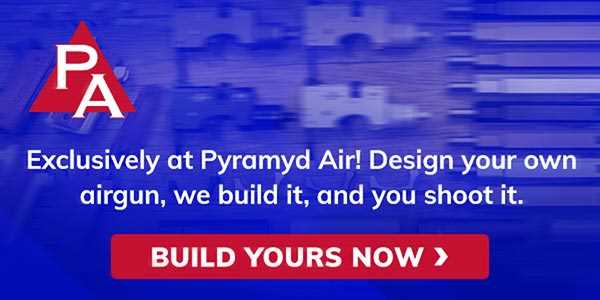 by Dennis Adler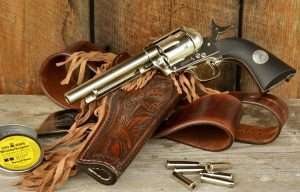 This new nickel finished Colt SAA pellet model comes fitted with special black panel grips and a Colt Peacemaker Rampant Colt inset emblem. In all respects other than what comes out of the recessed .45 Colt muzzle, the pellet model looks identical to the earlier .177 caliber BB models, which is to say very much like a nickel plated c.1892 smokeless powder frame Colt Single Action Army revolver.
The 1892 smokeless powder frame introduced the transverse cylinder latch under the barrel to release the cylinder pin for disassembly. This is a non-working feature on the airgun but by removing a center screw in the latch, the cylinder pin can be removed and the cylinder rolled out of the frame, just like the real guns of the Old West.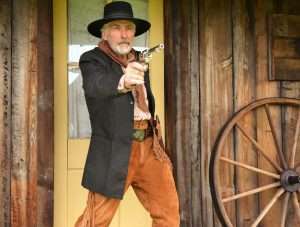 Skinning the no-smoke wagon
Back in the day, holsters were a matter of choice or more often what was available at the gun shop or local saddlery. To test the new pellet model Umarex Colt Peacemaker I dropped it into a one-off copy of a famous fringed holster pictured in the book Packing Iron. The copy of the holster was handmade by Javier Garcia of .45Maker (801-628-7219). Although it is for a 7-1/2 inch barrel length, a 5-1/2 inch Colt Single Action sits just fine. For the test I set up a silhouette target at the SASS (Single Action Shooting Society) pistol distance of 10 yards and fired Duelist style, which is old fashioned one-handed shooting. A CO2 pellet gun with a rifled barrel is definitely accurate out to 10 yards and even beyond, as the traditional 10 meter shooting distance for pellet guns is 33 feet. I also decided to kick a few tin cans around at 10 yards and set them up on top of an old whiskey barrel.
Ammo choice was RWS Meisterkugeln, a traditional 4.5mm wad cutter target grade pellet. Since this is a six-shooter, you shoot your six and then have to reload; so purchasing at least a dozen extra cartridges is a good idea for faster reloading. Pellet cartridges run around $10 for a set of six, and if you buy a holster and gunbelt the bullet loops should be for .38 caliber shells (not .45 Colt) so the pellet cartridges will fit.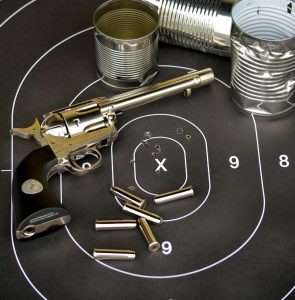 Taking my best gunfighter stance I did a quick draw for the first six shots just to see where I was hitting on the silhouette target and put six shots into the center of the target. Going to aimed shots, six rounds grouped in the 10 and X rings at 1.75 inches. I repeated this a few more times with average six round groups measuring under 2-inches. Then I went gunning for tin cans, knocking them down in order and kicking them around like an old western movie.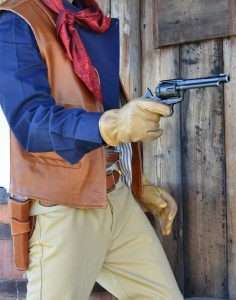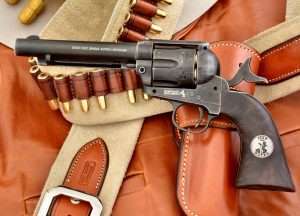 With either the stanadrd nickle finished pellet model or the limited edition "Duke" pellet models you can practice drawing, re-holstering, and a little fancy gun handing, especially if you get an authentic "Duke" gun rig like the one John Bianchi made for John Wayne. There are two versions of the special edition John Wayne "Duke" pellet model available, one with the weathered finish just like the single action Colts Wayne preferred to carry in so many of his films, or a bright nickle version. The Limited Edition of 500 guns also features wood-grained grips with inlaid John Wayne "Duke" medallions. Just close your eyes and it's the 1950s all over again!