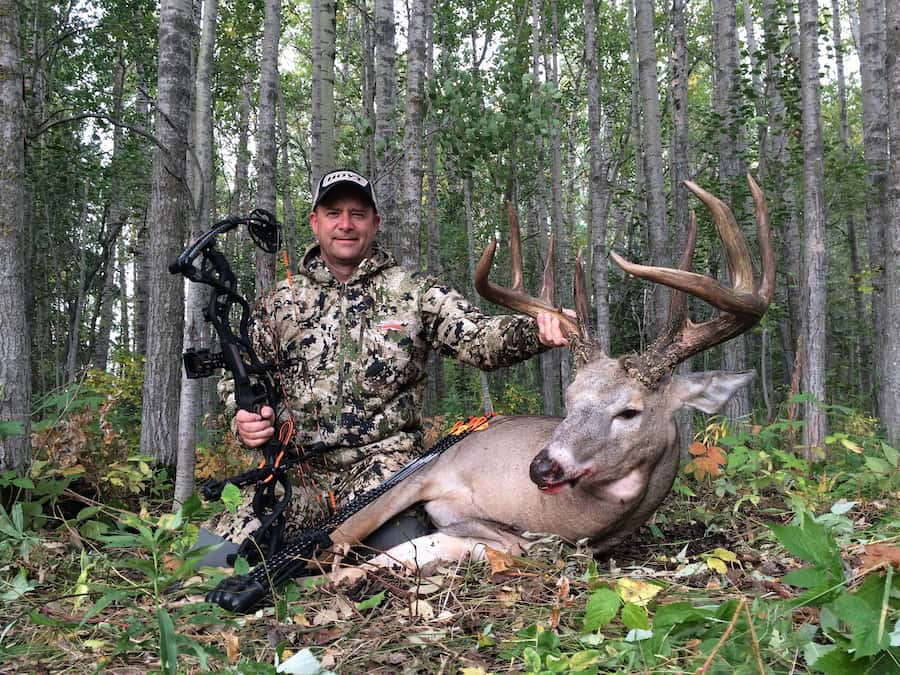 Late August and early September – the early season – give us the ability to hunt deer in their laidback summer bedding and feeding routines. Food is abundant, temperatures are mild, and dense foliage gives deer a sense of security. Bucks move more freely and are easier to pattern at this time, particularly up to and immediately after they shed their velvet. Almost universally, this transition from velvet to hard-antler coincides with a general switch to lower nighttime temperatures and the earliest color changes in the leaves.
Trail Cams Recon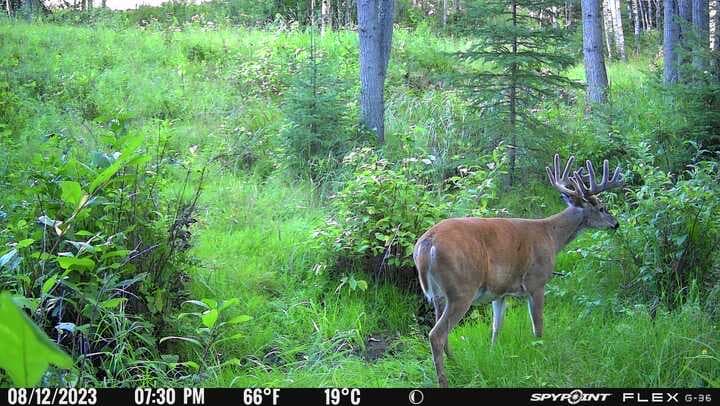 Trail cameras like the Tactacam Reveal X-Pro are an enormous asset because they work in our absence. Early season movement is different than during the rut. In late summer and the weeks leading up to the fall equinox, big bucks move most at dawn, dusk, and throughout the night. Their motivation is based on bedding in protective cover and feeding on the best available protein-rich food. They commonly get up, stretch, and browse every two to four hours throughout the day but rarely move more than short distances within their bedding cover.
Field Edges & Staging Areas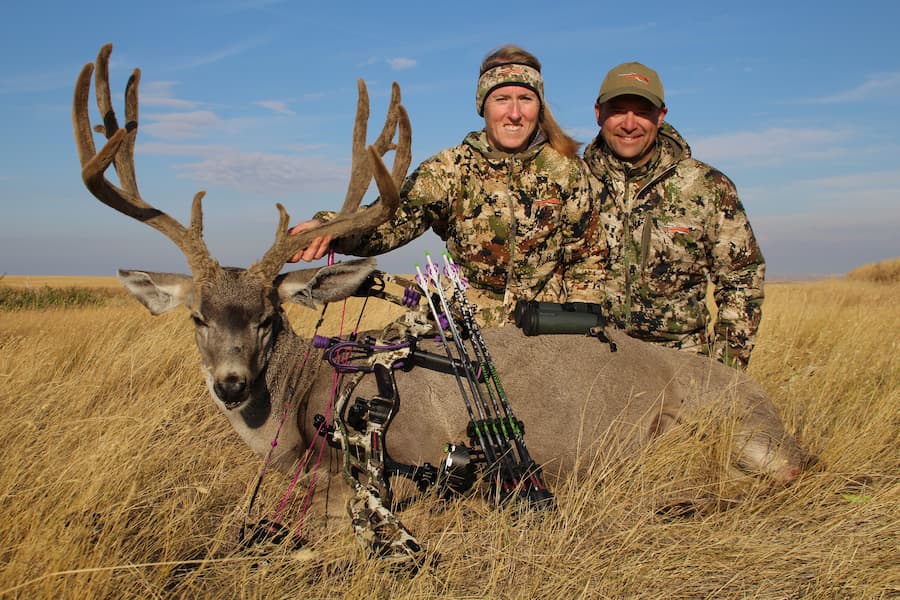 While other key transition zones can often be more productive later in the season, field edges and staging areas just inside tree lines can be perfect locations to capitalize on deer movement in the early season. Studying aerial photographs can be a good place to begin analyzing your ground. Know that low-lying depressions, corners, bays, or coves along field edges, ridges, and other areas close to heavy protective cover, like coniferous stands and willow bluffs (or equivalent), can be high-odds locations to focus on.
As a rule, if you plan to hunt in the early season, begin placing trail cameras by early July. This will give you weeks of intel to work with and allow you to monitor antler growth. Before committing to any trail camera locations, be sure to walk as much of the ground you plan to hunt as possible. The most heavily-used trails to and from bedding and feeding should be noted. Identify the highest traffic areas, i.e. trail entrances and exit points from and to feeding fields. Note that alfalfa, pea, soybean, corn fields, and planted food plots are high-protein agricultural food sources targeted heavily by deer in the early season. Recognize also that bucks often stage just inside tree lines in natural clearings near field edges before going out to feed or heading back into bed down for the day.
Placing cameras along the most used trails can be high odds areas, but the challenge with big bucks, in particular, is that they rarely do the same thing twice. Moreover, they seldom travel the most heavily used trails. In fact, mature bucks often don't use main trails at all. Sounds counterintuitive, I know, but by placing your cameras on these structural funnels and main trails, you at least up the odds of a capture. While does and younger bucks can often be patterned, mature bucks grew old by being smart. They shift a lot within their home area and commonly use trails less traveled in the early season. If you capture a big buck on camera once, you are fortunate. If you capture him more than that, then you better get after it because you've found yourself an ideal ambush location. Patterning giant bucks with a camera doesn't happen every day, but when it does, you've won the lottery. Then it's time to hunt, hang a stand, or place a blind, and hunt smart.
Spot & Stalk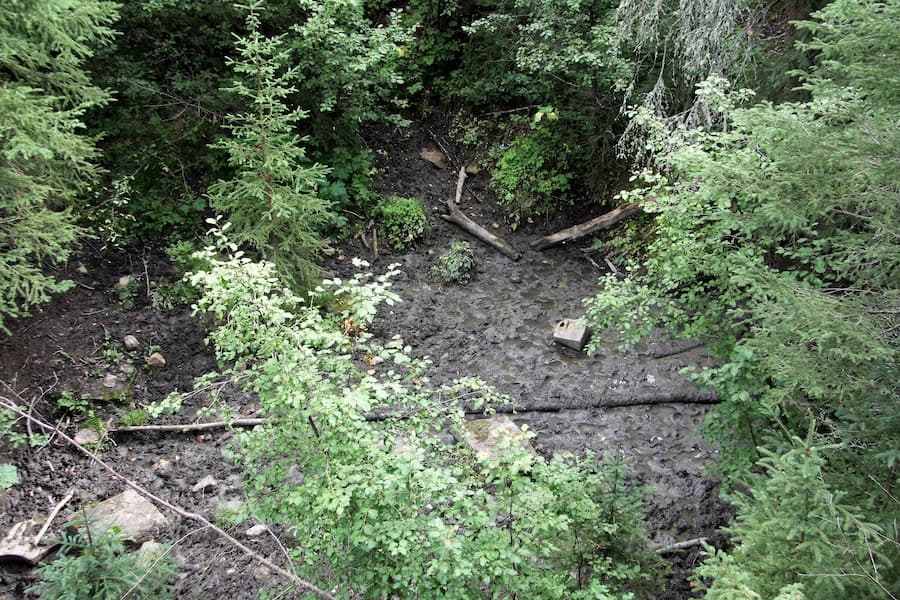 If you're a spot and stalk hunter, deer can be tougher to see, but the ground is often moist, or at least it has few or no dead leaves that crunch underfoot. As a prairie mule deer hunter, the early season offers up some of the year's best spot and stalk opportunities. Locating big bucks heading to or from bedding areas is often as simple as watching them from a distance, putting them to bed in a bluff of low scrub brush, carefully and quietly sneaking in to within bow range, then waiting until they stand, stretch, and feed. If you have the patience, it's a simple matter of working the wind, waiting them out, and biding your time until the buck stands with his head facing the other way for a shot opportunity. This same spot and stalk strategy can work for whitetails as well, but whitetails are usually much more alert, typically bedding in heavier cover.
Tree Stands & Ground Blinds
For whitetails, tree stands and ground blinds are a preferred method in the early season. During the first two weeks of the early season, hunting from strategically placed tree stands or blinds along field edges can offer high odds for a close encounter. Placing blinds along field edges (see the Allen Vanish Camo Netting for Ground Blinds), just inside tree lines in staging areas, deer will commonly walk right along these field edges between the standing crop and tree line and follow it for some distance. The biggest advantage is that leaf-laden branches and grasses can be used to fully camouflage blinds, making these well-covered hides seemingly vanish into the landscape. By placing blinds within shooting range, i.e., 15 to 40 yards from anticipated movement, feeding, and watering locations, archers can anticipate and capitalize on shot opportunities. The challenge with field edges, however, is that big deer movement normally occurs during those earliest morning minutes of daylight and the last waning minutes of light in the evening. This means shot opportunities can often be under low light conditions.
Water Holes & Mineral Licks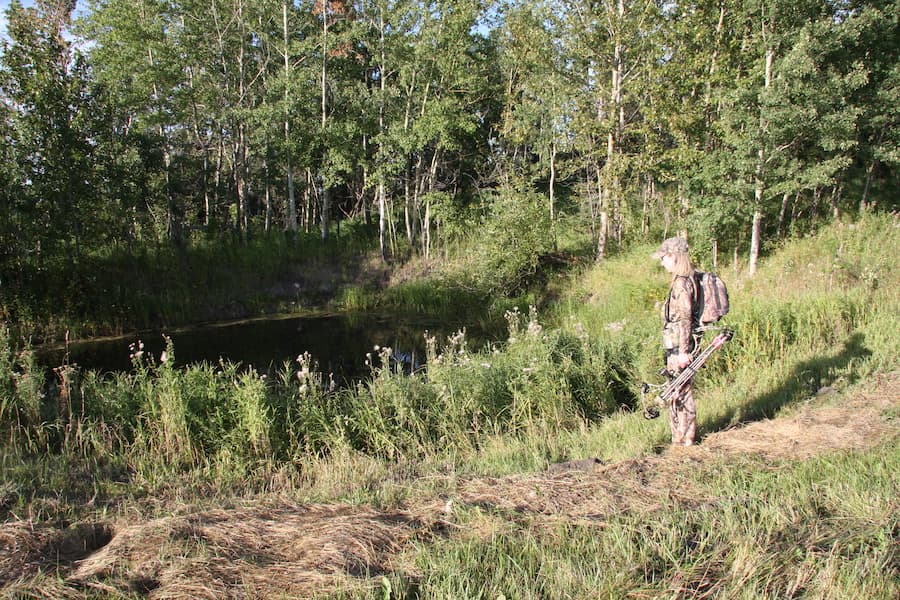 I'd be remiss if I didn't mention water holes and natural or commercial mineral licks (where regulations allow). As licks are concerned, hot daytime temperatures can motivate deer to visit these for a drink. Every year, water holes and natural licks produce shot opportunities for patient hunters. Locate a natural lick, and you've got yourself a guaranteed early-season deer attractant.
The good news in all of this is that some deer can indeed be patterned in the early season. Invest the time, control your scent, hunt where big deer roam, put in your time, and you've got a great chance of letting the air out of an early-season deer.