Archive for December 2007
by B.B. Pelletier
Before we begin, here's a new video test by Paul Capello, of the RWS Diana 460 Magnum.
Today, I'll report on the accuracy of the gas spring-converted Webley Patriot, and, oh my gosh! I don't get a gun that shoots this naturally very often. When it happens, it's quite a treat. Before you run to the forums and claim that I said the .25 caliber Patriot is a tack-driver, stop and read the entire report!
Sight-in
I usually sight-in starting at 10 feet, so the size of the group doesn't matter or even count. BUT, seldom do I put two pellets through the same hole and not see where the second pellet went! I'll accept that as a good sign of things to come. The pellet I used was a Beeman Kodiak, of course. Other pellets simply don't do well in a Patriot or a Kodiak, but the 31-grain Beeman Kodiak performs like it was made for the gun, which, of course, it wasn't, but could have been. (It was made for the Weihrauch EL54, an ether-injected rifle.)
Scope
A Leapers 3-9×50 scope with a red/green illuminated reticle was mounted on the rifle. This particular scope has a fine reticle with tiny mil-dots, so it's easy to aim with precision. I mounted it in a B-Square AA adjustable one-piece mount that remained rock-steady throughout my velocity testing back on Dec. 19 and again in yesterday's accuracy tests. I've installed the ultra-high riser kit on mine, so scope clearance is never a problem. Mounted correctly, this solves all your scope misalignment problems. The only reason my groups are not centered on the bull is that I didn't take the time to adjust the scope or mounts. After a quick sight-in, I went to town.
Firing behavior
I'd forgotten what a pleasure this Patriot is to shoot. Gone is the heavy recoil and stunning vibration. Just a solid "thunk" and a forward jump. You'd swear you were shooting a rifle with 20 foot-pounds instead of almost 30! The trigger had one spot of creep but was crisp after that.
Good groups from the start
I used the new artillery hold with the rifle balanced on the back of my fingers. The first group had an inch of vertical stringing, so I slid the rifle forward until I was touching the triggerguard. The rifle was very muzzle-heavy at this point, but the pellets started sailing into the same hole, shot-after-shot. From then on, I knew exactly what the rifle was doing.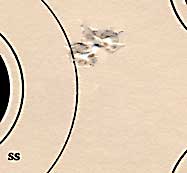 An unintentional group of 6 or 7 Beeman Kodiaks at 21 yards clustered into this group measuring 0.349″ c-t-c.
The first good group, which wasn't supposed to even be a group, was the best of all. I shot six or seven times into the same two holes, not caring to stop until I realized what I was doing.
Then, I shifted to other bulls and began lobbing the Kodiaks in. I couldn't miss! The technique was easy to repeat and the rifle shot like a champion. That said, a .25 caliber air rifle cannot compete with .177s, .20s and .22s. The pellets are just not up to it. But, when you smack a larger animal with a quarter-inch pellet, he knows it and he stays smacked! No acupuncture here! The .25 is for hunters, and this gas-spring Patriot is a good one to have!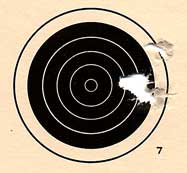 This group of five Kodiaks looks more like the average group at 21 yards. It measures 0.592″ c-t-c, with four pellets going into a hole measuring 0.372″.
Other pellets
I tried both Diana Magnums and Beeman Ram Jets, but neither was anywhere near as accurate as the Kodiaks. I wouldn't waste my time with them if this is your only .25-caliber rifle. I've pleaded with Crosman for the past eight years to make a .25 Premier, but no luck. Until a top maker like JSB decides to make a better pellet, the Beeman Kodiak made by H&N is the best game in town, in my experience.
How good is the Turkish Patriot?
I failed to mention in the first report that the converted rifle was made in Turkey. I see on the forums that there are some discussion about whether or not these rifles are as good as the British-made Patriots. I've tested both, and the Turkish rifles are NOT made as well as the British-made Patriots. They're made BETTER! The internal dimensions (where it counts) are held to tighter tolerances inside the powerplant. That said, I can't see any difference in accuracy between a British-made Patriot and a Turkish-made Patriot. The British rifles had a better polish on the exterior metal, plus the scope-arresting cross grooves were cut deeper. That's about the extent of the differences.
Bottom line?
If you fancy a Patriot, get one with a gas spring. If you already own one, have it converted. It makes all the difference in the world.
Happy New Year!
by B.B. Pelletier
I had planned to share the accuracy test for the pump-assist Benjamin 392 today, but it's been postponed for a while. The design is being tweaked with a few improvements, and Pyramyd Air has deactivated the product for the time being. When it's available again, I'll announce it and test it with the new intermount.
Since I had some time on my hands, I thought I'd use it to clean up a little business. Buddy wanted me to try the Benjamin Super Streak with Crosman Silver Eagle lead-free pellets. He says he's gotten over 1,500 f.p.s. from his Gamo Hunter Extreme, and he wanted to know what the Super Streak might do with them.
You may remember that 5-grain Gamo Raptors averaged 1319 f.p.s. when I tested this rifle. With Silver Eagle wadcutters that weigh 5.2 grains, the velocity averages 1340 f.p.s., with a high of 1,367 and a low of 1310. That's too broad a spread to expect good accuracy at long range, but under 30 yards they should be fine.
The lighter 4.8-grain Silver Eagle hollowpoints averaged 1411 f.p.s. with a spread from 1310 to 1454. I can see where Benjamin's claim of 1500 f.p.s. comes from now. Of course, a 144 f.p.s. extreme spread is too vast to expect accuracy, though the majority of the shots were above 1400 f.p.s. Maybe with careful sorting by weight the rifle would shoot them well. Anyway, Buddy, now you know.
And we now know that Crosman has the fastest metal pellets on the market. They boosted the velocity of the Super Streak by 90 f.p.s., so if it's braggin' rights you're looking for, here they are.
Next subject – gas springs
You've followed my reports about the gas springs and now many of you want them for your own rifles. Here is a list of air rifles that will accept the gas spring that fits the Gamo Whisper:
GAMO:
Big Cat
Whisper
CFX
Carbine Sport
Hunter 440
Hunter 890
Hunter Elite
Hunter Extreme
Hunter Pro
Hunter Sport
Shadow (all)
Varmint Hunter
Viper
Viper Express
Nitro 17
Recon
Delta (may fit with adjustments)
CROSMAN:
Phantom
Quest 1000
Quest 800 (may also fit with some adjustments)
BENJAMIN:
Legacy 1000
Additionally, there's another gas spring for:
WEBLEY:
Patriot (Beeman Kodiak)
Lastly…a new airsoft gun
Airsoft enthusiasts have learned to be patient on this blog, because I don't devote a lot of time to them. But now I have something new to announce. The Walther P38 green gas pistol will be here in January, and I have an advance copy to test for you. I'll try to get to it next week. I used to own a 9mm P38, and this new pistol looks to be made better than that one, though anyone who has ever owned a sheetmetal wartime P38 can tell you that's not hard to do.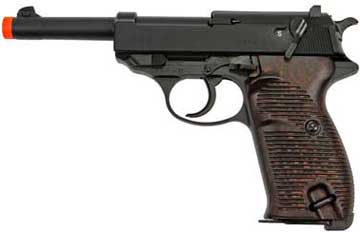 Walther P38 airsoft pistol operates on green gas and looks well built.
by B.B. Pelletier
Today, I'll depart from the normal focus, taking some time to reflect on the presents I got for Christmas. As I mentioned yesterday, though not everyone celebrates Christmas, most people do buy something major for themselves at this time of year. If it wasn't for Christmas, it may be using that tax refund that will be coming in another month. One way or another, this is the hottest buying time of the entire year.
It's better to give…
I often get an airgun for Christmas, but this year I gave one as a present, too. My brother-in-law and his wife came up to celebrate with my wife and me and my sister. I'd given him a Hakim rifle many years ago. This year, I gave him one of the Predom Lucznik pistols that copy the Walther LP53. In fact, the gun I gave him was the very gun I used to write the blog post.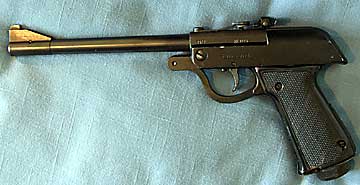 Predom Lucznik spring pistol is a copy of the Walther LP53 that has more power and good accuracy.
I showed him how it works and how to maintain it with oil. I gave him a tin of Gamo Match pellets to go with it, because when I tested it, I found them to be ideal. We didn't shoot much on Christmas Eve when I gave him the gun, but after he returned home he phoned to say he had taken it outside and was doing a number on a box in his yard. He adjusted the sights and had the gun shooting well by Christmas morning. He took it over to the grandkids on Christmas day so they could see the neat gun grandpa got.
Picture perfect – what every gun writer needs
I received a new digital camera that also takes videos. I have a great camera that does all that already, but it's so large that I often don't take it with me when I go to the range. When I find the perfect picture, there's no way to capture it. Or, I see something cool that would make a great video segment, but again, no camera to capture it.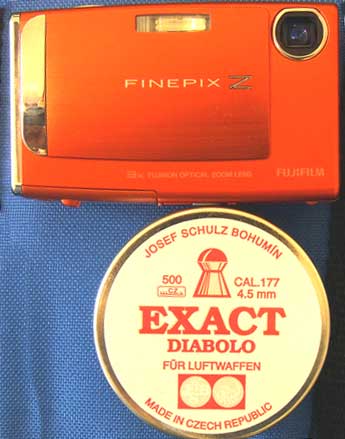 Small digital camera will be easier to carry to the field. Shown about actual size.
My new camera is a Fuji Finepix Z with 7.2 megapixel images. I've used 3.2 megapixel images for newsstand magazine pictures, but this is more than twice the final image area and close to what I'm currently doing with my large camera. It's smaller than a pack of cigarettes, so I'll be far more likely to have it when I need it. My other camera is also a Fuji, so the controls and software are similar. Even the download software is the same, so there was nothing to do but connect the camera to my computer and go to work.
Wilson CQB
My other big gift was truly major – a Wilson Combat CQB with light rail. A 1911 pistol that's entirely hand-fitted with all forged steel and tool steel parts. No MIM parts (metal-injection molded), no castings – nothing you have to wonder about. Many of you have followed my saga of getting familiar with the Taurus PT1911, so this new pistol, which is perfect in all respects, represents the "after" to that "before" gun. The Wilson is the most trusted 1911 on the market. You can pay more, but they don't come any more reliable and rugged. It comes with a "1-inch at 25 yards" guarantee!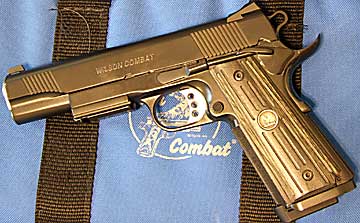 Wilson CQB 1911 raises the bar for my pistol collection. The Taurus now has big shoes to fill.
This gun will do many things. After I verify that it's as reliable as the ads and articles say, it becomes home defense gun No. 1 – displacing my Makarov. I will find a good tactical flashlight/laser combo to mount on the light rail for those chance nighttime encounters. It came with tritium night sights, but a laser dot on the chest is supposed to be a good persuader.
The CQB will also serve as the standard I will strive for in gunsmithing the Taurus. The feel of the gun cocking is incredible, plus the trigger is the proverbial glass rod, so the Taurus has a long way to go. I will not give up on the Brazilian gun until it fulfills it's promises, so the CQB will be a great go-to gun in the interim.
Those were my big gifts, now tell me about yours.
by B.B. Pelletier

The new pump-assist Benjamin 392/397 with Air Venturi intermount attached is revised and more powerful.
Pyramyd Air is now stocking the
pump-assist modified Benjamin 392 and 397 rifles
. It complements their new
Air Venturi intermount
perfectly, by making it easy (for the first time) to pump the rifle with a scope mounted on it. So, I'm returning to this modification for more testing and this time I'll have a scope! Before we get to that, I want to give you some news about the gun, itself.
When I say the gun, I'm referring to both calibers .177 and .22, which are the 397 and 392 models, respectively. Other than the calibers, the guns are identical in all ways.
Testing the new unmodified guns
Bob Moss, the inventor who designed and builds the pump-assist modification, has done some additional testing and improved several features of the gun. For starters, he's boosted the velocity. He purchased 10 new guns and measured the average velocity for both .177s and .22s. The .177s averaged 719 f.p.s. with Crosman 7.9-grain Premier pellets, and the .22s averaged 605 f.p.s. with 14.3-grain Premiers. That was for the recommended 8 pumps maximum for both guns, and it's the average of four 397s and six 392s.
More power!
Moss then set about to increase the power in his modified rifles, one of which he kindly supplied to me for testing. On 8 pumps, the modified 392 averages 613 f.p.s. with Crosman Premiers. You may recall that the first rifle I tested averaged 589 f.p.s. with the same .22 caliber Premiers, so the power has definitely been increased. Moss says all guns will go out at this new power level.
Even more power!
As with the initial test, I pumped this test rifle more times than the factory-recommended 8, just to see what would happen. Neither Moss nor Pyramyd Air recommend doing this with your own rifle as it can stress the pump mechanism beyond its design limits. With 9 pumps, the gun averages 632 f.p.s. with Premiers, and no air remains after firing. With 10 pumps, the average climbs to 651 f.p.s., and, once again, no air remains after firing. On 11 pumps, the average velocity for Premiers is 667 f.p.s., but the spread from highest to lowest velocity opens up beyond 10 f.p.s. and there is air remaining in the gun after the shot. So, 11 pumps are clearly too many for the valve in the test gun. Again, I don't recommend pumping more than 8 times, but I did it to illustrate how the gun works.
A LOT easier!
Remember in the earlier reports I revised my pump efforts for the standard rifle downward after talking with the inventor? Well, he tested this new batch of guns and found them to be much harder to pump in their final strokes. The eighth stroke took an average of 40 pounds of effort and one rifle in the batch of ten was off the scale, at over 50 pounds! That is what is being reduced to between 12 and 14 pounds! The linkage was also revised to stop the pump arm from rising as the stroke count increases.
Let's test it!
Now that we have an easy-pumping 392, the Air Venturi intermount that positions the scope above the receiver makes sense. I'll mount what I think is the perfect scope for this rifle and give it a test. We can compare it to the results of the first rifle and see if this modification is worth the expense. That will come on Friday. Tomorrow, though, I have a surprise.
What did you get?
Tomorrow, I'll share what I got for Christmas with you, and then I want you to tell me what you got. I know all of us don't celebrate Christmas, but I also know that this season brings out the buyer in all of us. So, consider this your opportunity to tell all of us about your favorite new airgun or accessory.
by B.B. Pelletier
Merry Christmas!
Today's post is a light and easy one for me. It addresses a question from reader Stabbs about the good and bad points of the three types of spring-piston cocking mechanisms.
Breakbarrels – the good points
Breakbarrels are the most common type of spring-piston airgun. They use the barrel as a lever to cock the powerful mainspring. Because the breech is exposed when they break open, they are the easiest of all airguns to load – both rifle and pistol. They can also be lighter weight than the underlever or sidelever guns because they don't need a separate cocking mechanism (though there are plenty of breakbarrels that are very heavy, such as the Webley Patriot). When it comes time to take them apart, breakbarrels are simpler mechanisms, so they're easier to repair, though they do vary in complexity by brand and model. And, finally, a breakbarrel is quite easy to clean because of the good access to the barrel.
Breakbarrels – the bad points
Breakbarrels always require the most technique to shoot accurately. They are hold-sensitive, and although this differs by model, I can say universally that all breakbarrels are more difficult to shoot accurately than any sidelever or underlever. Breakbarrels usually have barrel "droop," which means the barrel points downward. Used with open sight, this hardly matters, as both the front and rear sights are mounted on the barrel, but when you scope the gun it becomes a problem. Also, when selecting a scope, you have to be careful that the scope isn't so long that it interferes with the barrel being broken open.
Breakbarrels – some interesting things
Some new shooters seem driven to experiment with their breakbarrel by pulling the trigger when the barrel is broken open. If the gun shoots (a lot of them won't), the barrel snaps shut, bending the barrel upwards and often cracking the stock. This is guaranteed to bend the barrel of the rifle or pistol every time, so be warned. And, dealers have learned to spot this kind of abuse, so they usually don't honor the warranty when they see this.
Some shooters avoid breakbarrels because they believe the barrel has to bend over time by cocking the rifle. That's not true. They are 100 year-old breakbarrels that are just as straight as the day they were made. Barrels can easily be bent through abuse, but they never bend in normal use.
Sidelevers – the good points
Sidelevers have a separate cocking lever on the side of the gun. They have a fixed barrel that many feel is more accurate than a breakbarrel. Although it isn't, it's easier to shoot a sidelever more accurately because they're less sensitive to handling. So I guess it's true that a sidelever will be more accurate than a breakbarrel in most shooters' hands. Just watch out for the man who has learned the right technique with his breakbarrel! Sidelevers can also accept longer scopes because the barrel doesn't tip up and get in the way.
Sidelevers – the bad points
Sidelevers tend to torque (twist) to the right when they shoot. The sidelever unbalances them to the right (because the lever is on the right side for right-handed shooters) anyway, and when the mainspring decompresses, it twists violently in that direction. The also have sliding compression chambers that can amputate fingertips if the sear releases while the gun is being loaded. That was a big problem with the original Chinese TS45 sidelever before the design was revised. Diana sidelevers have always had those safety features, so they're not a danger. Sidelevers can droop as much as breakbarrels, though the tendency is not to. And, finally, sidelevers have to include the weight of the extra lever, so they're usually heavier than breakbarrels, if the breakbarrels were made to be light.
Underlevers – the good points
Underlevers tend to be the easiest of all spring guns to shoot accurately. The Whiscombe, TX200 Mk III and both the HW77 and HW97 are underlevers with legendary accuracy. Unlike sidelevers, underlevers have no pronounced torque when they shoot. That's because the extra weight of the rifle hangs straight below the barrel as a counterweight. But, underlevers have the same sliding compression chamber with the same safety features as sidelevers, so long scopes are easier to mount.
Underlevers – the bad points
The sliding compression chamber is a safety risk, though all underlevers sold in the U.S. today have the proper safety features to prevent accidents. But older rifles such as the Chinese B3 are very accident prone. Like sidelevers, underlevers are heavier because of the lever and attaching mechanisms. Underlevers are particularly difficult to mount slings because the underlever tends to pop away under pressure.
Well, there you are. Perhaps you readers can add to these lists of good and bad points for me?
Merry Christmas.
by B.B. Pelletier
Before we begin, I have to tell you that last Thursday's post about light, shootable air rifles got the biggest response we've ever received over a two-day period. Apparently, I struck a nerve.
Paul at Pyramyd Air asked for this post about lasers to help him explain them to his customers. I'm sorry it took so long to get back to finish it, but the gas springs sort of distracted me.
Today, I'll discuss mounting and aligning the laser with the bore, battery life and switches. I'll also discuss one particular very nice laser that I know a lot about.
Mounting
Lasers attach to airguns with either an 11mm dovetail clamp or a Weaver dovetail, which fits either a Weaver or a Picatinny base. Since you want the laser to stay aligned, the mount should be rugged enough to withstand whatever recoil plus general handling bumps the gun is likely to suffer. Most laser come with mounts since they have 3/4″ tubes instead of 1″ tubes. If you don't get a ring mount with the laser, B-Square makes one for an 11mm dovetail and I believe a Weaver dovetail, as well.
Some lasers, like the Walther PPK/S laser have the mount built right into the laser body so there are no extra parts to look for. But, most lasers are separate tubes that come with some kind of clamp to attach to a gun. It's the clamp that comes in different dovetail sizes that you must be aware of.
Scope mounts are now being offered with additional mounting dovetails for lasers to ride piggyback with the scope. While they look really cool and tactical mounted on top of a scope, they're exposed to every bump the gun takes, so be sure they're mounted rigid enough to stay put.
Aligning a laser
I think the easiest laser to align on today's market is the AirForce LS-1. When I used to attend trade shows for AirForce Airguns, I had to mount and align the lasers there at the show. The way we shipped our guns to the show required that all the accessories be packed in their separate boxes, so on set-up day I had to mount scopes and lasers on 6-8 guns. I let the lasers go until last, because if the show had opened, I would align the laser with the scope while talking to a customer. Anyone who had even owned a laser before was immediately impressed with me holding the rifle with one hand and aligning the laser with the other while sighting through the scope. The only thing easier would be magic!
The AirForce laser has two thumbscrews that push on the laser tube inside the device for windage and elevation, in the same way scope adjustments push on the erector tube. A third screw tensions the tube to lock it after the adjustments have been made. Don't be surprised if the dot doesn't move straight in any direction, because it never does. It's always left or right with a little up and down, or vice-versa. Also, when the locking screw is tightened, it will move the zero a little, so you back it off in the direction it will move, then nudge it to the aim point as you lock it. These are things you figure out in the first 10 minutes.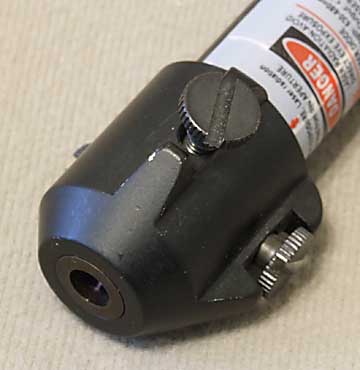 These thumbscrew adjustments make the AirForce LS-1 laser easy to align with the scope or the point of impact. A similar screw hidden from view on the other side of the laser locks these settings when the laser is zeroed.
Every other laser I've used has Allen screws in the body to make these adjustments. That means you need a separate tool, you can't make both adjustments with one hand while holding the gun with the other, and they just take a lot longer to adjust. Once adjusted and locked, though, both mechanisms hold equally well.
One final point about aligning a laser. Unless you have a bright green laser you won't be able to see it very far in daylight, so align it for a close point of aim like 20 feet. Then sight the scope for 20 yards. That covers you for all distances in-between through interpolation with either sight.
Battery life
There are two common types of laser batteries: either several button batteries in series or one CR123A camera battery. Serious lasers like the AirForce LS-1 use the 123A. They say the battery lasts a minimum of 20 hours of run time, but I've been using one to play with cats for three years and it still has the original battery. Several of my other lasers with button batteries gave about an hour of use before they died. The more expensive lasers use the 123, the cheaper ones use buttons. If my life depended on the laser, I'd get one that uses a 123 (some now used two). Look for an exciting new laser, tactical flashlight combo from Leapers that uses 123s. The price will probably be good.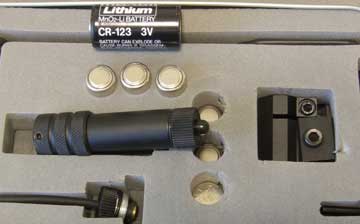 UTG laser by Leapers is a complete system in a box. Note the size of the three button batteries next to the CR123 battery. This laser offers standard and pressure on/off switches – your choice.
Switches
Switches are a big subject when it comes to lasers. The LS-1 has a 24″ pigtail cable with a pressure switch at the end. You can locate it anywhere on the rifle you like with adhesive-backed Velcro that comes with the unit. With a cable that long, the LS-1 isn't suited for use on a handgun, but there are plenty of other units that are.
Some lasers have a simple spring-loaded push switch that doesn't let you leave the laser on. It has to be pressed all the time it works. Others allow on/off or push switch operation, depending how you set them up.
The thing about laser switches is people don't think about them when they buy the laser. Then, the first time they try to use it, they become instant experts on what they wish they had. Here's my guidance. If you have a laser that uses a 123A battery, try to get an off/on switch. If it uses button batteries, a push switch will prevent you from running down the battery.
Well, that's about it for the laser designators you'll see for airguns. Even the inexpensive ones are incredibly bright, so you must use care at all times when using them.
by B.B. Pelletier
Part 1
Part 2
Part 3
Part 4
Part 5
Part 6
Part 7
Today, I'll test the accuracy of the .177-caliber Gamo Whisper with a gas spring conversion. Before we do, though, there are a couple of things to clarify. I said in the last report that the piston was replaced with the gas spring conversion, but that's not the case. The original piston stays in the gun. Also, Pyramyd Air has worked out a deal with Gamo that the original warranty remains with the gas-spring rifles.
Please remember that this rifle now has the GRT III trigger from Charlie da Tuna, so the trigger-pull is greatly enhanced. It also has the Gamo scope that comes with the rifle. It's not clear at the 25-yard range I'm shooting.
On with the test!
I moved outdoors for this test so I could shoot at 25 yards. That was the range at which I tested the original rifle in Part 5. Only, on this day, there was a stiff breeze blowing, so I had to wait for it to pause or die down before shooting. I used the best pellet from that test, hoping that the gas spring wouldn't make a difference, but I was wrong. The most accurate pellet with the factory rifle was the Gamo Match, which grouped as tight as 0.325″. Well, the gas spring shot the same pellet into about one inch. So, I switched to the new Air Arms Diabolo Field domes, which we know are really JSBs. The description says they weigh 8.44 grains, but mine averaged 8.3. However, they grouped only a little better than the Gamo Match, so I switched to Gamo Master Points. They were all over the place, with three shots going into 2″, so I stopped without finishing that group. Time for reflection.
What was different?
This was a different rifle from the standard Whisper I tested (I mean this was not the first test rifle converted to a gas spring, but an entirely different rifle altogether), plus this one had a gas spring instead of a coiled steel spring. I had cleaned the bore with JB Non-Embedding Bore Cleaning Compound and the bore felt smooth, which is not scientific, I know, but it felt just as smooth and good as the first rifle. Since I had no idea how this new rifle compared in accuracy to the first rifle, I concentrated on the pellets instead. I mentioned in the Webley Patriot report that a gas spring can blow the pellet skirts into the barrel walls, so maybe that was happening here. The correction is easy enough to apply – just start shooting pellets with heavy skirts or pellets made from hardened lead. I chose Beeman Kodiaks.
Close, but no cigar
Kodiaks tightened up the groups right away, but not to the extent I had hoped. Instead of an inch, they tightened to three-quarters of an inch, which is going in the right direction but not far enough. I was running out of Kodiaks, so I opened a fresh tin of H&N Baracuda Match – those Kodiaks by another name that Pyramyd has had on sale for over a year. I laid in a supply because the price was so low, and I alerted all of you, as well. I hope you acted on it.
I now started fooling around with the placement of my off hand. Resting it out by the forearm tip gave me three-inch groups, so that was out. The flat of my palm in front of the triggerguard gave me three-quarters of an inch, but no better. Then I remembered the backs of the fingers! Success!

The forearm has a raised area in front of the triggerguard that helps you locate your off hand. I balanced it on the backs of my fingers for best results.
Finally
The first group measured 0.614″ and was strung vertically – an indication that the hold is not quite right. I found a slightly different way to rest the rifle on the back of my hand and voila – a group measuring 0.469″. After that, I shot group after group under a half-inch. Best group of the day measured 0.441″ Not bad for outdoors with gusty winds at 25 yards. The sweet resting spot on a Whisper has a ridge in the center of it, so you can feel when you're in the right spot.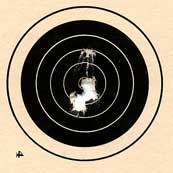 A nice target with some vertical stringing. Measures 0.614″. Still need to adjust the hold a bit. Shot at 25 yards with 5 Baracuda Match pellets.
With the hold adjusted, the rifle groups like this in a stiff breeze. 0.441″ at 25 yards.
Nothing says I've found the absolute best pellet for this rifle. All I do know is that it'll probably be a heavy pellet or one made from hard lead. Maybe 10.5-grain Crosman Premiers will be best. But what I do know is that this rifle is a sheer joy to cock and shoot. The cocking is so smooth that I don't have the words to describe it. And, the firing is light, quick and as smooth as any tuned spring gun you've ever shot.
Hunters rejoice!
The fact that the Whisper likes heavy pellets should be comforting news to airgun hunters who want to use .177s.