by B.B. Pelletier
I had planned to share the accuracy test for the pump-assist Benjamin 392 today, but it's been postponed for a while. The design is being tweaked with a few improvements, and Pyramyd Air has deactivated the product for the time being. When it's available again, I'll announce it and test it with the new intermount.
Since I had some time on my hands, I thought I'd use it to clean up a little business. Buddy wanted me to try the Benjamin Super Streak with Crosman Silver Eagle lead-free pellets. He says he's gotten over 1,500 f.p.s. from his Gamo Hunter Extreme, and he wanted to know what the Super Streak might do with them.
You may remember that 5-grain Gamo Raptors averaged 1319 f.p.s. when I tested this rifle. With Silver Eagle wadcutters that weigh 5.2 grains, the velocity averages 1340 f.p.s., with a high of 1,367 and a low of 1310. That's too broad a spread to expect good accuracy at long range, but under 30 yards they should be fine.
The lighter 4.8-grain Silver Eagle hollowpoints averaged 1411 f.p.s. with a spread from 1310 to 1454. I can see where Benjamin's claim of 1500 f.p.s. comes from now. Of course, a 144 f.p.s. extreme spread is too vast to expect accuracy, though the majority of the shots were above 1400 f.p.s. Maybe with careful sorting by weight the rifle would shoot them well. Anyway, Buddy, now you know.
And we now know that Crosman has the fastest metal pellets on the market. They boosted the velocity of the Super Streak by 90 f.p.s., so if it's braggin' rights you're looking for, here they are.
Next subject – gas springs
You've followed my reports about the gas springs and now many of you want them for your own rifles. Here is a list of air rifles that will accept the gas spring that fits the Gamo Whisper:
GAMO:
Big Cat
Whisper
CFX
Carbine Sport
Hunter 440
Hunter 890
Hunter Elite
Hunter Extreme
Hunter Pro
Hunter Sport
Shadow (all)
Varmint Hunter
Viper
Viper Express
Nitro 17
Recon
Delta (may fit with adjustments)
CROSMAN:
Phantom
Quest 1000
Quest 800 (may also fit with some adjustments)
BENJAMIN:
Legacy 1000
Additionally, there's another gas spring for:
WEBLEY:
Patriot (Beeman Kodiak)
Lastly…a new airsoft gun
Airsoft enthusiasts have learned to be patient on this blog, because I don't devote a lot of time to them. But now I have something new to announce. The Walther P38 green gas pistol will be here in January, and I have an advance copy to test for you. I'll try to get to it next week. I used to own a 9mm P38, and this new pistol looks to be made better than that one, though anyone who has ever owned a sheetmetal wartime P38 can tell you that's not hard to do.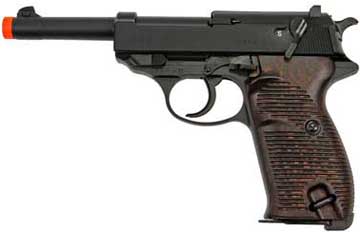 Walther P38 airsoft pistol operates on green gas and looks well built.