by B.B. Pelletier
We get this question a lot, and it's a fun one to answer, so here we go. Today, I'm looking at entry-level 10-meter air rifles. I'll review pistols in the next installment.
Can entry-level target rifles be accurate?
You bet they can! In fact, you'd be surprised just how accurate these rifles can be. They're fully capable of hitting the period on the end of this sentence 8 times out of 10 from 10 meters. And, the two times they miss, the pellets won't land that far away. What keeps them from being competitive at the world-class level is ergonomics and those other two hits! Let's look at some typical 10-meter target rifles that are considered affordable.
Daisy 853
The Daisy 853 is a single-shot single-stroke pneumatic built for youth competition. It's the recognized leader in NRA Sporter-Class competition, which is a special class for inexpensive target rifles geared to first-time competitors. The class was founded to encourage new shooters to learn the fundamentals of safe gun handling and how to shoot accurately without spending a fortune.
The 853 and its 5-shot companion repeater, the 853C, are lightweight, ambidextrous rifles with Lothar Walther target barrels and inexpensive target sights. Their stock adjusts for length of pull so a gun can fit youths of many sizes within one shooting club. Although Daisy recommends the rifle for kids ages 16 and up, there are tens of thousands of children age 10 and older using this rifle in formal matches every year. The rifle can be sized for an adult by lengthening the stock, and it's quite heavy for kids under about 12 years; but, where there is the desire to shoot, most obstacles are overcome. The one major drawback for younger kids is the effort required to pump the gun. It's easy for a teenager, but can present a real challenge for a smaller child.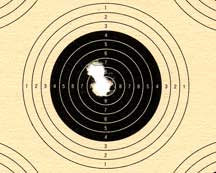 You can expect accuracy like this for five shots from a Daisy 853 or 753.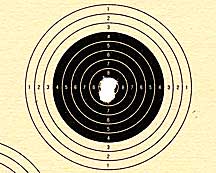 This would be the accuracy to expect for five shots from a top 10-meter rifle.
The trigger is heavy for a target rifle and also very creepy. Coaches have learned how to lubricate and tune the trigger for their kids, but most shooters will just learn to use it as is. It does break in over thousands of shots, so club guns eventually become smoother over time. The 853 is extremely reliable and can last for tens of thousands of shots, after which it can be easily rebuilt. I've seen club guns with a quarter-million shots on them that were still going strong.
The 753 is the same gun as the 853, with a stock proportioned even better for adults and sold with an upgraded rear aperture that can also be purchased separately for the 853. The 953 is a budget-priced version of the gun that doesn't have the Lothar Walther barrel, which is why it's not in the Avanti lineup. The savings is enormous, and the accuracy is still quite good, though not good enough for formal competition.
Crosman Challenger 2000
The Challenger 2000 is Crosman's answer to the 853. After giving Daisy two decades to themselves, Crosman brought out the Challenger 2000 in the year 2000 to do just what the name implies. It's a CO2-powered, single-shot rifle with some important differences. First, it uses a standard Benjamin 397 barrel, which, while accurate, is not in the Lothar Walther class. It's more of a challenge to the Daisy 953 than the 853 in terms of accuracy, but the Challenger 2000 cocks much easier than the Daisy and doesn't have a heavy pump lever to deal with. The trigger, while still creepy, is much better than the 853 trigger..
Crosman added an adjustable cheekrest, making the Challenger 2000 even more adaptable than the 853. However, they also made the rifle more than a full pound heavier than the Daisy rifle, so the youngest children will have trouble holding it for offhand shooting. Although Crosman's intent was to challenge the Daisy 853, what they did was give adult shooters a fine alternative that's more suited to informal target practice than the 853.
AirForce Edge
There have been several other 10-meter entry airguns on the market over the years, and they were all interesting and accurate. But one that isn't even available yet is catching the attention of target shooters in this country. It's so new that even the name isn't fixed yet. Currently it's called the Edge. It's a 10-meter, single-shot PCP rifle with a Lothar Walther barrel and something very exciting – an American-made target aperture rear sight!.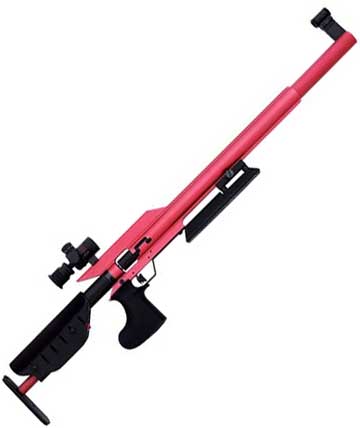 The Edge from AirForce is the first U.S.-built 10-meter air rifle. It'll be available at club pricing and also to retail customers.
The specifications are still somewhat in flux, but the rifle does appear to have a Lothar Walther barrel and an adjustable cheekrest and butt. The trigger has a dry-fire feature, the only one found at this price category. I've held the rifle, and it holds like a target rifle despite the "black-rifle" looks. I know AirForce plans to sell it through airgun clubs around the country, as well as offering it to the general public through their regular dealer chain. The price will be higher than an 853 or a Challenger 2000, but nowhere close to what a European target rifle costs. Accuracy should be at least as good as the 853, without the need to pump the gun, so smaller children will be able to use it.
Summary
Budget-priced 10-meter air rifles are worth considering if you want to shoot at targets. They're accurate enough to challenge any shooter, and they have sights good enough to provide a big training bonus. The ergonomics are not as sophisticated as Olympic-grade target guns, but selling for a small fraction of the cost makes them well worth the investment.