Posts Tagged 'CenterPoint Optics 4-16×40 AO Adventure Class Rifle Scope'
by Tom Gaylord, a.k.a. B.B. Pelletier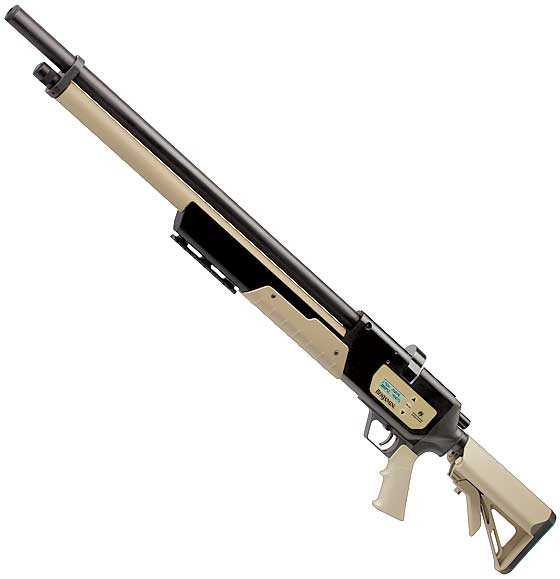 The new Rogue is simpler, more tractable.
Today is my first report on taking the Benjamin Rogue .357-caliber big bore rifle to the range. Instead of just running it over the chronograph, I thought I would first get used to how it shoots. I'd talked to Ed Schultz of Crosman about the main changes, and he told me they had simplified the programs. Instead of 9 possible choices (low, medium and high power…plus light, medium and heavy bullets), they abbreviated it to just medium and high power and light and heavy bullet weights.
Ed said the gun would give more shots on these settings because the valving had been trying to do too much before. So that was what I was looking for at the range — a gun with tractable power and simpler options.
Crosman sent some Nosler Ballistic Tips with the rifle, and I knew they were designed specifically for it and that's where I began.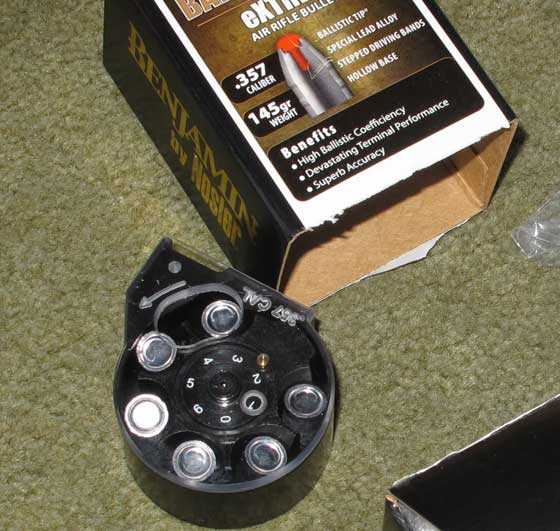 Nosler Ballistic Tip bullets are made for the Rogue.
Ed told me to consider the 145-grain Noslers to be the starting point for the heavy bullets — and bullets weighing 135-grains and less as light — so I programmed the rifle for heavy bullets and medium power. Of course, you can program the gun any way you like, but these are the guidelines. Because there was such a furor from the field about the magazine feeding, I decided to use it, exclusively. It holds 6 bullets, and I wanted to see if there were 6 good shots with this medium power setting and heavy bullet weight setting. The distance was 50 yards, and I took three shots to zero the scope, which is a new CenterPoint 4-16×40 that I'll mention later.
The trigger is quite a bit lighter and crisper than the trigger I tested last time. I have to say that this one is a positive winner, as it releases the same every time. The first shot went before I was ready, but the crosshairs were on target and the bullet went where I intended.

After sight-in, I rapped off two quick magazines of Nosler Ballistic Tips.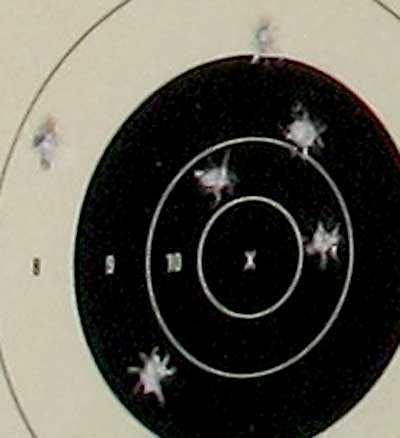 Six Nosler Ballistic Tips made this 2.5-inch group at 50 yards. That was as many as the gun wanted to shoot at this power level, and notice how well-centered they are.
The readout said the pressure had dropped from 3,000 psi to 2,150 psi, so I refilled the gun to shoot again. The next time, I programmed the rifle to shoot the same 145-grain bullet on high power. As before, I loaded 6 bullets into the magazine.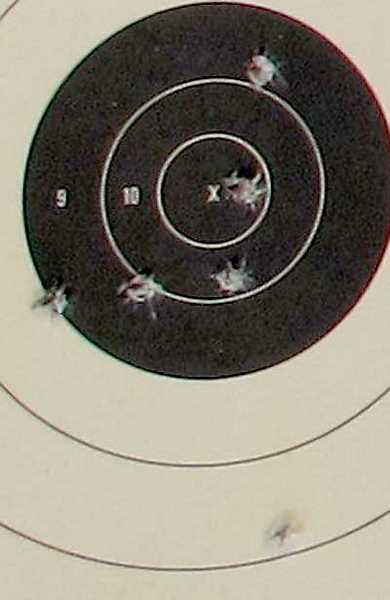 The first 5 bullets went into 2.378 inches at 50 yards. The sixth shot was lower, as you can see. So 5 shots is the magic number on high power with heavy bullets. After 6 shots on high power, the pressure remaining was 1,350 psi, so the gun uses a lot more air at this setting.
Ed told me that Crosman rated the gun on high power to get 3 good shots, with very close velocity. Shots 4 and 5 will also be close, but not as close as the first 3. I discovered that when I shot this target.
Magazine feed
The Nosler bullets feds through the magazine easily and without hesitation. They're perfect for the rifle.
Next, I tried some 158-grain semi-wadcutter cast bullets. These were the bullets shooters had difficulty with in the old magazine. The new magazine fed them flawlessly, however, they stopped when the front driving band encountered the rifling in the breech. At that point, they were not fully seated in the barrel. So I had to force the bolt forward to get it closed, and you probably recall that the bolt controls the electronic firing system; so until it's closed and in the right position, the gun will not fire.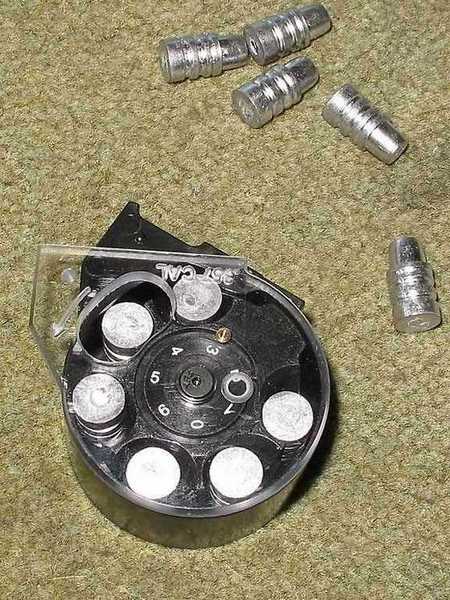 These semi-wadcutters had a body that was too long for the Rogue's breech. They were difficult to load, though they functioned in the magazine flawlessly.
I shot the one bullet that was so difficult to feed and decided not to try any more of them. In consultation with Crosman, I discovered that they actually cut a chamber in the back portion of the barrel, and these semi-wadcutters now feed perfectly. We believe that I was shooting as-cast bullets that are just slightly out of round and jammed up in the chamber. I'll size all future bullets to 0.358 inches before I go to the range. No more as-cast bullets for me.
My only other bullet was a second semi-wadcutter whose body was so similar to the first bullet that I didn't try them in the rifle. I had brought some round-nosed bullets in my range box, but when I broke into the package I discovered they were .308 and not .357.
Well, I got what I had come for, which was a good first look at the new Rogue in action. It has a much better trigger than the one I tested earlier, and it seems to be very stable for a magazine full of shots, so that's how I will gauge my shooting in future sessions. I'll bring some properly sized .357 bullets next time, and I'll break out the chronograph to see how things stack up.
CenterPoint scope
Just one final word about the scope on the test rifle. Crosman sent a new 4-16×40 AO CenterPoint Optics scope with the Rogue, and this was the first chance I had to try it out. It zeroed quickly and was bright enough, though it was sunny at the range and relative brightness was difficult to estimate. The scope was very clear and has an illuminated reticle and adjustable objective for parallax correction. I did look at the reticle in my office and see that it reflects well off the wire crosshairs, but it was unnecessary on this bright day.
One final word about the adjustable stock. This one REALLY adjusts — as in — I can make the pull too long for me, and I like a long pull. So, I think the Rogue will fit almost any adult, regardless of their reach.
Posted in
airgun design
,
Articles
,
Big bore airguns
,
PCPs
,
Pellets
,
Reviews
,
targets
| Tags:
air rifle
,
airgun design
,
airguns
,
Benjamin Nosler eXTREME ballistic tip bullets
,
Benjamin Rogue
,
Big bore airguns
,
CenterPoint Optics 4-16x40 AO Adventure Class Rifle Scope
,
Crosman
,
ePCP
,
lead ammo
,
Operating modes
,
Pellets
,
precharged pneumatic
,
repeater
,
single-shot
,
targets
|
49 Comments »

When it comes to spring-piston air rifles, the Air Arms TX200 Mk III is a favorite of many airgunners, including airgun writer Tom Gaylord. His favorite caliber is .177. While the gun will initially impress you with its beauty and superior craftsmanship, you'll be even more impressed with the incredible accuracy! Tom claims this is "the most accurate spring gun below $3,000." Beech or walnut, left-hand or right-hand stock. Isn't it time you got yours?
All the fun, none of the hassles!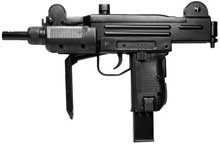 You've seen tons of movies with guys spraying bullets from their Uzi submachine guns and probably thought it would be a blast. Except for the cost of ammo! You can have all that fun with this Uzi BB submachine gun at just pennies a round. Throw shots downrange for hours on end with all the fun, none of the firearm hassles and a fraction of the cost.