by Tom Gaylord
Writing as B.B. Pelletier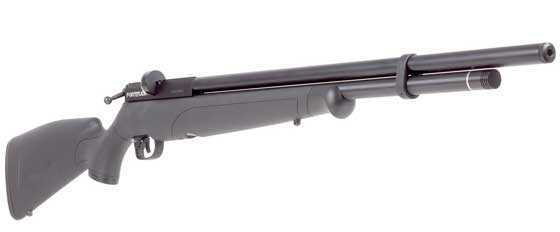 The Generation II Benjamin Fortitude.
This report covers:
Through the receiver
Man plans…
Power adjust instructions
Testing the rifle at its lowest power
High power
Adjusting the power down
Air Arms Falcon pellets
How is the air?
What I haven't told you
Summary
Today we continue the velocity test of the Benjamin Fortitude Generation 2. We are doing this because Crosman has made the Fortitude velocity adjustable by the owner.
Through the receiver
The Fortitude allows the user to both adjust the velocity as well as depressurizing the rifle in case of an overfill or a need for maintenance. The optional degassing tool fits through the hollow head of the Allen screw that adjusts the velocity, so you use an Allen wrench to adjust power. It's a regular 3/16-inch Allen wrench, and the head of the bolt that must be turned is near enough to the end of the receiver that the short end of the wrench will work. Both the power adjustment wrench and the degassing tool fit through an opening in the rear of the receiver. The Allen bolt head has been drilled out so the degassing tool will fit through, so don't be fooled by the looks. read more