by B.B. Pelletier
This is the second part of blog reader Vince's test of Gamo Match pellets. This will conclude the .177 pellets, and next week we'll give you his report on .22 Gamo Match pellets.
If you'd like to write a guest post for this blog, please email us.
Bloggers must be proficient in the simple html that Blogger software uses, know how to take clear photos and size them for the internet (if their post requires them), and they must use proper English. We'll edit each submission, but we won't work on any submission that contains gross misspellings and/or grammatical errors.
by Vince
Pointy
This is the unnamed Chinese sidelever I blogged a little while ago, and it turned out that it was made by EMEI of China. It also turned out to be a very basic, simple gun with a very decent barrel that would shoot better and more consistently than expected. In this test it didn't do quite as well as it had in the past.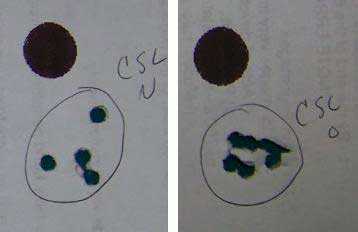 And, it definitely votes "NO!" on the new pellet. The difference isn't gargantuan, but it is significant. Verdict: Older is better.
Daisy 1150
The Daisy 1150 is one of the Gamo Daisys, this one being a rebadged Delta Cadet. It's the same action that lives on in the Recon. It's definitely in the youth gun category.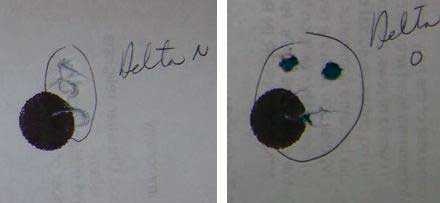 These results surprised me since this gun and the older Match pellets were being made at the same time as this rifle. But, holes don't lie. While the actual ctc (center-to-center) isn't that much different, it's obvious that the new ones are shooting more consistently. Verdict: Newer is better.
GT600
This is the Norica Beeman I blogged a little while ago, a gun that did well with Premiers. From these groups, you can see why I didn't report its performance with Gamo Match pellets of any stripe.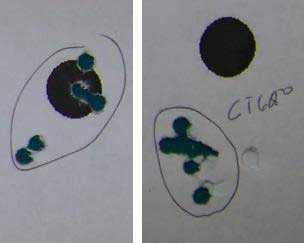 Yes, the older pellets did better, but neither was anything to write home about. I wouldn't use them in this gun as a matter of course. Verdict: Both poor.
HW30
Possibly the best air rifle I have, the HW30 holds (for me) the best open-sight group I've ever shot — about 1/8″ at 10 meters for 5 shots. This was done with the old-style Gamo Match pellets, so I knew the newer ones weren't gonna beat it.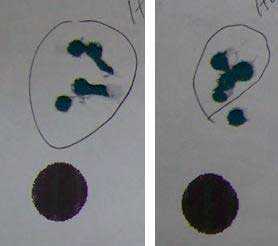 Near as I can tell, I just didn't have my technique down quite right, as the HW is a bit hold sensitive. Still, it's a fair group, and the comparison clearly illustrates the preference for the older pellets. Verdict: Older is better.
QB51
The last of my novelty guns, the Industry QB51 is another folding-stock air rifle. This one is a breakbarrel that's not trying to resemble anything in particular. It's a crude gun with poor cocking geometry, giving a short but stiff cocking stroke, and a stiff trigger make it difficult to keep on target. So I wasn't expecting much.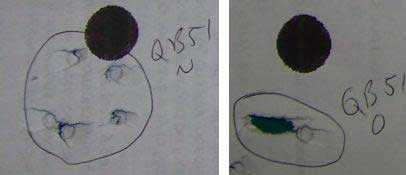 It actually didn't do too bad with the old pellets but didn't get along with the new ones very well. Verdict: Older is better.
QB88
The QB88 is another sidelever produced by Industry Brand, a notch or two up from the TS45/TS41/B4-1 garden stakes that made up their entry level sidelevers. This gun has Shanghai's copy of the Gamo trigger and actually feels nicer than some real Gamo triggers I've sampled. The gun used to be advertised as having a choked barrel, not sure if that's true or not. But, it's a fair plinker, nonetheless — easy to cock, not harsh at all and fairly accurate.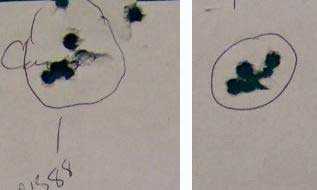 Yes, that little half-circle at the top of the picture is included in the group. When I tried a make-up shot for that flier, it landed even further away. By contrast,the older Gamo pellets preferred to live in the same neighborhood. Verdict: Older is better.
Mendoza RM200
The RM200 is one of Mendoza's mid-powered springers, very similar to the Air Venturi Bronco sold by Pyramyd Air. I've had them apart and side-by-side, and the only substantial difference I could find in the action was the spring.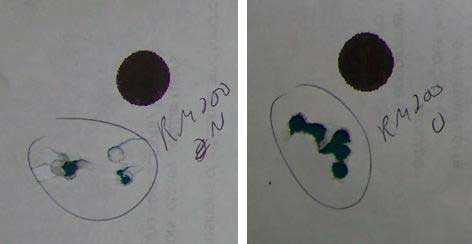 The RM200 doesn't really care for either pellet. The group clustered with the newer ones and smeared' for the older, but the overall group size is about the same. Verdict: Comparable.
Gamo Sporter 500
A more powerful cousin to the itty-bitty Delta Cadet, the Sporter 500 featured similar hybrid plastic/metal construction but bolted into a wood stock. It, of course, shares the same trigger as almost every other Gamo rifle produced over the past umpteen years and is one of the most stubbornly twangy airguns I've ever shot. Still, it's light, easy to cock and shoots well with Premiers.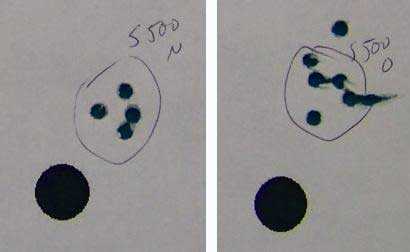 The newer pellets went into a tighter group than the older, showing the same preference for the new pellets as the Daisy 1150/Delta Cadet. Verdict: Newer is better.
Sea Lion
This is another rifle that has something of an unclear lineage. All I know for sure is that the Sea Lion underlever was imported in some quantity some time back, and its overall appearance is certainly evocative of the more recent Industry B3. But, evocative in appearance, only. I've had this one apart, and it's not an early B3 variant. The innards are too different. I'm wondering if it's a stablemate of sorts to that old Chinese sidelever I have — based on its simple design, good construction and decent barrel.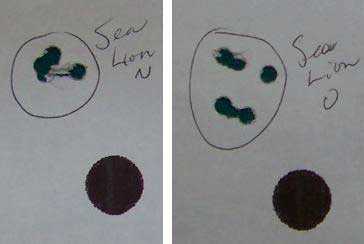 The new pellets actually produced a pretty good group for open sights. Certainly far better than the old. Verdict: Newer is better.
How do the totals tally up? I tested 15 guns, and of those 15 almost half (7) liked the older pellets better. The newer ones were favored by 4 guns, and the remaining 4 seem to think they were comparable.
The inescapable conclusion remains that these pellets are indeed significantly different despite their superficial similarities, and while some guns will shoot them well the fact is that if your gun liked the old pellets, there's no guarantee that it will like the new ones. Lastly, based on this sample, they simply aren't as good overall.
Look for a test of the .22 Gamo Match pellets next week.
by B.B. Pelletier
Blog reader Vince is back with another fantastic tale of gunsmithing, gun renovation and making parts. No matter who you are, you just can't help but learn something new from him. Settle back and have a good read about the Beeman GT600 Vince bought.
If you'd like to write a guest post for this blog, please email us.
Bloggers must be proficient in the simple html that Blogger software uses, know how to take clear photos and size them for the internet (if their post requires them), and they must use proper English. We'll edit each submission, but we won't work on any submission that contains gross misspellings and/or grammatical errors.
Take it away, Vince!
by Vince
Once upon a time, there was a highly educated airgun enthusiast and business man named Dr. Robert Beeman. He imported airguns and was determined to import nothing but the finest mass-produced guns he could obtain. He eventually associated himself with, perhaps, the premier airgun factory in Germany for the sole purpose of developing and bringing the best of the best to the blessed U.S. shores. After some years of success, he took a well-deserved retirement and sold his business to a large conglomerate of sporting goods.
The End.
Well, not quite. The large conglomerate knew that there was considerable marketing value – and, let's admit it, snobbishness – attached to the Beeman name. Since making a little money lots of times can be more profitable than making lots of money little times, increasing the volume of Beeman sales via popularly priced models became something of a corporate priority. To their credit, the original Beeman models were kept, but the line would have to be expanded to include guns priced well under the level of the famed R-series that built the Beeman reputation. While Robert Beeman also imported some moderately priced non-German guns, the new owner of the Beeman company expanded the selection immensely.
Enter Norica
Norica had a respectable name in airgunning, with a reputation for reasonable build quality and longevity. No, they weren't Weihrach, but they certainly weren't junk. The large conglomerate, still paying some due respect to the Beeman reputation, started bringing in a number of Norica models to round out the line and appeal to a more cost-conscious clientele without totally trashing the Beeman name.
Thus, the Spanish Beemans came into being: the S1, GS, GH and GT series along with some others that I don't know about. After all, I'm no Beeman expert. These guns generally seemed to be well accepted by even semi-serious shooters although, you know, they weren't REAL Beemans (just like the 914s and 924s of the 1970s weren't REAL Porsches). But, it was acknowledged that they weren't too out of place in the Beeman lineup.
What were they like? My first Norica Beeman was an S1, the predecessor to the GS950/1000 series that eventually got cloned in China as the AR1000 (that's a whole 'nuther story). I found that the S1 was pretty accurate, had fair power, a REALLY NICE trigger and some rather unfortunate wood shaping. Wavy is the best way to describe it. Even though Beeman was inscribed on the compression tube, that stock (which made a Gamo 440 stock look like a custom piece of craftsmanship) just killed the whole effect. A real Beeman it obviously wasn't.
That S1 stuck around for a while before I decided to sell it off and move on. I was young (45!), silly and all hung up on velocity. That S1 had the nerve to shoot 7.9-grain Crosman Premier pellets at under 900 fps. I've matured considerably since then (Yes! Really!). Since moving, I find that I have to do all my shooting indoors. I'm more interested in moderately powered guns, and I started hanging around the classifieds a lot more than is generally healthy. Worse than smoking? Harder to quit? Perhaps. I foolishly passed on a reasonably priced Gamo Gamatic (waited too long), but a Beeman GT600 caught my eye.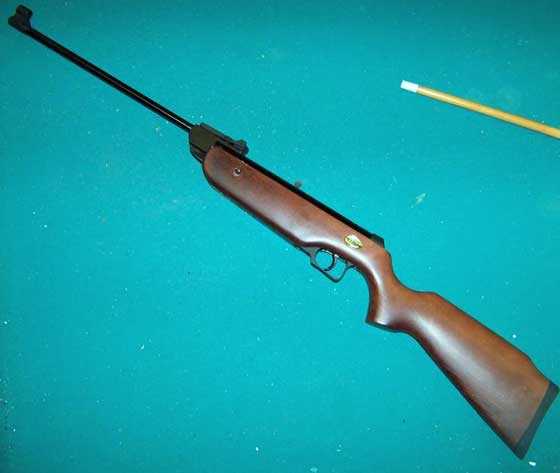 The Beeman GT600 is dressed better than my old S1. Maybe they're just trying to boost its self-esteem!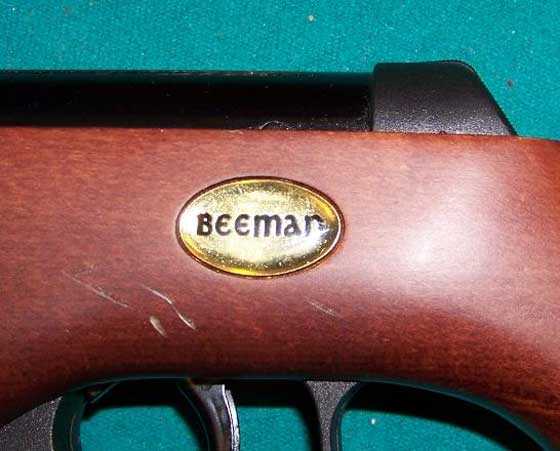 Beeman logo on the Norica air rifle.
The GT600 is a relatively lightweight rifle and is in the R7 or TF49 category for weight and power. Not quite a youth rifle, but certainly suitable for mid-teens as well as adults. Right off the bat, I could recognize one aspect of the Norica design — from the shape of the stock around the triggerguard, it was obvious that the GT600 had that Norica trigger. As opposed to the Norica trigger. You see, the trigger (the one that Shanghai cloned for the AR1000) is a fairly involved 4-lever affair that, with proper adjustment (and maybe a little stoning), can be tuned into the sweetest pullin' thing this side of a Rekord. That trigger, on the other hand, is as bad as the trigger is good. It's a direct-sear — and without an awful lot of leverage, I might add. It's the same trigger that shamed the Shanghai-built Beeman SS1000H and dragged down the Hämmerli Storm (also a Norica product).

GT600-style trigger above, GS-style trigger below.
But the price was certainly tempting. The seller was getting rid of it for $100 shipped, and that included a soft case and a 3-12x40AO Barska airgun scope. Besides, with the lower spring pressures of the GT600, maybe the direct sear wouldn't be too bad. So PayPal went out, UPS came in and I got my GT600.
Yup. Those classifieds can be as bad as smoking. Especially, when you buy a gun from an avid smoker. The stench made it real annoying to shoot that first evening…heck, even the scope smelled! I figured the soft case is a lost cause; I'll leave it hanging up for about 5 years and see if it gets any better. But, I hoped that metal, finished wood and glass wouldn't be real tenacious when it came to holding onto that Marlboro Man smell.
In any event, smell or no smell, those first few shots revealed plenty of that endearing Spanish buzziness. While I'm waiting for the gun to de-odify, I'll tear it down and give it the usual going over.
Stay tuned for part 2, which you'll see tomorrow, for an in-depth look at the innards of the GT600.