Swiss Arms 1911 Tactical
The totally tricked out rail gun Part 2 Part 1
By Dennis Adler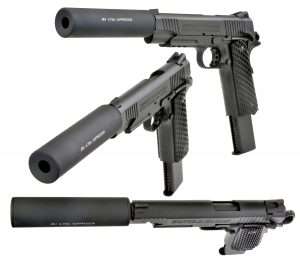 The Swiss Arms TRS, with all the accessories shown, is an exceptional CO2 model given that the retail price is still below $200. The JBU faux suppressor is also sold separately, for those who already have the TRS or other models with a 14mm threaded barrel. It retails for $39.95. This is the most realistic looking of the current faux suppressors available for CO2 air pistols.
The threaded adapter (that comes with the Swiss Arms 1911 Tactical kit) is designed to screw into the larger diameter JBU faux suppressor and step it down to the 14mm threaded adapter that fits into the Swiss Arms barrel. This adapter will also mount the JBU to all Swiss Arms 1911 models with threaded barrels. (The adapter fits other CO2 models with 14mm threaded barrels, but you cannot use it on models that have true locked-breech designs with guide rods, like the latest Sig Sauer P226 X-Five silver. The guide rod extends beyond the barrel when the slide retracts, and it will hit the back of the suppressor. Thus you need to be absolutely certain the slide can retract after fitting the JBU on a blowback action model to prevent damaging the barrel, guide rod, suppressor and slide.) There is also a process for mounting the JBU on threaded barrels. The adapter threads into the JBU counter clockwise and you need to make sure it is tight. The faux suppressor then threads into the barrel clockwise, but you need to be certain not to turn it too tight or the adapter will begin to unscrew from the back of the JBU.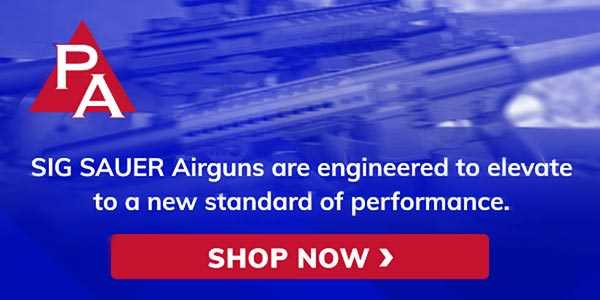 The whole package
One of the first updates to the 1911 was the addition of the ambidextrous thumb safety invented by Southern California gunsmith Armand Swenson in the late 1960s. It is Swenson's most famous invention since it has been adopted by manufacturers the world over. Swenson originally designed it for law enforcement and competitive shooters. He also began changing barrel and slide lengths, building custom triggers and hammers, and making internal modifications to improve accuracy and function, pretty much what all competition level 1911s are like today. His early modifications were so profound in the world of competitive shooting that it came to be known as "Swensonizing" a 1911. The Swiss Arms SA 1911 TRS has a piece of that history in its ambidextrous thumb safeties.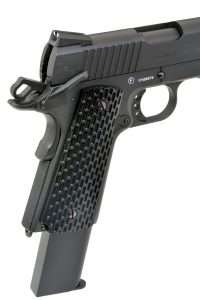 As a high end (but not high priced) CO2 pistol, the TRS has the same dovetailed front and rear Novak-style white dot sights, skeletonized trigger and hammer, dustcover accessory rail, flat mainspring housing, palm swell grip safety with upswept beavertail and front slide serrations found on centerfire pistols, which make this an ideal airgun for training and 1911 safety and handling familiarization.
On the Swiss Arms TRS, slide operation is light with mild resistance. The TRS does, however, use a dual recoil spring design, one tightly wound spring around the guide rod and a second larger spring around the barrel, to further assist the gun's brisk blowback action. Hammer resistance on a de-cocked gun (safety off) is also lighter with the .177 caliber TRS than a .45 ACP model, but it still has a full length of draw and a solid click when cocked.
Last is trigger pull. The Swiss Arms SA 1911 TRS trigger press averages 4 pounds, 15 ounces, with 0.187 inches of take up, very light stacking, a crisp break and short reset. There is little more you can ask from a blowback action 1911 air pistol.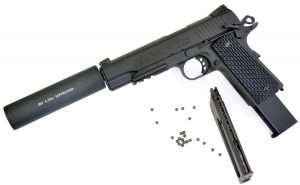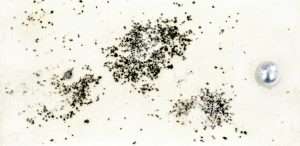 Downrange  
A faux suppressor lacks one of the most important features of an actual sound suppressor, a caliber-sized chamber through which the bullet passes. While the JBU is correctly sized for a short sound suppressor and has a .45 ACP muzzle opening, the inside of the aluminum housing does not step down in size to .177 caliber, so there is no possible way for the 4.75 inch faux suppressor to extend barrel length. What it does accomplish is to keep the air pressure behind the BB in a more confined space for a millisecond longer before the BB hits the open air. Does this have any affect whatsoever on the BB? Let's find out.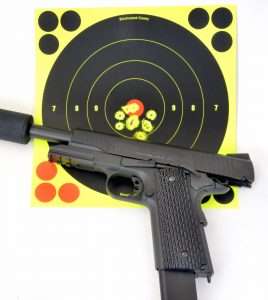 On the chronograph the first set of tests was shot without the suppressor mounted. Average velocity with .177 caliber steel BBs was 310 fps with a high of 315 fps and a standard deviation of 4 fps for 10 shots. The test was run a second time using the new Air Venturi Dust Devil frangible BBs, which are designed to crush and prevent ricochets off hard surfaces. (You can read more on the Dust Devils in Tom Gaylord's January 9th Airgun Academy column). The lighter weight (4.2 to 4.6 grain) frangible BBs cleared the ProChrono traps at a high of 338 fps with an average velocity of 323 fps and a standard deviation of 7 fps. The test was then repeated with the JBU faux suppressor. Average velocity with the .177 caliber steel BBs was also 310 fps with a high of 321 fps and a standard deviation of and 6 fps.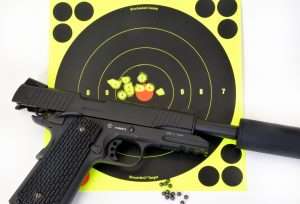 Using the Dust Devils average velocity was 322 fps with a high of 340 fps and a standard deviation of 8 fps for 10 rounds. While there was no significant difference in average velocity with or without the JBU hanging off the end of the barrel; 310 fps and 310 fps with steel rounds and 323 fps and 322 fps with the frangible BBs, both obtained slightly greater high velocities passing through the 4.75 inch tube at 315 fps vs. 321 fps with steel BBs and 338 fps vs. 340 fps with the Dust Devils.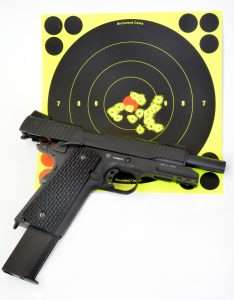 Accuracy at 21 feet with the JBU equipped Swiss Arms TRS averaged 1.24 inches with .177 caliber steel and a best five at 0.74 inches. Using the Dust Devils, a best 10 rounds spread across 2.0 inches with the best five clustered into 0.75 inches. I ran one more accuracy test without the JBU and 10 rounds of steel BBs grouped into 1.24 inches with a best five rounds at 0.81 inches, so no better accuracy without the faux suppressor. This is a different TRS than the one in my earlier Swiss Arms 1911 review (Airgun Experience No. 149 and No. 150) and it shot a little less accurately. The earlier test gun had a best 10 rounds at 1.48 inches, and five shots tightly grouped at 0.25 inches. Then again, it could be me. The TRS is a very accurate CO2 model, with or without a faux suppressor.
A Word About Safety
Given the attention to detail that goes into blowback action 1911 air pistols they should be treated with the same respect as any cartridge firing 1911 handgun with concerns to their carry, use, and public display. Even from a modest distance, these adult airguns are difficult to distinguish from their cartridge-firing counterparts.