by Tom Gaylord
Writing as B.B. Pelletier


The B3 underlever from China.
The washers
Installing the washer
Velocity
RWS Hobby
Air Arms Falcon
Sig Match Ballistic Alloy
Cocking effort
Trigger pull
Evaluation
Next
Today we find out how the makeshift faucet washer fix does fixing the B3 breech seal. Before I get on with the test, here's a word about the piston seal.
The older B3s often have leather piston seals, but as the years passed the Chinese started putting synthetic piston seals in them. From what I have learned, you have to look at yours to be sure, because owners can replace the leather with synthetic.
Given a choice, I would choose leather, just because in a rifle of this power leather should last a long time, and as we know, the Chinese synthetics are not that reliable. I can't see any advantage for power with either material. Now let's test the gun and see what happened.
The washers
The quick fix for a B3 breech washer is supposed to be a soft faucet washer. For the record, these were not labeled as faucet washers when I bought them. They were in the plumbing section of the store and I'm pretty sure they are used only for faucets, though there might be other applications. They are labeled as beveled washers.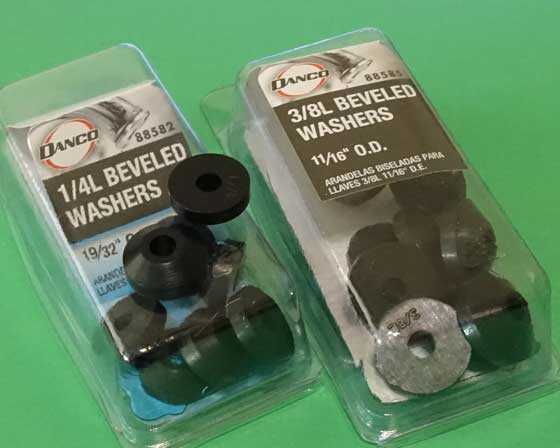 These come in several sizes. I bought three packages, to see which one fit the best.
Installing the washer
I bought an assortment of washers, but they were all too big to fit into the recess in the sliding compression chamber. So I took one of the smallest ones and shaved its sides with an X-Acto knife until I could get it to fit.
To install it I placed it on top of the hole and closed the underlever. The force of the chamber sliding into the breech shoved the washer in place. I had to try it several times, shaving off a little more each time before I got it to fit.
It took 15 minutes to clean out the cavity where the washer goes. I told you last time that I would clean the cavity better than what I showed you, but I didn't. I was so anxious to see if the washer worked after installing it that I got a first test shot of 609 f.p.s. with Hobby. That was good enough for me. It took me about 5 minutes to shave and install the new washer, once the cavity was cleaned out.
In the beginning the newly installed washer stood a little proud of the sliding chamber, but after a week of being in place it almost looks like it was made for the gun!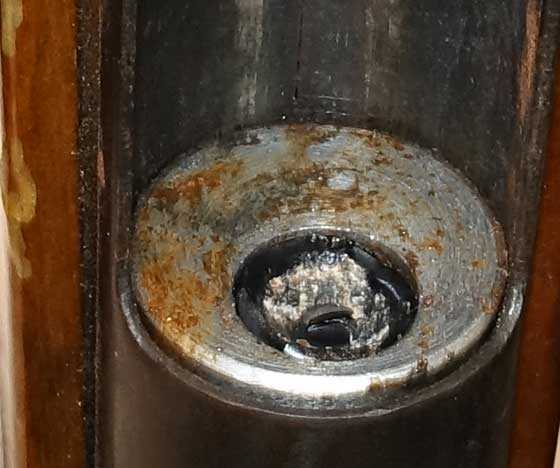 The new washer is in place. It looks a bit crude, but so do some real B3 breech seals. When I saw this picture, though, I saw that it is a little cruder than I thought.
Velocity
I didn't think I would leave that first washer in the gun because I had shaved the sides so quick — sort of like shaping a bowling ball with a broadaxe. I thought it would leak air. But after a week of being in the gun that pliable washer looks like it has expanded to fit the space fine. I guess velocity testing will tell us what we want to know.
RWS Hobby
The first string of RWS Hobby pellets was interesting. I won't give an average, but here are the shots.
Shot……….Velocity
1…………….581
2…………….596
3…………….610
4…………….619
5…………….704
6…………….631
7…………….608
8…………….444
9…………….622
10……………615
I thought by shot 4 that the rifle had settled down, but as you can see, there were two more surprises ahead. Shot 5 broke 700 f.p.s. — the only shot in today's test to do so. And shot 8 at 444 f.p.s. had me wondering if a heavier pellet had somehow gotten mixed in the tin. I don't think it was that, though. I think the rifle just hadn't settled down yet.
I shot a second string of 10 to see how they would go. They were much more consistent.
Shot……….Velocity
1…………….617
2…………….621
3…………….622
4…………….629
5…………….612
6…………….612
7…………….626
8…………….612
9…………….617
10……………605
This string is much more consistent. The low was 605 and the high was 629, for a spread of 24 f.p.s. The average of this string is 617 f.p.s. I round off all the velocities, so sometimes the math doesn't work out exactly as it should. At the average velocity this pellet develops 5.92 foot-pounds at the muzzle.
My B3-1 averaged 636 f.p.s. with Hobbys the last time I tested it, so I would say this B3 is back to spec at this point.
Air Arms Falcons
The Air Arms Falcon dome is a good lightweight pellet that's often very accurate, so I tried them next. They sometimes out-perform Hobbys for speed, as well. Here is the string I shot.
Shot……….Velocity
1…………….584
2…………….608
3…………….605
4…………….608
5…………….611
6…………….607
7…………….608
8…………….605
9…………….602
10……………607
The low was 584 and the high was 611 f.p.s. That's a spread of 27 f.p.s. The average for this string is 605 f.p.s. At the average velocity this pellet develops 5.96 foot-pounds at the muzzle.
Sig Match Ballistic Alloy
The last pellet I tested was the Sig Match Ballistic Alloy wadcutter. At 5.25-grains, this lead-free pellet should be the speed champ.
Shot……….Velocity
1…………….665
2…………….685
3…………….692
4…………….694
5…………….697
6…………….692
7…………….692
8…………….684
9…………….682
10……………691
The low was 665 and the high was 697, for a spread of 32 f.p.s. The average for this pellet is 688 f.p.s. At that speed it generates 5.52 foot pounds at the muzzle.
Cocking effort
The B3 cocks with 32 pounds of effort. There is some spiking near the end of the lever stroke, which I attribute to the roughness of the powerplant.
Trigger pull
The single stage trigger breaks relatively clean at 5 lbs. 3 oz. It's not the worst trigger I have used. In fact, the break is clean enough to do good work. I say the trigger is single stage but slack in the trigger linkage makes it feel like a short first stage, followed by a heavy second stage.
Evaluation
I'm surprised by how well this simple fix repaired the rifle. I only tried it because the rifle's value is so low, but this is something I can now recommend. Instead of paying $12 plus shipping for 6 seals, you get 10 washers for under $2. I don't know if they last as long as the factory seals, but I doubt I will ever use the contents of one package, plus they are very convenient to buy.
The hardest part of the job was cleaning out the old seal. Once that was done, everything else was easy.
It might be interesting to test a factory seal against the results of this seal. That's something I will keep in mind.
Next
My plan is to test the rifle's accuracy next. If it's good then I might be willing to tear into it and give it a really good tune. If it's only mediocre, like the other Chinese spring rifles I've seen, then I probably won't want to invest the time in a tuneup.