by B.B. Pelletier

Looking exactly like a .22 rimfire pump, the Daisy 26 is a Spittin' Image BB gun!
Today, I'm reminiscing a little with a look at Daisy's second Spittin' Image long gun and the third gun in the series – the little-known Daisy model 26 that became the model 572 halfway through its life. The Blue Book of Airguns, Fifth Edition doesn't say much about this gun – just that it was manufactured from 1964 to 1967 as the model 26. What they overlook is the fact that the gun remained in production as the model 572 from 1968 to 1972. Let's take a look at this decidedly un-Daisy-like BB gun!
Patterned after the Remington 572 Fieldmaster
The first Spittin' Image BB gun was the 1960 model 179 pistol. Made to resemble Colt's Single-Action Army revolver, this was Daisy's only catapult-powered BB gun. Next to come in 1961 was the famous 1894 lever-action rifle that is still in production today, though in a changed configuration. The model 26 Field Master was third in line and, to my thinking, a radical departure from the rest of the Spittin' Image line. The idea of the Spittin' Image guns is to replicate American icon guns – like the SAA and 1894. Whoever heard of the Remington 572 Fieldmaster? If Daisy truly wanted to copy a famous .22 pump gun, they could have used the model 61 Winchester. But, the Remington 572 Fieldmaster was never an icon. I'm sure most owners and Remington will disagree with me on that point!
Fantastic detail!
All the Spittin' Image guns were made to look as real as possible, and the model 26 is probably the best of all in that respect. It really looks like a .22 pump gun – enough to fool people at gun shows. It's a big gun (42″ overall), although the plastic stock and receiver keep the weight very low. The BB magazine is in the same place as the cartridge magazine tube on a Remington, and it generally works the same way – spring-loaded inline tube. The tube is loaded through a concealed hole on the right-hand side. It opens only for loading when the spring-loaded captive follower rod is withdrawn as far as it will go. Forty-five shots can then be loaded. Even the sights are incredibly realistic, with a post and bead in the front and an adjustable buckhorn in the rear.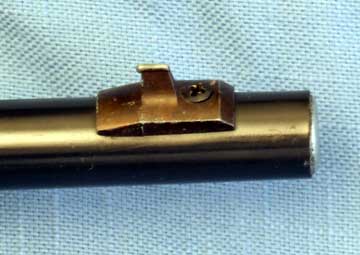 The exact image of a .22 rimfire front sight!
Realistic stock, not-so realistic action
The catch phrase during the 1950s, as far as American rimfire stocks were concerned, was a "full beavertail" forearm. The Remington 572 has one and so does the Daisy copy. In fact, I believe that might have been one of the deciding factors for Daisy engineers when choosing a gun to copy. The bulk of that forearm – a sliding one at that – allows for more room inside the gun's envelope for BB gun parts. The Winchester 61 is markedly slimmer in that respect. This gun feels exactly like a rimfire, except for the lighter weight. However, when it is cocked, the resemblance fades. The forearm is first pushed forward – the reverse of how a .22 pump works. When the limit is reached, the pump handle is drawn back to where it started. Both directions require effort against the mainspring, which is cocked by both motions. When you examine an 1894, you learn it works that same way, though with a lever instead of a pump. When the pump handle is forward, you can see the gear teeth that enable the gun to cock. This is a very complex system and not too repairable when it gets out of order, so these guns are best admired on the wall, rather than in the field.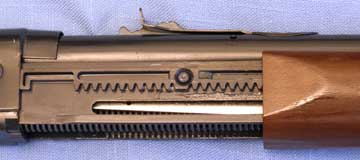 Pump handle slides forward to reveal a toothed gear track and the mainsprings (underneath).
How powerful?
To my knowledge, the velocity for one of these guns has never before been published, so you will be the first to see it in print. I oiled the gun and shot it several times before chronographing it to give the powerplant every chance to wake up. Because I don't shoot this gun very often, I have to allow more time for the oil to do its work. Eventually, I got a very consistent string of shots between a low of 256 and a high of 269. That's for 10 good shots with modern zinc-plated Daisy Premium-Grade BBs.
Not hard to find
If you want one of these curious BB guns, you should be able to pick one up pretty quick. I've seen excellent ones sell for $30 and new-in-the-box guns go for around for $75. Watch out on the auctions, however. I saw one seller recently who thought he had a goldmine and started the bidding at $125. That's way out of profile for one of these. Be sure the action is still working when you find one in a store. Unfortunately, this gun must be fired, if cocked. There is no way to decock it, so don't do anything you'll regret! Mine is in like-new condition, and I paid $60 for it at the Roanoke Airgun Expo. You can't shoot guns at that show, so I had to take the seller's word that the gun worked. I knew him to be a reputable dealer, so there wasn't much at risk.
As I learn more about airguns, I am fascinated by the lengths some companies will go to make a realistic product. Daisy's model 26/572 BB gun sold for around $15 brand new (1964), yet it was filled with an abundance of engineering and pride. That stuff is timeless and priceless, as far as I'm concerned.