by B.B. Pelletier
Think you've just about seen it all? Well, don't get bored just yet. Think about the days when Crosman tried to enter the Olympics!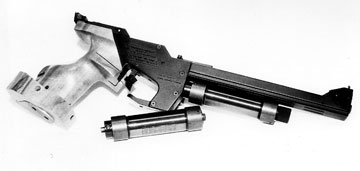 Crosman's model 88 Skanaker 10-meter target pistol was a huge departure from the company's normal line.
They did WHAT?
Yep! Crosman built two target airguns capable of competing at the world-class level. In 1984, they brought out the model 84 rifle. It was a bulk-fill CO2-powered target rifle with a digital gauge on the right side of the stock that showed the pressure remaining in the gun. No other air rifle ever had such a gauge and none has had one since. The rifle was hand made by Crosman and probably just over 100 guns were assembled. At over $1,295, it was priced beyond the competition, plus the world-class shooters were just beginning to move away from CO2 as a power source.
The Skanaker
The Skanaker model 88 pistol was designed in consultation with Swedish free-pistol champion, Ragnar Skanaker, hence the name. It is a large, heavy air pistol that seems quite dated today when compared to modern target guns. In its day (1987 to 1991), it was closer to what shooters wanted but never in the same class with Steyr, Feinwerkbau and Walther. And, by missing that level, the pistol was assured of never placing high in the world standings. I shot one briefly in regional NRA competition, but several design aspects conspired to make me glad to trade up to a different gun. The last retail price in 1991 was $795, very high for a pistol.
When I acquired mine, Skanakers were a glut on the market. They had ended production several years earlier, but Crosman dealers had a difficult time getting rid of the remaining guns. The dealer who sold mine practically threw in the kitchen sink just to make the gun change hands. I got three of the removable CO2 cylinders – two of which are shown in the picture. There was also a larger one that held more gas but also made the gun frightfully muzzle-heavy. There were three different muzzle weights and a complete set of tools that any 10-meter pistol might have (wrenches, tank spanners, screwdrivers and bulk tank adaptors). The gun came in a large hard case with everything, plus a set of spare O-rings for a rebuild. The dealer threw that in on his own accord. I also got a 5-lb. CO2 tank to take to matches.
Some strange features!
The Skanaker had EXPANDING grips! It's the only gun I ever saw that did, other than a "try" gun used by shotgun makers for fitting the gun to the shooter. The gun's CO2 tanks have bleedoff valves opposite the inlet valve, making this gun the most efficient CO2 gun to fill in the field. The power was a bit brisk, too, with velocities in excess of 600 f.p.s. with light pellets. That's about 100 f.p.s. too fast for target shooting and it makes the gun recoil noticeably. Plus, it's always the loudest gun at the match. Neither thing is very desirable. It lacked the sophisticated grip angle adjustments the big boys were starting to incorporate, but the grip was built with a rotation angle that made a right-hand shooter lock his wrist to shoot. That was a good thing.
A good silhouette gun
The extra power makes the Skanaker perfect for airgun silhouette, which is where a lot of them have gone. They will be scoped and their extra weight will not matter when shooting from the modified Creedmore position that handgun silhouette shooters seem to favor.
Their value today
Skanakers have grown in value, though they are still not a top-flight investment. You should still be able to buy one with two tanks, all the tools and adaptors in a case for $400, or thereabouts. It's not the gun to take up 10-meter pistol with, especially with the IZH 46M being so affordable and available. But, if you want a butt-kicking CO2 pistol with accuracy and a flare of its own, maybe the Skanaker is for you.