by B.B. Pelletier
WARNING – Today's post contains airsoft content. Read at your own risk.
Remember that I will be on the road from today through next Monday. Please help out with the answers for new readers. I will be online once a day at least, but there are so many messages that I will need your help. Thank you.
What's this "Built in America" stuff? Airsoft is Asian – everybody knows that. Well, not any more! Leapers is now building their new UTG M4 automatic electric gun (AEG) in Livonia, Michigan. You might think that another M4 AEG is about as novel as a reliable Toyota. They no longer surprise anyone. So, is this gun even worth talking about or is it just the same old story?
As it turns out, when you make something that everyone else makes, you have to do things differently, and I believe they have accomplished that. So, let's take a look at a different M4.
Even the box is great. Really!
Snore! How can a box be exciting? I know several ways they can be really disappointing, and airsofters should be able to relate. I'm talking about the Asian boxes with the flimsy pasteboard and the crumbly styrofoam that are partially disintegrated by the time they make it to your doorstep. I've had guns that took 20 minutes of cleaning just to get the styrofoam particles out of the mechanism. And, what about those boxes where all the parts are loose and banging into each other? Or, they've broken out of the box and you're not sure whether or not you have the whole gun?

Everything is held in place by non-crumbly styrofoam. If you've bought Asian airsoft guns, you know this is a big step forward!
The UTG M4 comes in a box that would make a $3,000 target rifle proud. Heck, it has a carry handle on the side and this one is actually strong enough to be used! Everything is in a separate compartment, AND the owner's manual has an inventory list for you to compare with what you actually received. That's the way all airgun boxes should be made!
The manual takes nothing for granted…it gives you ALL the info you need to shoot, use & enjoy the gun
The manual is a dream come true. Instead of a straight pictogram or a sloppy Chinglish translation, "Please to always obey the command of official and righteous party when use the gun," this one is written correctly and loaded with detailed line drawings that actually show what they're talking about!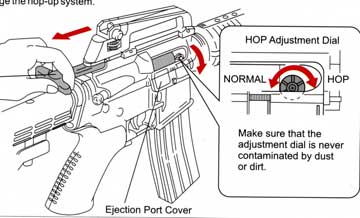 A small section from one page of the manual looks and reads like this.
What comes with it?
With the rifle comes:
8.4-volt battery and charger
Rear diopter sight
1 magazine
Cleaning rod
RIS vertical foregrip
Front sight adjustment tool (yes, the front sight adjusts for elevation just like the firearm)
Magazine winding key
Owner's manual
I've never seen or used a key to wind a magazine before. The mag has the normal wheel winder on the bottom, but the key is easier. So, use it when you're sighting-in and use the built-in wheel in the field.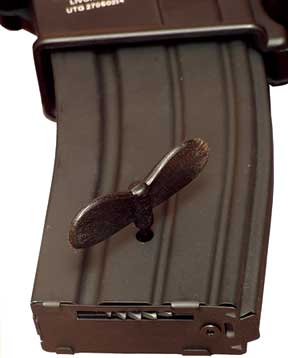 First time I've seen a magazine winding key like this. The standard wheel is also present.
It's as solid as the Rock of Gibraltar
This M4 is a heavyweight that feels very solid. No flexing like some cheaper AEGs. The loaded weight is 8 lbs., 14 oz., which is a right solid chunk when it's a carbine. The rifle feels right in your hands. Although I didn't skirmish with it, I think it will hold up well.
Steel gears, no less!
The guns the M4 competes with are also very good, so Leapers put all-steel gears in the gearbox. The bushings, however, are nylon. The manual cautions you to let the gun rest 5-10 minutes after 500 continuous shots. Metal bushings might stretch that time out.
Firing rate
The cyclic rate of 750-850 RPM is right up there with the Colt M4 spec of 750-900 rounds per minute. It's impossible to count the rate, but a burst of a few seconds left enough BBs in a container to determine it pretty close.
Some might be tempted to put a 9.6-volt battery in the butt, because there's enough room for it in this Commando version (the Tactical version has an extending butt and stores the battery in the handguard). If you want to upgrade, I'd advise you to get a larger 8.4-volt battery (2300 mAH ) for a longer runtime, but don't go to a higher-voltage battery unless you re-bush the gearbox and lube everything, because you'll overheat the gearbox.
Next, I'll take a look at accuracy & firing.