by Tom Gaylord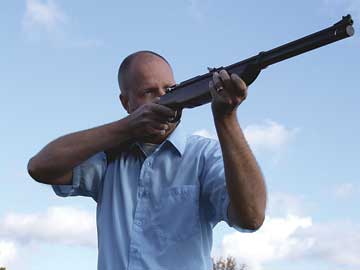 The new Benjamin Discovery is going to introduce a lot of shooters to precharged pneumatics.
History
In October 2006, I attended an airgun writers' conference at Crosman in New York. They called us together to show us their new products for 2007 and to ask what things we thought they should make in the future. We had a wonderful time, and I learned how open the Crosman management is to new ideas. I had been nursing the idea for a unique type of American-made precharged pneumatic (PCP) rifle and had decided that Crosman was the only company who could make it. And, after some discrete conversations at the conference, I knew they were interested in starting a line of PCPs.
Late in 2006, I made a proposal to Crosman for my ideal American PCP, and they liked my ideas, which was to build a PCP based on a CO2 model they already produced, lowering the development time and cost. I suggested the Benjamin AS392T as a starting point. Through the blog, many of you knew I was working on that project back then.
The important points I wanted to see in a new gun were these:
A pressure limit of 1,800 psi instead of 3,000
Full power and full shot count (i.e., at least 25 powerful shots and at least 710 f.p.s. in .22 caliber with Crosman Premiers).
A steel breech with an 11mm dovetail for scopes.
Gun to be packaged with a hand pump.
Price for the package (rifle with pump) to be affordably low.
Early in 2007, I went to New York to discuss the project and brought a mock-up PCP testbed to show them – not a gun, just some key components to convert one of their AS392Ts. So, imagine my surprise when Crosman's Ed Schultz walked into the conference room with not one but two working prototype guns…one in .177 and the other in .22. He'd based them on the 2260, which, frankly, looked more like a PCP than the AS392T. I never got around to showing them what I'd brought.
A good start
I was shocked to see two working prototypes so early in the project, and Ed told me he was equally shocked to discover that 2000 psi worked just as well as 3,000 psi. I knew it would because Tim McMurray gets 915 f.p.s. from 1,600 psi with Beeman Kodiaks in his USFT, and Gary Barnes built me a .25-caliber rifle that got 27 foot-pounds and 10 shots on just 800 psi! Ed's .177 prototype was getting 28 shots that were approaching 1,000 f.p.s. in .177-caliber with Crosman 7.9-grain Premiers (you KNOW Crosman isn't going to use Raptors, and their Silver Eagle pellets were not ready at that time) and around 800 f.p.s. in .22, again with Premiers.
Dual fuel
We already had a winner and the project was just getting started. But then Schultz dropped the real bomb. Just for fun, because his new valve was so similar to a CO2 valve, he also tested the rifles on CO2! They each got over 100 shots on a single fill and both were more powerful than any other CO2 rifles in the Crosman/Benjamin Sheridan lineup! Ed used the term "dual fuel" for this capability, which I thought was a killer term for it.
I'll flash back to the development period in the reports to come, but for now let me cut to the bottom line. During the year, they boosted the velocity of the .177 up to a solid 1,000 f.p.s. and the .22 to 900 f.p.s. The number of useful shots climbed up over 35, but how many there are depends on how far you are shooting and how accurate you want to be. When I tell you how accurate this rifle is (this week) you'll be astonished, as I was when I saw it the first time. Think about an American dime. Now imagine Roosevelt's head on that dime and all shots touching it at 50 yards in both calibers! For the rest of the world, imagine 11-12mm!

This photo of the rifle is with a Beech stock, but Crosman will be dressing it with a genuine walnut one!
The rifle
The Benjamin Discovery is a single-shot, bolt-action PCP that measures about 39″ long and 5.25 lbs. (for my testbed prototypes). It comes in both .177 and .22 calibers. I will report specific velocities with real pellets in another post. The rifle has a steel receiver with a 9″ scope rail. Although most shooters will scope it with a high-magnification scope, the rifle comes with good adjustable open sights so you can shoot it immediately after you fill it the first time.
I advised using an inexpensive set of adjustable open sights, but Crosman thought better and included a higher quality adjustable Williams rear notch sight. The sights are fiberoptic, of course. Crosman also built in a pressure gauge from the very beginning. On the bottom of the forearm just in front of the triggerguard, they've installed a custom manometer with a color-coordinated dial. Green is for good (pressure).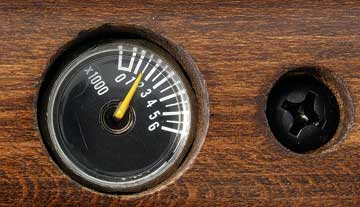 This is the prototype manometer. The real one is color-coded. Located in front of the triggerguard
The air/CO2 fill nipple is a steel Foster male quick-disconnect that makes the rifle incredibly easy to connect to air or CO2. Behind that fill nipple, they've installed a fine filter to keep foreign material out of the reservoir. Some of the top air rifles don't even have this.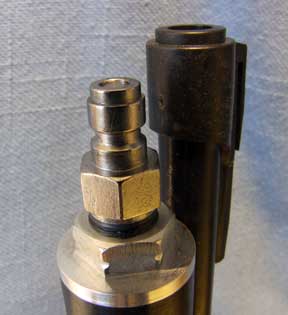 Crosman wisely used a Foster quick-disconnect fitting, and they've added a filter inside to prevent dirt from entering the reservoir.
The barrel is a Crosman barrel, but believe me when I tell you this thing can shoot. You won't be disappointed downrange. I told them I thought the 2260 stock was good enough, because I wanted to keep the cost down, but Crosman wanted a fuller profile. The stock they decided on is very much a PCP style. Then, at the 11th hour, Ed Schultz found an affordable way to stock the rifle in genuine walnut, and he tells me the production stocks are knockouts! Go to the Crosman website to see them today. Walnut is lighter than the beech my rifle has, so I can't say what that will do to the weight because I haven't seen the profile of the walnut stock yet.
The metal is blued steel and the wood is genuine. The little bit of plastic on the gun amounts to the fill nipple protective cap, the front sight, the triggerguard and trigger.
The hand pump
Do you know how easy it is to pump to 2000 psi? I wanted Crosman to shoot an instructional DVD showing a teenage girl filling the rifle, because I'm fed up hearing about shooters who cannot fill their PCPs with a pump. Up to 2,000, it's not too hard, but from there to 2,500 it gets harder, and above 2,500 its a real challenge for many people. We didn't do the DVD, but there is an animated tutorial on the Crosman website that shows the same thing. I can pump the gun to 1,800 psi from the seated position using just one hand!
A hand pump that's rated to beyond 3,000 psi, as this one is, will have no difficulty pumping to just 2,000 psi. It should last for decades! If we can just get the tinkerers to keep their hands out of the pump's internals and the clean freaks from wiping off the lubricant on the pump shaft, this pump could last a lifetime. It's been tested with continuous pumping for 50 straight hours, so you never have to let the thing cool down (although it never gets warm).
The Benjamin hand pump is rugged and fast – especially with the Discovery.
How many pumps strokes?
One-hundred pump strokes take you from an empty gun to full and it takes about 25 to top the gun off after every 35-shot shooting session. Remember, we're stopping at 2,000 psi. That's more than one shot per pump stroke, yet the .22 caliber develops about 23 foot-pounds with each shot. That's conservative, and I'm talking Premiers. You'll get even more with heavy pellets! Folks, THIS is what can be done when the maker knows what they're doing and has a solid engineering base.
If you cannot abide physical exertion of any kind, Crosman will sell you a small carbon fiber air tank that relieves you from pumping entirely.
Oh – and it runs on CO2, too!
Yes, it does. One big objection to PCPs is, "Well I'm used to CO2, and I don't want to learn a whole new technology." Fine, then you buy the inexpensive optional CO2 adapter (sorry, but we had to stop adding things somewhere) and fill your gun from a paintball tank. Yep!, it's just that easy.
What if I have air in the gun and I want to switch to CO2? Well, it isn't hard to shoot it empty, but just for you, Crosman created a special tool that fits through the receiver end cap and dumps the reservoir. I told them they would need something when Joe Sixpack decides if 2,000 is good, 3,000 is better and they have to help him unlock the valve. Easier to make a simple tool than to listen to the guy whine over the phone. I believe this is the first time such a tool has been made for owners of PCPs, though every one of them needs it.
UK, you're not going to miss out!
While this is an American innovation, Crosman told me they intend to share it with the world. So, those of you in the UK can look forward to a similar PCP headed your way. Naturally, it'll conform to your legal limit.
I watched all the airgun forums debate last week about what the Benjamin Discovery would probably be, and many people thought it would probably be a rebranded Chinese PCP. Well – SURPRISE! This an American-made PCP with more innovations and value than you can shake a stick at. And, the package (rifle with pump) is available starting today directly from Crosman for UNDER $400! They won't be shipping for couple of weeks, though. If you can wait about a month, Pyramyd Air will have them!
This is the enormous surprise I promised you so long ago. I hope you like it.