by B.B. Pelletier
Well, it was a good one! In fact, it was the best one I have ever been to! Let me describe it for you and tell you why I liked it. But let me also tell you what wasn't so nice.
Pyramyd Air was not there. They usually send their techs and top sales persons to man the tables, but this year they are so swamped with they couldn't spare the people. A few people lamented the loss–especially one man who wanted to buy a Crosman NPSS. There were none there, so for him the show didn't pan out. Several other people mentioned wanting to see a Marauder, so I guess Crosman Corporation should team with Pyramyd Air to man a smaller sales booth in the future. I don't know if that's possible, but they were missed.
The show opened to dealers before 7 a.m. on Friday and to the public at noon. By 10 a.m., there was a brisk business going on among the dealers. That's normal for a show. Dealers are buyers, too. Because they're there before the doors open, they get to see the buys first.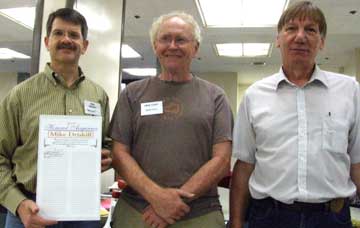 Mike Driskill (left) was recognized as an outstanding airgunner for his selfless service to other collectors. Mike is pictured with award presenter Dennis Quackenbush (right) and show organizer Fred Liady.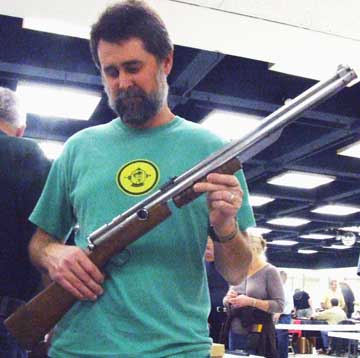 Mike holds a Benjamin 392 that's been modified to shoot .320 caliber ammo! This unique rifle was built by James Perotti of NC. It generates 70 ft-lbs of muzzle energy with 12 pumps, which is 3x the power of a 392.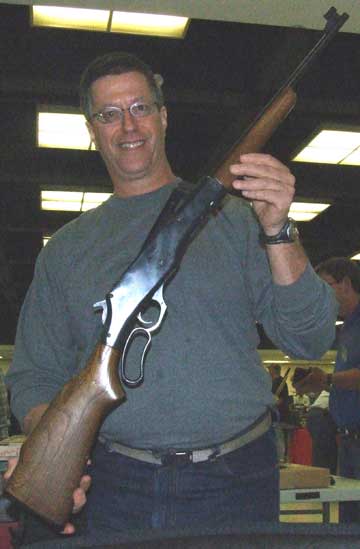 Blog reader Fred Nemiroff found this Crosman 99 lever-action at a garage sale for $25.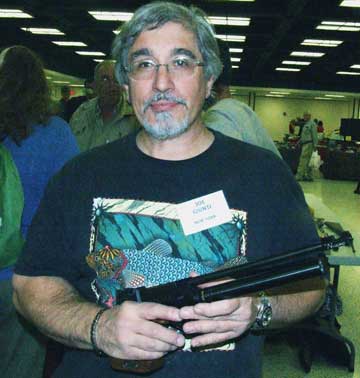 Collector/shooter Joe Giunti found this FWB C10 at the show for a song.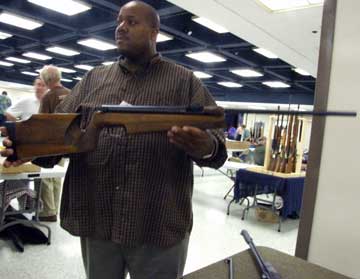 Blog reader Mike White brought this Walther LGR Universal to sell.
But don't think for a moment they bought it all, or that there weren't plenty of great buys left for the public. Let me just list a few and you be the judge.
1. A 99 percent BSF 55 in the Air Rifle Headquarters box with all the shipping material and paperwork for $250! Suddenly, it was 1974 all over again. When I pointed out to the man who was examining it ON DAY TWO OF THE SHOW…that it came in the box…he didn't believe it. The dealer had to convince him that it was included. He then sprained his wrist getting his wallet out!
2. A Working Crosman 116 pistol with a Working 10-oz. tank IN THE FREAKIN' BOX for $100. I know it's a shooter because I used to own it, though it wasn't mine at this show. And here's an anecdote that will bring a tear to your eye. A man about my age asked if I would remove the pistol's end cap so he could try one he had that was just like it. I knew what was about to happen, and I couldn't stop smiling. His cap fit the gun, of course, and he proceeded to tell me the story of how he had been given a Crosman rifle just like this pistol when he was a little boy. I told him he had a Crosman 114, and he was amazed that I knew. So, I pointed him to this blog and airgunning grew by one more little boy. He then bought that boxed pistol, which was a great deal.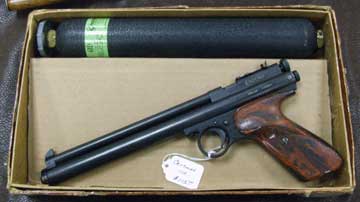 I used to own this 112. It didn't sell at the show.
3. Across the aisle, a Working Crosman 112 pistol in the box with a Working 10-oz. tank and all the papers. Also a gun I used to own! The price? $115.
4. A new-in-the-box Erma ELG-10 lever-action spring rifle owned by Toshiko Beeman for $615. I don't know where you can get ANY ELG-10 in like-new condition for any price, so this was a good one.
5. A Beeman R7 in like-new condition for $300. Suddenly, it's 1997 again. Plenty of used R7s priced at $400, but this was the only one for $300.The blog reader who wondered whether Roanoke was worth attending bought it.
6. A Weihrauch HW35 with the thumbhole stock, new-in-the-box! They didn't even import that model into the U.S. When I told a show attendee about it (after listening to how nice the others in the room were), he found himself standing three feet from the very airgun he had come to the show to find.
7. Not ONE but TWO working Crosman 451 semiautos for under $250 each. The 600 gets all the attention, but the 451 is the real prize. Trouble is, nobody can ever find one.
8. A complete Daisy 325 2-Way Target Outfit for $200! I asked the buyer if he reported the theft after buying it, and he asked me if I did the same, which shut me up. Seconds later, a dealer presented me with a Red Ryder target set in the box, minus the scope for $100! This is the same set as the 325, only with the Red Ryder as the gun. The boxed Daisy Quick Skill set he sold me cost $5. Yes, I am not making this up. This really happened!
9. A fine working Diana model 60 recoilless target rifle for $325. I missed it by five minutes, though I did have my hands on it earlier. Too many guns, too little money!
10. An entire 40-year collection of cast-iron and folded metal BB guns, dating back to the first model Daisy. The advanced collectors in the room went berserk and spent tens of thousands of dollars in just a few hours. I watched it happen, because my table was across the aisle.
Oh, there was much, much more, but this gives you a quick taste of what went on. I traded for a SAM 10-meter pistol (made by Anschutz and designed by Cesare Morini). This is the first PCP 10-meter pistol I have ever owned and I will now try to get back into form. The trigger on this pistol is beautiful, which will help me immeasurably. I will blog it for you some time.
Yes, there were some new guns in the hall. Yes, there were some PCPs. Scott Pilkington sold 10-meter rifles and pistols, plus the accessories as well as his own Vogel pellets (he makes them in Tennessee).
A great many blog readers came up and introduced themselves, though not some of the ones I was expecting. But I got to meet many who just read the blog. I hope they'll write some comments someday soon.
Everybody at the show talked about how the economy is in the tank. Two people told me they are out of work. Yet I saw people spending money without reserve at this show. Perhaps the prices were that much better this year, but you could not tell that the times are tough from what went on in that room. I don't think I'll every forget Roanoke 2009.