Josh starts the story of the founding of Pyramyd Air today. He wants you all to know that he didn't forget you, but the demands of setting up a new building and the move have kept him pretty busy this summer.
How and when PA got started – Part 1
by Joshua Ungier
Actually, the question should be why I started Pyramyd Air. But I suppose you will understand how it all came together when I tell you the convoluted tale.
I can trace my first activities in this direction to about fifteen years ago. The original name of my company was Pyramyd Stone. My close friend Joshi Furikawa, a Japanese businessman, asked me if I could secure a thousand cubic yards of well-defined, commercial-grade marble he needed for his hotel chain in Japan. He wanted to cover lobby floors, walls and some ceilings with marble. In addition, he needed wood. Lots of good wood. Russia came to my mind and he agreed. Since I speak that language quite well, I agreed.
I recruited a timber specialist from Virginia, an investor from Alaska and, along with my former partner, we all took off for Russia. A Russian company interested in selling us the goods took us from Moscow to Siberia via the Trans-Siberian Railway toward Altai region to the city of Barnaul. The ride lasted a few days. Lucky for us, we brought enough food and drink. Unlucky for us, we did not bring toilet paper. When I asked the lady conductor what we could use instead (at this point I was hoping for old newspaper), she extended her palm and said that they do not provide this luxury. That was something we should have thought of before we boarded the train.
Presidential suite
While in Barnaul, we stayed in Boris Yeltsin's Siberian dacha. I was told to sleep in his bed. He was president and I was the president of Pyramyd Stone, so it seemed fitting to them. While there, we had the best food I had in all of Russia!
To reach the headquarters of LesProm (the company in charge of the territory) was a twelve-hour trek from Barnaul. We were picked up by a small bus, then transferred to a modified army six-wheeler called a Kamaz, and then back to a bus. If not for Vodka, I do not think we would have made it to Biysk–the marble and forest region of Siberia.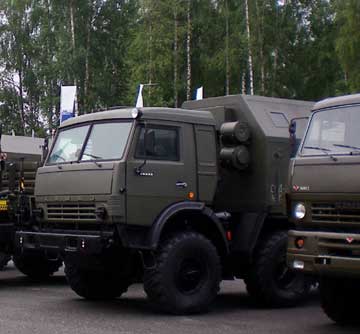 Russian Kamaz 6-wheel truck is not built for comfort!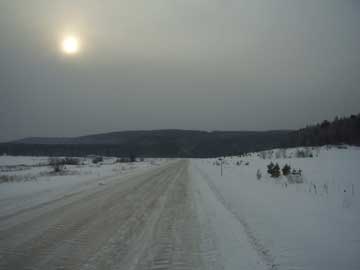 Siberia in November is miles and miles of miles and miles!
Self-serve
The next morning was absolutely glorious. Two feet of snow overnight blanketed the area like a white feather quilt. Voices outside of my dorm room door were talking about a hunt coming up to secure breakfast. I ignored them. But soon the knock on my door reaffirmed my worry. "It is time to get up, Yurij" (my Russian name). "It is time to get breakfast." The thermometer showed -38 deg. C (-36.4 deg. F). Not too bad for November in Siberia.
No Starbucks?
I am used to getting my breakfast by going to a refrigerator or at least to a bagel shop. However, there are no bagel shops in Siberia, and the refrigerator is located outside, according to the thermometer. A man who looked more like a bear in overalls handed me a shotgun and said "You hunt, you eat."
I am not a hunter. I suppose, if I had to, I would kill to eat. I have dispatched many injured deer that have wandered onto my Ohio farm after encountering a car or a truck on the highway. I then had the meat prepared for me by pros. But Siberia is apparently a self-serve restaurant. And first you have to provide your own food.
The shotgun he gave me was a side-by-side whose barrels looked very old. Probably turn of the 20th century. To call it rickety would be an understatement. The action was held to the breech by a thick carpentry nail bent at the end so it would not fall out. As beautiful as the Damascus-twist barrels were, I was not sure the shotgun would survive a shot from a modern shell. Lucky for me, the mayor of the village then pulled up in an old truck loaded with our breakfast. No hunting today! We had bear meat and eggs and coffee…hmmm… never had this kind of "Breakfast of Champions" before! Definitely not McDonald's.
Light bulb!
That is when an idea came to me to supply Russian hunters with American-made shotguns. God knows we have great guns, here. Winchester, Mossberg, Remington.
It took over a year to get all the licenses I needed. And Pyramyd Stone started exporting shotguns to Russia.
Back to our trip. After breakfast, we were picked up by a helicopter and flown over the quarries and forest that we were going to explore the next day for a closer look-and-touch. At this point, the trip only got colder.