by B.B. Pelletier
Thanks to blog reader David Enoch, who signs in as woguph, for today's report. Perhaps you're familiar with how it works. You go along in life, blissfully ignorant of something until someone brings it to your attention. Then, suddenly your life has a huge hole in it until you possess the object with which you were so recently unfamiliar. That's what David did to me when he introduced me to the Hy Score 801, and I'm passing it along.
Hy Score was an American company that sold airguns from the 1940s through to about 1982. They made a unique design of air pistol, but they also rebadged a number of airguns, both rifles and pistols, under the Hy Score name. And, as sometimes happens, they were careless in naming their models, because there are at least two distinctly different Hy Score model 801 rifles. Although there's next to no information about them in the Blue Book of Airguns, one of the Hy Score 801 breakbarrels was a Diana 25 (that one they do identify), and the other was made in Belgium. Today's report is about the Belgian gun.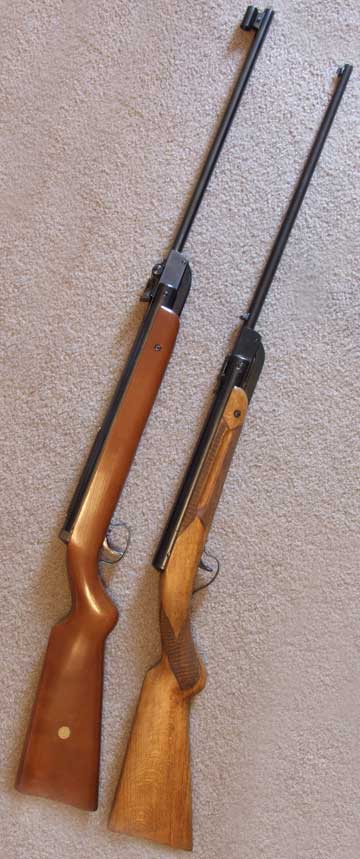 Diana 27 on the left, 801 on the right. Note the walnut stain on the beechwood stock. Beautiful!
There's a LOT of confusion about the 801 because of the two different guns using the same number. Many people know about the Diana model 25 but are completely unaware of the Belgian gun.
I learned on the Vintage Airgun Forum that it was made by Peipers in Belgium in the late 1940s. It's a small breakbarrel with some remarkable design/style features that I'll show you today. The thing that captivated me most was the appearance. Where a contemporary Diana model 25/27 looks plain-vanilla, the Belgian 801 is a hot fudge sundae.
David showed me his two 801s at Little Rock, thus creating the hole I had to fill. After I show you the gun, I'm sure you'll understand why. A couple weeks ago on the Yellow Forum classified ads, I saw one for sale. Brad was selling it at a great price and the shipping was included. Whenever I come across something nice like this, I ask myself, "If I stumbled across this gun at an airgun show and had the money, would I buy it?" When the answer is a resounding "yes," as it was in this case, I move quickly.
The Belgian 801 is a gorgeous little breakbarrel. It sits in a beech stock that's stained the most beautiful walnut brown that you could ask for. There's not a hint of redness in the finish. And the metal parts are all highly polished and blued to a deep, rich black color. A comparison embarrasses any modern breakbarrel short of an Air Arms rifle.
Then, there's the checkering. What can I say about the generous flat-topped diamonds that wrap around the ultra-slim forearm and also decorate the pistol grip? Each panel abounds with overruns, as if on purpose, which they must be, to be that obvious. But the overall look is spectacular. It even feels good to the touch. And then you see the checkered butt and think you're in heaven. No, it's only Iowa, but still, who does that kind of work on anything less than a full-blown sporter that we common folk can't even afford to look at?

The wraparound checkering under the forearm is impressive. Overruns are everywhere.

Left side of the forearm shows both the checkering and the finger grooves.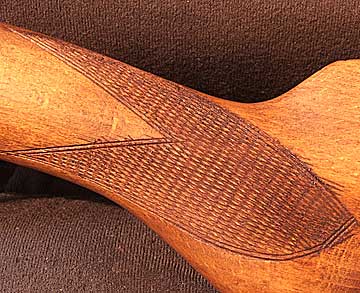 Pistol grip is beautiful, too.

The butt is over the top! Who does work like this on a production airgun?
The .177 caliber rifle is small. It's 40.5 inches overall, with an 18.5-inch barrel and a 13.88-inch pull. It weighs 5 lbs. even. When put alongside a Diana 27, it comes out as the smaller gun.
Atop the breech where the barrel breaks is a unique device–a pellet loader. It automatically flips down and aligns with the bore. It hints–no it shouts–at the care and thought that went into building this little rifle.
The rifle breaks open easily. We've forgotten, in this era of magnum springers, that it used to be possible to open a breakbarrel without slapping the muzzle. The 801 is a reminder of a gentler time.
Brad said the gun has been lube-tuned recently, and I know from taking a few curious shots that it's very smooth. The trigger seems to be placed too far forward; but when the gun is cocked, it moves back in the small triggerguard just enough for my average fingers to fit. For ham-handed folks, this would be a problem.
The sights are adjustable after a fashion, but there are no knobs to click. Everything seems to be done by drifting the sights from side to side, and possibly by elevating and lowering a separate rear sight blade, though I'm not fully aware of how it works at this time.
The trigger doesn't appear to adjust from the outside of the rifle. At this time, I would assume that it is what it is. It has a reasonably light single-stage pull that's well suited to this type of small plinking rifle.
I will know more after I return from the SHOT Show and have some time to play with this little treasure, but I think this one is here to stay. Like a Diana 27, when you finally do get one, you won't want to let go.