Basic CO2 Pellet Revolver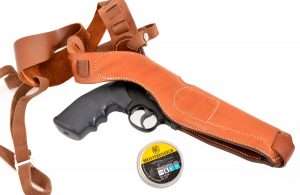 Entry-level is for beginners. It is the most gun for the least money that will introduce and instruct in the safe handling of a firearm, and what better way to begin than with a revolver. In my youth semi-autos were what the Army carried, police and lawmen still packed double action revolvers, Colt and Smith & Wesson models, and I learned to shoot a revolver long before I ever picked up a semiautomatic pistol. Even today, a goodly number of first time gun owners chose to begin with a snub nose revolver, rather than a compact semi-auto as a concealed carry pistol. Modern thinking (conventional wisdom not withstanding) is that first time gun buyers should purchase a semi-auto, while some older gun shop owners will still recommend a revolver. This has taken on an air of being condescending to first time buyers, but honestly, it is not; a revolver is just a good place to begin learning gun handling skills. For a CO2 pistol, the same is appropriate for this new Crosman model since it not only requires learning basic gun handling and shooting skills, including learning how to adjust sights, it affords the opportunity to experiment with different barrel lengths, and for a mere $70 investment.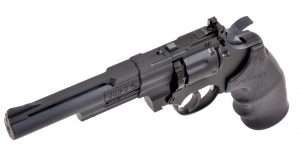 I'm going to begin testing the Triple Threat just as it comes out of the box, or rather out of the blister pack, with the 6-inch barrel mounted. The 6-shot rotary BB clip is nice but for this test I'm going fully leaded with the 10-shot pellet clip. Do you shoot expensive wadcutter pellets in an entry-level CO2 pistol? Why not? You might as well get the best performance out of the airgun's rifled barrels.
Velocity By the Inch
I am going to begin with the 6-inch barrel and run the velocity test using Meisterkugeln 7.0 gr. lead wadcutter and at the same time shoot a 21 foot target test with the sights set just as they come from Crosman.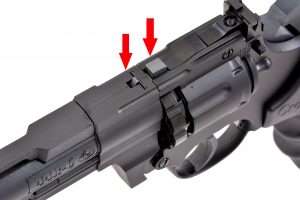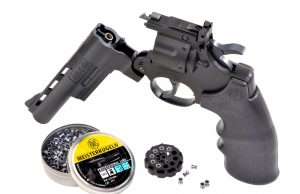 Average velocity with the 6-inch rifled barrel clocked 421 fps with a high of 440 fps and a low of 399 fps for 10 consecutive shots fired single action at 15 second intervals. The factory rated velocity of "up to 465 fps" doesn't say if that is with BBs or lead pellets. Next week we'll find out, but at 21 feet using with Meisterkugeln lead wadcutters, the Triple Threat with 6-inch barrel is already looking pretty good.