by Tom Gaylord
Writing as B.B. Pelletier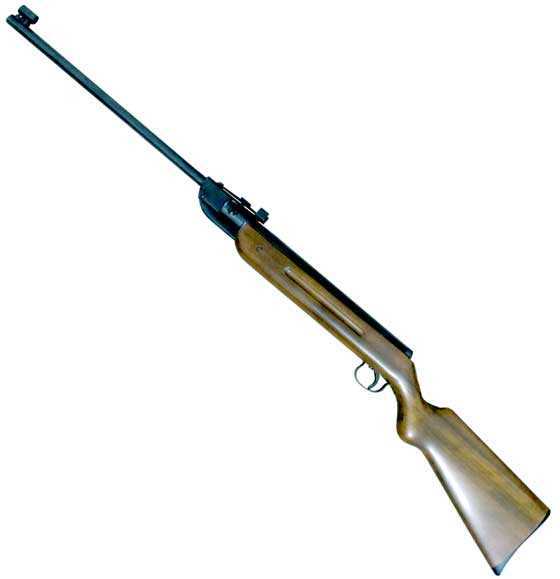 Diana 35 pellet rifle.
This report covers:
Basic velocity test background
Today with Hobbys
Firing behavior
Cocking effort
Trigger pull
Qiang Yuan Training pellets
Falcons
Discussion
Summary
Today we see how the lube tune and cleaning I did with the Diana 35 affected velocity. In addition to what I told you in Part four, I also put 5 drops of Crosman Pellgunoil down the transfer port five days before this test, to soak into the leather piston seal.
Basic velocity test background
We don't know a lot about this Diana 35 powerplant, apart from the work I showed you in Part 4. I did test it for velocity in Part 2 with RWS Hobby pellets, but that was all I did. I knew I would be going into the powerplant anyhow, so all I wanted was to establish where the rifle was when I started.
You may recall that I replaced the breech seal and the metal shim underneath it before ever shooting the rifle. That seal was shot and I didn't want to damage the rifle by what might have amounted to a dry-fire, so I held off until the new seal and shim were in place.
Hobbys averaged 603 f.p.s. after the breech seal was replaced. The spread ranged from 587 to 618, for a total of 31 f.p.s. I thought that spread was on the high side.
Today with Hobbys
Let's look at how the rifle did today. I'm going to show you the first 20 shots and then I'll discuss them.
Shot………..Vel.
1……………614
2……………631
3……………672
4……………695
5……………492
6……………522
7……………571
8……………525
9……………639
10…………..658
11…………..626
12…………..616
13…………..631
14…………..604
15…………..609
16…………..613
17…………..592
18…………..602
19…………..600
20…………..603
The "average" for that string is 606 f.p.s. The spread is 203 f.p.s. (492 to 695 f.p.s.). The oil in the piston seal needed time (shots) to distribute itself and for the excess to be pushed out of the compression chamber.
I didn't know how many shots I had fired until after I finished and counted them. I didn't stop at 20 shots for any particular reason. I stopped because it looked like the rifle was starting to settle down. Now, let's look at the next 10 shots.
Shot………..Vel.
1……………605
2……………594
3……………607
4……………614
5……………583
6……………598
7……………613
8……………598
9……………606
10…………..588
Yes, the rifle is settling down. The average for this string is 601 f.p.s. and the spread goes from 588 to 614. That's 26 f.p.s. In other words, the velocity and consistency of this rifle hasn't changed very much after lubricating it. I thought the Tune in a Tube grease would slow things down a bit, but apparently it didn't.
Firing behavior
The rifle now shoots very smooth. There is some forward recoil, but very little in the way of vibration — just a solid "thunk!" It's not as smooth as Michael's Winchester 427, but for the additional power it's very smooth.
Cocking effort
Before the lube the rifle cocked with 18 lbs. of effort. Knowing Diana 35s, I knew that was light. It should have been between 28 and 30 lbs.
After the lube the rifle cocks with 16 lbs. of effort. The drop is due to all the lube, but I think the most important parts affecting the cocking effort were the base block washers on either side of the barrel pivot and the pivot bolt itself. The rifle is now absolutely silent when it cocks.
Trigger pull
Before the lube the second stage of the trigger broke at 3 lbs. 10 oz. After the lube it still breaks at 3 lbs. 10 oz. Stage one is 2 lbs. 9 oz., which is due to the heavy trigger return spring I mentioned in Part 4. I thought lubricating the dry ball bearing cages and the balls themselves would have some effect on the pull, but as you can see it didn't. Perhaps that speaks to the genius of the ball bearing trigger design?
Okay, let's look at a couple more pellet velocities. Prepare for a surprise!
Qiang Yuan Training pellets
The second pellet I tested was the 8.2-grain Qiang Yuan Training pellet. These wadcutters have often been surprisingly accurate, though I have never tried them in this rifle. They are significantly heavier than the 7-grain Hobbys, so I expected a drop in velocity. Surprise! This pellet averaged 626 f.p.s. for 10 shots and the spread was only 14 f.p.s. (620 to 634 f.p.s.). At the average velocity Qiang Yuan pellets produced 7.14 foot-pounds of energy at the muzzle. This is definitely a more efficient pellet in this rifle!
Falcons
After the accuracy test I did in Part 3 I had to test Air Arms Falcon pellets, too. They are so darned accurate in this rifle! Ten Falcons averaged 637 f.p.s. in the 35 and the spread was just 12 f.p.s. (631 to 643 f.p.s.). At the average velocity the 7.33-grain Falcon produces 6.61 foot-pounds of muzzle energy.
Discussion
Tune in a Tube did not reduce the velocity of the 35 at all. But it did make it smoother to shoot. The forward recoil keeps this rifle from being as smooth as Michael's Diana 27/Winchester 427, but it's far smoother than my Diana 27/Hy Score 807 that I recently goofed up with a Krytox lube-tune. I'll have to get back inside that one and tune it right some day, but as nice as this 35 is, that day may take some time to arrive.
Summary
Well, the 35 is up and running and ready for some accuracy tests. Since the rifle has no base for the Diana peep sight I can't try it with that or with a scope, but that's okay. I like this old girl just the way she is, and I can still shoot with open sights. That test is coming next!