by Tom Gaylord
Writing as B.B. Pelletier
This report covers:
Edith was my mentor
I will help 
Take the time you need
Photos and text
This is what I tell all who apply to write a guest blog.
The rights
What should you NOT do?
Discovery writing
Summary
Every so often a certain blog will hit a nerve and you readers respond. I have seen this happen dozens of times over the 15.5 years this blog has run. Maybe that is because over time all of our tastes change in a subtle way. One thing is certain, though — you cannot predict the topic that will cause this reaction. If you try, you will fail every time. So you watch for it and respond when it happens.
Yesterday's blog by Ian McKee, or reader 45 Bravo, was such a report. I think what he did was touch many of you where you live when he said,"YOU know something about a subject that NO ONE else knows, and it is your duty to share that knowledge with someone."
If you thought about that you knew it was true. I see it come through in your comments. Some of you are college professors with a great knowledge of the English language, yet you have the mature good sense not to confront someone directly and embarrass them when they make a mistake — me, included. So you come in obliquely and reveal what they need to know without pushing their nose in it.
Edith was my mentor
Many of you know that my wife Edith was my editor. When I lost her, I lost a critical part of what I need to write this blog. but reader Siraniko from the Philippines stepped in and started helping me with the editing. He had to do it after each report was published and some of you thought he was being nit-picky, but I welcomed his help and I still do. Typographical errors are very disturbing to me, as well as to many of you.
In 1994 when the only airgun magazine that was published in the United States went belly-up and took half my subscription money, I whined and cried for weeks! It wasn't the money — it was loosing my only source of information about airguns — a subject I loved dearly.
One day Edith came to me and said, "Why don't you write an airgun magazine?" I told her that I didn't know enough to write about, which was very true at the time. So she handed me a 14-inch legal tablet and told me to write down the titles of the topics I knew enough to write about. Hours later I had filled almost three pages with topics, and some had subtopics under them. That's how The Airgun Letter, a monthly newsletter about airguns, was born!
A year after we started the newsletter I got the idea to buy, test and tune up a Beeman R1 rifle. The installments in the newsletter became the basis for my first book! I certainly was no expert on the Beeman R1, but 25 years later the world thinks I am.
When I read 45Bravo's guest blog, I realized he was right! You do know things that we would all like to know.
I will help
He was also right when he told you that I will help you. In that sense I become your editor. And, after you see what I do with your first article you will get better — which I am defining as more like what I want to see.
Take the time you need
I crank out a new blog five days a week. Some of you are amazed I can do that. But I am like Meadowlark Lemon, the center of the old Harlem Globetrotters basketball team. I can pass, dribble, shoot and talk smack at the same time, because I have been doing this for so long. You don't have to do that. You can take a month to write about whatever you want, then set it aside as 45Bravo said, and when you come back to it a week later it will be easier for you to make corrections. Don't give yourself some arbitrary deadline and then stress out when time passes and you have done nothing.
Photos and text
Here is what reader RidgeRunner asked. "BB,
Perhaps you can expound on what format, picture size, etc. you would prefer to receive blog submissions in."
This is what I tell all who apply to write a guest blog.
"Write your blog in a rich test format (.rtf) file, please. No word processors, because they embed formatting that takes me hours to edit. You put in an ampersand (&) and it comes across as four meaningless characters (:&,;) A rich text format program is the simplest word processor on your computer or tablet. Write something short and save the file. The file name should end with a .rtf designator.
Do not embed links to products like you see me doing in the blog. The way WordPress (the software I use to publish each blog) works, I have to remove those links manually and then do something entirely different in WordPress as I format the blog. This past January WordPress was updated to a version that works differently than it did in the past
Indicate where you want the photos to go in the text and give me a caption for each one if it applies, but please don't embed the pictures in the text. If the photo needs no caption, indicate that, too. Send the pictures to me separately in the following format:
Images used in blogs must be .jpg images no larger than 560 pixels wide by 730 pixels high. They should be saved at 72 dpi (dots per inch) resolution. Some of your cameras save them at 96 dpi. I will convert them to 72 dpi, but they will become smaller when I do.
Images must be rgb color, not cmyk If you don't know the color specification, save the pic for the internet and that will format it correctly." Does that help?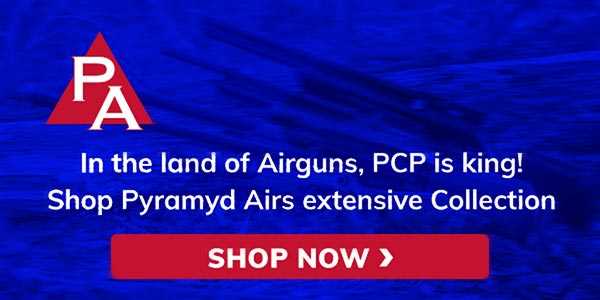 The rights
Here is also what I tell all who submit a guest blog.
To accept a guest blog for publication, you must agree to abide by the following 3 (three) rules.
1. Any blog content that Pyramyd Air accepts & publishes (text & images) is the sole property of Pyramyd Air and cannot be duplicated or reproduced in whole or in part in any form. Pyramyd Air is the sole copyright owner of all images and text it publishes in any media or form.
2. Pyramyd Air has the right to edit, use, or not use all or part of any guest blog submission. If we do not use your guest blog, then you retain all rights.
3. Submitted content and graphics must be free of any other copyright reservations.
What should you NOT do?
Don't write me at blogger@pyramydair.com and ask me what you should write about. When someone does that it goes into the trash, because I know they haven't got a clue. I get email offers for guest blogs all the time (a couple each week) from startup businesses that want the powerful fetch of the Pyramyd Air website to boost their online presence. Somehow they have discovered that this blog is read all over the world by hundreds of thousands of individuals, and they want in on it. It ain't a-gonna happen. Years ago I allowed a writer for the New York Times to write a guest blog. She wrote a fluff piece that included the word airgun about 50 times — thinking that that is how I get the visibility I do. Sorry, lady but that ain't the way it works and Google has algorithms that look at all new material (they call it organic, because it conveys something new) for things like that. It's an easy way to get the blog barred from the internet for a season. When she worked there, Edith warned Cheaper Than Dirt, who hired an outside firm to boost their internet presence that way, and they were kicked off Google for two years! In other words, no Google search would ever find them! Edith contacted Google and explained what had happened, promising it would never happen again, and the exclusion was reduced to three months.
Discovery writing
When I started writing for The Airgun Letter I wrote like I was telling something to my best friend. Edith called it discovery writing. I knew I didn't know everything, but I did know some things and that was what I wrote about. I may not know much about a faulty camshaft but I sure as heck know what one did to my engine when I installed it!
Some people mistakenly believe they must be experts in what they write about, so they labor over their words like a prosecuting attorney, trying to pick each sentence apart to find any flaws. If I did that you would get five blogs a year instead of five a week. In other words — I make mistakes!
A pastor I once knew and respected said, "A job worth doing is worth doing poorly." In other words — GET ON WITH IT! Let that be the guiding principal for your guest blog.
Summary
If you have something to say, a guest blog is a great way to say it. Sure the comments are okay, but if you want others to know — do a guest blog.