A better pistol that honors the brand
There have been times when a second or third version of an established design isn't necessarily a better gun and there are several that come to mind. While there are differing opinions on this, I have always believed the original Walther P99 is a better design than all the subsequent versions. It is the same for the Walther PPS, though the PPQ design is more visually appealing. I could site other examples but the point here is that the CZ 75 SP-01 Shadow 2 is a better gun than any of its predecessors. As a CO2 pistol this is also true because the first version was not a great shooter with its fixed combat sights. The Shadow 2, before you even touch the windage and elevation adjustments, is already a more accurate gun as a CO2 model. The grip is a better fit to the hand and the entire pistol feels more grasped when you wrap your hand around it. The even lower bore axis makes aiming even better and the airgun delivers a medium-loud report and robust recoil for a blowback action CO2 pistol. To this point in my evaluation it has been a better handing gun than the SP-01 Shadow right out of the box.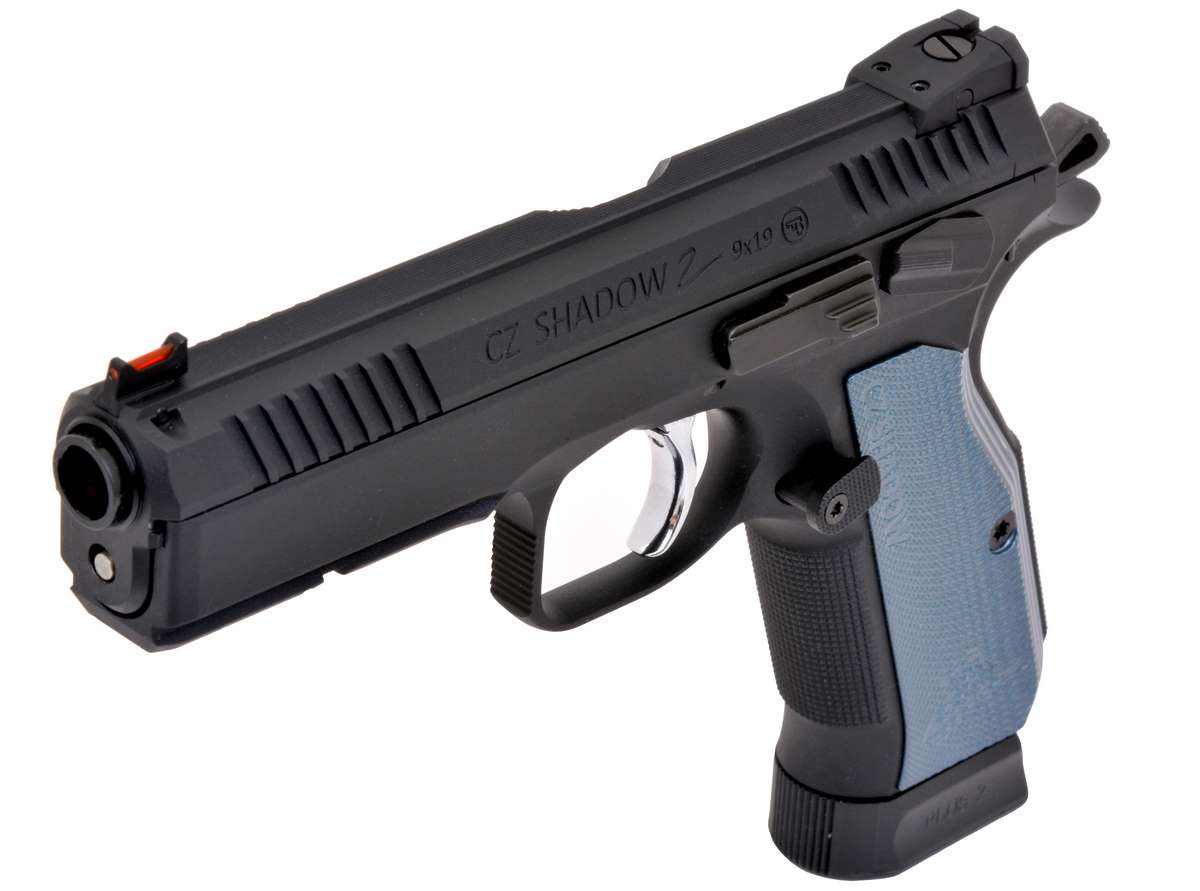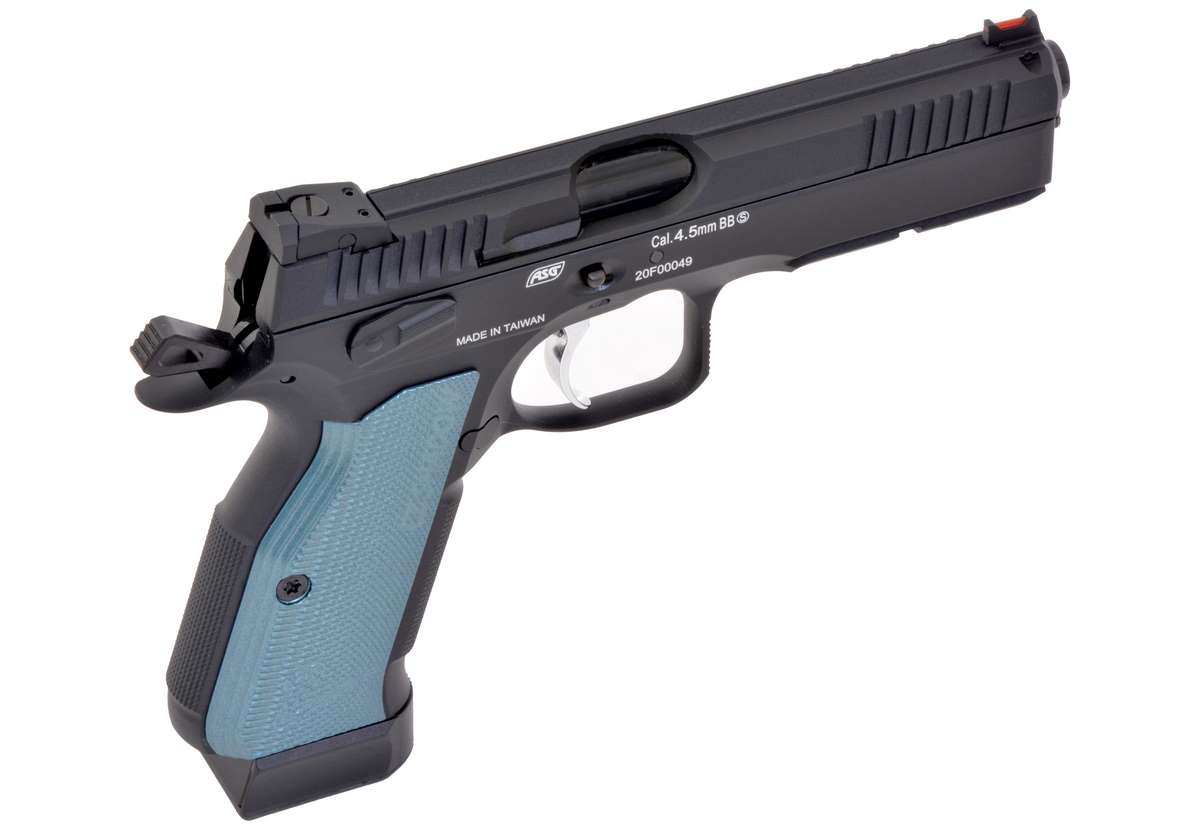 More features
While I really like the upgrades you can add to the SP-01 Shadow, I don't like having to hunt them down on the internet and spend almost as much as the gun costs for the parts to build a Shadow Blue. It becomes a better looking gun but not a better gun until you go to the limit and add the optics bridge and again spend more money for a good reflex sight. At that point, a Shadow Blue (or Red or Orange, however you choose to build it) becomes almost the equal of the great Tanfoglio Gold Custom, the long time title holder for most accurate blowback action CO2 pistol. The new Shadow 2 already brings a lot to the game with the alloy grips and adjustable sights, improved grip frame contour and light trigger pull.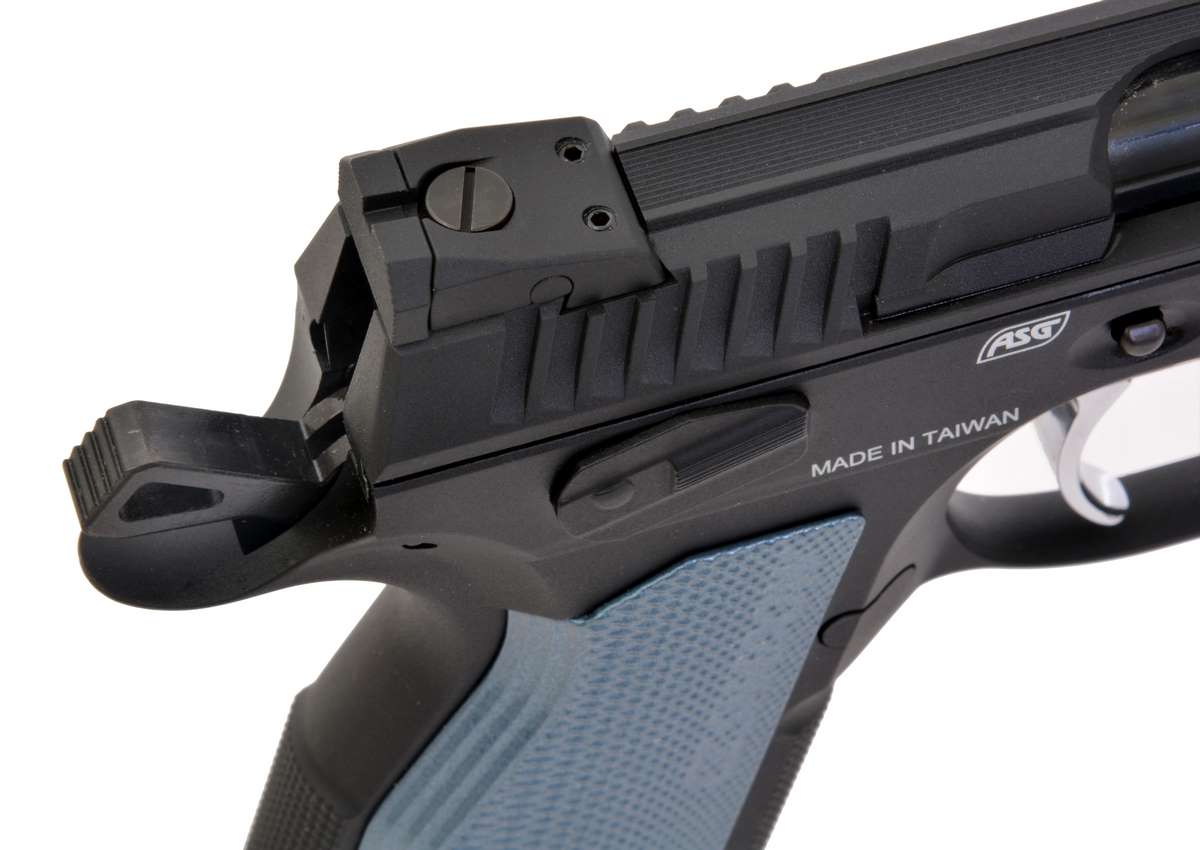 Today I am going to adjust the sights and see how accurate the Shadow 2 can be at 21 feet. This is not all that can be done with the gun; there is still the adjustable trigger, which strangely is not mentioned in the instruction book even though the gun comes with a tool to adjust it (also used for the adjustable rear sight windage locking screws); there is also the adjustable magazine release and hop-up, which are covered in the booklet.
As instruction booklets go this one is a about average for details on the gun, handling, loading, field stripping (which is relevant to adjusting the hop-up), and special features. It is well illustrated but leaves you to guess on sight adjustment as well.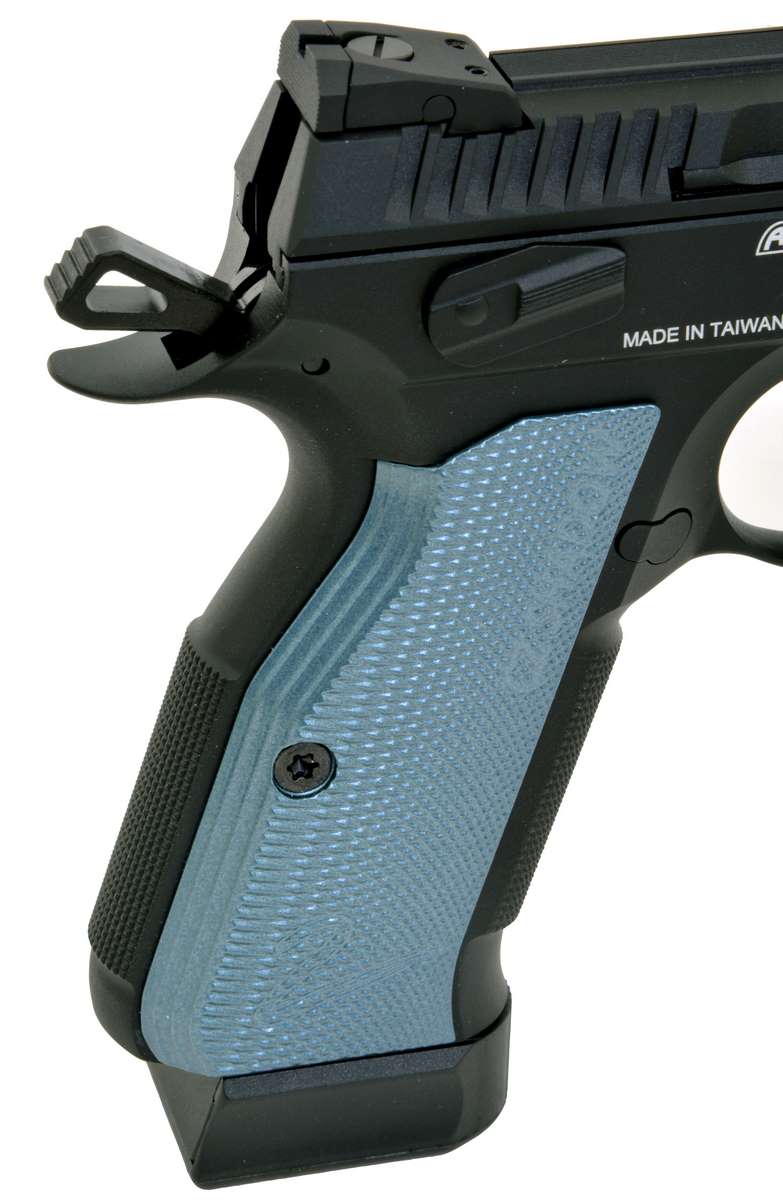 The book contains no specs or performance figures, which are otherwise printed on the side of the box, and each gun has its own serial number, which is a nice little detail. The specs on the box are almost all metric, 215mm in overall length, 1230 g in weight, 18 rounds magazine capacity, all metal construction, energy 1,35 joule and velocity 87 ms/285 fps. Translated, overall length is 8.6 inches, weight is 43.05 ounces (however on my scale it weighed 45 ounces, or 2 pounds, 13 ounces empty with magazine inserted) and in ft. lbs. energy, 1,35 joules is equal to 0.9957089016 ft. lbs. or just shy of 1 ft. lb. of energy. Pretty much a lightweight, however, using an energy conversion calculator, a 5.1 gr. steel BB traveling at 319 fps actually produces 1.1522 ft. lbs. energy (1.56 joule). Even at 300 fps it produces over 1 ft. lb. of energy (1.019 or 1.38 joule), so again what the box states and what the gun does are not in sync.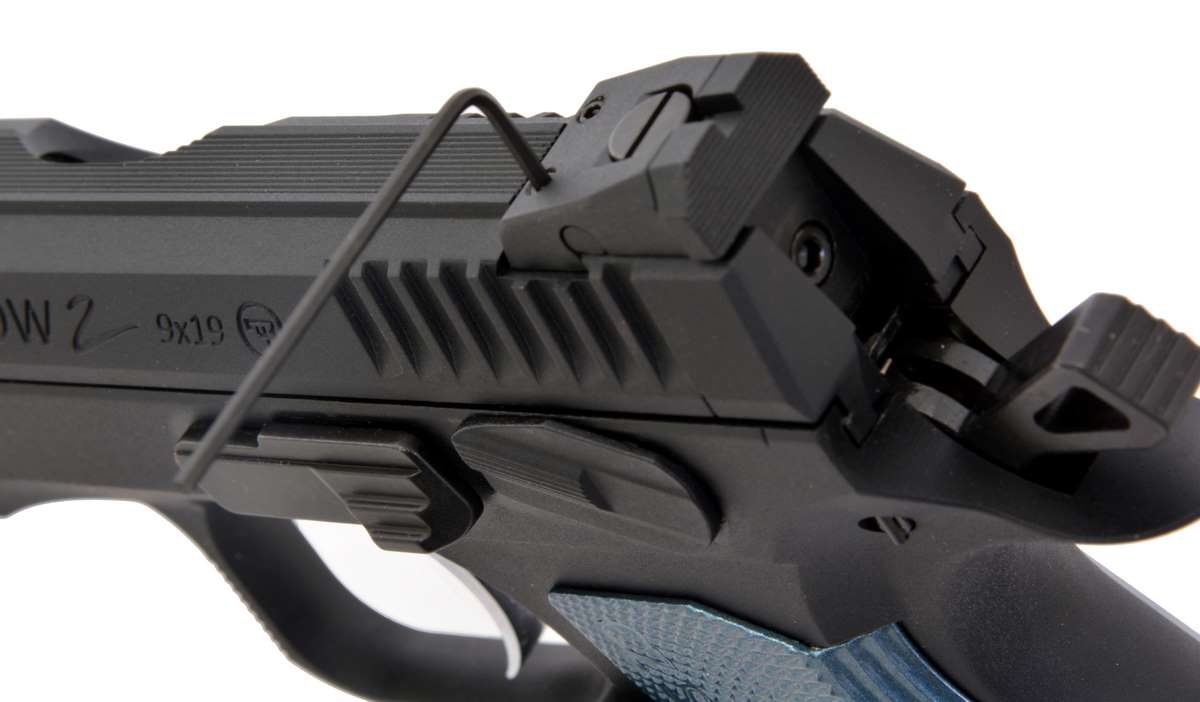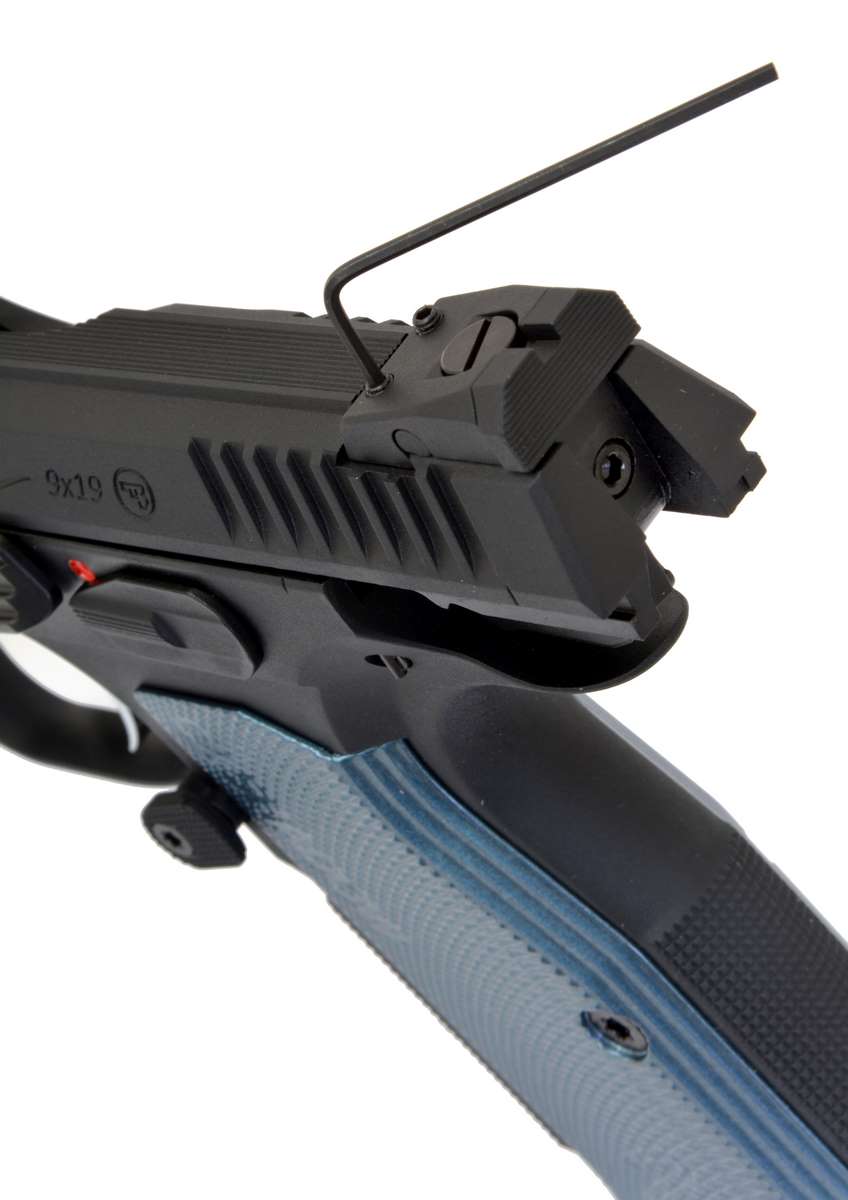 Let's compare velocity and energy to one of the higher velocity blowback action CO2 pistols like the Umarex Glock G19X, which can send BBs downrange at 376 fps. That equals 1.60 ft. lb. or 2.17 joule. The Shadow 2 then is about average for a blowback action CO2 pistol though leaning toward the low end. The big advantage it can offer is better accuracy with the adjustable rear sight.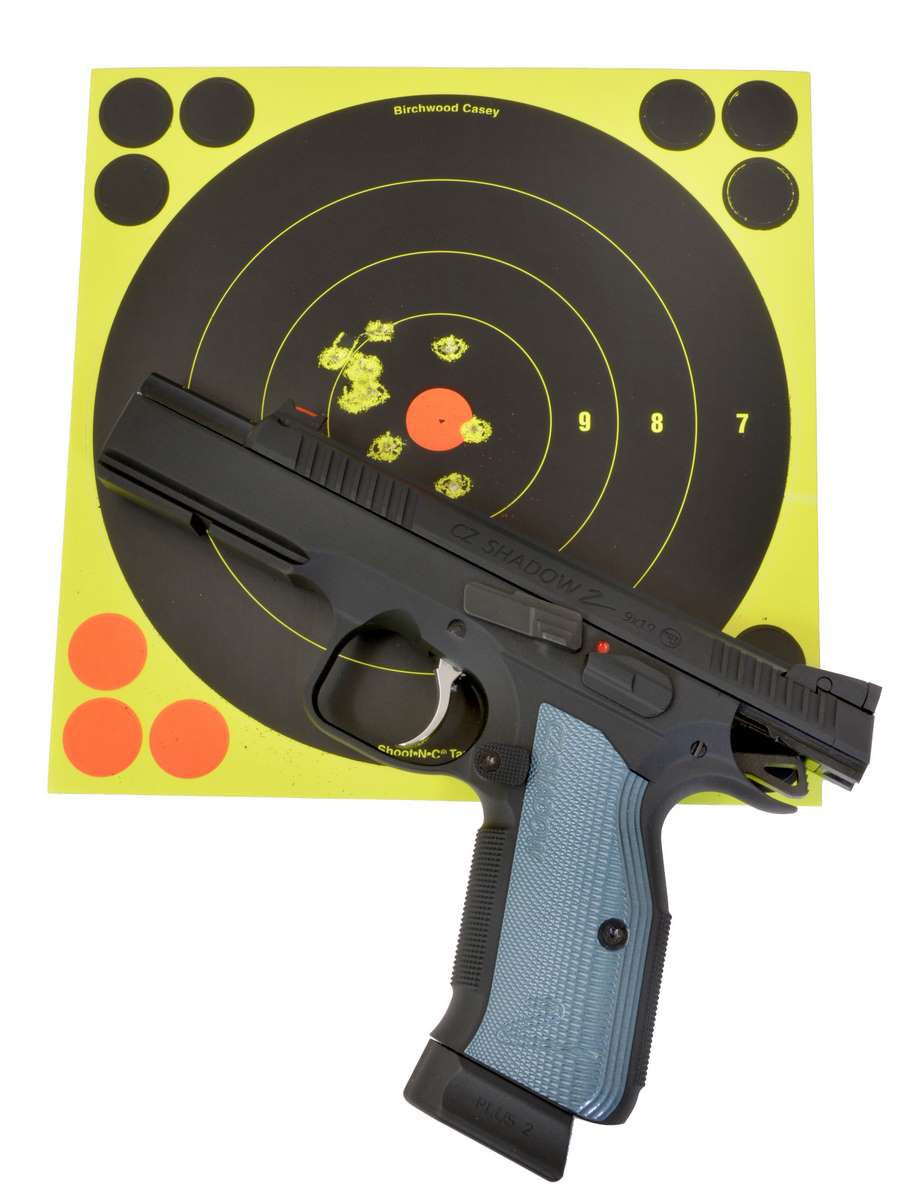 21 feet downrange
Out of the box at 21 feet with no adjustments to the rear sight, I put 10 shots into 1.5 inches, all a little low and left of the bullseye, with a best five at 0.75 inches. I loosened the locking screws (same wrench that fits the trigger adjustment) and gently tapped the rear sight a little to the right with a leather mallet, then using a Grace USA Gunsmiths screwdriver turned the elevation screw one click left. There are no instructions in the booklet for sight adjustment, and I decided to try turning it left. My next 10 shots hit a just little low but now too far right. A minor drift adjustment of the rear sight left and one more click left for elevation, and my next shots hit just under the bullseye almost overlapping. It was time for a fresh target to see if all my adjustments were correct. My first test target was a bit of a disappointment with a total spread for 10 shots measuring 2 inches but with one 5-shot group measuring 0.625 inches and the remaining five splashed around the 10 and one cutting the red. Shots were now hitting just a little left and then center, so I'm not sure where the inconsistency is coming from, and I'm never willing to rule myself out, so back to the range again. A slight windage adjustment and half click up on elevation got me centered in the 10 but still a little left.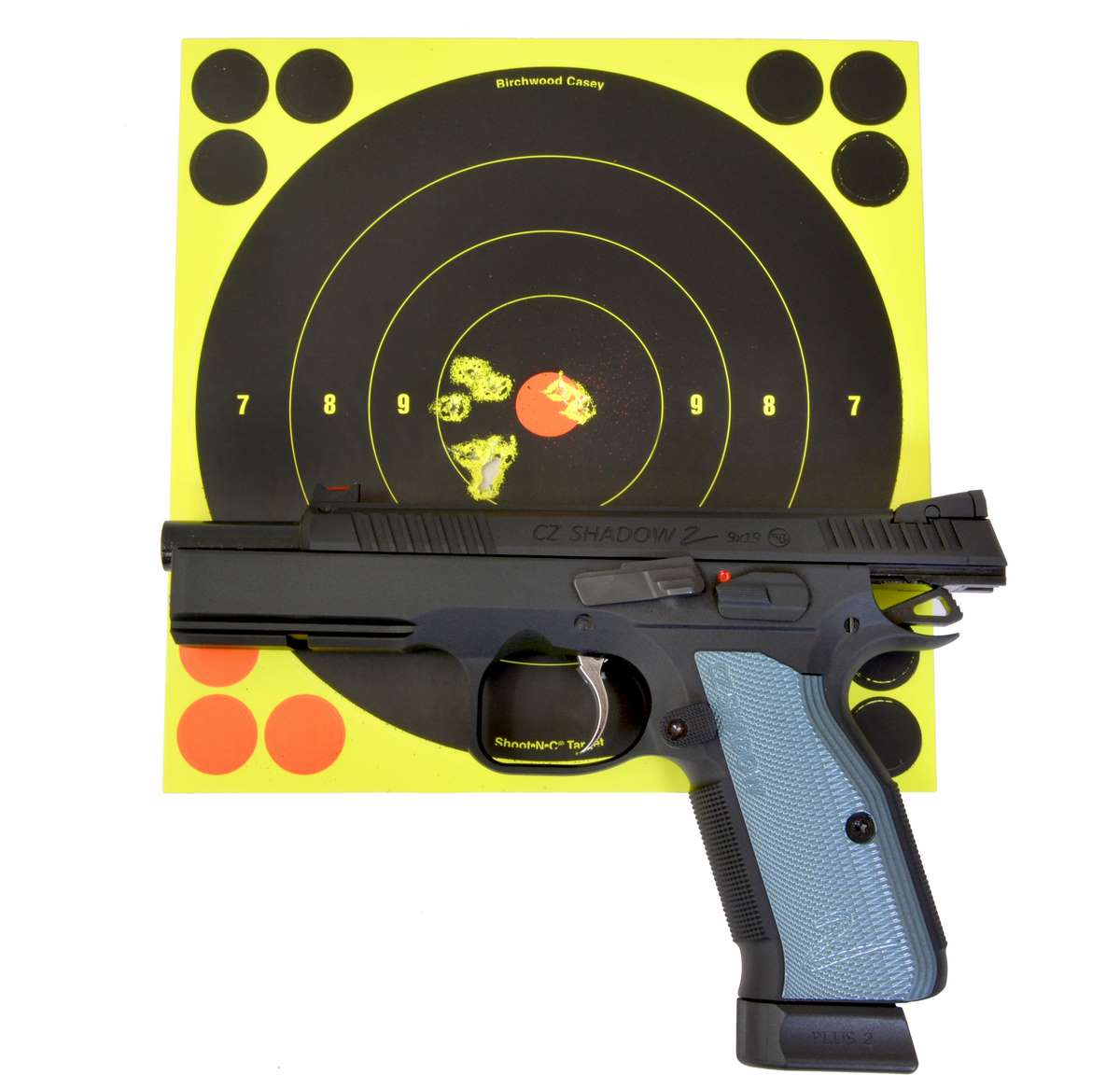 One more time with a very slight windage adjustment right and one more click in elevation. I had 18 rounds in the magazine and went through the full load with a fresh CO2 ending up with two groups both in the 10 and 9 rings with each group measuring 1.0 inches, respectively, and a best 5-shot group in each averaging 0.5 and 0.51 inches, with no shots in the bullseye. A little disappointing after so many sight adjustments, but for now I have to say this is the best I can do with the Shadow 2 at 21 feet. The Shadow 2 is still not a Tanfoglio Gold Custom beater even with an improved CZ 75 platform for the foundation. But it is a heck of a decent gun that looks and feels like every penny of its $160 price tag.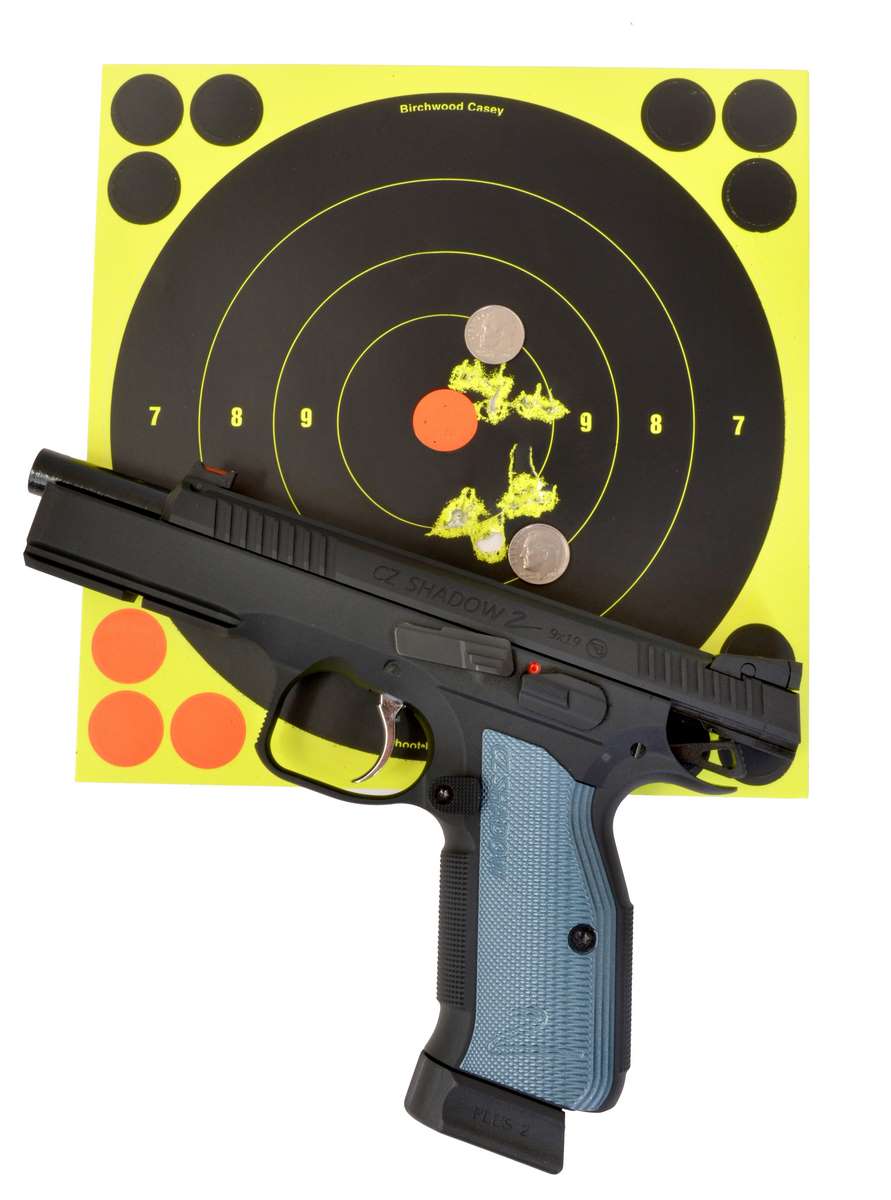 Gripes and praise
The magazine base pad has to be removed and replaced every time you load CO2, as it is with all CZ 75 CO2 pistols, but it has a very easy to use release on the magazine that allows the pad to slide off and on without much fuss. For gripes I have one, the magazine does not have a locking follower. You have to pull down on the long serrated follower and hold it down while loading BBs though a just larger than BB size port. You need a strong thumbnail to hold it because the follower spring is powerful. On the other hand the CO2 seating screw threads on easily and the turn down to pierce and seat the CO2 is very precise. No leaking air issues here. It is the same magazine as the SP-01 Shadow and CZ 75, which is good because they are all interchangeable. The only difference is the word "PLUS" and letter "2" on the left side of the Shadow 2 magazine base pad (unless, of course, you have Shadow Blue base pads). One last item for the gripe column, the Shadow 2 goes through CO2 quickly running the heavy slide and keeping BBs traveling at around 319 fps. I got three 18 round loads at around full power and then the fourth starts to slow down with a noticeable change in the sound of the slide and accuracy as shots start hitting low. I estimate less than 60 shots per CO2 with this one. Of course, if it's 60 shots in the 10-ring and bullseye, it's worth it.