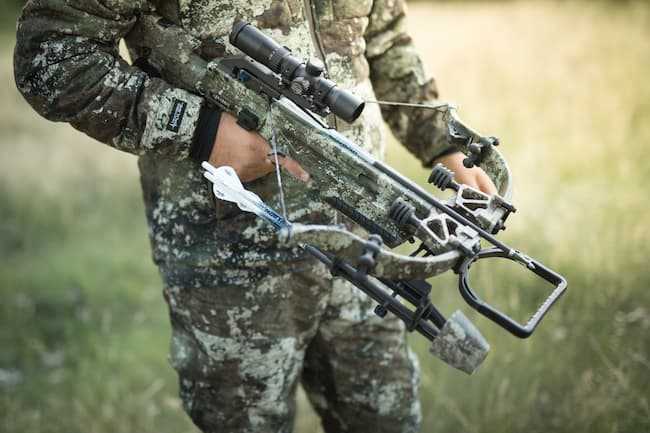 Lightweight crossbows are becoming increasingly popular. They provide the same power as a traditional crossbow in a more manageable package. Here are 5 crossbows under 7 pounds that could lighten your load and provide more maneuverability in the field.
Micro Mag
The Excalibur Micro Mag 340 is the lightest on this list weighing in at just 6 lbs. While it's easy to carry, it packs a punch. At 340 fps it'll take anything you aim it at and its shot consistency is very dependable. Whether you're hunting big game or small the Micro Mag is an excellent lightweight crossbow choice. For a crossbow that is easy to carry through the woods and provides a smooth, reliable shooting experience, the Micro Mag is top of the list.
Titan M1
The TenPoint Titan M1 offers incredible performance in a small package, making it an ideal choice for those who want a lightweight and powerful crossbow for hunting or target shooting. At 6.4 lbs with an axle width of 14 inches, it's great for stalking prey on the ground or hauling up a treestand.
R26X
The Ravin R26X is just a hair heavier than the Titan at 6.5 lbs. With 400 fps, there isn't any prey it won't take. This crossbow is ready to hunt straight out of the box and has a silent crank and limb-dampening system that won't give you away in the field. This crossbow packs the most power and features into its small package and is a winning combo for any bowhunter.
Boss 405
The Killer Instinct Boss 405 is a high-speed very maneuverable setup. The 6-position buttstock makes it configurable for people of any size while the aluminum body makes it light enough to carry all day. Great for use in a stand or blind with the Dead Silent Kit that won't draw any unwanted attention. This top-rated beauty is a great choice.
Coalition Frontier
And at just under our 7-pound limit, the PSE Coalition Frontier has the features and performance to help you shoot your best. It has string stops and limb dampeners for stealthiness, is ready to hunt out of the box, and at 380 fps can take any game with ease. It's an excellent choice for any hunter looking for a lightweight and powerful crossbow that won't break the bank. 

That's it for our 5 crossbows under 7 pounds. Lightweight crossbows are great for all-day hunting and target shooting. All of these crossbows have their own unique features and benefits, so make sure to choose the one that's right for you.