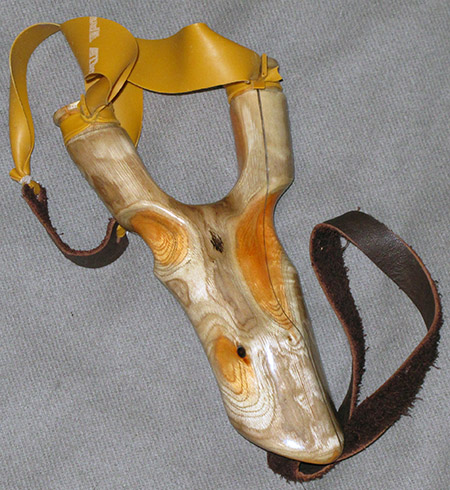 The slingshot that reader Vana2 made for me of buckthorn wood.
This report covers:
I know nothing
What is a slingshot?
A slingshot is not a sling
Are slingshots deadly?
Today
Enter Hank
Online again
Ordered ammo
Summary
Today we're going to start talking about slingshots. I don't remember exactly how this report got started, but reader Hank who goes by the name Vana2 on this blog was talking about making some slingshots during the winter season. He talked a lot about how he liked shooting them and I wondered how accurate I could become with one. I know you readers are interested in things like this, so I thought it would be neat to have Hank make a slingshot for me and I could learn how to shoot it and all about it while you guys watched and commented. And I'm sure there are several of you who also shoot slingshots and can chime in with your experiences.
I know nothing
"I know nothing," is a quote by Sargent Hans Schultz from the television sitcom Hogan's Heroes, but it also accurately describes my own knowledge of slingshots. Once I started looking into the subject I found out how much I didn't know — which was everything. But first let me define what I am talking about.
What is a slingshot?
The thing I am calling a slingshot is also more correctly called a catapult. It launches projectiles by the force of a rapidly contracting elastic band. Sometimes there are variations on that theme but the elastic material contracting is the power source. We have discussed catapults on this blog several dozen times.
Daisy 179
Daisy 179
Sharpshooter pistol resurrection
Sharpshooter rubber band catapult gun
Sharpshooter catapult pistol
Johnson Indoor Target Gun
Must an airgun use air?
Catapult guns and velocity
The toll both gun
What IS an airgun?
A rare BB gun from Wyoming
Hodges catapult gun
Johnson indoor target gun
Melvin Johnson's Indoor Target Gun
Have you ever seen a rubber band gun?

A slingshot is not a sling
When David killed Goliath he didn't use a slingshot. He used a sling, though in the United Kingdom the sling I'm talking about can be called a slingshot. It's also known as a shepherd's sling, as David was a shepherd before he became king of Judah and then Israel. I am differentiating shepherd's slings from catapulting slingshots in this report.
A shepherd's sling is a weapon that launches projectiles by centrifugal force. You whirl it around (there are several different ways to do this) and let go of one side of the sling to release the projectile that flies off in a path defined by where it was released. It extends the reach of your arm, making you a giant when you throw. The rocks that it throws are about the size of tennis balls and are therefore quite deadly. It's a deadly weapon that takes lots of practice to master.
A catapulting slingshot should take less practice, though. And we shall all watch as I embarrass myself in front of the world, learning how.
Are slingshots deadly?
Yes, slingshots are deadly and can take small to medium-sized game (I define medium-sized as smaller than a coyote, but larger than a squirrel). And modern slingshots have some technology that has advanced in recent times. When I was a boy in the 1950s our slingshots were always made at home. We used a forked branch and the most common elastic bands we used were cut from the inner tubes of tires. These days unless you ride a bike you probably never see an inner tube.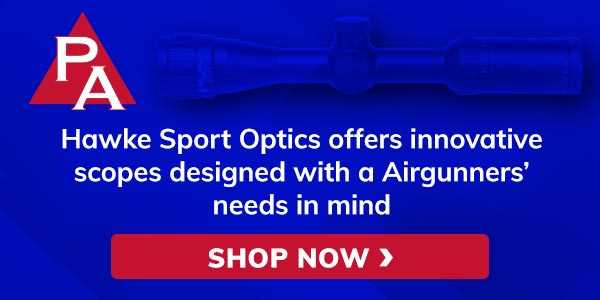 Today
Well, like many before me, I have owned several slingshots that use surgical rubber tubing as their elastic bands. They are what Pyramyd Air currently carries. They look good and sound good in the ads and they are certainly hard to pull back so they must be powerful downrange, but they aren't as accurate as they could be. For accuracy you want flat rubber bands on your slingshot. And Theraband Gold is considered the very best. I didn't say that — the slingshot experts are saying it.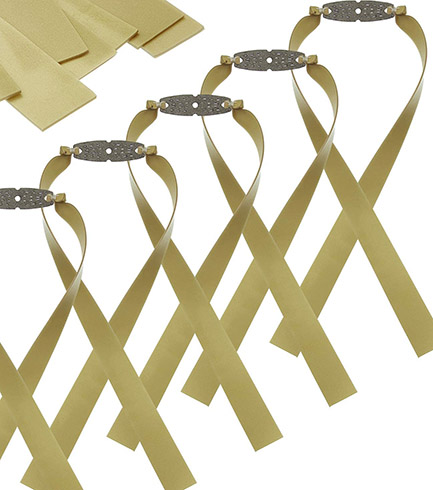 The best slingshot bands for accuracy are flat bands made from Theraband Gold.
Enter Hank
So I emailed Hank to talk about the possibility of getting one of his handmade slingshots. Here is his response.
"Tom,
Think that slingshots would make an interesting blog series, I considered doing a guest blog on them a couple of times. There's quite a bit to them that relates to airgunning.
My style of shooting airguns comes directly from shooting slingshots and bows instinctively.
As a youth I hunted small game with a slingshot and always carried one around with me. Used to be able to do 1 inch at 10 yards (bottle caps) no problem. Looking forward to getting back to that level next summer.
I'd suggest checking out the videos from Simple Shot. Nathan has a whole series of how to setup and use slingshots. https://youtube.com/@simpleshot"
Along with that response Hank sent me photos of two slingshots he had made. I'll share them now.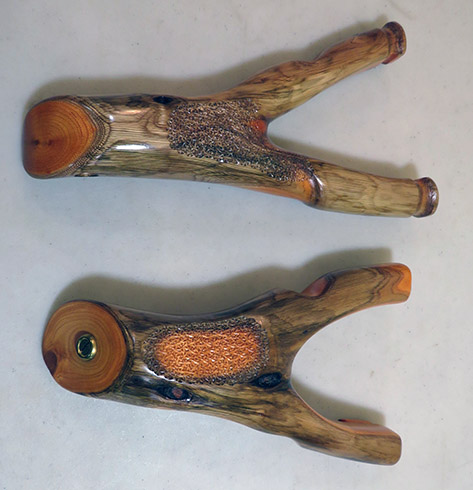 Two slingshots Hank made, side one.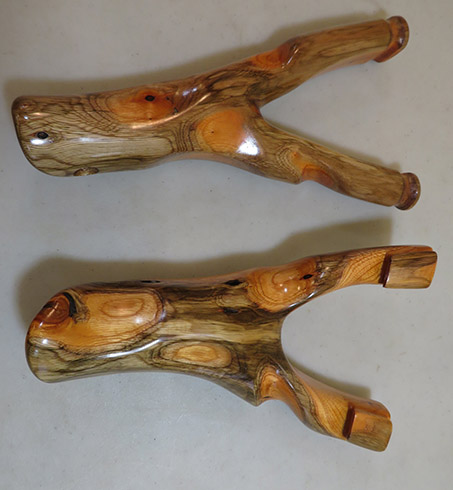 The other side of Hank's two slingshots.
When I opened the package from Hank I saw what you see at the top of this page. It is beautiful, but it felt very wide in my hand. And with that the lesson had begun. When I commented on the width here is what Hank said to me.
"Glad you like it! Buckthorn has a nice glow to it, difficult to photograph though.
"As per the grip, modern slingshots are usually held in a "clamp grip" across the base of the forks (that's the dimension I asked you about) or as a "braced grip" with the thumb positioned against the lower fork to provide leverage against the power of the bands. The slingshot nestles into the palm of the hand rather than being gripped around the handle. The last three fingers "hold" the slingshot against the palm of your hand with the strap over the wrist.
"Yours is a through-the-forks clamp grip style and, though a little tall, it can also be setup for over the top shooting in case you want to try that.
"Try it as is, if it's not comfortable the finger and thumb cutouts can be deepened.
"Please let me know how it feels once you've shot it a bit.
Hank"
You see, Hank had asked me to send him some measurements of my hand to go by. Here is his image from that message.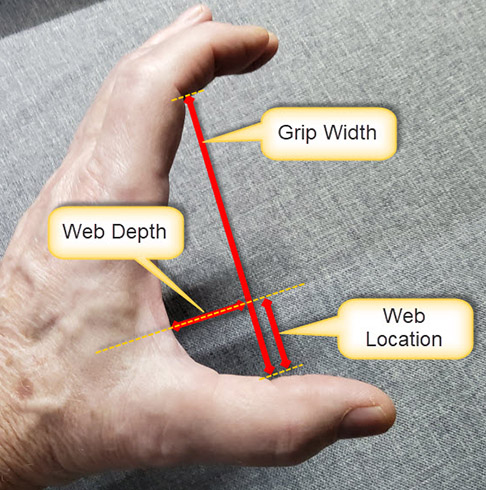 This is how Hank had me measure my hand for him.
Online again
So I went online to learn how to hold a slingshot. That sounds like taking lessons in breathing, but actually there is whole lot to it. Aiming and the release of the projectile plus follow through are factored into the hold as well. Whoda thunk?
Ordered ammo
I also ordered some ammo for this slingshot. I ordered some 8mm steel balls per Hank's recommendation. They came from here — https://www.amazon.com/gp/product/B09S9TRT33/ref=ppx_od_dt_b_asin_title_s00?ie=UTF8&psc=1
I also ordered some 8mm (roughly) clay balls from a different source — https://www.ebay.com/itm/304358076897 I wanted to make sure I had what I needed to shoot this slingshot for you.
Summary
That's where I'll leave it for this time. I know some of you are already shooting slingshots. How about sharing your thoughts and experiences with us today?