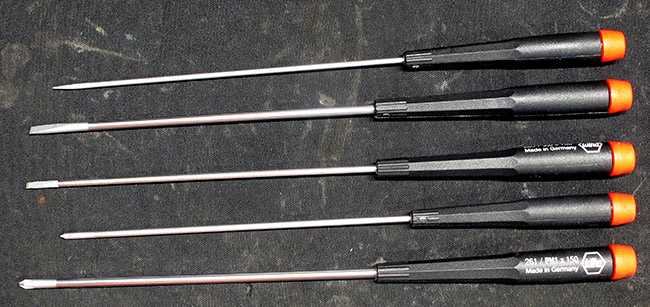 My long-bladed screwdrivers that I told you about some time ago have proven very useful!
This report covers:
High-rise in Seattle
Small parts
Bink!
Not me
Help!
Epoxy
Cheap BB
Denny
Electronic digital calipers
Magnifying hood
Summary
Today we will talk more about tools. I don't care whether you are an apartment dweller on the 13th floor of a high-rise in Seattle or a machinist whose tools are worth more than a new car, if you're an airgunner, tools are important!
High-rise in Seattle
In fact, it was an apartment dweller in a high-rise in Seattle who inspired today's report. Marshall is his name and Wristwatch Revival is the name of his You Tube channel. Marshall is a watchmaker, which is the name given to those who disassemble, clean, assemble and lubricate mechanical wristwatches. And Marshall does it in his study with an occasional foray into his kitchen. That is to say he completely disassembles mechanical wristwatches, cleans all the parts, makes any repairs that are needed (that he is capable of repairing) and then assembles and lubricates them in front of his audience in 50-minute videos. His workspace occupies everything from 1/2-inch (12.7mm) wide to about 5-inches (127mm) wide. He does this in 4K video!
Small parts
I admitted to you that I am a watch nerd about one month ago, and I am starting to disassemble watches!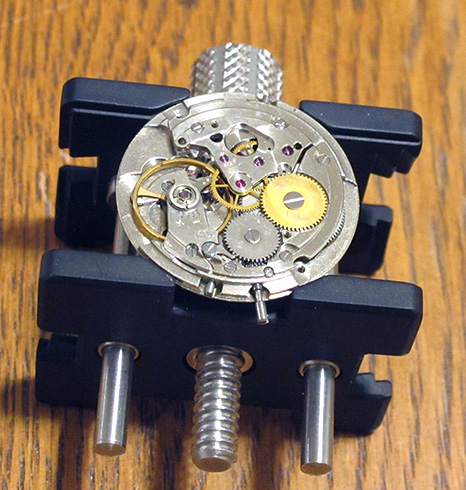 I'm currently working on (studying) this Hamilton automatic watch movement. I've removed the automatic works revealing the movement. It's smaller than an American quarter coin and about the size of a one-euro coin.
The automatic works assembly was held onto the watch movement by two screws. Let me show you one of them.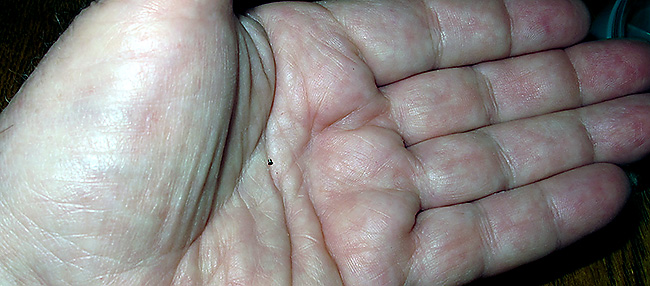 That's one of the two screws that hold the automatic works on this watch movement.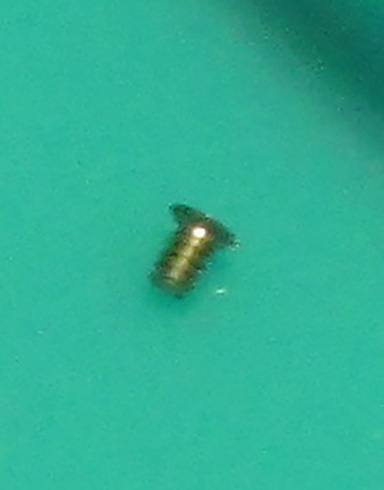 That screw enlarged. Sorry for the blurriness. I didn't have time to set up the shot for a perfect macro.
That tiny screw is one of the larger screws in a watch movement. There are some that are perhaps 1/5 that size.
Bink!
Okay, here is where today's report comes back to airguns. When I removed those two screws I grabbed each one individually with tweezers and placed it in a box for safekeeping. The first one went without a problem. The second one was a magic trick. One moment it was in my tweezers and the next moment it wasn't. Oh, no!
Not me
Up to this point Marshal had been warning me that watch parts would do this. But I thought that he was unaware of my skill with chopsticks! Well, phooey on that!
Marshal says that these parts are so small and lightweight that they can even get in your hair and you'll never feel them. But I thought — they'll never get in MY hair!
So I got down on my hands and knees and started searching. I was working in my kitchen for the simple reason that my floor is tiled. I thought surely I could find that parts on the floor. Well, these parts are smaller than the dirt particles on my floor and don't call … Nah — I'm not going there.
I have lost screws and small parts from airguns before and was usually able to find them by searching the floor with a flashlight. I lose scope mount screws that way all the time. But a scope mount screw is perhaps 25 times larger than one of these little guys.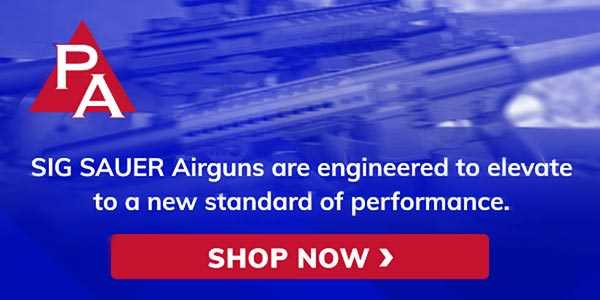 Help!
Well, Marshall has a short video on some of the important watchmaking tools he has either bought or made. When I saw the first one I knew I had to make one for myself and tell all of you about it. But back to finish my story about the lost screw. After spending five minutes on the hard floor I stood up and saw a tiny piece of dirt on my kitchen table about 10 inches from where I was working. Yep, it was the lost screw. They say that God looks after drunks and little babies. He must include airgunners and watchmakers on that list as well.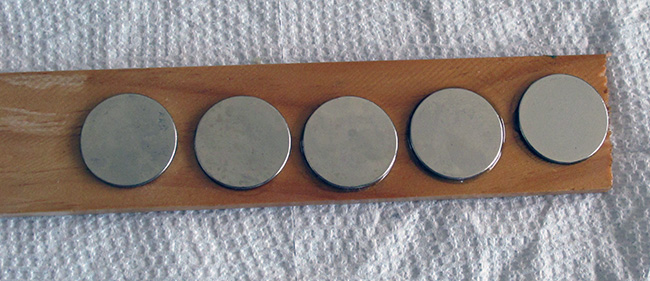 A strip of rare earth magnets picks up any and every ferrous metal object it comes close to.
That strip has five rare earth magnets epoxied to a wooden paint stirrer. The magnets are about one inch (25.4mm) wide and I bought all five on eBay for about three dollars. Guess what you can do with this tool?
Why are the magnets spaced apart and not touching each other? Well, as it turns out when you make this thing and place each magnet on the stirrer, waiting for the 5-minute epoxy to cure, if you let go of the magnet it flips over and jumps on top of the magnet next to it. If you hold it down with your fingers while waiting out the epoxy, it slowly moves away from the magnet next to it in preparation for flipping. After the epoxy has set if you let go of the magnet, the other magnet slowly pushes it aside in preparation to flip it up and over. Only the glue holds it down.
But the spacing isn't a problem. Those magnets are so powerful that they will attract a small part from inches away, so this spacing just makes the working part of the tool longer.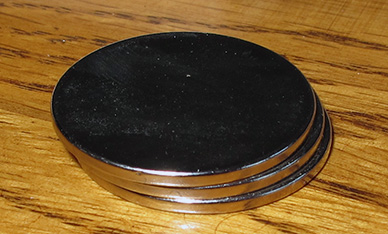 This is what the magnets want to do if they are allowed. If they are covered in quick-setting epoxy when this happens, you have a problem. Don't ask!
Epoxy
Let me introduce you to another great tool. Epoxy! Yes, I know that everybody knows what epoxy is and has probably used it at one time or another. But I want you to know about a special epoxy — an epoxy that cheap old BB would never have bought if his neighbor, Denny, didn't tell him about it.
BB was complaining to Denny that his epoxy (actually JB Weld) was always hardening on him, or the thin metal tubes it comes it were breaking, making it no longer useable. He also has the problem that sometimes all he has is a tube of long-curing epoxy and another tube of 5-minute hardener.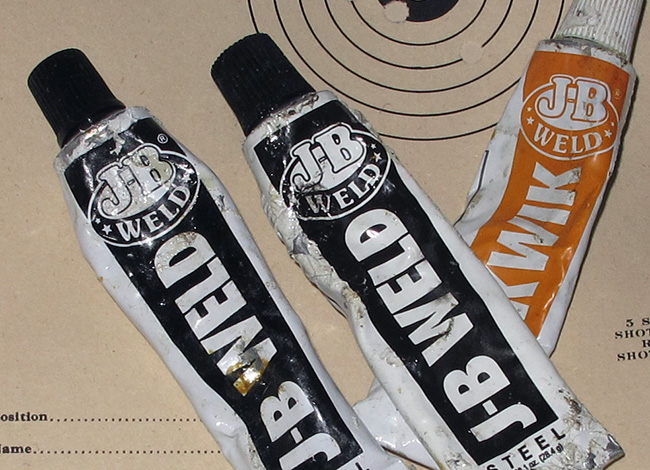 JB Weld is wonderful stuff, but the metal tubes it comes in are garbage! Just to set up this photo I got epoxy all over my hands. After the photo they went in the garbage, as so many tubes before have.
Cheap BB
Now BB is cheap. But you readers and Denny have taught him not to be. Buy once, cry once is his new slogan. However, on the way to this renewing he made one last mistake. He thought he could get away with spending just a little more by buying epoxy in a different dispenser.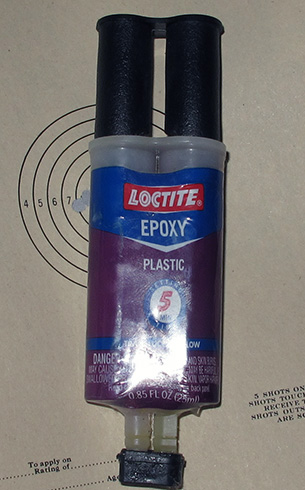 Obviously this dispenser puts out both the resin and hardener at similar rates, and the cap seems to keep the contents fresh.
I won't throw this dispenser away because it SEEMS to work as advertised. It was more expensive, but it did solve the problem of losing most of two tubes of product after a couple uses.
Denny
So I told Denny about my epoxy experiences and he goes out into his garage and returns with two bottles of epoxy. I was impressed when he said they were several years old because they didn't look it. Then I went to the hardware store and discovered the SECRET. The epoxy in 2 metal tubes costs about $6. The epoxy in the better dispenser costs about $10. Denny's two bottles cost $23!!!!! But Denny's bottles stay clean all the time and the product never goes to waste. Buy once, cry once.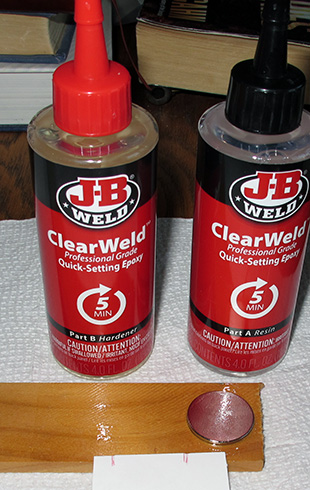 My two new epoxy bottles after 5 uses. Yes, I did cry on my way to pay for them, but I will have these bottles for the rest of my life!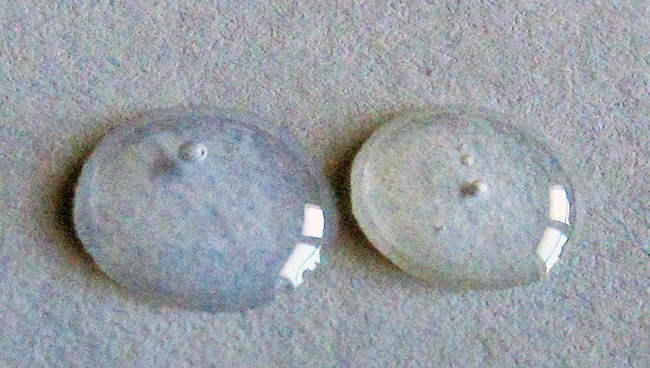 These two drops of epoxy TOGETHER are approximately the width of the dime coin I use in the target pictures. The bottles are perfect dispensers that close tight after dispensing!
Electronic digital calipers
Some weeks ago I was whining about my electronic digital caliper. It was burning up batteries in just a couple weeks. I thought I would just use dial calipers, but that didn't last. So I went online and looked for the best digital calipers on the market. Guess what? All the surveys said the one I threw away was the best by a long shot. The most recent one I had must have just been bad. So I bought another one and thus far (a month later) it's still working fine.
Magnifying hood
I have used a magnifying hood for the past 20 years. In fact I use it so much it's sitting right here on my desk. For example seeing the rifling grooves in a pellet is something that needs to be made larger for me. But with my new watchmaking venture the magnifying hood I have isn't quite up to the task. So I went online to see what I could find. The range of possibilities is pretty large, but I have been down this road a couple times already. I knew what I wanted and it wasn't a frame to hold two jeweler's loupes. I have that and it doesn't work for me. I also wasn't looking for a $350 headset for a dental surgeon. I wanted something affordable, yet better (more powerful?) than the 1.5-3X hood I have now. And I found it. And it wasn't expensive.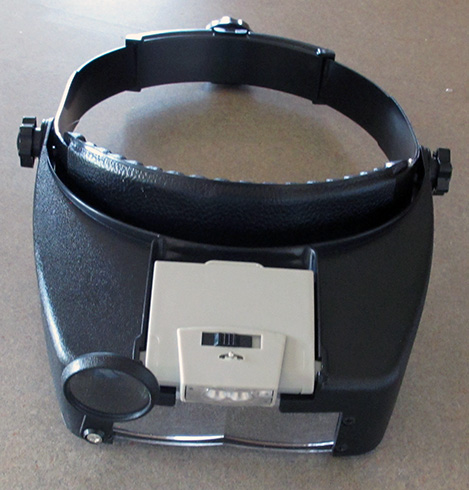 This Beileshi magnifying hood costs $14 and goes up to 10X. It also has an LED light that swivels from side to side. Find it on Amazon.
Summary
That's it for today. The magnet stick was the real reason I wrote this report, though the epoxy bottles were a close second. As an airgunner who mounts scopes and disassembles some airguns, I have a huge need for that stick.
I don't use epoxy that much but when I need it I need it right now. These bottles are convenient, precise and they seem to last a long time.
The magnifying hood was an unexpected bonus. As cheap as it was, it seems to do everything that was promised. And it's so much better than the hood I've been using that I'm probably going to buy a second one in a few months.
Good tools are essential for the airgunner and today I have shared some of my favorites that I have recently discovered.