Today reader Ian McKee, who signs in as 45Bravo tells us about his experiences with artificial intelligence.
If you'd like to write a guest post for this blog, please email me at blogger@pyramydair.com.
Take it away, Ian
Artificial intelligence (AI) and airguns
by Ian McKee
I want to apologize for not being a regular contributor lately. I was still reading the blog daily, just working 10-14 hour days.
One day I want to retire from U-Haul, and spend my time shooting and writing about airguns.
Immediately after the 2022 Texas Airgun show, I was promoted to a new position where I repair/install security systems, access control systems, and computers for U-Haul in the North Houston area.
Being security related, there is little to no online training for this position, so it has taken many long hours over several months to learn the systems, and undo what the previous person that was in this position had installed, and repaired that was not up to code.
I have finally gotten to a point where I am no longer behind the curve, and can again do what I enjoy, writing and airguns. On to today's topic.
SPOILER ALERT: It's not ready for prime time. YET!
Lately there has been a lot of talk about Artificial Intelligence (AI). In its basic terms, it is using "smart computers" to analyze and predict patterns, then suggest to a person or a company what actions should be taken, or it can even autonomously implement measures to influence the outcome.
It has been used to analyze traffic flow, then control traffic lights to get the most time or fuel efficient traffic flow depending upon the traffic volume.
Machine learning models are used to predict flu outbreaks and when the flu season may start in different geographic areas.
Your bank uses machine learning algorithms to look for possible fraudulent transactions on your account.
If you use social media, algorithms prioritize your "feed" to present certain posts and videos, ads, or other content to elicit emotions, or even influence your purchasing decisions.
You can create instructional presentation videos by going to the Synthesia website and typing in your script, choose an AI generated presenter, and it will create a video of your subject matter.
There is an online AI presence called ChatGPT that users can sign up for and you can ask it anything, the program uses NLP (Natural Language Processing) and will give you a coherent computer generated response in just a few seconds.
I personally know of two people that have used the online AI engine CHATGPT to create resumes, both have gotten jobs in fields that they had previously applied for with their real resume, but were not selected for interviews.
One of my shooting buddies, who is a Federal Agent, asked CHATGPT to write a synopsis about what his particular position within the government entails. He says it was written and detailed well enough that he could use it as a training aid for future candidates.
I have seen news feeds where they have used AI to write scripts, and other content for both videos and web publication.
According to prognosticators over the last 40 plus years, since the inception of personal computers and the internet, the written word (newspapers and magazines and such) are going to go the way of the Dodo bird.
Since I want to write content as a source of income one day, I was worried about one day being replaced by an AI Bot.
So I thought I would see what all the hype was about, and give AI a task to write about something I am interested in, and that I have written about before. I asked CHATGPT to write a 500-word article about the Smith & Wesson 78G and 79G air pistol.
The BOT scoured the internet, and generated the article in about 45 seconds. The article read well, but used many superfluous words, and conveyed very few facts about the actual subject matter I had asked for.
Below is an excerpt of the article that was generated by the AI engine.
_____________________________
Design and Construction
The Smith & Wesson 78G air pistol features a robust and durable construction, highlighting the manufacturer's commitment to quality. The pistol's frame is made from sturdy metal, ensuring longevity and resistance to wear and tear. The grip is ergonomically designed for optimal comfort and control, allowing for a firm and steady hold during shooting.
One of the distinctive features of the 78G is its single-stroke pneumatic mechanism. Unlike CO2-powered air pistols, which rely on cartridges, the 78G employs a lever that compresses air with a single stroke. This design not only eliminates the need for CO2 cartridges but also provides consistent power and accuracy, making it a favorite among shooting enthusiasts.
Performance and Accuracy
The Smith & Wesson 78G air pistol delivers impressive performance and accuracy, contributing to its enduring popularity. The single-stroke pneumatic mechanism generates consistent power, resulting in precise and repeatable shots. The adjustable rear sight and front sight enhance aiming capabilities, allowing shooters to fine-tune their aim for various shooting distances.
With a rifled steel barrel, the 78G ensures exceptional accuracy and stability for each shot. The pistol's smooth trigger pull further enhances the shooting experience, offering a crisp and responsive feel. The combination of these features enables shooters to achieve tight groupings and excellent target control.
____________
Editor's note: The Smith & Wesson 78G air pistol is a single shot CO2-powered pistol, despite what you just read.
As we can see, when it comes to some specialized topics, Artificial Intelligence isn't too intelligent.
I have tried similar questions with the Crosman Mark I and Mark II series of pistols, and have gotten similar results.
That being said, in the last few days it has started to learn! I have tried several variations of the same question, and it suddenly popped up that the pistol is CO2 powered, and every response after that included the correct power plant information.
I am guessing that by asking the same general question over and over it had to search farther and farther into the corners of the internet to generate an answer that was different from the one I had asked 10 minutes before.
I also asked it to write a short article titled, "How AI can benefit airgun enthusiast in 2023"
The response is full of nice sounding words that doesn't say much about airguns, and the technologies it referenced are not available in the airgun world as of 2023, maybe by 2123 they will be.
The text of that article is below:
________________
Title: Revolutionizing the Airgun Hobby: The Benefits of Artificial Intelligence in 2023
Introduction: In the fast-paced world of technology, artificial intelligence (AI) has made its mark across various domains. As we venture into 2023, the airgun hobby is witnessing a significant transformation, thanks to the integration of AI. This cutting-edge technology is poised to revolutionize the way enthusiasts engage with airguns, providing a host of benefits and enhancing the overall experience.
Improved Accuracy: One of the primary advantages AI brings to the airgun hobby is improved accuracy. AI algorithms can analyze factors such as wind speed, distance, and trajectory, enabling shooters to make precise adjustments for a more accurate shot. With AI-powered target tracking systems, shooters can receive real-time feedback and instant analysis of their performance, facilitating rapid improvement in marksmanship skills.
Customized Training and Assistance: AI-powered platforms can offer customized training and assistance to airgun hobbyists. Through machine learning algorithms, these platforms can analyze individual shooting patterns, identify areas for improvement, and provide tailored training plans. Furthermore, AI can simulate real-life shooting scenarios, allowing enthusiasts to practice in virtual environments and gain invaluable experience without exhausting resources or risking injury.
Advanced Optics and Scopes: AI-integrated optics and scopes have become a game-changer for airgun enthusiasts. These intelligent devices can automatically adjust for external factors, such as lighting conditions and distance, to optimize target visibility. AI algorithms can also provide real-time data overlays, including range, wind speed, and bullet trajectory, aiding shooters in making precise adjustments on the fly.
Enhanced Safety Measures: AI has also contributed to enhanced safety measures within the airgun hobby. Intelligent systems can detect human presence or unauthorized targets in shooting areas, preventing accidents and minimizing the risk of unintended harm. AI-powered safety features can include automatic disarming mechanisms, facial recognition for secure access control, and even real-time monitoring of shooters' physical well-being.
Conclusion: As we embrace the year 2023, artificial intelligence continues to reshape the airgun hobby, delivering unparalleled benefits to enthusiasts. Improved accuracy, customized training, advanced optics, and enhanced safety measures are just a few examples of how AI has transformed the airgun experience. Embracing this cutting-edge technology allows enthusiasts to reach new heights in marksmanship, enabling them to explore their passion with precision, safety, and enjoyment like never before.
__________
So, as a content creator, do I need to worry about my future as a writer? Not at the moment. As long as I can create content about airguns that I have in hand, or airguns that have not had much written about them, I'm safe from an AI threat. If I write about an antique airgun and I am the one creating content from my personal experience with repair, or writing about a detailed topic that the Bot has no printed source to draw from, AI draws a blank.
But as more and more WRITTEN information is put out on the web, the larger the database is for the AI engine to draw from, and as of this writing, I don't think AI has made the full jump from searching for spoken content in videos, then translating it to coherent written content, but if it hasn't been done yet, it soon may be.
You can take spoken content and make written text, your smart phone does it all the time when you ask SIRI or Alexa to call or text someone, but it has not yet been done enmasse for the billions of videos currently out in cyberspace.
I am interested in hearing what you the readers think about Artificial Intelligence in general, and if and or how it can help the airgun world in the future.
Shoot safe, and have FUN!
Ian
BB's comments
In my opinion Ian has no reason to feel threatened by AI. I say this because AI is:
1. Artificial, and
2. Not intelligent.
What Ian has described relies on data that's published on the Internet. Not only is what's posted there full of errors, the errors increase, minute by minute. It's similar to the game in which a secret is whispered to a line of people and the facts change each time the data is transferred from one person to another. Let me give you an example.
A large pocket watch was recently advertised on eBay as having a case that was gold plated. The picture that accompanied the watch showed this: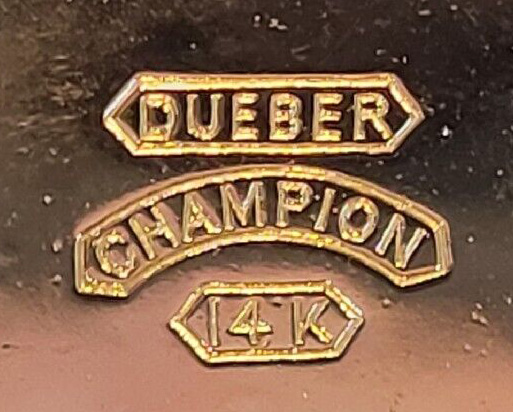 The hallmark on a Deuber 14 Karat solid gold pocket watch case.
This is what the seller said about that watch case:
THIS IS A BIG IMPRESSIVE WATCH IN A FANTASTIC "CIRCUS TENT" STYLE CASE! THE WATCH IS BIG (55mm DIAMETER, 130.7 grams), THAT IS SIGNED "DUEBER CHAMPION 14K" AND IS 14-KARAT GOLD FILLED. THE "CHAMPION 14k" SIGNED CASES HAVE SOME OF THE THICKEST LAYERS OF GOLD OVER BRASS OF ANY OF THE EARLY GOLD FILLED CASES. THIS ONE IS AWESOME!
Why did the seller say that the case is gold filled if the hallmark clearly shows the case to be 14-Karat solid gold? He did so because on one of the watch chat forums there is a confusing chat about Deuber cases. It says that some of them that are marked 14K are really gold filled.
Well, that's interesting! Apparently we can accept the word of a chat forum over the internationally recognized and universally applied legal hallmark for 14 Karat solid gold!
As the direct result of this faux pas this watch sold for less than one-third of its actual value when the hammer dropped.
As for the two people who had the AI program rewrite their resumes, the assumption is their writing was good. I have examined a great many resumes submitted for jobs and what I saw was that only about 30 percent or so were adequate. The worst was one in which the applicant told me he was a "stickler for detale."
Artificial Intelligence is the modern equivalent of the philosopher's stone that turned base metal into gold when touched, or the myth of perpetual motion. Those will never exist and neither will AI.