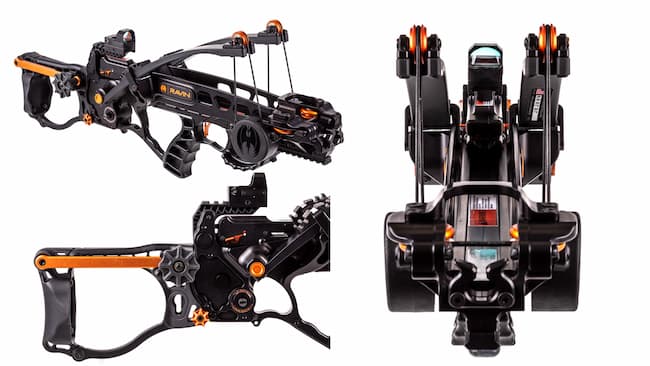 Something New
What am I talking about! This is one of those things that cause people to think the end is coming! What are they doing to the traditional crossbow? Vertical limbs, how does that work? What is this world coming to?
Change Ain't Easy
If what you have is working so well, why change it? I was studying crossbow options and the one that keeps popping up in my search is the Ravin R18, because it is so eye catching I decided, I need to know more! You've you seen it too? What are your first thoughts?
"Oh great! I just bought a Ravin R26X and now they've come out with a new crossbow!"
"What is that awkward device and where did it come from?"
"Is it better than what I have? How will I know unless I buy it? I must know, therefore, I must buy it!"
Cunning Features
Let's chat about its rather distinct features, those high cheekbones, short pointy nose and a chin that…Just seeing if you're paying attention because I know you.
Here's a comparison of some of the offerings of the Ravin R18 Crossbow and the traditional Ravin R26X Crossbow.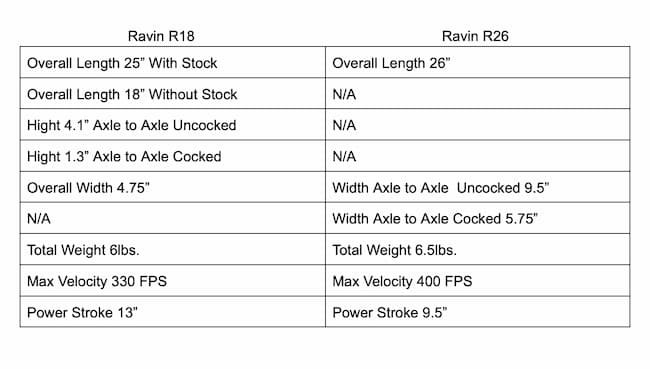 And another question arises, "With stock and without stock, what does that mean?"
The R18 offers the option to shoot it as a typical crossbow, well there's nothing typical about this one, anyways, or as a pistol with the removal of the butt stock. A pistol crossbow? Oh yeah, that's intriguing. 
Height Measurement?
Why is there a height measurement for the R18 but not for the R26? Duh, because the R18 has vertical limbs. The measurement from axle to axle is really the point. The limbs on the R26 are horizontal. The vertical limbs allow for a more compact design providing a close quarter compact killer and one that is easily stored in tight spaces. It is the shortest Ravin ever built.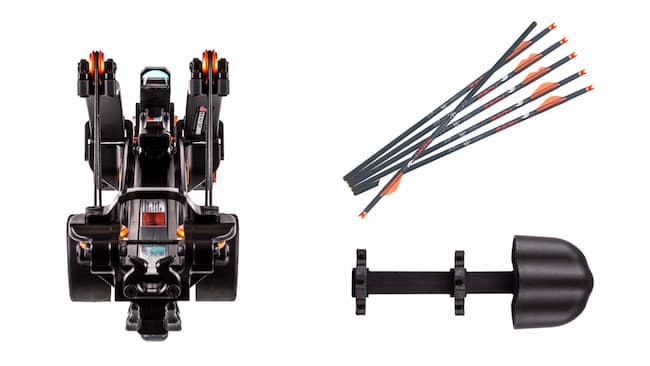 Included with this unusual Crossbow:
The Best Scenario
Picture yourself in your camouflage attire, your face painted, (Don't smile, your teeth will give you away), you make your way into the woods to set up for an evening hunt. You've chosen what you think is the perfect seat. While you're nestled in and you comfortably face the east, because there is a clear view of a watering hole and plenty of evidence it is frequently used. You begin to wonder if the spot you chose is actually perfect or is it completely imperfect?
The sun begins to dip and you are picturing the eleven point white tail strutting in for a drink, when you hear a limb crack behind you. As you listen to the steps of the animal, you realize they're going away from you, what should you do?
Narrow Window
A decision is made, with plenty of cover behind you, you make your move. It's not the eleven point but the ten point, you must make your move now. The tree you leaned against, hoping to seem to be a part of it, is a double trunked tree, with only an eight inch gap between the two. You begin to panic because that shot is impossible! But wait! You have the Ravin R18 with the verticoil cams and vertical limbs, its total width is 4.75 inches! If you could only see your own smile!
You place the middle dot perfectly on the drop spot while resting between the trees and squeeze the trigger. Absolutely perfect! If you'd had your R26X, you may have revealed yourself to the hunted and blown your cover. 
And that's the purpose for the new design! I would encourage you to believe this is not the end, only the beginning!
Check out this review of the R18: