Airgun books
by B.B. Pelletier
Judging by the comments we get, many of you are interested in vintage airguns. Though no one has yet asked about where all the airgun books are, I thought I'd take today's post and address some of what's out there.
Blue Book of Airguns
This is the only authoritative price guide for used and vintage airguns. The 5th edition will be out shortly, and it's a whopping 440 pages. Besides the price guide, it has lengthy articles of technical and historical content. Large format softcover.
The American B.B Gun
Dr. Arni Dunathan wrote this in 1971 and it's still the leading source of information for BB guns of the American type. There are lengthy chapters on the history of manufacturers, as well as looks at guns most people have never seen. It was reprinted in 1997, and the reprint is high quality. Buy the reprint for $35-45 or the original for $100-150. Just don't use the price guide! Large format hardcover.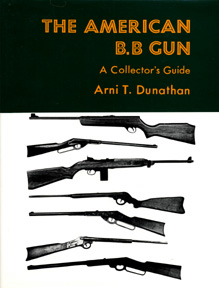 Gas, Air, & Spring Guns of the World
Published in 1957 and republished several times (once in paperback), Smith's guide was the top reference for airguns until Blue Book came along. It still has material that can be found nowhere else. Pay $70 for a ratty copy or $100-120 for a really good one. For the paperback, pay half these figures. Large format hardcover.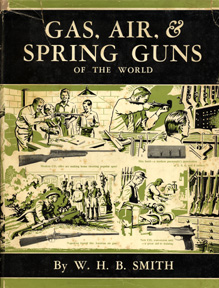 It's a Daisy!
No BB gun collector can be without it. Written by Cass Hough, the grandson of the founder of Daisy, the complete history of the company is documented, as well as inside stories you couldn't get anywhere else. Be happy if you can find one for under $60. Pocketbook paperback.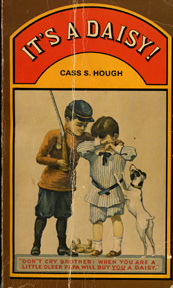 Air Guns
By Eldon Wolff, this is another important history book about airguns. Not so much on the recent American guns but lots on big bore airguns from 1700-1900. Wolff describes several "experiments" he conducted to ascertain the power of some vintage pneumatics. Good reading. Original, well over $150; reprint available for under $40. Medium-sized hardcover; reprint in softcover.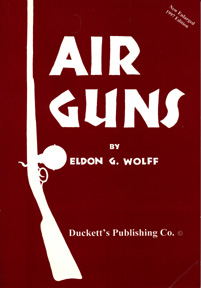 Air Guns and Air Pistols
By Leslie Wesley, this one has been around a long time and updated many times in the past 50 years. Very British and provincial, yet a source of material found nowhere else. Written by a guy who had firsthand experience with guns we now only see in articles. Best of all, you can find this one for cheap. $10 to 30. Hardcover, small format.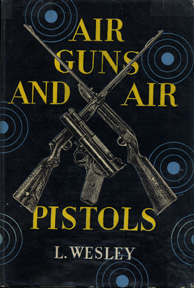 The Airgun Book
There are four editions, and some airgunners make collecting all four a sub-set of their hobby. By John Walter. Very British. An attempt was made to catalog all current airguns at publication time (1980s) but quite a few are missing. Editions one (blue cover) and three (red) are the most common. Another $10 book. Hardcover.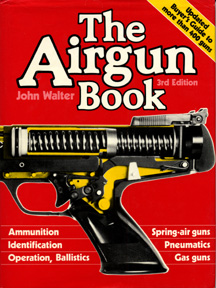 Most of my info comes from excellent books like these and more that I haven't mentioned, yet. You'll have to do the legwork to find your own copies, but they're out there.
Tom Gaylord is known as The Godfather of Airguns™ and has been an airgunner for over a half-century, but it was the 
Beeman
 company in the 1970s that awoke a serious interest in airguns. Until then, all he knew were the inexpensive American airguns. Through the pages of the Beeman catalog, he learned about adult airguns for the first time. In 1994, Tom started
The Airgun Letter
 with his wife, Edith. This monthly newsletter was designed to bring serious reports about airguns to the American public. The newsletter and
Airgun Revue
, a sister magazine about collectible airguns, was published from 1994 until 2002, when Tom started
Airgun Illustrated
-- the first American newsstand magazine about airguns. Tom worked for three years as technical director at
AirForce Airguns
, the makers of the 
Talon, Condor, and Escape
 precharged air rifles. Today, he writes about airguns and firearms for various publications and websites. He also makes videos, and you'll find short clips embedded in some of his artices on Pyramyd Air's website. Tom is a consultant to Pyramyd Air and writes under the name of B.B. Pelletier.