Dear readers, today and tomorrow I've turned over the blog to Tom Gaylord, who has a report on the German IWA trade show. – B.B.
IWA
by Tom Gaylord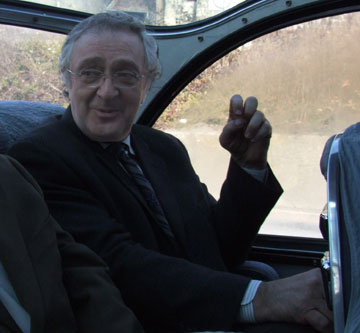 Joshua Ungier of Pyramyd Air rides a vintage German bus to the new Walther plant in Ulm, Germany, as part of the company's 120th anniversary gala celebration.
Hello everyone. I met Pyramyd Air's owner, Joshua Ungier, at the IWA show in Nuremberg last week, and he suggested I tell you about the show. IWA is the European equivalent of our SHOT Show. Because most airgun manufacturers are based in Europe, you get to meet a lot more of their people and see things before they come to the U.S. B.B. Pelletier was kind enough to give me today and tomorrow to present my report. I'll be as brief as possible, but I have quite a few pictures, too.
Umarex was awesome!
I started my tour in the Umarex booth and spent quite some time there to learn about all the things they're doing.
Umarex has acquired Ruag Ammotec USA, the importers of Diana RWS airguns. They will move the RWS operations from New Jersey to Ft. Smith, Arkansas, where it will become a part of Umarex USA. Adam Blalock, the former president of Daisy, is the new president of Umarex USA – and they plan to become the premier provider of high-end airguns in America!
Umarex Group also owns Walther, which celebrates their 120th anniversary this year. They have also just purchased the Swiss firm of Hämmerli, maker of world-renowned target firearms and airguns. Here are a few of the surprising new offerings that were unveiled by Umarex and other companies at IWA.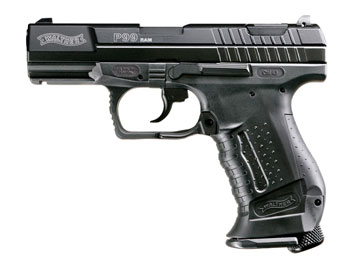 Although it looks like the Walther CP99, the P99 RAM (Realistic Action Marker) is brand new and VERY different! In .43 caliber (11.3mm), it shoots rubber balls for impact training plus paintballs for sport play.
Airsoft players and law enforcement agencies have a new sidearm!
One big trend in airsoft these days is toward more realistic guns. Manufacturers have been asked by both the military and law enforcement to make their guns with realistic magazine capacities as well as similar weight and action functions. The Walther P99 RAM has all of these qualities. It shoots both a .43 caliber rubber ball for CQB training and a .43 caliber paintball for realistic skirmish play. That's correct – a .43 caliber ball! That's 11.3mm, which is HUGE for airsoft. I saw and held the gun at IWA, and you cannot tell it from a real P99 pistol. It's SO realistic that it comes with a blue slide for police training so the range safety officer knows for certain it's a training gun and not a firearm. The number of law enforcement personnel killed around the world every year with simunitions is significant, because they cannot easily tell when a real 9mm round is being used.
The P99 RAM will retail for over $200, if and when it becomes available to private individuals. I think many airsoft gamers will want it for the realism. Instead of an all-day magazine holding 35 shots or more, this one holds just 9, making mag changes necessary during play. Realism is the most important part of this exciting new air pistol, which promises to have a major impact on the American airsoft scene.

Hunters should welcome the new 850 AirMagnum. It's an 8-shot bolt-action repeater with an 88-gram AirSource for power!
850 AirMagnum
Want to hunt with a CO2 rifle? The new 850 AirMagnum is an 8-shot repeater that develops up to 12 foot-pounds of power. Available in both .177 and .22 calibers, it should be an affordable hunting rifle for those who want power and accuracy without the extra support needed for precharged rifles. With an adapter, it can also operate on two conventional 12-gram powerlets.
On to the Beaumont!
As I was walking the aisles, someone behind me said, "Aren't you Tom Gaylord?" It turned out to be Fredrik van Breen, a former subscriber to my Airgun Letter. He recognized me from a picture in the R1 book. The guy should be a P.I.! He lead me to the Daystate booth and proceeded to show me the Beaumont PCP rifle, capable of 125 foot-pounds and made in the style of a fine Westley Richards sporting rifle.

Quality and power that's never been seen before in a small-caliber air rifle. The .22-caliber Dutch-built rifle exhibits all the quality and style of a fine English sporting rifle, plus 125 foot-pounds of smashing power!
These rifles are individually commissioned and built by Fredrik van Breen to the exact requirements of the customer, offering design features never before seen in airguns. Ordering will be similar to the process of buying from Holland & Holland or Purdey. For more information, visit www.gunsandgunstocks.com. Be prepared to spend many thousands of dollars when you order one of these beautiful guns!
I HAD to show you this!
Just to show you that the art of fine gunmaking is not limited to the Netherlands, I included a photo of a fine exposed-hammer double-barrel shotgun from the famous gunmaking town of Ferlach, Austria. Well-known for their drillings and vierlings (three- and four-barreled guns), Ferlach has long been a center of some of the finest gunmaking Europe has to offer. The picture tells the story.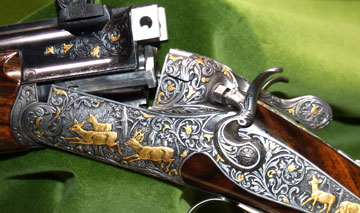 Not an airgun, this product of Ferlach, Austria demonstrates that the fine art of gunmaking is still alive and well. From a collection of seven fine shotguns in one booth at IWA. I just had to share it with you!
More new toys!
I was delighted to see not one but TWO precharged target airguns in the Baikal booth! One is a five-shot practice Biathlon air rifle used in the summer training sessions, and the other is a new 10-meter pistol. Baikal is well-known for their model 46M target pistol, but now they will offer this newest PCP, as well. I asked Joshua of Pyramyd, and he seemed as enthusiastic as I about the new offering. We can only hope they make it to these shores.

Yep – Baikal now makes a 10-meter precharged target pistol! Guess what that's going to mean for the price?
Well, that's all for today. Come back tomorrow and I'll show you the rest of the great new airguns that were unveiled at the German show.