Dear readers, yesterday and today I've turned over the blog to Tom Gaylord, who has a report on the German IWA trade show. – B.B.
IWA
by Tom Gaylord
Joshua told me some of you are interested in the Brocock Air Cartridges System (BACS) and the guns that shoot them. The word on the street was that these cartridges were gone forever, taken away by British legislation. That does not turn out to be the case. At IWA, I learned that Brocock will still make BACS, the special pumps and the support equipment to fill and repair the cartridges. It is my understanding that Pyramyd AIR will be stocking these items as soon as they become available.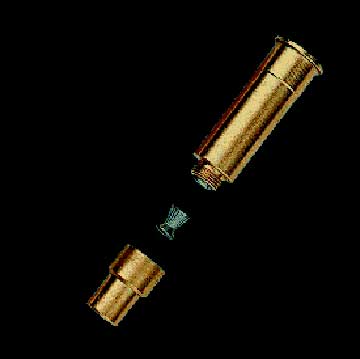 Brocock's Air Cartridge System is making a comeback!
The BACS are still being supported by a network of dedicated hobbyists in Europe, but Brocock has resumed manufacture and and intends to resume distribution as soon as possible. British laws make it impossible to produce the cartridges there, but the company is assembling the network necessary to make and sell the cartridges in other countries. As soon as these details are worked out, it seems reasonable to assume that the guns that use them will follow.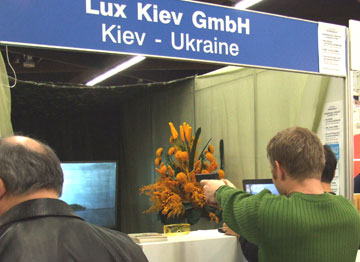 A rare moment when the Ukrainian shooting gallery was relatively uncrowded!
While walking down one aisle, I was impressed that there was always a crowd in front of one booth. It turned out to be a shooting gallery from the Ukraine – with several important differences. First, although it was computer-driven and scored, the backstop is strong enough to stop a rifle bullet. So you can shoot with airsoft guns, as the visitors at IWA were doing, or you could use a full-power 9mm pistol or even a 7.62 rifle for tactical training – all on the same system. I watched as the software projected thrown targets that the shooter had to engage before they hit the ground. The score was announced verbally in whatever language the shooter selected.
Joshua was very intrigued by this amazing gallery, and I believe he intend to explore the possibility of bringing one or more into the country. It runs on a regular PC, so the equipment costs are lower than comparable training galleries displayed at the show – about one-tenth the cost as it turns out!
When IWA closed, Walther took many invited guests down to Ulm to tour their new automated plant and to help them celebrate their 120th year of operation. We toured the new plant and were shown the step-by-step operations of transforming raw steel into a P99 pistol. I was surprised by the number of individual inspections the parts and pistols must pass and also by the fact that all final finishing is done by hand. The shop is laid out so the parts progress linearly as they are fabricated and assembled, with the final stop being proofing and function-firing.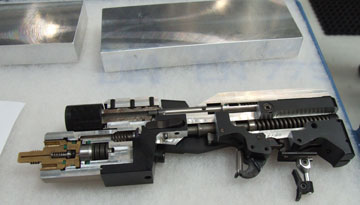 Walther CNC machines carve an airgun receiver from a single block of aluminum. Cutaway is fully assembled. Black areas are the receiver.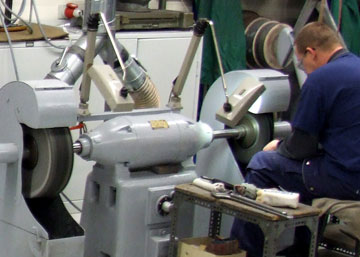 Final human touches before the guns go out for finishing!
Our final stop in the plant tour was the new Walther museum, which displays representative products from both their airgun and firearm heritage. It was torture for 75 gun fanatics to be rushed through Walther Nirvana so fast!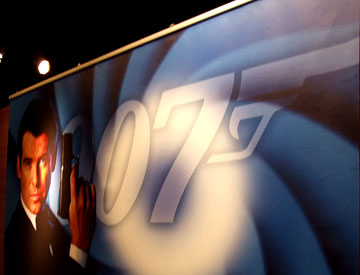 At Walther, they leave no doubt who their favorite salesman is!
That evening, Walther hosted a gala celebration dinner for about 350 guests. It was an evening of fine food, entertainment and speeches. The president of the National Rifle Association, Sandra Froman, told the audience how much America appreciates the Walther tradition. This is significant to airgunners because Ms. Froman has long supported the airgun movement, and even has an air pistol of her own!
The IWA show and Walther anniversary celebration were bright spots in my airgunning life, and I'll never forget them. I have resolved to return to IWA as often as possible, because I believe it is as important as the SHOT Show, if not more so. My thanks to B.B. Pelletier and to Pyramyd AIR for giving me the time and space to address you on this blog! Stay tuned!