by B.B. Pelletier

Billed as a youth model, Crosman's 180 was adult in every respect.
During the period from about 1947 to 1970, airguns of all types abounded in this country. Crosman was extremely prolific and designed some guns that have become classics and collectibles in recent years. The model 600 pistol was one such gun and the model 180 (in .22 caliber, model 187 in .177) rifle was another. Introduced in 1956 as a youth gun, it was kept out of the limelight by Crosman's extremely successful model 160 rifle, which is also a classic and still being made today in the form of a Chinese copy called the QB78. But, the 180 had a few interesting features that should have made it more of a hit than it was. Sales finally ceased in 1967.
Two major variations
The first 180 had a stamped steel triggerguard and a crossbolt safety that went through the wooden stock. In 1963, it was replaced by the rifle with a diecast triggerguard that incorporated a rotating lever safety. But the difference is greater than just that. The second variation had a fully adjustable trigger that had been developed for the 160. It was adjustable for pull weight, sear contact and overtravel. This trigger, part of which Crosman engineers borrowed from an antique crossbow, was and still is one of the finest triggers ever found on an inexpensive airgun. Collectors need both variations, but all shooters want the second one.
What a barrel!
The 17-3/4″ barrel is finely rifled in a steel tube that also encompasses the bolt and could be considered the receiver. This rifle was considered okay in its day, but the modern pellets we now have turn it into a very accurate rifle. Back in the '60s, the pellets were not well formed nor did they resist corrosion very long. Drop a .22 caliber Crosman Premier into a 180 and look for quarter-sized groups at 30 yards with open sights!
Adjustable power
The hammer spring pre-tension can be adjusted by an Allen wrench through a hole in the cocking knob at the rear of the gun. Adjusting that allows you to vary the power within limits.There are also two different power levels, depending on how far back you pull the cocking knob. My gun launches .22 caliber Premiers at about 380 f.p.s. on low power and 560 f.p.s. on high.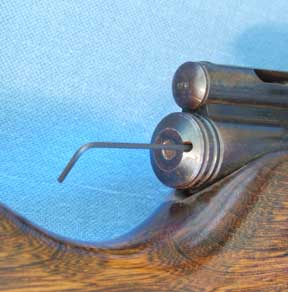 Power adjustability, 1956-style. There are two power settings, as well.
Economy
This was the real thrust of the 180. I remember being appalled that the 160 used 2 powerlets for 25 shots! That made it more expensive to shoot than a .22 rimfire, not that I was able to shoot .22 rimfires that often. But the 180 got about the same number of shots on just one powerlet, and that was worth talking about. Of course, those powerlets were the old leaky bottlecap design that wasn't very good to begin with. Today, you should get 35-40 shots per powerlet from a stock 180.
Really an adult-sized rifle
The 180 may have been smaller than the 160, but it has a 13-3/4″ length of pull that is fine for a grown adult. The overall length is just a smidgeon less than 34-1/2″, so it's a true carbine, but it doesn't have to be just for youth. Adults can love this gun, too.
Where do you get one?
There are always a handful of good 180s at any airgun show I attend. They also pop up on internet gun auction sites from time to time, though I think the bidding gets out of hand there. Expect to pay $80 for a shooter in decent condition and up to $150 for one that's like new in a box. I paid $20 for mine at a flea market and the guy sold it so cheap because he thought it was leaking. A little Pellgunoil got it back up and running, though I did eventually have to let Rick Willnecker reseal it.
You can learn more about vintage airguns like this in the Blue Book of Airguns.