by B.B. Pelletier

Webley Patriot is a man-sized air rifle
A reader requested this post a few months ago. With the Webley reorganization last year came the decision the build the airguns in other countries. Webley decided on Turkey, having promises from the makers that no quality would be lost. I certainly hope that is true, because the rifles and pistols actually made by Webley (i.e., not the FX precharged guns) were some of the best sporting spring guns around. The Turks have their work cut out for them!
Original Webleys are going fast!
Although Pyramyd Air does have a few Webley Rifles left, they are dwindling fast. The .22 and .25 caliber Patriots are already gone. All that remains are a few .177s. All the Beeman Kodiaks, which are Patriots with a different name, are also gone.
Patriots are BIG!
The rifle weighs nine pounds and measures 45.6″ long. That doesn't sound too large, but when you have one in your hands it seems gigantic. That comes from the full-cut stock that Webley uses to reduce wood breakage from shock and vibration.
They are hard to cock
A Patriot requires about 50 lbs. of effort to cock. If I am prepared for it, I can cock it with one arm a few times; but, if I don't hold the rifle just right, there's no way I'm going to cock it even once! First, the muzzle has to be slapped to break the barrel past the super-strong chisel detent. Then, it's armwrestling time as you lever the fat steel barrel down to sear lock. After about 50 shots, your arm will be sore unless you are a bodybuilder or work a hard physical job.
Patriots are a .25 caliber dream!
The big .25″ pellets were the main reason the Patriots were created. In England, they are so far above the legal limit that the British Home Office never allowed them to be de-tuned – although Ivan Hancock attempted to do just that. He got the power under 12 foot-pounds easily enough, but the Home Office ruled that all Patriots were FAC, regardless of what the chronograph said. With light to medium weight pellets a .25 will generate nearly 30 foot-pounds. No, that isn't a record for spring rifles, but it's pretty close. The .22 gets up to 28 foot-pounds and the .177 gets about 24 foot-pounds with the right pellets.
They kick and they vibrate!
Patriots kick more than any other smallbore air rifle that I know. They push your shoulder back at least one inch and feel like a 30/30 fired from a medium-weight rifle. That's if you hold the rifle tight to your shoulder, which Tom Gaylord said he had to do to get the best accuracy when he tested the Patriot. Some Patriots also vibrate a lot while others are quieter. I don't know why that is, but I have seen it. A vibrating Patriot will shake your teeth loose in pretty short order, and I don't know what to do about it. Maybe a cheek pad would help.
Special scope mounts
To keep the mounts from walking off the rifle under recoil, Webley put several transverse grooves across the dovetails. B-Square is the only mount maker who took advantage of those grooves, so you are pretty much constrained to using their mounts. Don't think that because Webley makes the rifle their mounts have to work best. It doesn't work that way.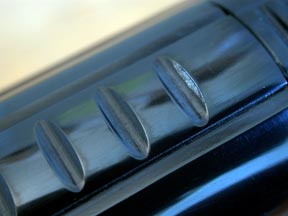 These cross-grooves are the Patriot's scope stops.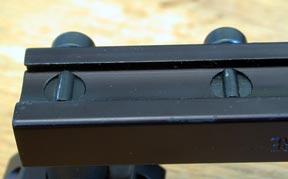 Only B-Square makes the correct stop for a Patriot. This is the underside of their mount.
They can be difficult to shoot until you learn their secrets
More than any other spring air rifle, each Patriot or Kodiak I have shot has had its own quirky set of likes and dislikes. I couldn't see any transfer from one gun to another. The most neutral rifle I tested had a Vortek gas spring, but that one took an additional 10 lbs. of effort to cock! Anyway, what that means is that there are a lot of folks who used to own a Patriot, and fewer who own one now and love it. Those who do love their rifles wouldn't use anything else, it seems.
Once you have the rifle dialed in, it's still not a half-inch gun at 50 yards…more like 1.5″, though I've heard owners who say they do better. The trigger is very crisp and light for a sporter – on the order of 3 lbs.
Two best .25 caliber pellets
The two best pellets for Patriots that I ever saw were the Diana Magnum domed pellets that weigh about 21 grains (light for a .25) and the Beeman Kodiaks, which weigh 31 grains (heavy). I've wasted a lot of time on oddball British .25 caliber pellets that nobody has ever heard of. All that did was educate me on why they were unknown. But, the Diana Magnums at over 800 f.p.s., deliver the punch needed for medium-sized game (woodchucks and raccoons). This IS a hunting gun, after all.
The Patriot is definitely an airgun you will never forget. If you own one now, how about telling our readers what you think of the gun?