by B.B. Pelletier
Before I start, since today is Thanksgiving Day in the U.S., I'd like to take this opportunity to thank the people who make this blog possible – our hosts at Pyramyd Air. They generously give us this wonderful place to explore airguns as much as we like, and for that they deserve our thanks.

Crosman's 2200 Magnum was a great .22-caliber multi-pump of the 1980s.
Now for something old. Jim House wrote the book American Air Rifles, and he recently told me that the .22 caliber multi-pump pneumatic Crosman 2200 Magnum was one of the best-kept secrets of recent times.The first ones, made back in 1978-1980, were supposed to be extra powerful, capable of velocities over 700 f.p.s.! Then, Crosman throttled them back in 1981, so they were no longer more powerful than the Benjamin 392.
House buys them. Why shouldn't I?
House told me that he buys every 2200 he sees unless it is outrageous or in sad shape, and he has them all put back into working condition. If you read about it in his book, he tells you that Crosman engineers now feel the stated maximum pump limit of 10 strokes was too much and that owners should stop at 8. House used a late 1980s gun for his velocity testing in the book, so his max velocity with RWS Meisterkugeln and 10 pumps was 590 f.p.s.
This is why I go to airgun shows!
Well, I stumbled on a real prize at the recent airgun show in Roanoke, Virginia. A first-variation 2200, it has the chromeplated receiver with a dark brown plastic stock and forearm. And, yes, this is one of those rare occasions where the gun really is plated with chrome – just like the metal on a motorcycle! Usually, the plating is nickel, which looks a little golden next to chrome. There were a few 2200s that were nickelplated, but apparently they're quite scarce.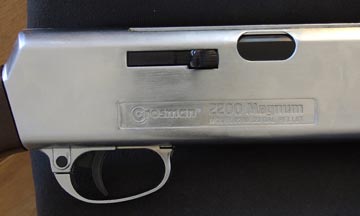 Chrome receiver looks sharp. You can see the scope rail at the top.
The gun is in like-new condition and the price was too good to pass up. Actually, the seller was a friend who cut me a real deal because he suspected what I wanted it for…this report.
This vintage air rifle is almost 39″ long, with an adult-sized 13.75″ pull. It weighs 4.5 lbs. I must admit that I don't like the feel of a plastic stock, but the gun is quite attractive. If Crosman still sold it, I believe it would give the Daisy 22SG a run for its money.
The tests House published show the 2200 ahead of the 22SG for power, pump for pump. The 22SG has an all-wood stock and comes with its own scope, so there are some tradeoffs to be considered. The 2200 is grooved to accept a scope, and it comes with a nice set of adjustable open sights. While the adjustments are a bit fundamental, they do work, which is all that really matters.

Rear sight adjusts for both windage and elevation. Rear screw is loosened and sight pivots in the direction you want the pellet to go.
Fixing a gun the easy way
For all you readers who wonder whether I'm making all this up about how Crosman Pellgunoil saves old airguns, this gun was not accepting a charge until I oiled the pump head, as I have instructed so many of you to do. Of course, I used Pellgunoil for this. Of course, it worked. Even better, this is a "like new" airgun, it still has the sticker on it telling you to do just that! See! I wasn't making it up! Crosman used to tell you to oil the pump head.

This is one of the places I get that advice I give.
We'll check the speedometer tomorrow. Don't eat too much turkey!