by B.B. Pelletier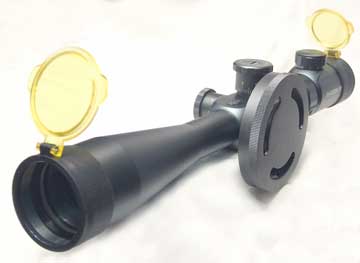 The largest scope in Pyramyd's lineup is this beautiful new Rex 10-40×50. Shown here with the sidewheel attachment mounted.
Springtime is when the shooting sports industry puts out the bulk of its new products, and this year Pyramyd AIR has an embarrassment of them! They told me there are so many new products that they can't fit them all into their new product emails, so I am taking up some of the slack by showing you some of what's new.
Rex scopes
Pyramyd AIR has added the Rex line of scopes to its scope line. These optics come from the same people who bring you the BAM air rifles; and from first examination, they appear to be just as well made. Today, I'll take a look at the 10-40×50.
BIG glass!
This is a HUGE scope! It has a 30mm tube and a 50mm objective lens for which there is a sunshade, if you need it. At 33.5 oz. and 16.75″ long (without the sunshade!), this will be the largest scope many of you have ever seen! It is truely the Rolex Submariner of riflescopes.
BIG features!
The features are so plentiful I'll just highlight them:
30mm scope tube
Red illuminated reticle with 11 settings
Mil-dot/duplex reticle with center lines etched on glass for resistance to flaring
Eyepiece has adjustable diopter
Separate sunshade
Sidewheel parallax adjustment to less than 20 yards
Separate, large (3.7″) sidewheel for calibration of focus ranges
Target turrets with 1/8 MOA adjustments
Turrets are resettable for zero preservation
Spare battery included
Flip-up transparent lens caps
Waterproof & nitrogen-filled
Includes matching Weaver mounts
Now, so all of that makes sense to you, here are a couple pictures.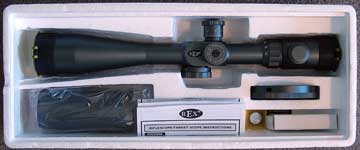 Lots of stuff in that box! Besides the scope, there's a sunshade, a large sidewheel attachment, a spare battery, matching scope rings and the owner's manual.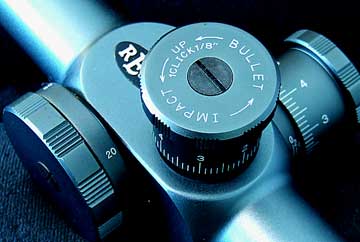 This closeup of the turret knobs shows the sidewheel parallax knob without the large wheel. Actually, the knob is pretty large by itself and will be fine for everyone who doesn't want to know distances to the exact yard.
Evaluation
It takes a long time to properly evaluate a scope, but I've had this one long enough to give you some preliminary observations. It is very clear – even at the highest magnification, which is where scopes tend to fall off. The parallax adjustment goes below 20 yards; and if you set the magnification to 10x, the image will be very sharp and clear at just 10 yards. Pyramyd AIR has to tell you what the actual specifications are, and the parallax setting goes down to somewhere below 20 yards, but I'm telling you the scope is useful at 10 yards. I wouldn't select it for field target, but I would get it for just about every other long-range or precision target airgun application I had.
Long-range airgun shooters and firearms shooters, alike, will find this scope to be the right ticket. As long as the light is good, I would put this big Rex up against any other scope. The 1/8 MOA adjustments mean you can control the strike of the round very precisely. It seems perfect for a large, accurate PCP.