Crosman 105/106 multi-pump pistols
by B.B. Pelletier
Here's another blast from the past. If you own the new Blue Book of Airguns, or if you attend an airgun show this year, you'll see one of these curious retro-looking air pistols. They weren't well-publicized in their day. Even if you're in your 50s or 60s, you may never have seen one before now. While the Benjamin pistols were included in almost every ad they ran, Crosman didn't advertise these pistols as much.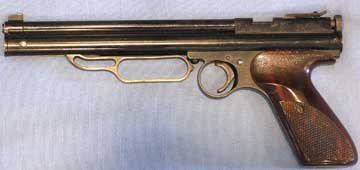 Crosman's 106 pneumatic pistol looks very retro.
The 105 is the .177 model, and the 106 is the .22. They were made from 1947 to 1953, which was a time when .22 caliber was far more popular in America, hence the 105 is the scarcer gun. But neither model is particularly rare. You won't believe how inexpensive they still are today!
Scissor-pump mechanism
Crosman pioneered the underlever scissors pump for air rifles in 1924. Until then, multi-pumps had used either a front pump rod or a more elaborate butt-pump that dates back to the 1700s. Benjamin was going great guns (pun intended) when the 1924 Crosman scissors pump hit the market, and within just a few years they had a major competitor on their hands. The competition was so intense that they had to come out with a scissors underlever pump of their own.
The 1924 Crosman rifle evolved into the "Silent" model rifle of the 1940s. Unlike Benjamin, though, they had no pistol to go with their rifle. After World War II, Crosman got into CO2 guns in a big way, but they didn't forget the pneumatic market because people still wanted them. Perhaps this was because CO2 was a new method of propulsion to many shooters, while they had been living with multi-pumps since the beginning of the 20th century. In 1947, Crosman brought out the .177 caliber model 105 pump pistol, followed by the .22 caliber model 106 a year later.
The pistol looks remarkably similar to the Crosman model 111/112 CO2 pistols from just a few years later (1950-1954). It's obvious that the pump pistol inspired the CO2 pistol. There are small differences, as you can see, but it's obvious the two guns shared a lot of parts.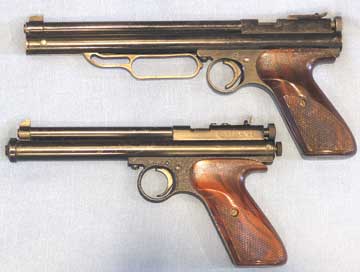 The 106 looks very similar to Crosman's 111/112 and 115/116 CO2 pistols. Shown here with a .22 caliber 116 that has a shorter barrel. The larger 112 also has an 8″ barrel like the 106.
Pump mechanism
This was the first multi-pump pistol Crosman made. The pump mechanism was a finger-lever that was a little too small for adult hands. Most people can get three fingers through the lever, but some will find it hard to get even one, as the hole is too narrow. The linkage parts are very narrow and small, compared to pump pistols of today, and the swept volume of the pump also seems small. All of this adds up to a relatively weak air pistol.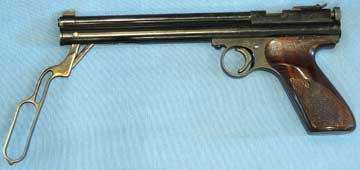 The pump mechanism is almost dainty. It was not up to the task of pumping a lot of pressure.
Power
With pellets of its day, the .22 caliber model 106 was a 350 f.p.s. gun at best. With today's better pellets and a fresh valve, that might increase to 375 f.p.s.; but I would be surprised to ever see 400 from one of these guns. In .177, the velocity would increase another 50-75 f.p.s. The power isn't up to today's Crosman 1377C. The 1377 also has a pump handle that's grasped externally (they learned that the finger lever design doesn't work). Of course, the 1377 is made by modern design with modern materials. The Benjamin HB17 is the gun to really compare to, because it hasn't changed that much in the 60 years since the Crosman 105/106 models were new. The velocity for the HB17 is lower than the 1377, but still higher than the 105 could achieve, which demonstrates the airgun design advances that have been made in the intervening half-century.
Accuracy
I've not found the Crosman pneumatic pistol to be as accurate as their CO2 pistols of the same era. Perhaps that's because the CO2 guns are significantly more powerful. For me, the pneumatics group in 1.5″ to 2″ at 30 feet.
Where can I get one?
These are available in non-working condition for around $50 and working for about $90-100. They are found at airgun shows and regular gun shows. Don't pay too much more than these prices, because the guns are very available. If you can't get to an airgun show and just have to own one, search the internet by model number. Just to prove that statement, I searched just now and found one on Gun Broker in working condition going for $50 plus $10 shipping. They're out there!
Tom Gaylord is known as The Godfather of Airguns™ and has been an airgunner for over a half-century, but it was the 
Beeman
 company in the 1970s that awoke a serious interest in airguns. Until then, all he knew were the inexpensive American airguns. Through the pages of the Beeman catalog, he learned about adult airguns for the first time. In 1994, Tom started
The Airgun Letter
 with his wife, Edith. This monthly newsletter was designed to bring serious reports about airguns to the American public. The newsletter and
Airgun Revue
, a sister magazine about collectible airguns, was published from 1994 until 2002, when Tom started
Airgun Illustrated
-- the first American newsstand magazine about airguns. Tom worked for three years as technical director at
AirForce Airguns
, the makers of the 
Talon, Condor, and Escape
 precharged air rifles. Today, he writes about airguns and firearms for various publications and websites. He also makes videos, and you'll find short clips embedded in some of his artices on Pyramyd Air's website. Tom is a consultant to Pyramyd Air and writes under the name of B.B. Pelletier.