by B.B. Pelletier
There's a new article and video about
a big bore match and another article about
the Gamo Varmint Hunter Plus, Paul Capello has another great video. It's about the RWS 34 Panther.
While reading the classified ads in the Baltimore Sun one day in the 1980s, I stumbled across a listing for a strange military-looking pellet rifle with Arabic writing on the action. The ad said it was large, heavy and very accurate. Terms that wake me up when they describe an airgun. The guy wanted $150, so I called and arranged to see it. It turned out to be an air rifle I had never seen before…and one I just had to have. That was my introduction to the Hakim .22 caliber underlever rifle.
After World War II, armies around the world were scrambling to modernize, while cutting their budgets at the same time. Countries that had used obsolete technology during the war were seeking to replace their outdated equipment with the most modern designs that had been proven in the war.
The M1 Garand was the golden boy of that war, and every country was seeking their own version of it. Egypt had adopted an 8mm semiautomatic variation of a Swedish rifle, the Ljungman, that they called the Hakim. In fact, it has been called the "poor man's Garand" (though today they sell for almost as much as the U.S. rifle). Training ammo was expensive, so the Egyptians did something remarkable. They turned to Anschutz in Germany and had them turn one of their sporting air rifles into a trainer for the Egyptian army. The Hakim pellet rifle was thus born in 1954. A total of about 2,800 rifles were produced, all in .22 caliber, despite W.H.B. Smith's reference in Small Arms of the World saying they were .177s. If a .177 version exists, I haven't run across it yet. The Egyptians also contracted with Beretta for a 10-shot semiauto .22 rimfire rifle trainer for the same purpose.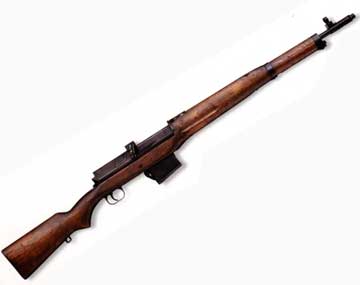 The Egyptian Hakim battle rifle has been called the "poor man's Garand." Based on a Swedish design, it wasn't well-suited to desert conditions, but it's marvelously accurate and fun to shoot.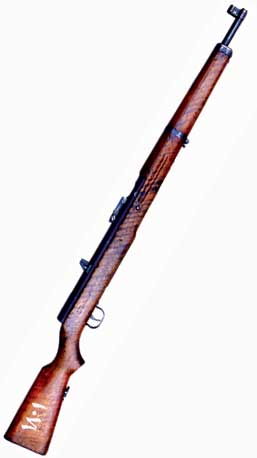 The Egyptian Hakim pellet rifle is a large, rugged military trainer that attempted to mimic the service rifle. This is one of the very few examples I've seen in very good condition. It has painted markings that I think are unit markings.
Physical description
The Hakim is a large air rifle, weighing over 10 lbs. and stretching 45″ overall. It's an underlever spring-piston rifle that loads through a tap. The tap opens automatically when the rifle is cocked and is closed by the shooter after a pellet is dropped in nose-first. Above the tap, a grinning flaming skull adds Middle Eastern ambiance. The rifle has a hooded front blade and a fully adjustable rear sight with reference mark on the horizontal adjustment. A sling can be attached, but it has to remain slack to give clearance for the underlever.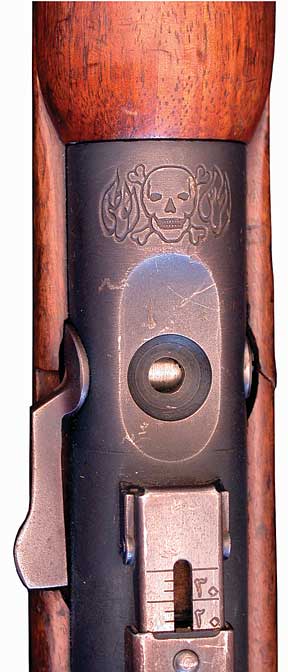 Looking straight down on the loading tap, we see the grinning, flaming skull. Nice!

The underlever is hidden in the bottom of the forearm. This is at full extension (cocked). Just in front of the rear sight you can see the loading tap lever has flipped up, and the tap is now open.
There's a strange trapezoidal metal projection on top of the stock that has twin wire loops – one on each side. The top is cut out for sighting purposes. This protrusion has been the subject of much debate over the years, but the smart money says it's just a way of mimicking the cocking knob on the Hakim firearm. Some owners have removed this protrusion which hasn't yet hurt the value of their guns, but one day it will.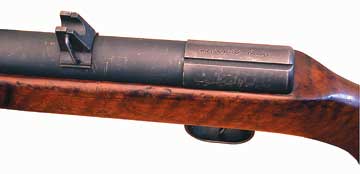 No one knows for sure what that strange protrusion is, but most people think it's there to resemble the cocking knob of an 8mm Hakim.
Value
I've owned about 15 Hakims to date. I've worked on perhaps 20 more and seen another 50 at airgun shows. When airgun shows began in the U.S. in 1991, an average Hakim was bringing $75. I bought several for $50 in those days. Today, the same rifles bring $200-250, and the price creeps up just a bit every year. They are quite undervalued at present – probably because 98 percent of all that survive are now here in the U.S.
Navy Arms imported them for years in the 1980s and '90s, and I got four of the last rifles they sold, at $65 each. Those guns ranged from about good to poor, but all had to be disassembled and cleaned before they worked right. Sometimes a gun couldn't be fixed and became a parts gun to restore others. The number of guns is lower now than when Anschutz made them, and the average condition is about NRA good, which is nowhere near the good most of us mean when describing anything. A really nice one might get up as high as NRA very good, but I've only seen one or two that nice.
Best pellet
Unlike firearms, an air rifle in good condition usually has an excellent bore, because airgun barrels don't wear out. As ugly as a rifle may look on the outside, it can still be a tackdriver at close range. The best pellet I every found for a Hakim is the RWS Superpoint, and don't even THINK of shooting any Crosman pellets in them! They're too small and too hard to seal the bore effectively, and the gun will react harshly to their use.